Good evening everyone! One of the great things about fall is that it brings out one of the best flavors known to man: pumpkin. Whether it be in a hot beverage, or it be in a delectable dessert, pumpkin is fall's favorite flavor. Since Tyler and I are such fans of this ingredient, we are willing to try any dish that includes pumpkin. Tonight, we're getting a bit creative and throwing it in a pasta recipe and hopefully, not going to ruin a good thing.
The Recipe: Fettuccine with Pumpkin Sauce
Original Recipe Found In: Cooking Light, November 2013
What You'll Need:
8 Ounces uncooked Fettuccine
2 Applewood-Smoked Bacon slices, chopped
2 Tablespoons finely chopped fresh Sage, divided
2 Garlic cloves, minced
3/4 Cup canned unsalted Pumpkin Puree*
2 Ounces Parmesan Cheese (about 1/2 Cup)
3/8 Teaspoon Salt
1/4 Teaspoon Black Pepper
2 Tablespoons Heavy Cream
2 Tablespoon chopped fresh flat-leaf Parsley
*Note: To save some hassle, and measuring cups, one 15 ounce can of pumpkin puree is just shy of 3/4 cup. It is easier to open the can and pour the puree right out, instead of trying to measure it out.
To start, bring a large stockpot of water to boil over medium-high heat. Once at a boil, add the fettuccine and cook according to package directions, typically between 10-12 minutes. Once cooked, drain the pasta in a colander over a bowl. In this bowl, reserve 3/4 cup of the cooking liquid. Set pasta and cooking liquid aside.
Next, heat a large nonstick skillet over medium heat. Add the chopped bacon and cook for four minutes, or until the bacon is just about crispy, stirring occasionally. After the bacon is cooked, add one tablespoon of sage and the garlic. Stir these ingredients constantly until everything has become fragrant, about one minute. Next, stir in the pumpkin puree, Parmesan cheese, salt, and pepper. When these ingredients are incorporated, add the pasta, 3/4 cup cooking liquid, and heavy cream. Stir until the pasta has become completely coated. Cook for an additional two minutes or until everything is heated throughly. Sprinkle with remaining sage and parsley, serve, and enjoy!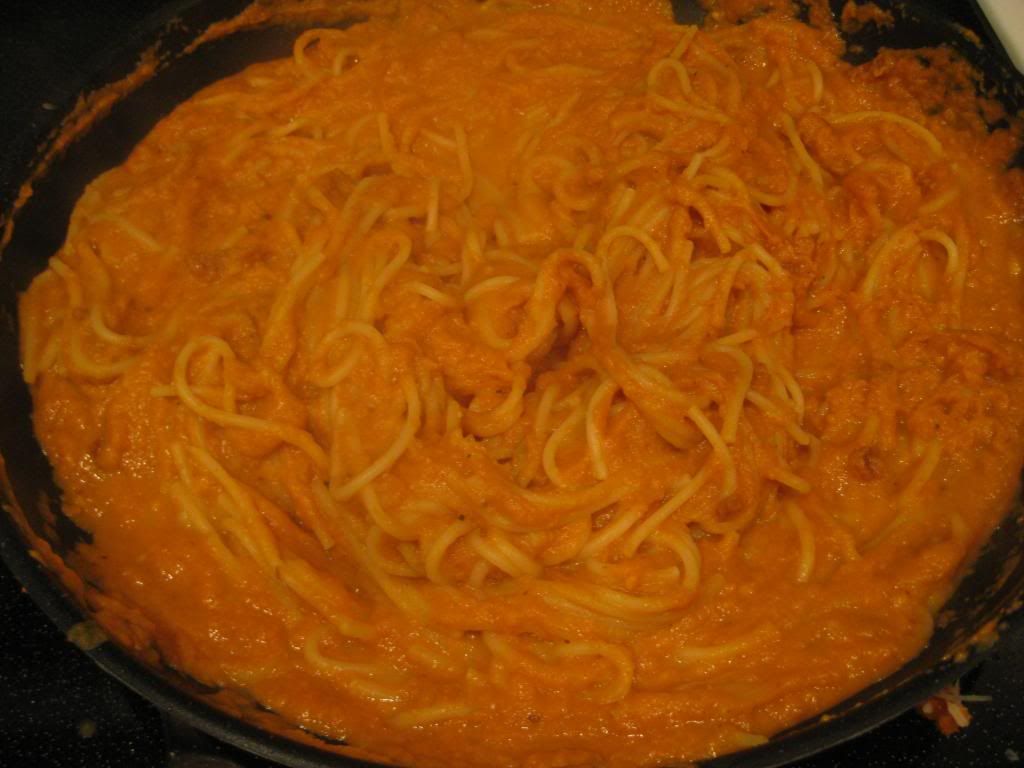 The End Result: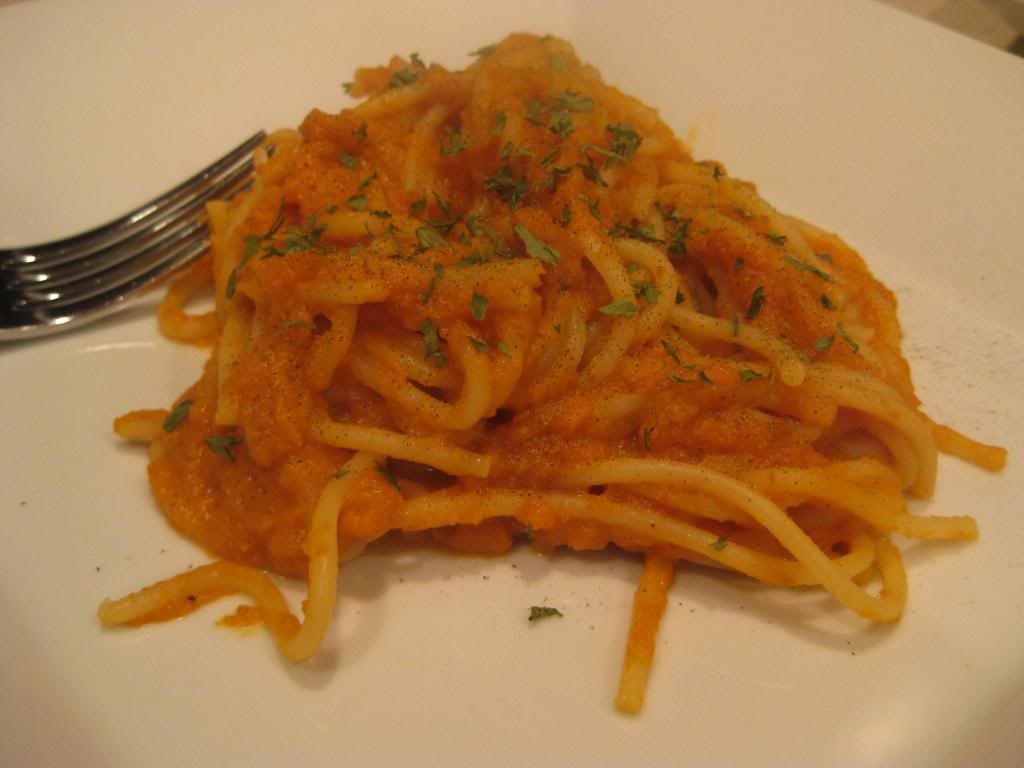 I always base my finished dish with the picture supplied by the source of the recipe. The original picture looked like there was light pumpkin bits attached to the fettuccine. In my dish, it looks like the puree has completely swallowed the pasta. As you would imagine, I was worried that the pumpkin flavor would overtake the dish...wrong! The pasta had a light pumpkin flavor without over indulging your pallet. The cooking liquid also helped to subdue some of the pumpkin flavor. The cooked bacon bits and hints of sage also helped to balance out all the flavors. Overall, a great pasta dish, one without a traditional marinara or alfredo sauce that can be enjoyed especially during the fall season.
That's all we have for you tonight. Check back next week as we continue to share our culinary adventures. Until then,
~Cheers!