Good evening everyone! Tyler and I like to joke that my go-to recipe for the blog is the humble frittata. Although I've lost track of how many variations I have made, I can't emphasize the true beauty of this dish. While the concept is simple and consistent, the possibilities of ingredients are endless. Tonight is variation #672 (or thereabouts,) with contrasting flavors and textures, this frittata is one that won't be forgot.
The Recipe: Mushroom, Cheddar, and Toast Frittata
Original Recipe Found In: Everyday Food magazine, October 2013 Issue
What You'll Need:
10 Large Eggs
1/4 Cup Whole Milk
2 Tablespoons unsalted Butter, divided
2 slices Sourdough Bread, cut into 3/4-inch cubes
1/2 Pound Button Mushrooms, trimmed and sliced
6 Scallions, thinly sliced, white and green parts separated
1/2 Cup shredded Cheddar Cheese
To start, preheat an oven to 425 degrees. In a large bowl, add the eggs and milk and whisk together until both ingredients are well combined. Season with salt and pepper and set aside. Over medium-high heat, heat a large, oven-safe, nonstick skillet. Once heated, add one tablespoon of butter and let melt. After the butter is heated, add the bread cubes and cook, until all sides are golden brown, about four minutes. Once cooked, transfer the bread to a plate.
To the empty skillet, add the remaining tablespoon of butter and mushrooms. Cook until the mushrooms have shrunken slightly and become softened, about four minutes. Lower the heat to medium and add the scallion whites. Cook until these are soft, about three minutes. After the onions are cooked, season with salt and pepper.
Next, gently pour the egg mixture to the skillet, stirring with rubber spatula until large curds form and the eggs become halfway set, about two minutes. Taking the bread cubes, gently press each cube into the eggs. Sprinkle the top of the egg mixture with the cheese and and place the skillet in the oven. Bake until the egg mixture is puffed and the center is just set, about five to seven minutes. Take out of the oven and sprinkle with the scallion greens. Cut into individual slices, serve and enjoy!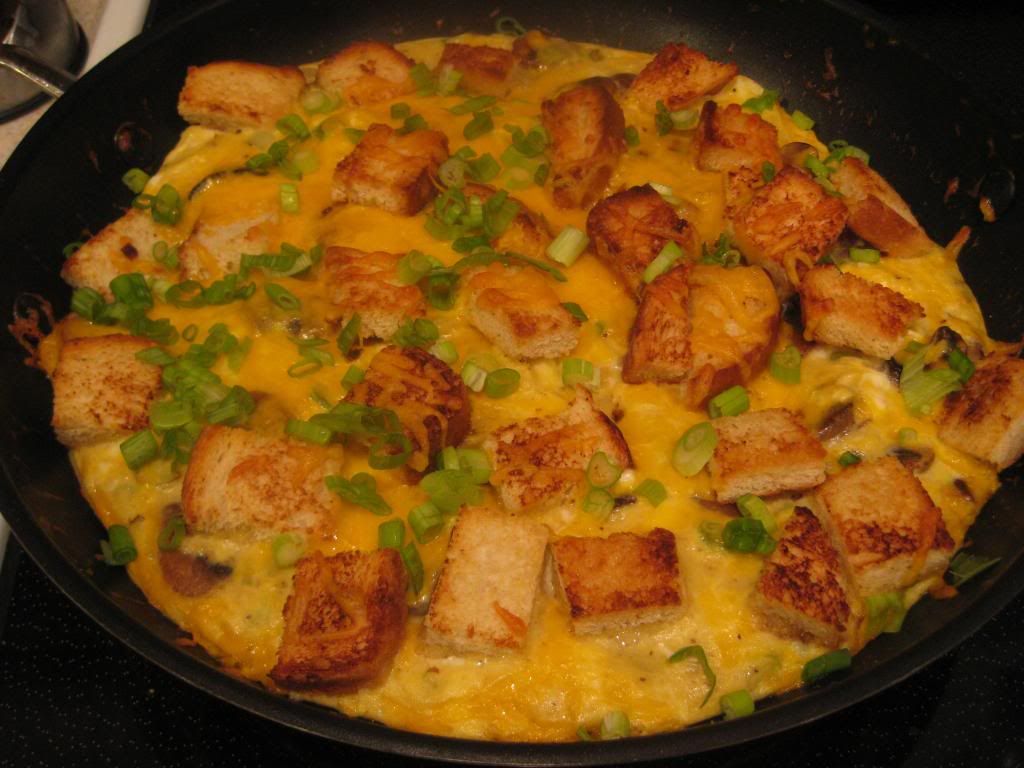 The End Result:
The frittata set exactly the same - super light eggs, seasoned with just enough flavor that won't be too harsh on the pallet. The mushrooms with the scallion whites, they create a flavor base that is undeniably refreshing. The bread cubes add a great crunch that not too many frittatas have and are a great addition to this dish. The cheese is melted perfectly and is just a hint of cheese without being too cheesy. Overall, another great frittata to add to the Frittata Files and an easy dish for you to try at home!
Thanks for joining us tonight. Check back tomorrow as Tyler creates an awesome upgrade to a family classic. Until then,
~Cheers!