Good evening everyone! We've always argued that there's never truly a "season" for any dish – you can make soup in July (and we have). Is soup better in the fall? Of course it is – but it's not a duck – it isn't off limits until a certain point of year. (Cut to Bugs Bunny vs. Elmer Fudd: "Stew season!", "Soup season!")
Now allow me to immediately contradict myself. Fall is most certainly chili season. Sure you CAN make chili during the summer months, but through something that can only be described as "magic" it simply doesn't taste the same as chili in the fall.
I've always had a love / hate relationship with chili. I am not a fan of any dish that is too tomato based (the acidity gives me heartburn and the flavor is off-putting to me) so standard chili recipes have always been a bit of a gamble. Many are tomato heavy and just don't amount to anything I like to eat.
We've played around with chili recipes, and have a found a few good ones – especially white chili recipes – but I'm still longing to find that "traditional" chili recipe that will deliver the rich meaty flavor without the tomato sauce heavy vessel.
Tonight, I'm trying an adaptation of a recipe I found in our local Hy-Vee's magazine "Seasons". The original recipe is more tomato based, and set for a larger serving (27!) – So I adjusted the dish slightly and scaled down the proportions – is this the chili recipe we've been searching for? Let's get cooking and find out!
The Recipe: Calico Bean Chili
Recipe Inspired By: "Calico Beans" From Hy-Vee Seasons Fall Issue
What You'll Need:
(Serves 8)
1 Pound 85% Ground Beef
½ Pound Bacon
1 Medium Onion (Diced)
15 Ounces (Canned) Red Kidney Beans
15 Ounces (Canned) Great Northern Beans
15 Ounces (Canned) Butter Beans
16 Ounces (Canned) Pork and Beans in Tomato Sauce
1 Cup Packed Light Brown Sugar
¼ Cup Apple Cider Vinegar
Begin by preheating your oven to 450 degrees. You can also use a large slow cooker to finish this recipe.
Brown the beef in a large, 12 inch, non stick skillet over medium high heat. Once mostly browned, strain off the excess fat and add the onion to the beef. Allow the two to simmer together until the beef is completely browned and the onion is translucent – this takes about 5 to 7 minutes. Transfer this mixture to a bowl. Set aside and wipe the skillet clean with a paper towel.
Add the bacon to the same skillet and cook until browned and crispy. Transfer the bacon to a paper towel lined plate and allow it to cook. Once cooled, chop the bacon into ½ inch pieces. Set aside for later.
Drain all of the fluid from your beans and rinse them in a colander. We've said it many times on the blog – but I always rinse off canned beans. They come packed in a sodium rich liquid that not only hurts the nutritional value of your dish but it can throw off the flavor as well. Give the beans a good rinse before adding them to any recipe allows for that nasty sodium fluid to go down the drain, instead of in your dish. (Obviously you won't rinse the pork and beans, as we will need the tomato sauce that they come in).
(We're using a slow cooker for our recipe – if you want to use an oven, simply replace "slow cooker" with oven safe stew pot and follow the same directions).
Add the beans, cider vinegar, mustard, ketchup and brown sugar to a large slow cooker and stir well. Next, stir in the ground beef / onion mixture and the bacon. Once all the ingredients are evenly blended, cover the slow cooker and let it cook on medium heat for 3 hours. (In the oven, allow it to cook for 3 hours at 450).
After 3 hours, the chili should have thickened up nicely. Give it a good stir before serving and enjoy!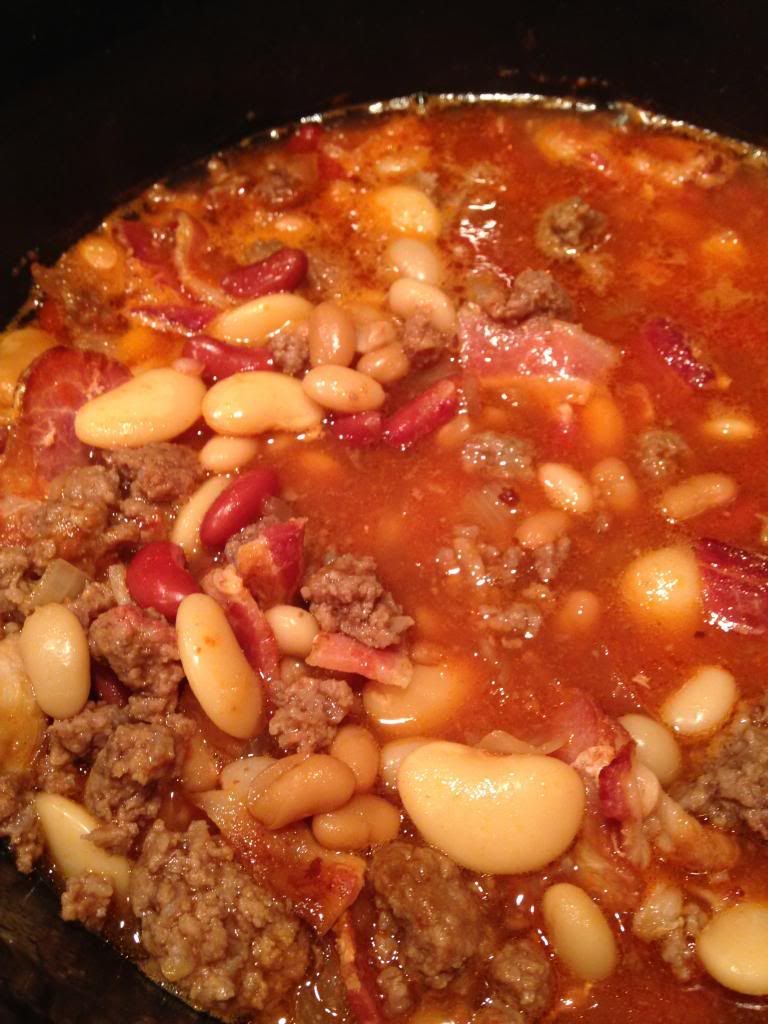 Full disclosure - I did not expect this recipe to be the answer to my long quest for low acidity chili. With a base consisting entirely of tomatoes, it didn't seem like this dish would differ from many of the others I had tried.
I was wrong, and couldn't be more happy about it. The base of this chili is almost sweet. It's a beautiful melding of brown sugar and ketchup (which sounds odd on the surface, but actually provides for a rich compliment to the beef of the dish). This is, without a doubt, the best chili I have ever had.
It won't be for those that add tabasco to their chili or that like hearty tomato bases, but if you're always looking for something a bit different when it comes to chili - you've found it with this dish. (Oh, and it's only 250 calories per serving!).
That's all we have for you this evening. The rest of the week is up in the air schedule wise, pending a few things. Either way, we'll have a new post for you Thursday night. Until then,