Good evening everyone! Sometimes, we command too much out of a pasta recipe. Whether it's heavy sauces or a list of ingredients two pages long, we tend to add too much to the humble pasta dish. Sometimes, the best pasta dishes are the most simplest. Tonight, I'll showcase one example of a simple, yet delicious pasta recipe that you can make in a snap!
The Recipe: Herby Fettuccine with Fried Eggs
Original Recipe From: Quick Cook Pasta
What You'll Need:
10 Ounces Fettuccine
2 Tablespoons grated Parmesan Cheese, plus extra to serve
1 Teaspoon dried Parsley, plus extra to serve
3 Tablespoons Olive Oil
1 Garlic clove, finely chopped
4 Eggs
Pinch of dried Red Pepper Flakes
To start, bring a large saucepan filled with water to a boil over medium-high heat. Cook according to the package directions. Once the pasta is done cooking, reserve 1/3 cup of the pasta water and drain the pasta in a colander. Once all the water has drained out, bring the pasta back to the saucepan. Add the Parmesan and parsley and stir well until the cheese has melted. If the cheese clumps together on itself, add small portions of the pasta water to thin out the cheese. Season with salt and pepper.
Next, in a large nonstick skillet, add the olive oil and heat over medium-high heat. Once the oil has heated, add the garlic and heat until the garlic has become fragrant, about 30 seconds. Then, crack the eggs into the skillet and cook for three minutes, or until the whites are cooked, but the yolks have just set.
Divide the pasta into four serving bowls and top each with a fried egg. Sprinkle the red pepper flakes, any remaining Parmesan cheese and parsley, serve, and enjoy!
The End Result: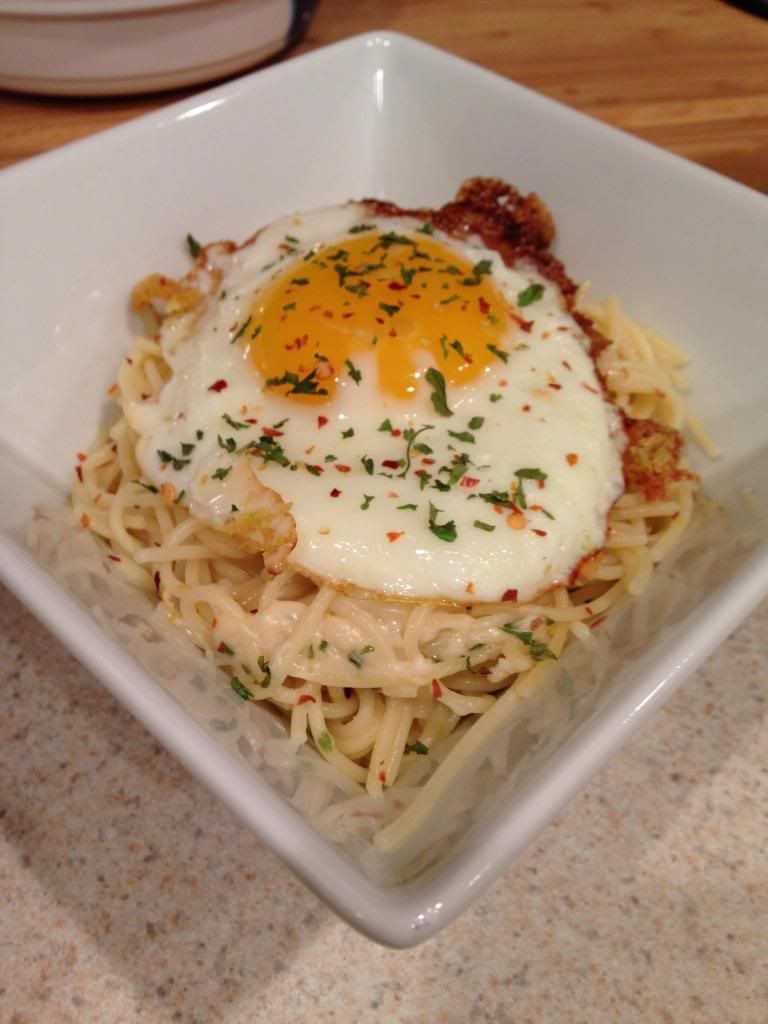 The melted cheese, combined with the pasta, created a creamy sauce that wasn't too heavy, yet had just enough flavor to enhance the dish. The parsley added a hint of flavor, but the red pepper flakes gave just enough heat to warm the back of the throat. The fried egg was definitely a treat. While the yolk was cooked just enough, yet was still runny, it covered the pasta in coat of tastiness that can only be experienced to enjoy. While it is a little odd to have eggs on pasta, it is one recipe that you shouldn't pass up!
That's all we have for you this evening. Check back on Thursday as Tyler lightens a Mexican favorite. As 2013 comes to a close, we want to thank all of you who read our blog. We are nothing without our loyal followers and we cannot thank you enough for sharing our culinary adventures with us. We'll see you in 2014! Until then,
~Cheers!