Good evening everyone! Personally, cooking is about taking risks on ingredients and flavors and turning them into something completely different. As long as the ingredients agree with each other, I'm game for trying a dish I wouldn't normally try. Tonight, I'm introducing black beans to chorizo and make them agree for the commonality of a soup. Trust me, you will not be disappointed with the results.
The Recipe: Black Bean Soup with Chorizo and Lime
Original Recipe Found In: Cooking Light, December 2013 Issue
What You'll Need:
2 Teaspoons Olive Oil, divided
3 Ounces Spanish Chorizo, quartered lengthwise and cut into 1/2 inch pieces
1 Cup chopped Onion
1 Cup chopped Red Bell Pepper
2 Teaspoons chopped fresh Oregano
2 Teaspoons minced Garlic
1 Teaspoon ground Cumin
1/2 Teaspoon Chipotle Chile Powder
1/4 Teaspoon Salt
2 Cups unsalted Chicken Stock
2 (15 ounce) cans unsalted Black Beans, rinsed, drained, and coarsely mashed
1 Tablespoon Lime Juice
1/4 Cup reduced fat Sour Cream
1/4 Cup chopped fresh Cilantro
To start, heat a large saucepan, with one teaspoon of oil, over medium heat. Once the pan is heated, swirl the oil to coat. Add the chorizo and cook for three minutes, stirring occasionally. The chorizo won't have the tell-tale signs of being cooked, but if it looks like it has been thoroughly heated, remove from the pan into a small bowl. Do not wipe down the pan - there are bits of oil and chorizo that will be left for the next part of cooking.
To the now clear pan, add the remaining oil and swirl to coat. Add the onion and red bell pepper and cook for three minutes. The moisture from the onion and pepper will help to remove any cooked on bits of chorizo and enhance the flavor of the veggies. Once the onion and pepper have softened, stir in the oregano, garlic, cumin, chile powder, and salt. Cook for thirty seconds, or until the spices have become fragrant.
Next, stir in the stock and beans. Increase the heat of the saucepan to high to bring the mixture to a boil. Once at a boil, reduce the heat again and bring to a simmer. Cook at this temperature for three minutes. Stir in the cooked chorizo and lime juice and stir to combine well. Ladle into a serving bowl and top with a dollop of sour cream and a light sprinkle of cilantro. Serve and enjoy!
The End Result: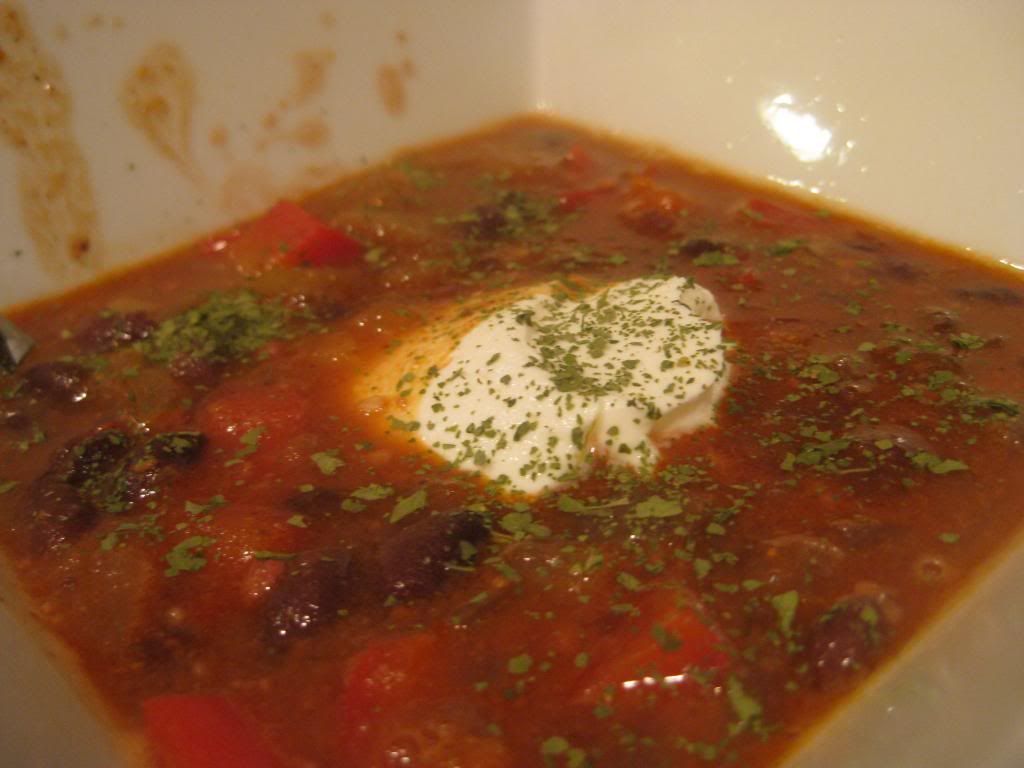 If you are looking to switch up your normal soup routine, this soup is for you! The black beans give the soup a very strong heartiness that the typical chicken noodle soup won't offer. All the wonderful, unique flavors from the onion, red bell pepper, and chorizo really boost the flavor quotient to the next level. Not only is the soup served warm, but with these ingredients, they give a flavor warmth that won't soon be forgotten. Best of all, one serving of this soup is under 290 calories, so you'll get a lot of flavor, for not a lot of calories - a win-win all around!
Thanks for joining us this evening. Check back tomorrow as Tyler gets creative with a unique pasta dish. Until then,
~Cheers!