Good evening everyone! Call us snobs, but we enjoy the higher quality ingredients when we cook. Granted this doesn't mean we spend outrageous amounts of money when we shop for groceries, but we do like to be a bit picky when it comes to the ingredients that go in our meals. We also like to feature local ingredients (when possible, of course.) Sometimes this means going to a farmer's market and pick out fresher ingredients. But sometimes, that includes ingredients that is locally produced by the best. Tonight, we'll showcase one of those local businesses that will give the end dish a hearty flavor.
The Recipe: Stout Mac and Cheese
An adaptation from a recipe found in Cooking Light, April 2013
What You'll Need:
7 Ounces uncooked Rotini pasta
2 Teaspoons Canola Oil
4 Ounces ground hot turkey Italian Sausage
2 1/2 Tablespoons all-purpose Flour
1/2 Teaspoon Black Pepper
1/8 Teaspoon kosher Salt
1 Cup Stout Beer*
1/3 Cup Whole Milk
4.5 Ounces reduced-fat sharp Cheddar Cheese, shredded**
*While the original recipe called for Guinness beer, I wanted to showcase a beer from a local brewery. Millstream Brewing, based out of the Amana Colonies, produces some of the best beer in Iowa. Whether it's something light on the palate, or something that will give your mouth a kick back, Millstream has a variety of beers suited for any beer drinker. We've had luck finding them in local grocery stores. If you feel up to it, head to the Amana Colonies for an inside peek into their brewery (plus, they have lots of drinks and items for sale!)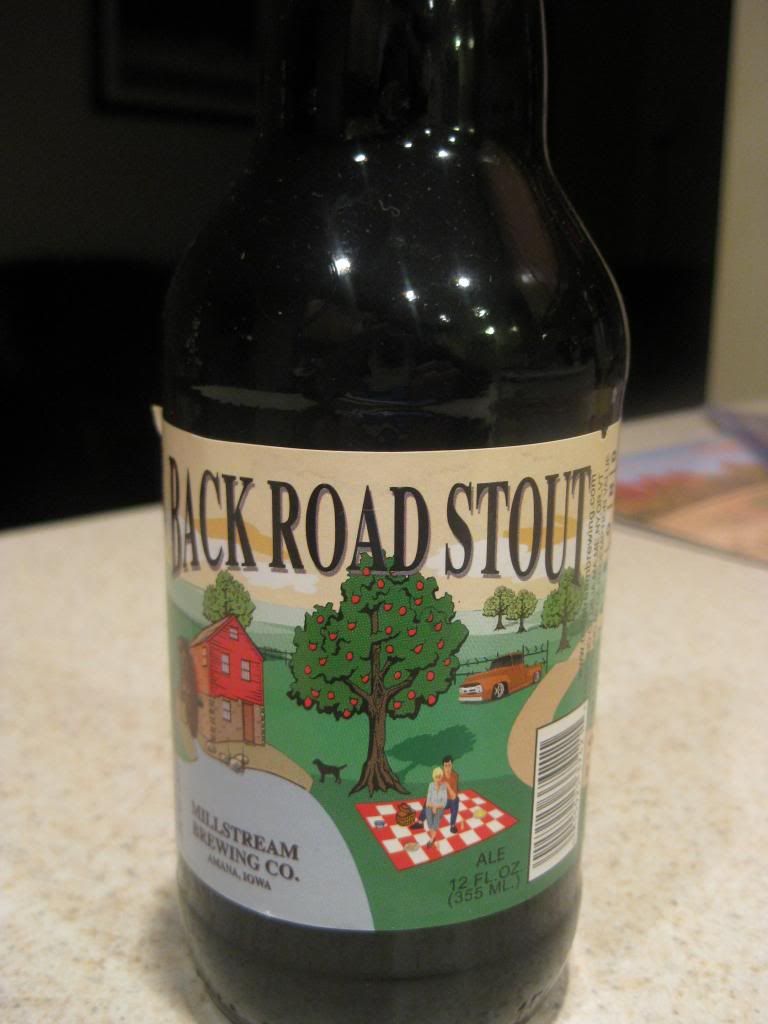 We used the Back Road Stout for this evening's dish. If you like darker beer, you will not be disappointed!
**The original recipe also called for 2.5 ounces of shredded cheddar cheese AND 2 ounces of light processed cheese, ala Velveeta Cheese. I have a confession to make: I am not a big fan of processed cheese. One could make the claim that all cheese is processed in some sort of way. But this mass produced block of cheese product doesn't appeal to me in the least, so that's why I went with the cheddar cheese and just made it the sole cheese product.
To start, preheat an oven to 450 degrees. While the oven is preheating, fill a medium saucepan with water and heat over medium-high heat. Once the water is at a boil, cook the pasta according to package directions. Once the pasta is cooked, drain in a colander and set aside.
While the pasta cooks, heat a large saucepan over medium heat. Once heated, add the oil and swirl to coat. Next, add the sausage and onions and cook for six minutes, stirring occasionally to crumble the sausage. Once the sausage and onions are thoroughly cooked, add the flour, pepper, and salt, stirring to coat for one minute. After this, add the beer, stir to incorporate all the ingredients, and bring to a boil. This mixture should cook for three minutes or until it's stick and bubbly. Remove the saucepan from the heat and stir in the milk and cheese, stirring until smooth. Finally, stir in the drained pasta, until everything is well coated.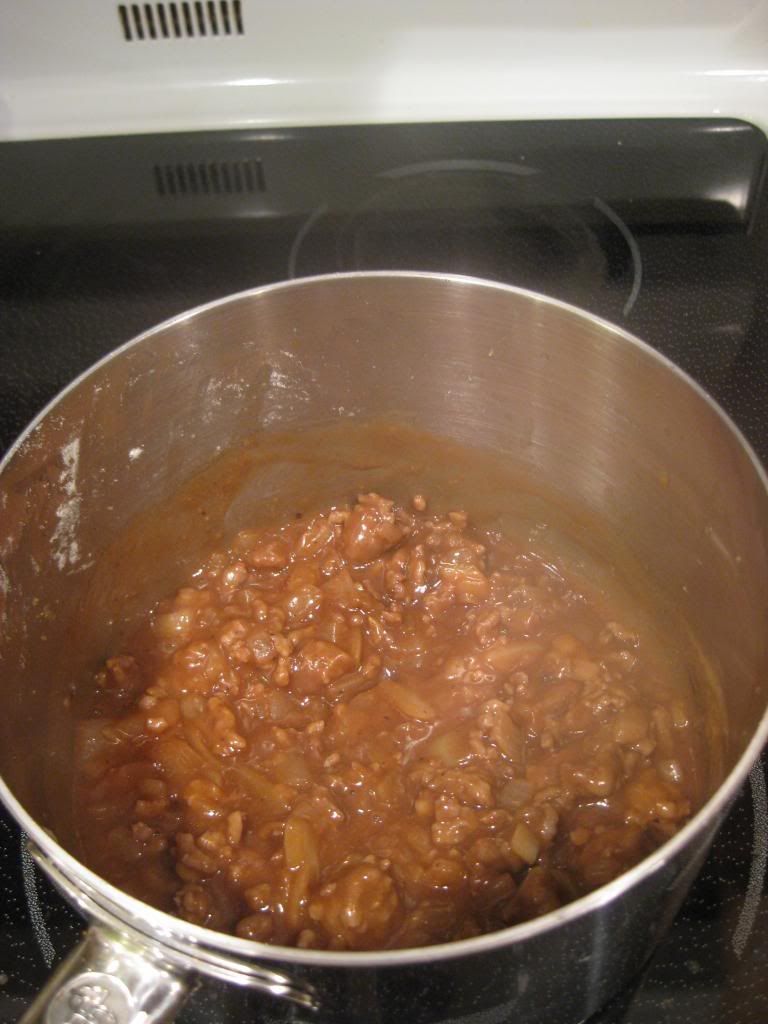 Sure it looks like gravy, but one taste and you'll know it isn't.
Prepare four ramekins by lightly spraying with cooking spray. Divide the pasta mixture between the four dishes. Place in the oven for ten minutes or until warm and bubbly. Sprinkle fresh parsley on top, serve, and enjoy!
The End Result: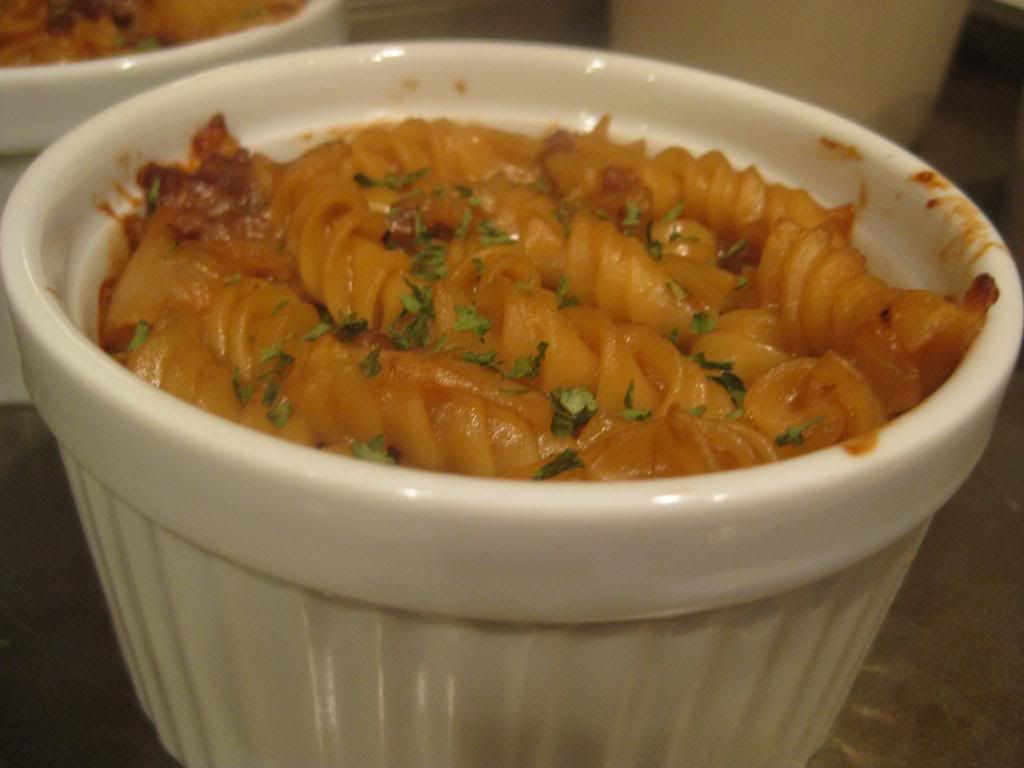 My, my, my...this isn't the mac and cheese that we've all grown up on! While the stout looks daunting, it's alcohol is cooked out, by the flavor is left behind. This produces one hearty and divine dish. The sausage also adds a bit of heat to a dish that's piping hot out of the oven. The creamy texture from the cheese makes all the ingredients have a cheesy flavor, without it being overbearing. Overall, this adult version of a kid's favorite could be your next great pasta dish!
That's all we have for you this evening. Check back later this week as Tyler showcases a traditional holiday meal that you can share with your family this year. Until then,
~Cheers!