Good evening everyone to a special Friday blog! One thing that we don't include as often on the blog is baking recipes. While neither of us have a knack for baking, when I see a delicious baked good, I really want to try it. My baking results have, more often than not, been about 65% not good to 45% good. This recipe would highlight itself under the 45% file and is a recipe I would love to try again.
The Recipe: Chocolate Chip-Hazelnut Scones
Original Recipe Found From: www.bakeorbreak.com
What You'll Need:
2 Cups White Whole-Wheat Flour
2 Tablespoons Granulated Sugar
2 Teaspoons Baking Powder
1/2 Teaspoon Baking Soda
1/2 Teaspoon Salt
1/2 Cup Unsalted Butter, cold and cut into 1/4 inch cubes
1/4 Cup chopped Hazelnuts
1/4 Cup mini Semisweet Chocolate Chips
2.4 Cup Buttermilk
1 Egg Yolk
1/2 Teaspoon Vanilla Extract
To start, preheat an oven to 375 degrees. Also, prepare a baking sheet with parchment paper or a silicone liner. Next, in a large mixing bowl, add the flour, sugar, baking powder, baking soda, and salt and combine well. Into that bowl, add the butter and cut into the mixture, using a pastry blender or a fork until the butter/flour mixture looks like coarse meal. Once this has mixed, carefully stir in the hazelnuts and chocolate chips.
In a small bowl, whisk together the buttermilk, egg yolk, and vanilla. Gently pour the liquid mixture into the flour mixture and stir until a dough forms. Next, carefully transfer the dough to a lightly floured work surface and knead gently for a few turns. Once the dough has combined itself, gently pat the dough into a flat disk, about seven inches in diameter and no more than an inch and a half thick. Cut the disk into six to eight wedges.
After cutting into wedges, transfer them to the prepared pan. For softer scones, leave the wedges close together in a circle, for crispier scones, separate and spread out the wedges. Place the baking pan in the oven and bake for 18-25 minutes, or until lightly golden brown. Cool the pan on a wire rack. Once cooled, serve, and enjoy!
The End Result:
(The bright pink you see under the scone is a silicone mat we got at IKEA - it was $10, compared to $25 for "brand name" silicone mats!)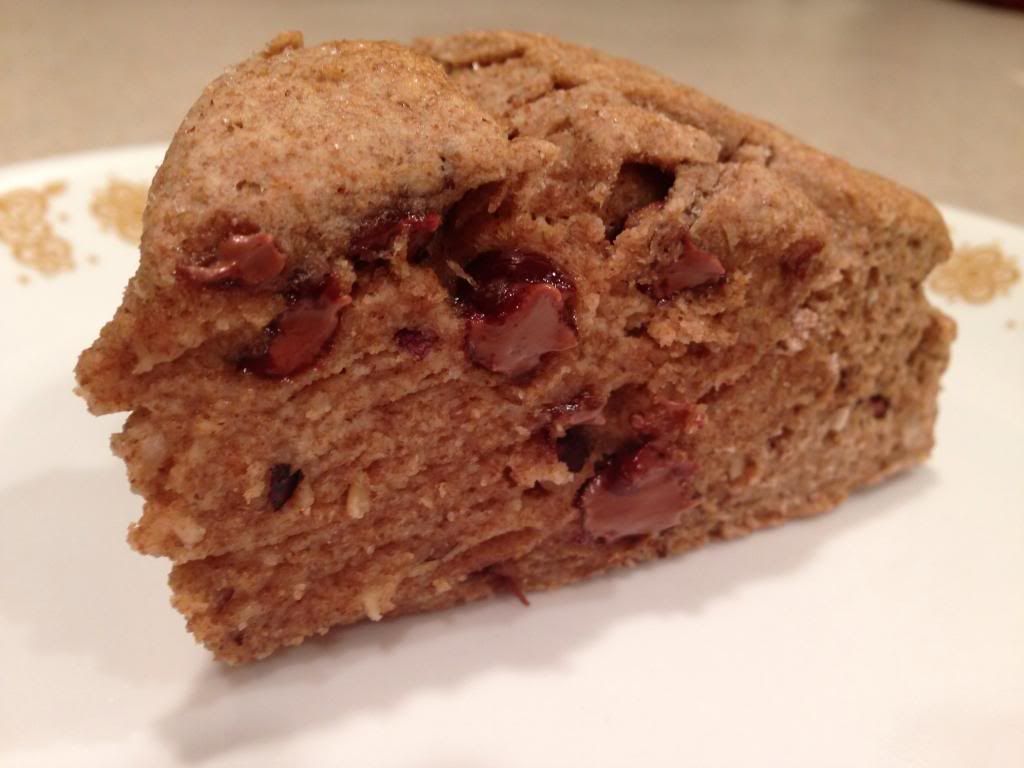 I did have high hopes for this scone when I started baking it, and some of those hopes got lost in the shuffle. We used whole-wheat flour, instead of WHITE whole-wheat flour, and that made a huge difference. The flavor of the dough wasn't quite right, and almost tasted yeasty (which is weird, because there was no yeast in the recipe.) With that being said, the scone was almost too dry to chew and needed warming up when eating it. The saving grace of this recipe though was the chocolate chips and the hazelnuts. If it worn't for those two ingredients, this scone recipe would have been a disaster. I would like to try this recipe again, except I would make some major alterations: I would use all-purpose flour (or white whole-wheat) flour, so the flavor components would really shine through. Also, adding more sugar, chocolate chips, and/or hazelnuts would really enhance the entire flavor of the scone. Otherwise, it was a baking attempt that was almost there, but it didn't completely fall on its face.
Thanks for joining us this week. Check back next week as we continue to cook up some brand new recipes. Until then,
~Cheers!