Good evening everyone! Over four years of blogging, we've evolved the goal of our blog. We originally set out to show you that healthy cooking was possible for amateur chefs. We then went for a more tutorial approach, providing background on cooking techniques and preparation methods for different dishes. More recently, we've focused on recipe reviews and creation. We cook up our own dishes or try some recipes from well traveled sites and let you know how they stack up. We take them on and make the tweaks so you don't have to. This means we sometimes stumble across great recipes - other times we find recipes with potential that just need a few tweaks. On a rare occasion we find a recipe that is simply...well...bad. Unfortunately, tonight's dish falls into the last category.
The Recipe: Spaghetti with Olive Oil, Garlic, and Red Pepper Flakes
Original Recipe Found In: Michael Symon's Five in Five
What You'll Need:
1 Pound dried Spaghetti
1/4 Cup Olive Oil
5 Garlic cloves, sliced
1 Tablespoon crushed Red Pepper Flakes
1/2 Cup fresh flat-leaf Parsley, chopped
1/2 Cup freshly grated Parmesan Cheese
1 Tablespoon unsalted Butter
To start, mix five quarts of water and three tablespoons of salt in a very large pot. Bring these ingredients to a boil. Add the pasta and cook until package directions state al dente. Once the pasta is done cooking, scoop out a cup of pasta water and drain the remaining water from the pasta.
Next, in a large skillet, add the olive oil and garlic. Heat this over low heat until the garlic becomes soft and fragrant, about three to five minutes. Add the red pepper flakes, along with the reserved pasta water, to the garlic and oil mixture. Bring the heat up on the skillet to a medium heat and heat the ingredients until they are at a simmer, about five minutes.
Meeting of the [flavor] minds...
Add the cooked pasta to the skillet and stir the noodles until they are covered with the sauce. Remove the skillet from the heat and add the parsley, Parmesan, and butter. Stir to coat the pasta. Serve and enjoy!
The End Result: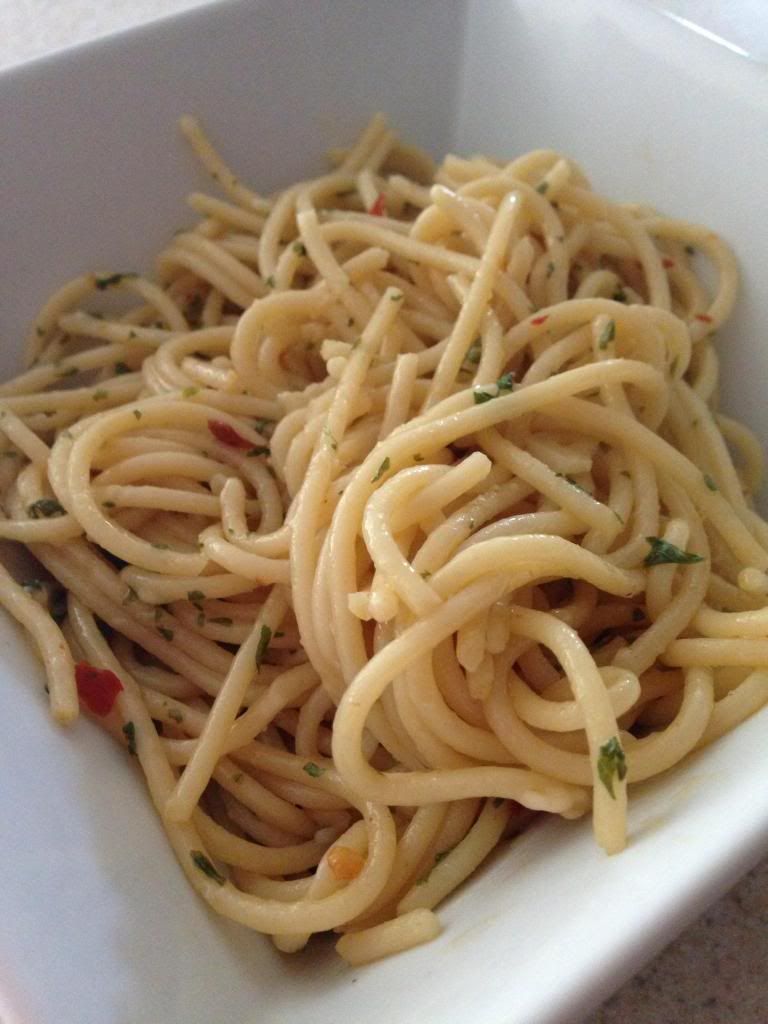 The final picture looks quite innocent, but prepare yourself. This is probably one of the hottest dishes we've ever created. The dish was so hot it was simply inedible. It burned from first bite all the way through the swallow (you could feel it burn going down your throat!) The red pepper flakes were so intense that it overpowered all of the other flavors. This was simply "red pepper flake pasta" and in this case, that isn't a good thing.
We're not sure if it was simply the quantity of the red pepper flakes or the quality of the flakes we used (we picked up some high quality flakes from Penzey's - it's possible the high quality flakes pack more heat). but the dish was hotter than necessary.
This recipe deserves a second shot, but the red pepper flakes need to be reduced GREATLY before doing so. (We're talking 1 teaspoon to 1/2 teaspoon - cut it WAY down). As it stands, we simply can't recommend this dish.
That's all we have for you this week. Enjoy the long weekend as we salute those who have served our country so we can enjoy the freedoms we have. Check back next week as we continue our Burger of the Week, serve delicious muffins, and present a brand new recipe. Until then,
~Cheers!