Good evening everyone! Besides Mexican food, one of the my other loves is Chinese/Asian takeout. There are just limitless possibilities that are waiting to be discovered! Most of the time, there are huge quantities of this food and you are left feeling super stuffed. Tonight, I present a great tasting Asian-inspired dish that won't make you feel kinda bloated like normal takeout, but will leave you inspired to create your own stir-fry.
The Recipe: Steak and Asparagus Stir-Fry
Original Recipe Found In: www.myrecipes.com
What You'll Need:
1/4 Cup unsalted Chicken Broth
1 1/2 Tablespoons Oyster Sauce*
1 1/2 Tablespoons lower-sodium Soy Sauce
2 Teaspoons grated peeled fresh Ginger
2 Teaspoons minced Garlic
1 Teaspoons Cornstarch
5 Teaspoons Canola Oil, divided
12 Ounces boneless Sirloin Steak, cut into 1/4-inch strips
12 Ounces medium Asparagus, trimmed and cut into 2-inch pieces
1 medium Red Bell Pepper, cut into strips
1/2 Teaspoon crushed Red Pepper Flakes
3 Green Onions, chopped
*If you don't want to buy an entire bottle of oyster sauce, hoisin sauce is a great substitute in a pinch, without connotations of oysters lingering in your head.
To start, combine the chicken broth, oyster sauce, soy sauce, ginger, garlic, and cornstarch in a small bowl. Whisk all the ingredients together and set aside.
Next, heat a large skillet over high heat and add one tablespoon of canola oil. Once the oil has heated, swirl the skillet to coat. Add the beef and stir fry until browned, but not cooked through, about one and a half to three minutes. While cooking, just ensure all sides have lost their pink color. It's okay if some of them are still a touch pink, the slices of beef are thin enough they will cook later. Once the beef has cooked, place on a clean plate and keep covered. Discard the beef liquid in the pan.
Return the skillet to high heat and add the remaining two teaspoons of oil, swirl to coat again once the oil has warmed. Add the asparagus and bell pepper and stir fry the vegetables for two minutes, until the asparagus has become greener and the red bell pepper has hints of browning. Next, add the crushed red pepper and green onions and stir fry again for 30 seconds to one minute. Reduce the heat of the pan to a medium-high heat. Add the stock mixture and cook for three minutes or until the sauce has slightly thickened. Return the beef and any remaining juices to the pan and cook for one to three minutes, or until all the ingredients have been coated and heated well through. Serve and enjoy!
The End Result: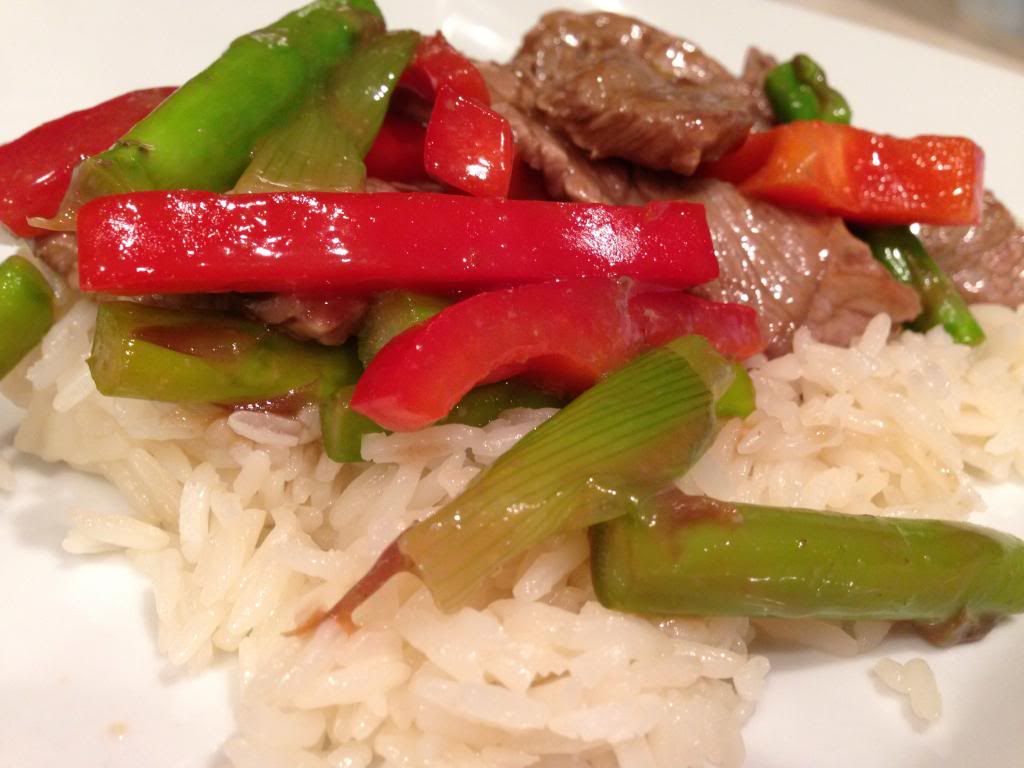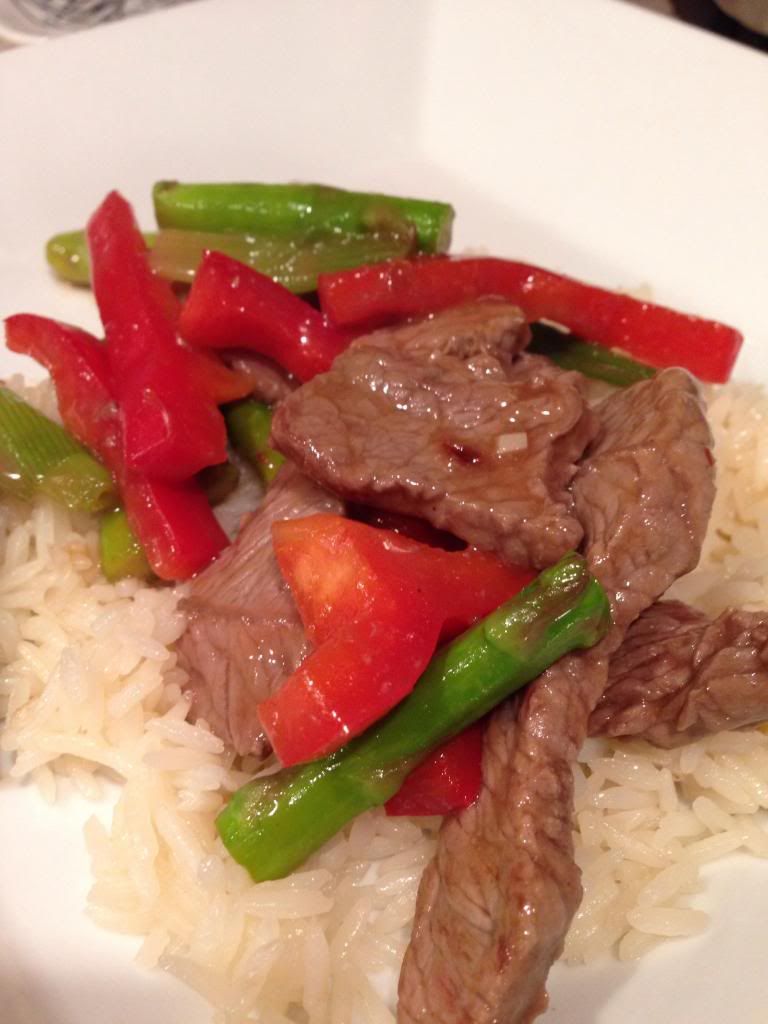 This is a great low-calorie (not to mention guilt-free) version of Asian takeout. Using mostly vegetables, you'll get the flavor from these ingredients, instead of extra additives that might be hidden in normal takeout. Although, when I added the crushed red pepper to the skillet, there was a waft of strong flavor that took my breath away, so be careful when inhaling at that portion of the recipe! The steak is super thin definitely adds to an extra protein boost to the dish. I highly recommend serving this with jasmine rice, because it'll soak that extra sauce and definitely even out any flavors that might be a little too intense. Overall, a great dish that's suited for anyone willing to take the plunge into cooking Asian at home!
Thanks for joining us tonight. Tyler joins us tomorrow as he presents a brand new, summer-long special for the blog. Until then,
~Cheers!