Good evening everyone! I will be the first to admit that my fallback on recipes is Mexican. I just quite can't get enough of these recipes. Although tonight's dish might not exactly fall in the Mexican (or Tex-Mex) style, it sticks to one skillet and a whole lot of flavor.
The Recipe: Chicken Tortilla Casserole
Original Recipe Adapted From: www.pinterest.com
What You'll Need:
2 boneless, skinless Chicken Breasts
2 Tablespoons Vegetable Oil
1 Shallot, minced
2 Garlic cloves, minced
1-2 Tablespoons minced Chipotle Peppers in Adobo Sauce
1 3/4 Cup Chicken Broth
5 Cups Tortilla Chips, broken into large pieces
1 Tomato, cored, seeded, and chopped
4 Ounces shredded sharp Cheddar Cheese (about one cup)
2 Tablespoons chopped fresh Cilantro
To start, heat a nonstick, oven-safe skillet over medium high heat. Place the chicken on a clean plate and pat the chicken dry with a paper towel and season with salt and pepper. Once the skillet is heated, add one tablespoon of vegetable oil. Swirl the oil to coat the skillet and add the chicken to the skillet. Cook until both sides are golden brown, five to seven minutes total. Transfer the chicken to same plate, keep covered, and set aside.
Next, add the remaining oil, shallot, garlic, chipotle pepper, and 1/4 teaspoon salt. Cook this mixture until fragrant, about 30 seconds. After this, add the chicken broth and scrape up any browned bits. Bring the broth and shallot mixture to a simmer.
Stir in half of the tortilla chips into the broth, then nestle the chicken breasts in. Reduce the heat of the skillet to medium-low. Cover the skillet and cook for 10-15 minutes, or until the chicken is cooked through (about 165 degrees.) Bring the chicken out of the skillet onto a cutting board and shred or chop into bite size pieces.
Bring the chicken back to skillet and stir in the tomato, 1/2 cup of cheese, and one tablespoon of cilantro until everything is well incorporated. This mixture is quite thick, so be prepared to put a little elbow grease into it! Stir in the remaining tortilla chips until they have become moistened.
Meanwhile, heat a stove to a broil. Sprinkle the remaining cheese on top of the chicken mixture and broil until the cheese is melted and is beginning to brown, about two to three minutes. Take out of the oven and sprinkle the remaining cilantro. Allow the casserole to sit for five minutes. Serve and enjoy!
The End Result: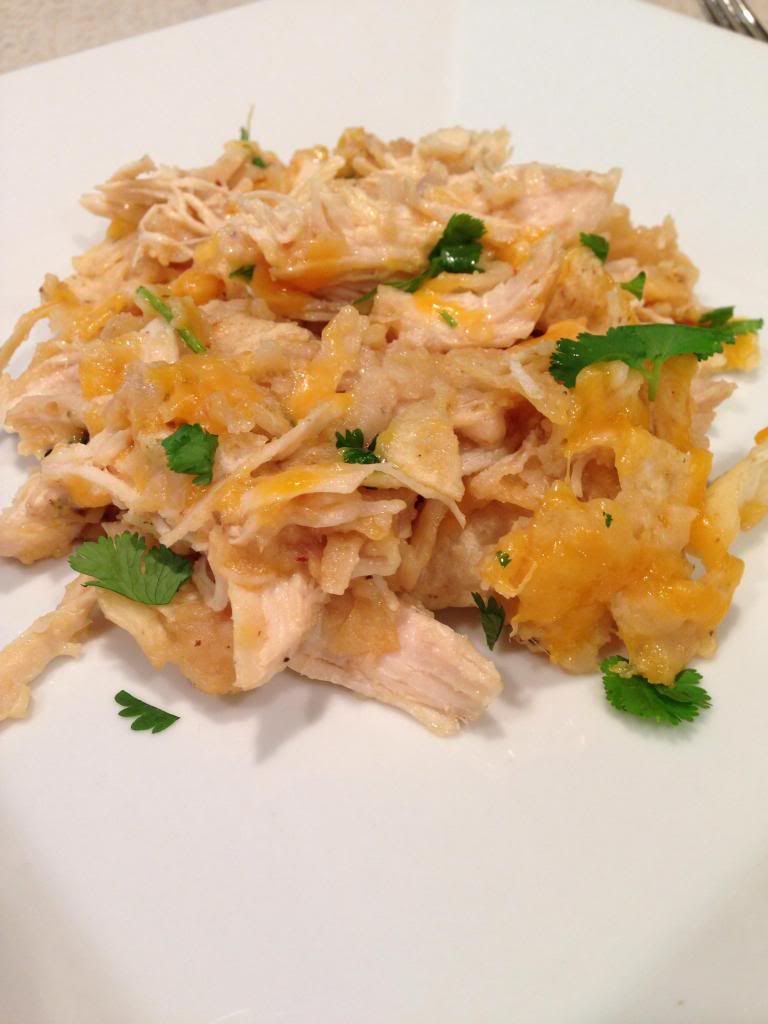 For all the work that is put into this dish, it's actually quite flavorful. There is a subtle hint of heat from the chipotle pepper, but it is never overwhelming. If it wasn't in it, this recipe might actually be quite bland. The cilantro also adds another fresh element to this dish. The pops of green are quite welcoming and adds bursts of flavor. This dish doesn't feel too heavy on the pallet either. Since the tortilla chips soaked in most of the broth, it's quite pleasant, without being too much. There's just enough cheese to coat the dish and that's all it needs. Overall, a dish that will surprise you and make you want more!
That's all we have this week. Check back next week as we continue our Burgers of Summer and great grilling dishes. Until then,
~Cheers!