Greetings everyone! As I alluded to a while ago, we found a new recipe for muffins. It just happened to coincide that we found fresh blueberries at our local farmer's market. It was only perfect that we make blueberry muffins, but little did we know that these muffins would far surpass any muffin we've made before.
The Recipe: Jumbo Blueberry Muffins
Adapted from a Recipe Found In: www.pinterest.com
What You'll Need:
3 Cups All-Purpose Flour
4 Teaspoons Baking Powder
1/2 Teaspoon Salt
1 Teaspoon Cinnamon
2 Eggs, room temperature preferred
1 Cup Sugar
1 Cup Milk
1/2 Cup Canola Oil
1 Teaspoon Vanilla Extract
1 1/2 Cups fresh or frozen Blueberries
To start, preheat an oven to 425 degrees. Prepare your muffin tin by coating the insides and outside with nonstick cooking spray. Set these aside until you need them.
Meanwhile, in a large bowl, toss the flour, baking powder, salt, and cinnamon together in a large mixing bowl until they are well combined. This should only take about thirty seconds, or until you see little specks of brown dispersed throughout the mixture.
In another medium mixing bowl, whisk the eggs and sugar together, until they are well combined. Mix the oil, milk, and vanilla in until the mixture becomes pale and yellow. Carefully, fold the wet ingredients into the dry ingredients and mix everything with a sturdy spatula or by hand, if you want to. Make sure the flour that is at the bottom of the bowl is mixed in. A bit of warning: this batter will be SUPER THICK and sticky, so if you are mixing by hand, they will get stuck very quickly to your hands. Once the batter has mixed, fold in the blueberries.
Next, pour the batter into the prepared muffin tins, filling all the way to the top. Place the tins in the oven and bake for 425 degrees for five minutes, then drop the temperature of the oven to 375 degrees and continue to bake for 13-14 minutes, or until a toothpick that is inserted in the middle of the muffin comes out clean. The tops of the muffins should also have transformed into a light golden brown color. Allow the muffins to cool for 10 minutes in the pan before consuming. These muffins are best served warm, a light spread of butter (if desired,) serve, and enjoy!
The End Result: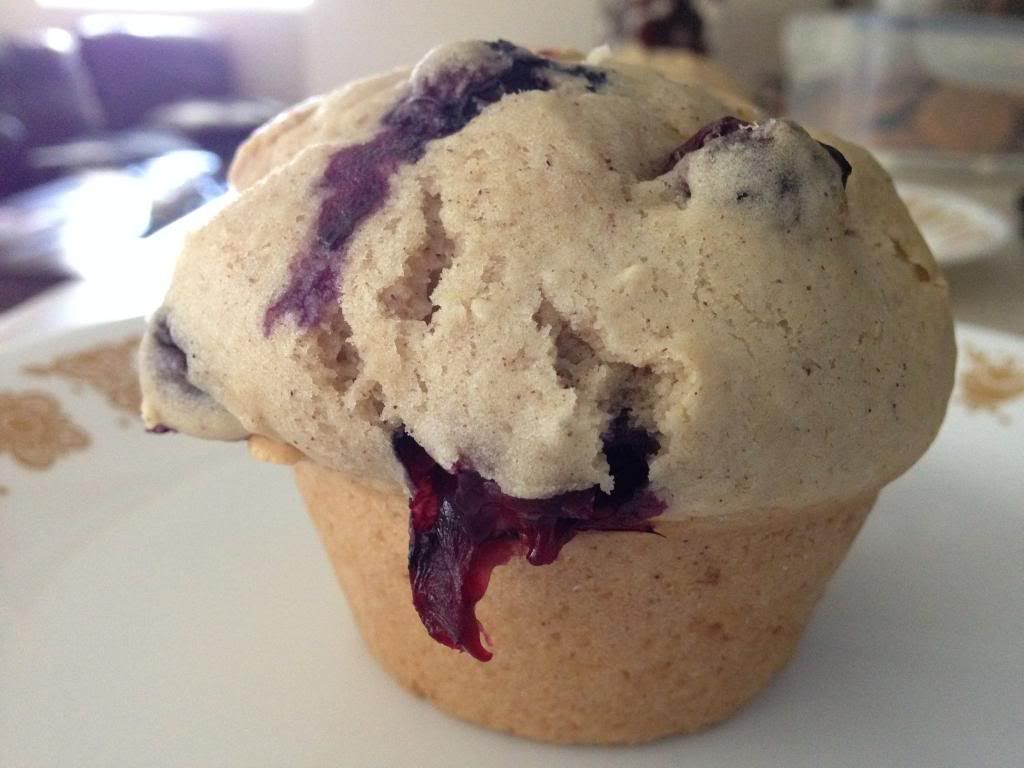 I don't believe I've ever had muffins with the distinct flavor of cinnamon in it, but I don't think I'll ever go back! The aroma of cinnamon filled our house while the muffins baked and the continued whilst eating them and it made the muffins perfect. You almost don't need to coat them in butter - they are perfect the way they are. Paired with the fresh, large blueberry muffins we picked up, it was almost muffin utopia. I'm quite positive we will cook these muffins again, not only for their flavor properties, but if served for breakfast, these will most certainly fill you up!
Thanks for joining us today. Check back later this week as Tyler cooks up another burger recipe from the kitchen and I'll be trying another recipe from a redeemed cookbook a try. Until then,
~Cheers!