Good evening everyone! After a not-so-great outing from Chef Michael Symon's Five in Five cookbook the first time around, I didn't want to let that deter me from any of the other recipes in his book. The key was to avoid anything that involved heat - as we saw before, Chef Symon is a fan of spicy. Tonight, we are happy to report that Chef Symon has a softer, less flame worthy side.
The Recipe: Angel Hair with Peas and Pancetta
Original Recipe Found In: Michael Symon's Five in Five
What You'll Need:
1 Pound dried Angel Hair Pasta
1/2 Pound diced Pancetta (or bacon)
2 Garlic cloves, minced
1 Cup fresh or frozen Peas
1/2 Cup torn fresh Mint leaves
1/2 Cup shredded Parmesan cheese
3 Tablespoons Olive Oil
To start, fill a very large pot with water and on the stovetop, bring the water to a boil. Sprinkle some salt in to taste. Once the water is boiling, add the pasta and cook according to package directions indicate "just al dente". After the pasta is done cooking, drain in a colander, making sure to save one cup of pasta water for later in the recipe.
Meanwhile, heat a large skillet over medium heat. Once heated, add the pancetta and cook until just crisp. Depending on if you are cooking with pancetta or bacon, this will determine the cooking time. If you are cooking with pancetta, it will take about three minutes. If you are cooking with bacon, it will take about eight minutes. Keeping the meat in the pan, add the garlic to the pan and stir, making sure the garlic doesn't brown. This will take about thirty seconds.
Next, add the reserved pasta water and the peas to the skillet and simmer for one minute. Add the cooked pasta to the skillet and stir into the sauce and cook for thirty seconds. Remove the skillet from the heat and stir in the mint, Parmesan cheese, and olive oil. Season with salt and pepper, if desired, and add any Parmesan cheese, also if desired. Serve and enjoy!
The End Result: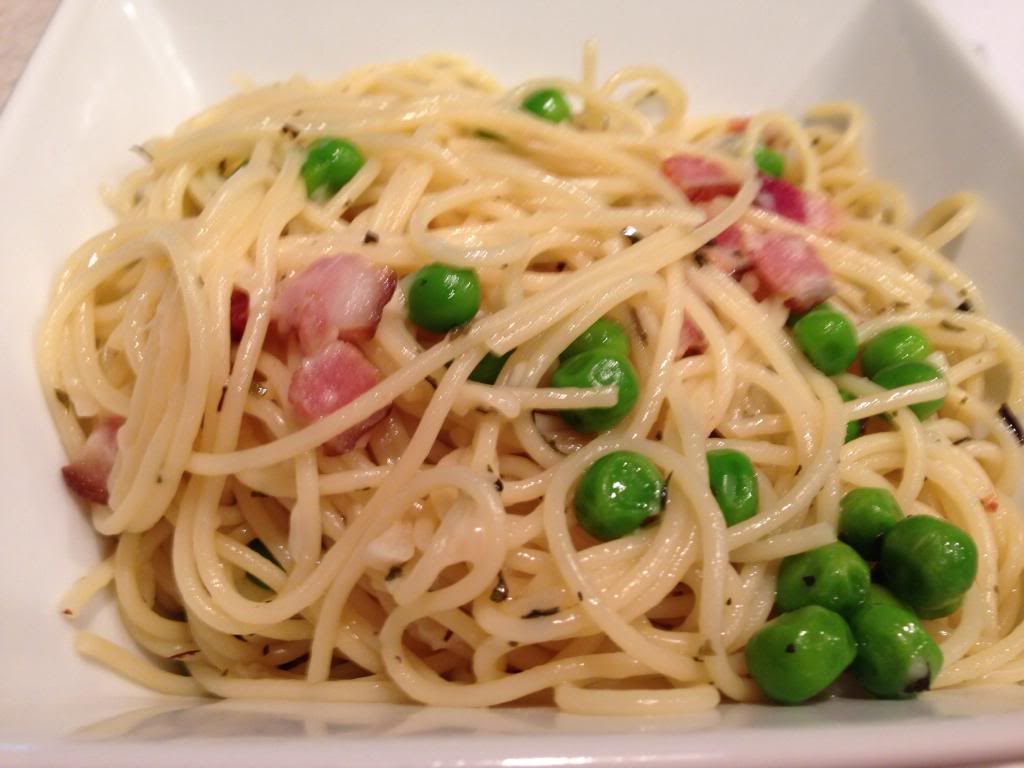 First of all, there's no heat (yay!) And second, it's tasty (yay!) With subtle hints of mint dispersed, the pasta doesn't feel weighed down by a thick or heavy sauce. With a lack of sauce, that's bound to happen. The peas are also a delightful burst of freshness to this dish. We used bacon for our version and with every bite of pasta with bacon made it super delicious. The hints of Parmesan sprinkled throughout is also a great addition. Overall, a redemption for Chef Symon's cookbook and definitely worth trying again.
Thanks for joining us this week. Check back for brand new recipes from the both of us. Until then,
~Cheers!