Good evening everyone! It's easy to overlook the humble steak. While it's simple enough to cook in the oven, it's best when it's been grilled. And when adding an effortless marinade to the mix, the results are absolutely mouthwatering. Tonight, I'll be grilling a great steak that's so easy, you'll wonder how you did plain steak ever again.
The Recipe: Fabulous Flank Steak
Original Recipe Adapted From: www.pinterest.com
What You'll Need:
For the Marinade:
1/2 Cup Olive Oil
1 Cup Soy Sauce
2 Teaspoons Sesame Oil
3 Cloves Garlic, smashed
2 Teaspoons fresh Ginger, minced
1 Teaspoon Sesame Seeds
1 Teaspoon Brown Sugar
1 handful Cilantro, chopped
Juice of 1 Lime
1/3 Cup Green Onions, chopped
2 Pounds Flank Steak, trimmed
To start, combine the olive oil, soy sauce, sesame oil, garlic cloves, ginger, sesame seeds, brown sugar, cilantro, lime juice, and green onions in a large, sealable plastic bag. Close the bag and mix all the ingredients until they are well combined. Add the flank steak and season with salt and pepper. Close the bag and place in the refrigerator. Marinate the steak for a minimum for four hours, or if you want a real intense flavor, marinate overnight. I marinated our steak from 8:00 PM to 5:00 PM the next day - trust me, if you do it for that long, you'll be well rewarded!
When you are ready to cook the steak, preheat a grill over high heat. Remove the steak from the bag and place on a cutting board. Be sure to close the plastic bag and set aside. Once the grill is heated, lay the steak on the grill, cover, and cook. Of course, depending on how well you want your steak to be done, will depend on how long you cook it. If you want medium rare, cook for five to seven minutes on each side, flipping only once. If you want your steak a little bit more done, about medium to medium well, cook the steak for a minimum of seven minutes on each side.
Once the steak is done cooking, remove from the grill and place on the cutting board. Loosely tent with aluminum foil and keep covered for ten minutes.
While the steak is resting, you can make the sauce. Remember the marinate? We're going to make a sauce out of it! Pour the remaining marinate into a food processor and blend until bigger ingredients have been pulverized. From here, pour the liquid into a small saucepan and heat over medium-high heat until the liquid begins to boil. This just ensures any meat particles get heated and cooked down.
Once at a boil, drop the temperature of the saucepan to a simmer and cook for at least ten minutes. Toward the end, add two tablespoons of unsalted butter for a bit of thickness to the sauce. After cooking, strain the sauce using a mesh sieve into a small serving bowl. Slice the meat against the grain, serve a couple of pieces of sliced meat with some sauce, and enjoy!
The End Result: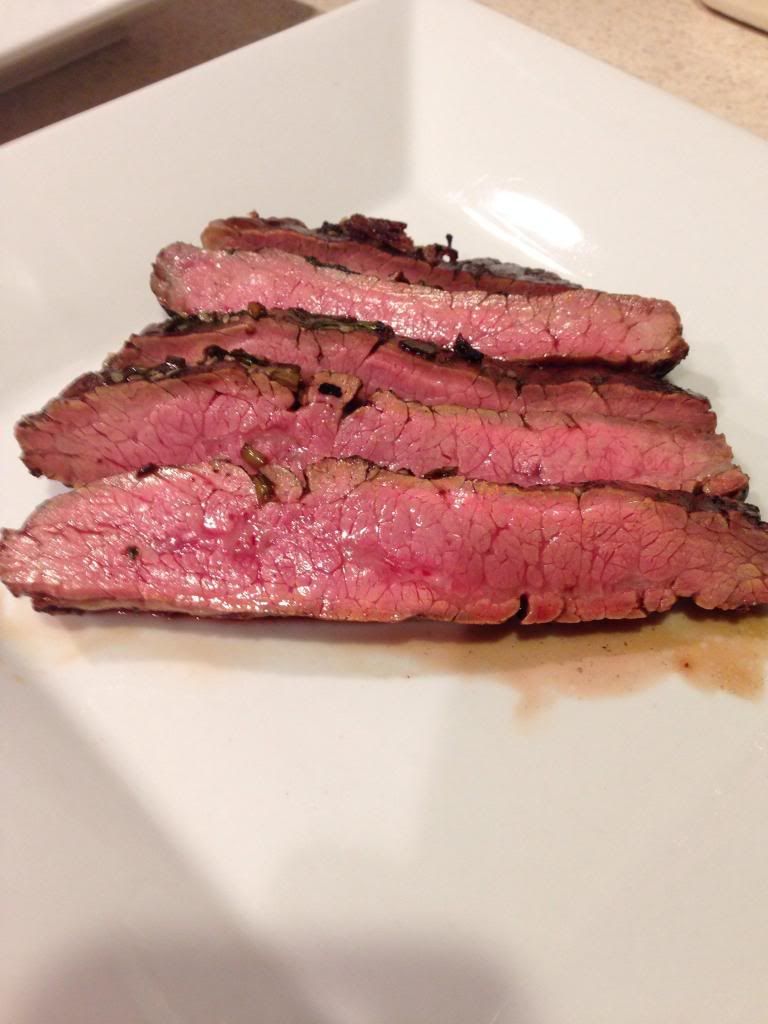 Don't let the doneness fool you in this picture, because the flavor of this steak is phenomenal! The soy sauce caramelized a bit when cooking and added a real heartiness. There are hints of green onion, ginger, and garlic, but it doesn't completely overwhelm the dish. It seems to have a bit of Asian influence, but it makes your mouth want to drool. I think the flavor from the steak is really added from the sauce. Whether you drizzle the sauce over the steak, or dunk cut pieces into a small bowl of sauce, it really adds to the steak. If you are looking for something different to do to a steak, this might be the recipe for you!
Thanks for joining us tonight. Check back on Friday as Tyler creates another summer burger delight! Until then,
~Cheers!