Good evening everyone! As my surgery date creeps ever so slowly, I've been doing a lot of research. I understand that my diet will probably change quite a bit after surgery and slow reintroductions to foods will have to be incorporated. But the thing that has been boggling my mind is what foods can I eat right after my surgery. According to one website, I have to avoid everything and anything. Another one said just liquids. I suppose I won't know until I have the organ yanked out to find out what tastes good or not.
As for this evening though, I'm trying a festival of flavor. Not only do the ingredients sound great, but they sound amazing together. I figure for my last recipe (for a while) that I would go out with a bang...or something like that...
The Recipe: Tasty Italian Chicken
Original Recipe Found In: Taste of Home, December 2010/January 2011
What You'll Need:
1/2 Cup Chopped Onion
1 1/8 Teaspoons Paprika, Divided
3 Teaspoons Olive Oil, Divided
1 1/4 Cups Water
1/4 Cup Tomato Paste
1 Bay Leaf
1/2 Teaspoon Reduced-Sodium Chicken Bouillon Granules
1/2 Teaspoon Italian Seasoning
1/4 Cup All-Purpose Flour
1 1/2 Teaspoons Grated Parmesan Cheese
1/2 Teaspoon Salt
1/4 Teaspoon Garlic Powder
1/4 Teaspoon Dried Oregano
1 1/2 Pounds Chicken Tenderloins (2-3 Chicken Breasts)
Begin with sauteing the onions and 1/8 teaspoon paprika in 1 teaspoon oil in a small saucepan. Cook until tender, 5-10 minutes. Stir in the water, tomato paste, bay leaf, bouillon, and Italian seasoning. Now, you might be asking, "Maggie, I thought you would be steering clear of any tomato based products since it made your gall bladder upset." Well...I kind of did take a risk here. Since it is a paste and not really chopped or chunky tomatoes, it might do well in my system. Bring the entire combination to a boil. Reduce the heat to simmer and keep uncovered for 10 minutes.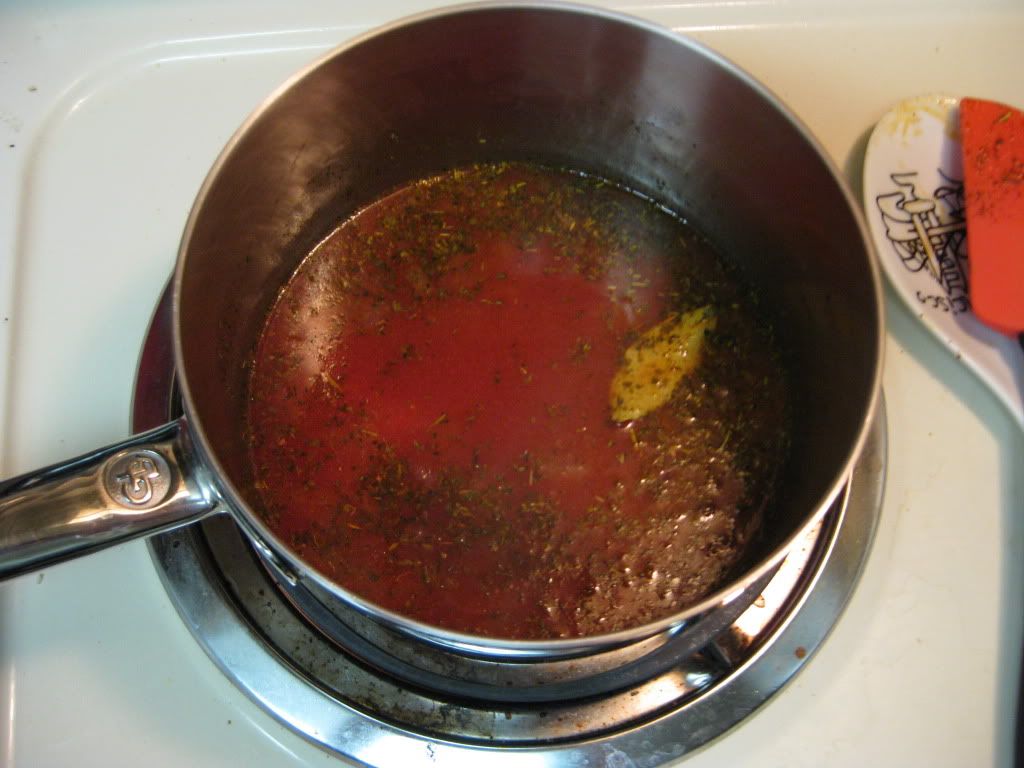 Meanwhile, in a large re-sealable plastic bag, combine the flour, Parmesan cheese, salt, garlic powder, oregano, and remaining paprika. Add the chicken into the bag, seal and shake to coat. Also, another variation would be to use a plastic sandwich bag and roll the chicken for a minute or two until well coated.
In a large, nonstick skillet coated with cooking spray, cook the chicken in one teaspoon of oil. If you have tenderloins, cook for two to three minutes on each side or until no longer pink. If you have chicken breasts, cook for 10 minutes on each side or until a meat thermometer reads 165 degrees. Remove the bay leaf, serve sauce with chicken and enjoy!
The End Result:
I thought this recipe would be bursting with flavor and have a nice thick sauce. Both of which did not happen. Most of the seasonings on the chicken were hardly there and could barely taste. The tomato based sauce did have some flavor but not enough to make it great. It ended up being really watery and added a nice accent to the dish, but that's about it. As for gall bladder safe...I think it is. Nothing is too potent in it to cause an uproar in my tummy, but, as with every dish that is "gall bladder safe", it needs more flavor!
Thanks Maggie, and yes dear reader - Maggie did cheat the rules for a dish tonight. Tomato products are off the list and onions are greatly discouraged. Someone snuck this recipe up on me until the last minute and managed to get it approved...hmm. That being said, the dish wasn't as bad as Maggie was making it out to be. The sauce was more of a light glaze that worked well as a dip. The flavor was reminiscent of chicken parmesan - but yes, it did need more herbs. Sadly, this dish is a victim of our limited diet until Maggie gets to feeling better.
That's all we have for you this week. We've got a short week lined up next week. Simply an 'Around The Culinary World' and one recipe. With surgery pending next week, we're simply not going to have the time or the energy to cook all week. We know you'll understand.
Until next time,
~Cheers