Good evening everyone! As my surgery looms closer and closer, we're still batting in the safe zone, as far as food goes. Granted, I could have my gallbladder go out with a bang, that's probably not the wisest decisions. Today, I talked to a nurse about the upcoming procedure, and I asked her what I would be able to eat right after the surgery. She told me "Very bland foods: macaroni and cheese, pudding, mashed potatoes, jello...nothing greasy or spicy" - which I have been doing and it seems to help. But obviously I won't be diving in head first into the foods I once loved, but now have given up. Time will only tell when I'll be able to eat that kind of food again.
Tonight, I decided to try a breakfast recipe as a "safe food." Not only does it look delicious, but I think it might be a wise decision for my tummy.
The Recipe: Buttermilk Pancakes with Vanilla Bean-Berry Syrup
Original Recipe Found In: Food Network Magazine, January-February 2011
What You'll Need:
Pancakes:
1 1/2 Cups All Purpose Flour
1/2 Cup Finely Ground Cornmeal
3 Tablespoons Granulated Sugar
2 Teaspoons Baking Powder
1/2 Teaspoon Salt
Pinch of Grated Nutmeg
2 1/4 Cups Well-Shaken Buttermilk
2 Large Eggs, Beaten
1 Tablespoon Vegetable Oil, Plus More for Greasing
Syrup:
1 Cup Maple Syrup
1 Vanilla Bean, Split Lengthwise
1 Pint Fresh Blueberries, Blackberries, or Raspberries
Begin by making the syrup: heat the syrup and both halves of the vanilla bean in a small saucepan over medium-high heat. If you aren't aware, vanilla bean is VERY expensive, like 7 dollars a container of TWO vanilla beans. We opted for vanilla bean extract, and splashed a 1/4 teaspoon with the syrup, just enough to add some flavor without bleaching our mouths with vanilla taste. Just before the mixture comes to a simmer, remove from heat, stir in berries, and set aside for thirty minutes to let the flavors meld. We chose blueberries in our version. Blueberries and pancakes were just meant to be together and they have a great flavor pairing: the fluffiness of the pancakes and the tartness of blueberries just harmonize so well.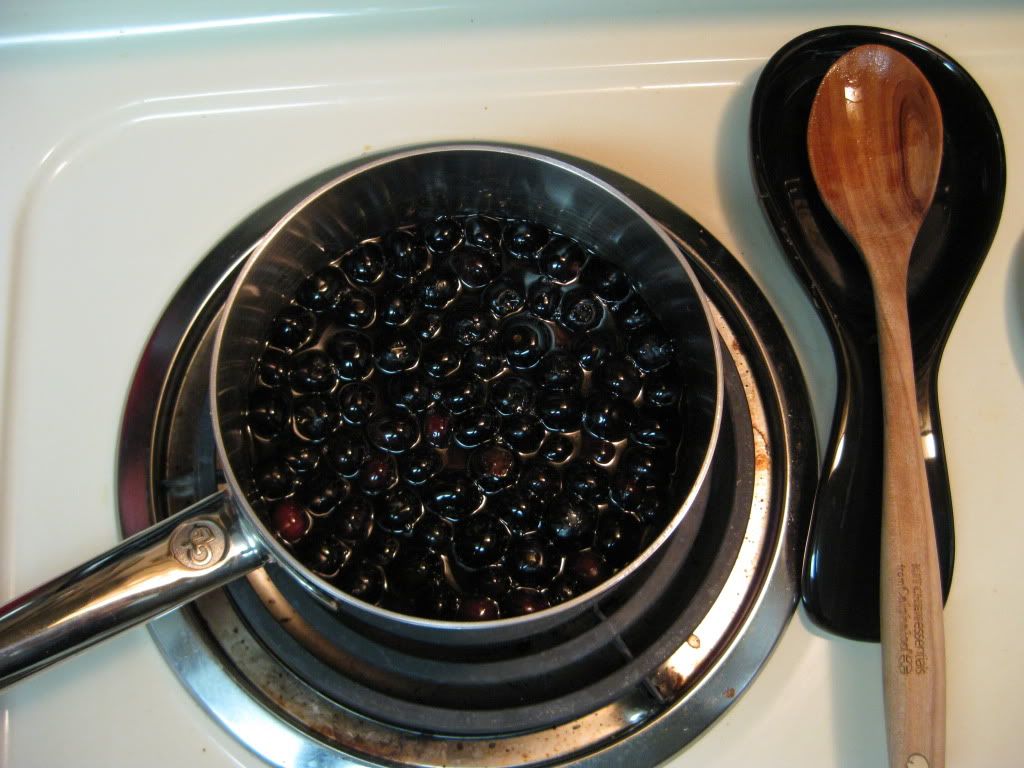 Making the pancakes: preheat the oven to 200 degrees. Whisk the flour, cornmeal, granulated sugar, baking powder, salt, and nutmeg in a large bowl. In a separate bowl, whisk the buttermilk, eggs and oil. Stir the wet ingredients into the dry ingredients until just blended. Heat a large nonstick skillet over medium high heat. Add enough oil to grease it lightly and leave a film on the bottom of the pan.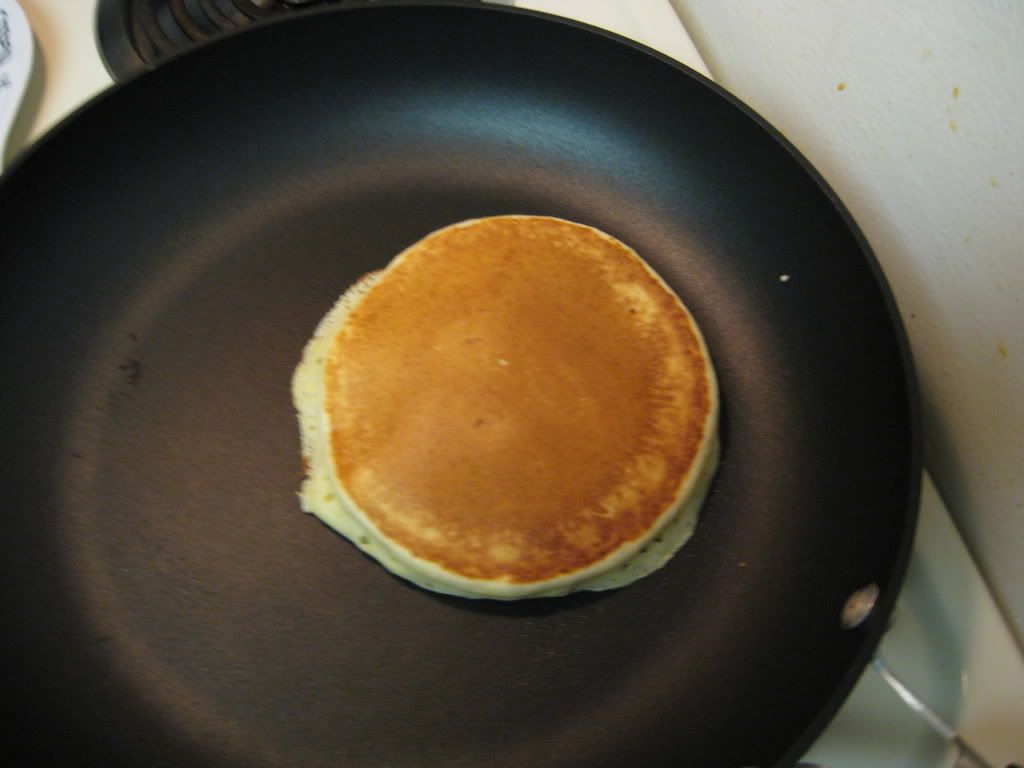 Working in batches, ladle the batter, about 1/2 cup at a time, into the pan. Cook until the pancakes are golden brown on the bottom and bubbles start to form on the top, about three to five minutes. Flip and continue cooking for two to three minutes. Put the finished pancakes on a sheet tray and let sit in the oven to stay warm. Serve with berry syrup, butter, and enjoy!
The Final Result: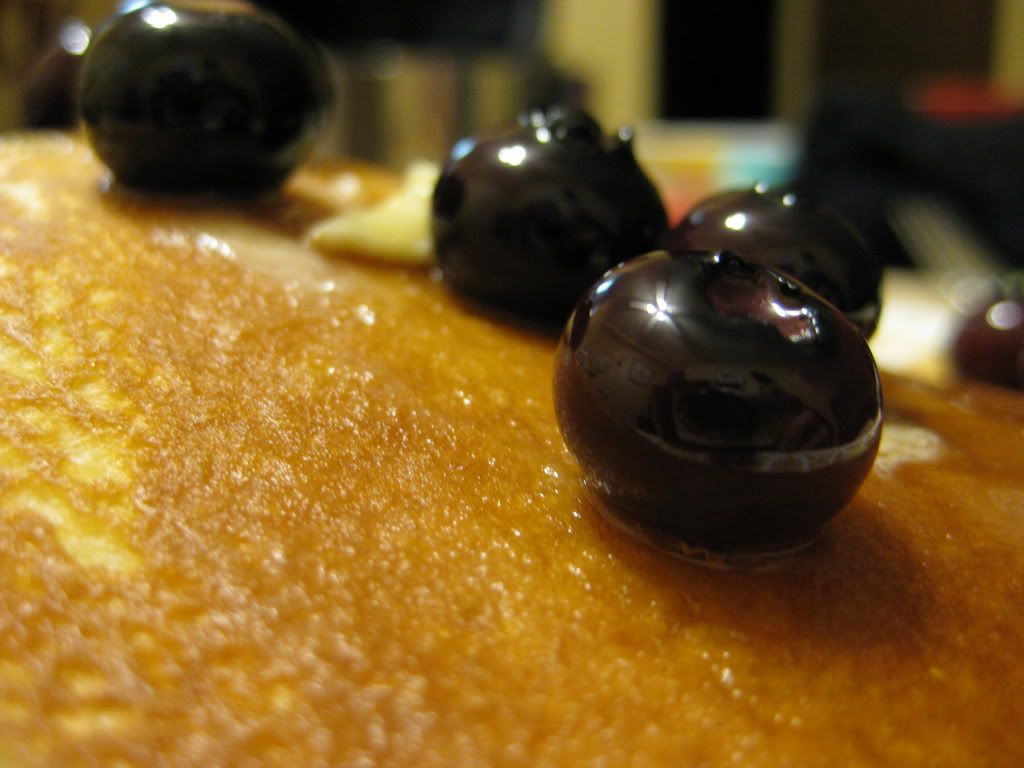 The sweetness and tanginess from the syrup adds a delicious touch to these pancakes. The slight flavoring from the vanilla extract adds a whole new dimension to the syrup and boosts its flavor component. The blueberries added a nice touch to the whole dish and proved, once again, that blueberries were meant to be with pancakes. The pancakes were extremely fluffy and it filled you up, but never left a overt full feeling, like you get with most pancakes. Overall, a mighty fine dish and very simple as well!
Thanks Maggie! This could be one of the last 'safe dishes' we have to cook in a long while (after the two week 'recovery' period - obviously) that being said, if all the safe dishes came out like this...I don't think I'd mind!
That's all we have for you tonight. I'm back in the kitchen tomorrow night, so be sure to stop back tomorrow evening to see what I've got cooking. Until then,
~Cheers