Hello again everyone! It's Monday, and for some Americans, it feels like the day after a big holiday. Last night was, of course, the Super Bowl, a culmination of football, entertainment and food. Lots of food. Most of it not too good for you either. The game was good, the commercials were sub par (as usual) and the food was delicious, but not that good for you. All in all, another good Super Bowl, right? The best way to ease back into the work week after a night full of fun is to catch up on all of the culinary news! Unfortunately, the Super Bowl took top billing in most of the food related stories for this week, so it's a little bit of a lighter week on the news front. That won't deter us from diving into the stories worth sharing for this week!
The biggest culinary news story currently making the rounds involves another product recall. This time, eggs are the culprit. A Minnesota based egg manufacturer is recalling cases of their hard cooked eggs after testing revealed a possible listeria contamination. You may recall that this isn't the first listeria outbreak in recent months. The end of 2011 saw a large listeria outbreak surrounding tainted cantaloupes. Listeria typically has the most effect on the elderly and young children or anyone with a weakened immune system. Most adults may feel short term effects such as fever and nausea.
The company believes that a project in their packing room resulted in the contamination and has announced that over 1 million eggs are currently being recalled as a precaution. There currently have not been any illnesses reported due to this contamination. This particular line of product is only sold to institutions for mass (commercial) use, so you don't have to be concerned over the supply you may have purchased from your local grocery store. The company claims that over 34 states have received shipments of the tainted eggs and that multiple brands of their product are part of the recall. You can read more about this recall
HERE
. We'll keep you posted as we find out new information, but for the time being it looks like the company may be ahead of the curve enough to avoid any serious health consequences from this contamination.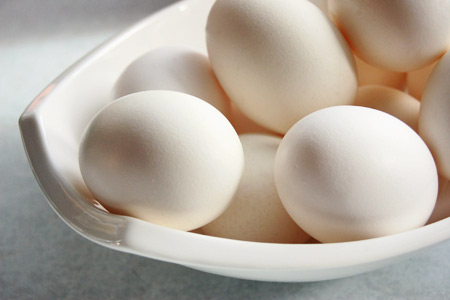 A perfect storm in the meat market will cause the price of beef to rise again in 2012 according to industry experts. Over the past few years, demand for meat has shifted more towards pork, chicken and fish, which caused American cattle producers to lower the number of cattle they were raising and focus their resources elsewhere. Recently, an increased demand for corn (in the form of ethanol) has driven the price of corn and corn byproduct up, which obviously means that it now costs more to feed your already low numbered cattle herd. These facts combined with a particular devastating drought in the south during the 2010 & 2011 summers have caused the cattle market to take a true beating over the past two years.
In addition, in 2011, foreign demand for beef increased, pulling on an already lower number of available livestock. Low numbers mixed with high costs of production mean that the end user is going to see a rise in the price per pound of beef and steak. In 2011, beef averaged $4.83 per pound. In 2012, the price is expected to balloon to $5.10 - $5.15 per pound. The real downside is that until the Texas and Oklahoma region sees a return to their normal rainfall, they will not be able to increase cattle production to meet demand. Even if the rain returns, experts say that the supply line will not be able to catch up to demand for almost three years. That means you can expect to be paying more per pound for your steak for the foreseeable future. Check out more information about this shortage
HERE
.
Pistachios have seen a recent boom in popularity thanks to an aggressive marketing campaign from the Wonderful Pistachio brand and the growing trend for major grocery stores to carry a wider and more diverse selection of nuts. In addition, pistachios are a healthy nut that is full of flavor. Good for you and tasty? It's no wonder why they're becoming popular. The difficult part of pistachios arises when you try to crack them. For the most part, the legume has a nice easy split in their shell that allows them to be easily parted. Every once in a while, you may encounter a shell that is barely cracked. Luckily, instructables.com has a handy "How to" guide on cracking open a difficult pistachio, and the tool they use saves your hands and teeth and won't cost you any extra cash. Check out the how to
HERE
.
Tomato paste is a handy kitchen aid and recipe enhancer with a small problem. It comes in too big of a can. Typically, you only need 1 to 2 tablespoons of tomato paste for a dish. The result leaves you with about ½ a can (if you're able to find the really small cans) of tomato paste. While you can cover the can in foil and store it in the freezer, you'll have to remember that you're going to need it hours before you actually use it. This means that you cannot add tomato paste to your dish 'on the fly' like many chefs prefer to do. So, what's the easy solution to this national tomato paste nightmare? It's not as complicated as you might think. Check it out
HERE
.
That's all the news that's fit to blog about this week. As I said, it's a pretty sparse week thanks to an over abundance of Super Bowl recipes and stories. We've got another full week of new recipes lined up. Maggie is taking to the kitchen on Tuesday night with a new version of a recipe she just recently tried. I'll be following her on Wednesday night with another new variant on an old recipe, this one is a recipe I'm trying to improve upon after my first foray with the dish yielded less than desirable results. Stop in tomorrow night to see what Maggie has cooking. Until then,
~Cheers