Good evening everyone! Tonight, I'm treading on familiar territory. I've made it no secret that I love Mexican food. In my attempt, I feel that I have been quite successful with duplicating authentic dishes and flavors. The majority of these have been fairly accurate to traditional dishes that are served. Tonight, I'm whipping up a not-so genuine Mexican dish. Hopefully, there will be similar flavorings with the same deliciousness that occurs with every Mexican recipe.
The Recipe: Mexican Stuffed Shells
Original Recipe Found In: Multiple sources - original location from www.pinterest.com
What You'll Need:
1 Pound Ground Beef
1 Package Low-Sodium Taco Seasoning
4 Ounces Cream Cheese
14-16 Jumbo Pasta Shells
1 1/2 Cups Salsa
1 Cup Taco Sauce
1 Cup Shredded Cheddar Cheese
1 Cup Shredded Monterrey Cheese
To start, preheat an oven to 350 degrees. In a large, nonstick skillet, brown the ground beef over medium high heat and strain once the beef is completely cooked. Add the beef back to the skillet and add the taco seasoning, preparing to package instructions. Add the cream cheese; cover the skillet and simmer until the cheese is melted and the three ingredients are blended well.
While the beef is browning, heat a large pot of water over high heat to boiling and cook the jumbo pasta shells, according to package directions. When I first took a look at this recipe, I was quite taken aback at how large these pasta shells were. So accordingly, I didn't think they would be too hard to find in the pasta section of our local grocery store. Like the wagon wheel pasta, from last week's recipe, they proved to be very tricky to find, despite their large size. Alas, Tyler found the shells and we were both shocked at the price of this pasta. Come to find out, these were made and imported from Italy, thus the high price. It would only make sense to have an semi-authentic south of the border dish have an ingredient come from half way across the world.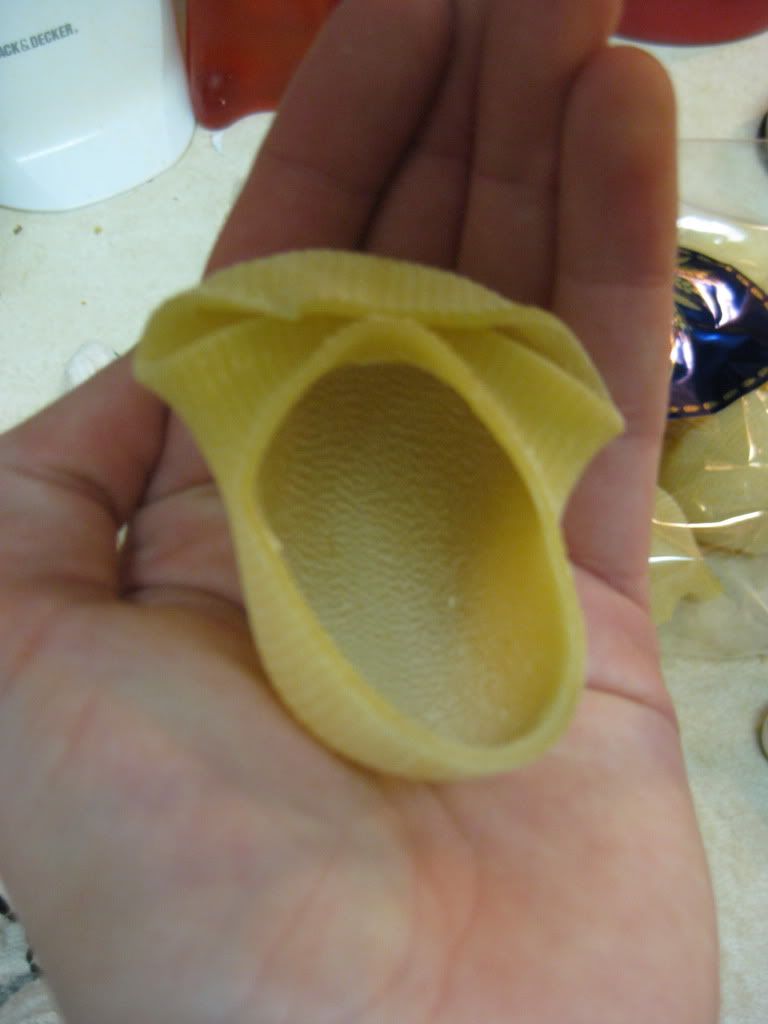 GIANT PASTA!!
Once the pasta is done cooking, drain the shells and set on a cutting board. Lay them fairly spaced out so they can cool evenly and not stick together. Once they are cooled down to handle, stuff each shell with the meat mixture, just enough to not overflow the shell with the stuffing. In a 9x13 baking dish, spread the salsa on the bottom for a nice even layer. Place the stuffed shells open side up in the baking dish. Cover the shells with taco sauce and cover the entire dish with foil and bake for 30 minutes.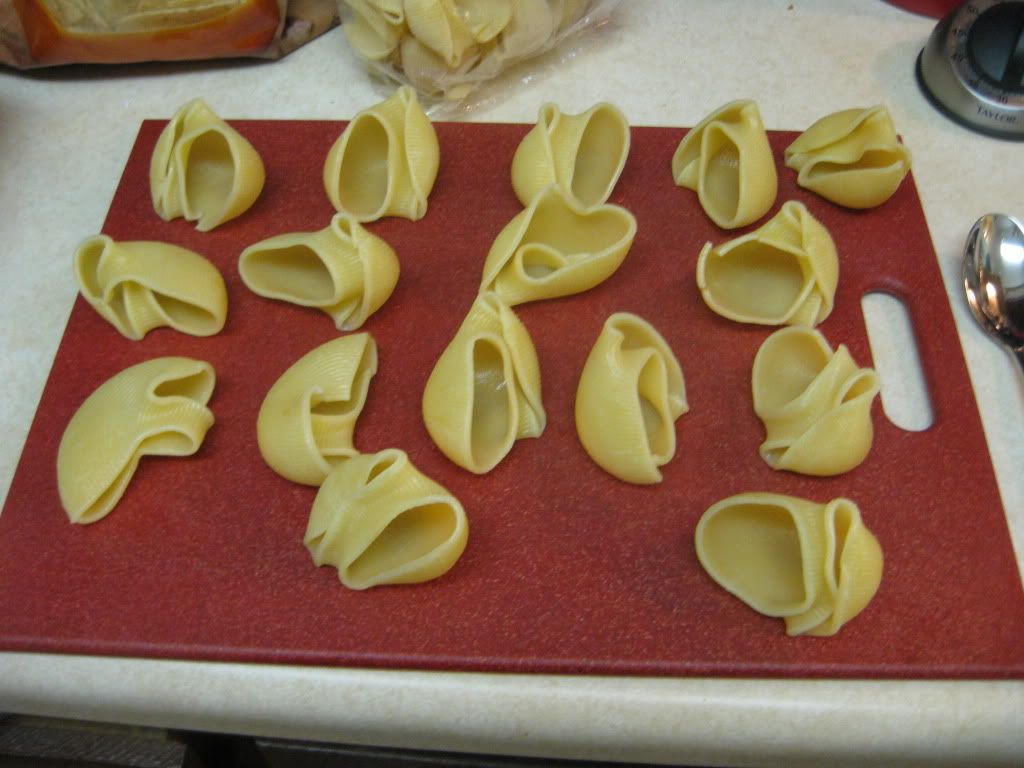 GIANT PASTA cooked
Stuffed and ready to cook
After the first 30 minutes, remove the foil and add the shredded cheeses and place back in the oven. Continue to cook for another 10 to 15 minutes, until the cheese is melted and is starting to get a light golden brown or crispy. Top with more salsa, cheese, sour cream, hot sauce or whatever your favorite Mexican condiment is, serve, and enjoy!
The End Result: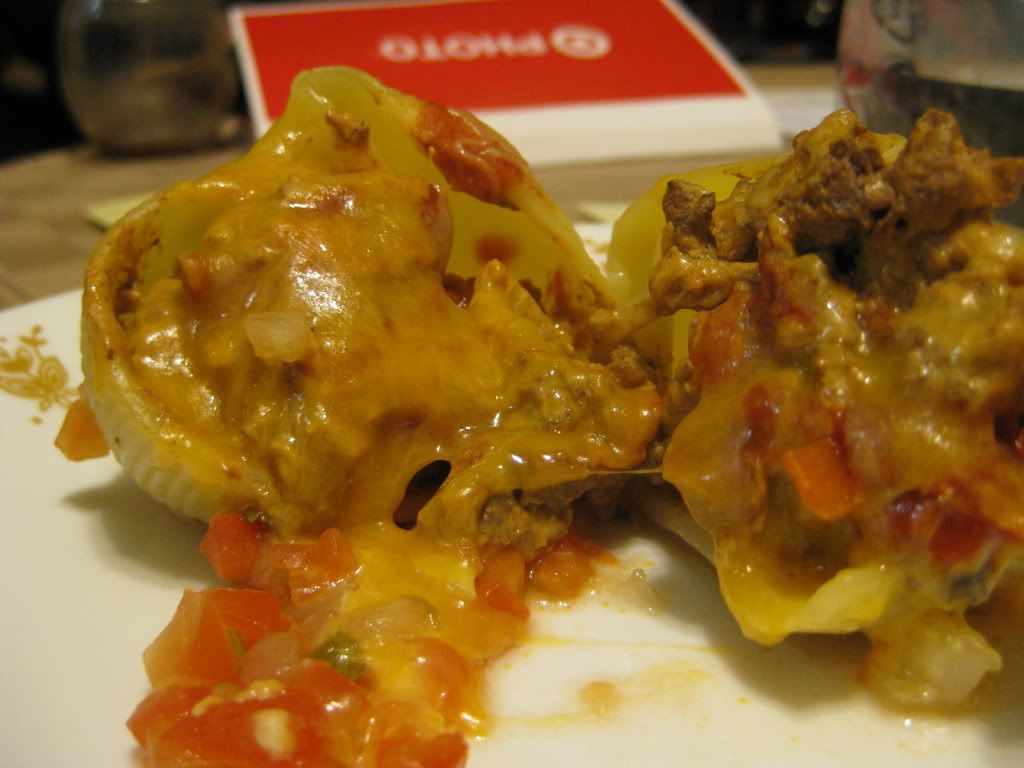 It was quite interesting to have all that Mexican flavor wrapped in large pasta shell. I think that the majority of us who have Mexican food would be used to having those ingredients in a tortilla or taco shell. But the fact that all those harmonizing flavors encase themselves in pasta makes is even more delicious. I was quite satisfied to have all those flavors but in a different packaging made it a completely different result. The taco seasoning/beef was standard fare, but adding the creaminess of the cream cheese made is more irresistible. Plus adding the dose of taco sauce also pumped up the flavor quotient. Another simple and easy Mexican dish that won't take all night to create.
That's all we have for you this week. Thank you for reading and enjoying cooking with us - we truly appreciate all of our readers and supporters on our culinary journeys. Join us next Monday as we take a spin Around the Culinary World. Until then,
~Cheers!