Good evening everyone! There are a lot of Mexican dishes that tempt my pallet, but enchiladas have got to be number one. Unfortunately, the "stuffing" is mostly filled with a fat-filled concoction of cheese and sauce. While I wouldn't be opposed to that, one of our goals here on the blog is to provide fast, fresh, and healthy recipes for you and yours.
So the quest began to find a delicious enchilada recipe that wouldn't weigh too much on the waistline. Lo and behold, it was quite difficult to find a lower calorie version of one of my favorite dishes. Finally, I had found a version in my Eating Well Magazine and I was all set to make it. Upon reading the details of the recipe, it was a rather lengthy process (an almost two hour cook time) and the list of ingredients was almost like a roll call in a college lecture. After some searching, yet again, I had come across another enchilada recipe that kept the calories at bay and didn't take half the night to bake. But would this dish live up to my enchilada dreams?
The Recipe: Cheesy Chicken Enchiladas
Original Recipe Found On: www.myrecipes.com
What You'll Need:
2 1/2 Cups chopped cooked Chicken Breast*
2 Cups preshredded reduced-fat 4 Cheese Mexican Blend Cheese
1 2/3 Cups plain, low-fat Yogurt
1/3 Cup Butter, melted
1/4 Cup chopped Onion
1 Teaspoon minced Garlic
1/4 Teaspoon freshly ground Black Pepper
1 (10 3/4 ounce) can condensed, reduced-fat, reduced sodium Cream of Chicken Soup, undiluted
1 (4.5 ounce) can chopped Green Chiles, drained
8 (8 inch) Flour Tortillas
1 Tablespoon Canola Oil
1/2 Cup finely shredded reduced-fat Sharp Cheddar Cheese
1/4 Cup chopped Green Onions
*It was more cost effective for us to cook chicken breasts from our grocery's meat aisle. These were cooked in a 350 degree oven for 25 minutes, or until a meat thermometer read 165 degrees. After these were cooled, I shredded them by hand, tossing any parts that were over cooked or under cooked. After shredding, I set them aside with a foil tent over them.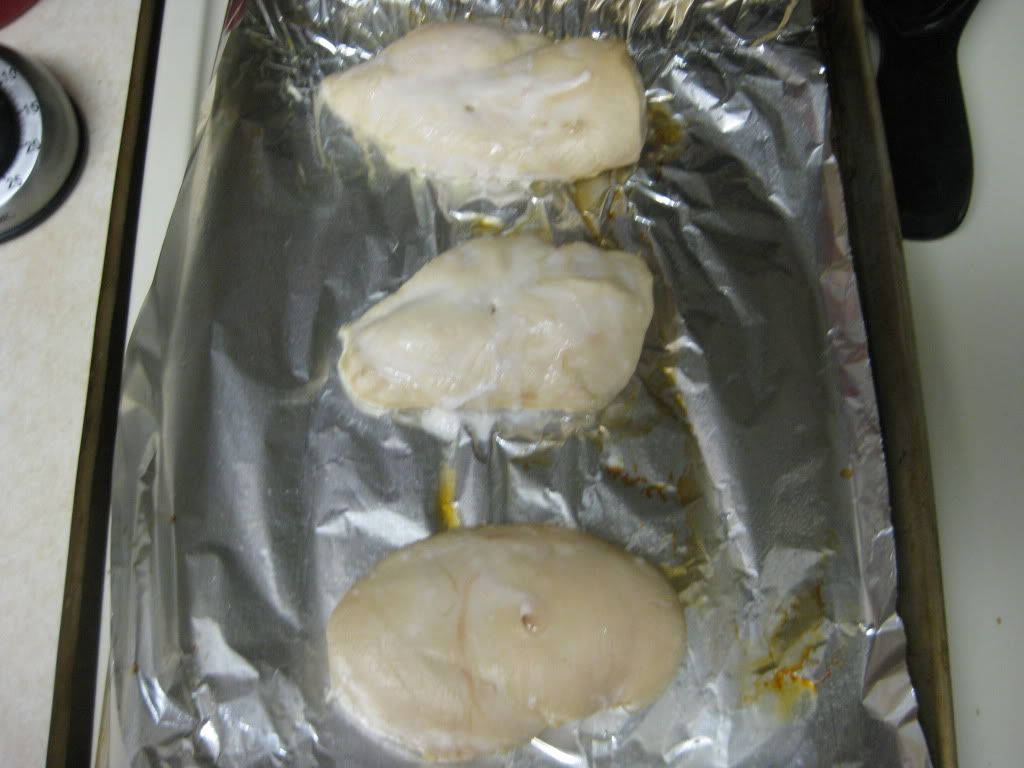 Chicken breasts - cooked, not shredded
To begin, preheat an oven to 350 degrees. Whilst this is warming up, you can heat up your tortillas. Start by brushing both sides of the tortillas with oil - not too much to saturate it, but just enough to give a nice sheen. Heat a large skillet over medium high heat and heat each side of the tortillas for five to ten seconds, depending if you want the tortillas just warm or slightly crunchy. This is a very quick process, so you'll want to focus your attention on the tortillas before starting the next step of the recipe. (Personally, it's really up to the cook if they want to do this step. I didn't see any differentiation of heating the tortillas before they were cooked, but if you are an adamant believer of giving a good crisp to tortillas before cooking, then you are more than welcome to do so.)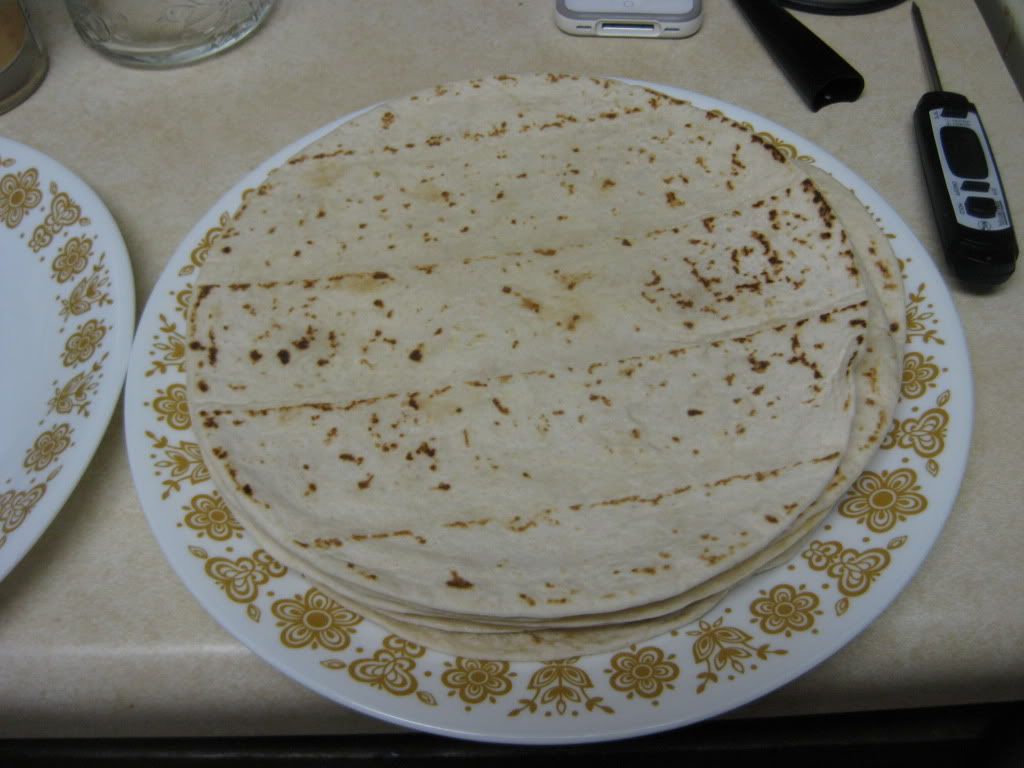 Tortillas, ready to become enchiladas
Next, combine the chicken, Mexican blend cheese, yogurt, butter, onion, garlic, black pepper, cream of chicken soup, and green chiles in a large bowl. Remove one cup of the chicken mixture and set aside. Place the heated tortilla on a plate and spoon about a half a cup of the chicken mixture in the middle of the tortilla. Arrange the mixture so it is evenly dispersed down the center of the tortilla. Fold the vertical sides of the tortilla together and lay it folded side down in a greased 9x13 inch baking dish. Continue this process for the next seven tortillas. Don't be too surprised if you'll end up squeezing all the tortillas together so all of them can fit. This just depends on how spacious your baking dish is.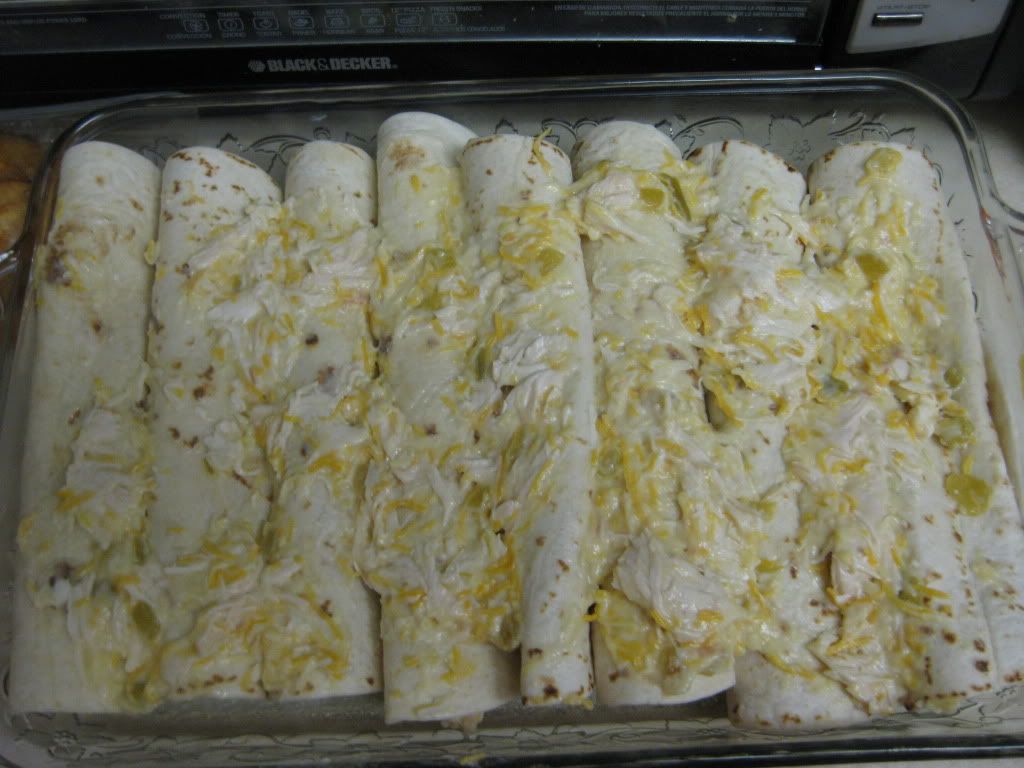 Tightly packed tortillas
Spread the reserved chicken mixture over the top of the tortillas. Cover the baking dish with foil and bake at 350 degrees for 20 minutes. After this time has passed, remove the dish from the oven, sprinkle with the cheddar cheese and green onions and cook uncovered for five more minutes. Serve by itself or a side of low-fat sour cream and enjoy!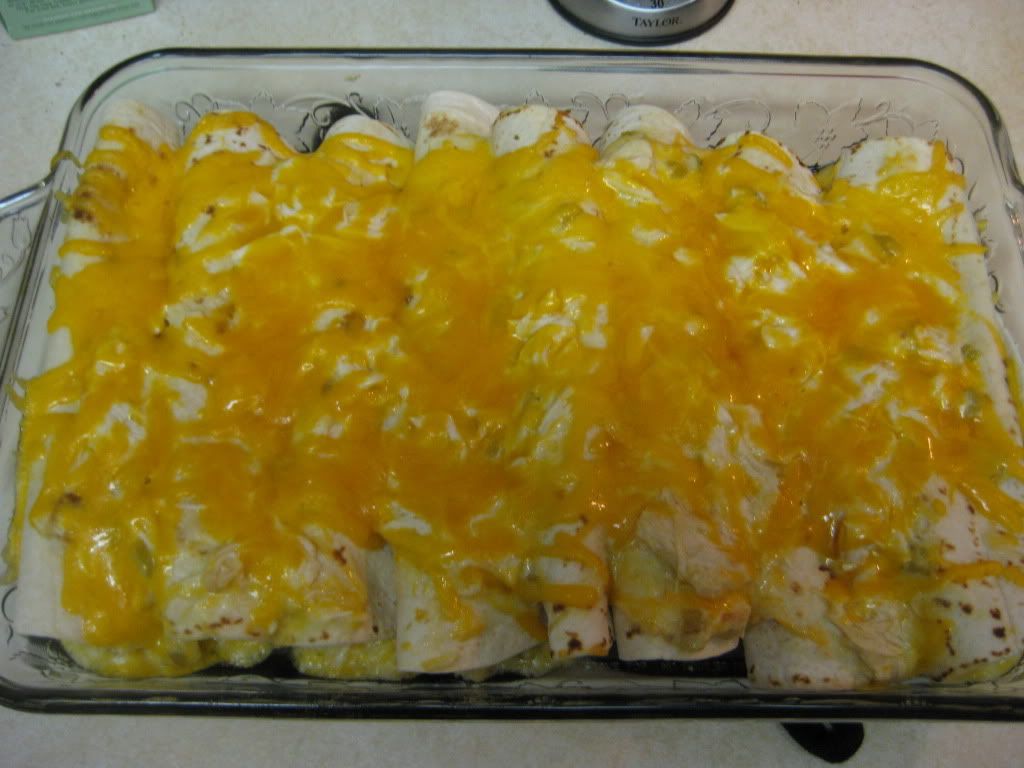 The End Result:
This was everything I had hoped for in an enchilada recipe! Enchiladas have a distinct flavor, perhaps the filling or the green chiles, but it makes it quite memorable. I've had numerous types of enchiladas in my time, but today really blew the others out of the park. It was the perfect amount of cheese and chicken and nothing incredibly spicy to send my tongue to a bowl of water. The calorie count of this dish was only at 454 calories. Considering that most Mexican dishes are way more than that (typically residing in the area of 800 to 1000 calories), I felt I did pretty good with the specific calorie reducing ingredients. Overall, a truly superb dish that I cannot wait to make again!
Join us tomorrow as Tyler revisits a previously attempted dish, but attempts to improve upon it. Until then,
~Cheers!