Good evening everyone! As Tyler mentioned yesterday, I am cooking from the world wide web for tonight's recipe. It's always hit or miss when finding user submitted recipes. I distinctly remember a recipe from the Internet that I made when we first started the blog. It was my first attempt at risotto and while I got the technique down, the recipe called from five tablespoons of pepper. The dish was 98% inedible, due to the pure pepper flavor the dish had. It was good in small doses, but taking a big bit would cause instant tears and a complete pallet cleanse.
From that one recipe, I've learned from my mistake and be sure to check any ingredient amount in any recipe before I start. Tonight, I'm attempting another Internet inspired dish, but I'm altering it enough to make it my own and have it be health conscious. While the premise behind the recipe is great, I felt the need to switch several ingredients. Making these switches will hopefully make the dish better for you without sacrificing the flavor.
The Recipe: Pizza Casserole
Original Recipe Found At: www.allrecipes.com
What You'll Need:
(Changes noted in parenthesis)
2 Cups uncooked Egg Noodles
1/2 Pound Lean Ground Beef
1 Onion, chopped
2 Cloves Garlic, minced
1 Green Bell Pepper, chopped (1 Red Bell Pepper)
1 Cup sliced Pepperoni Sausage (8 Ounces Andouille Sausage, sliced)
16 Ounces Pizza Sauce (15 Ounces Crushed Tomatoes)
4 Tablespoons Milk
1 Cup Shredded Mozzarella Cheese
Before I begin, I want to mention the switches I made to the dish. To give the dish a little bit of spicier taste, I opted for a red bell pepper, instead of a green one. Hopefully, this spicy flavor will be infused throughout the dish and make it a little more mellow. Next, instead of the pepperoni sausage, I replaced it with Andouille sausage. I wanted to add more flavor because the dish was originally fairly generic and bland. The sausage will, no doubt, liven up the dish and take it up a notch. Finally, instead of pizza sauce, I will be using crushed tomatoes. Pizza sauce has quite the quotient for sodium and I felt that cutting it out and replacing it with something more natural, like crushed tomatoes, would make the dish more healthy.
Begin by preheating the oven to 350 degrees. This next part will require careful observation, since there will be three parts of the recipe cooking at the same time. You could cook any two combinations, but to save some time, cooking three at a time would be a lot helpful. Start a large stockpot filled with salted water and bring to a boil. Cook the noodles according to package directions and drain.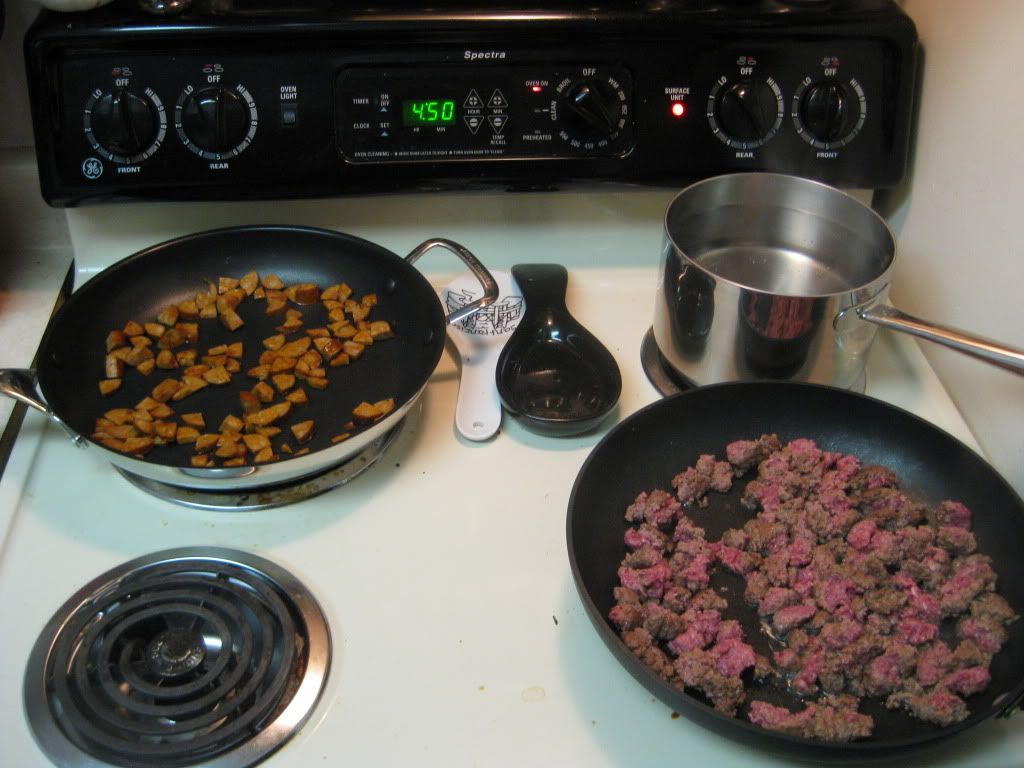 Multi tasking at its best
In a medium skillet, brown the ground beef over medium-high heat. Drain the excess fat and return to the skillet. Add the onion, garlic, and red bell pepper and sauté until onions are just beginning to go soft, between 3 to 5 minutes, depending on how soft you want your onions. In another medium skillet over medium high heat, add the andouille sausage and cook until the sausage is browned and becomes fragrant, 7 minutes. Add the beef mixture to the noodles, followed by the sausage, milk, and crushed tomatoes. Stir this combination until it's well incorporated. Pour the entire mixture in a two quart casserole dish.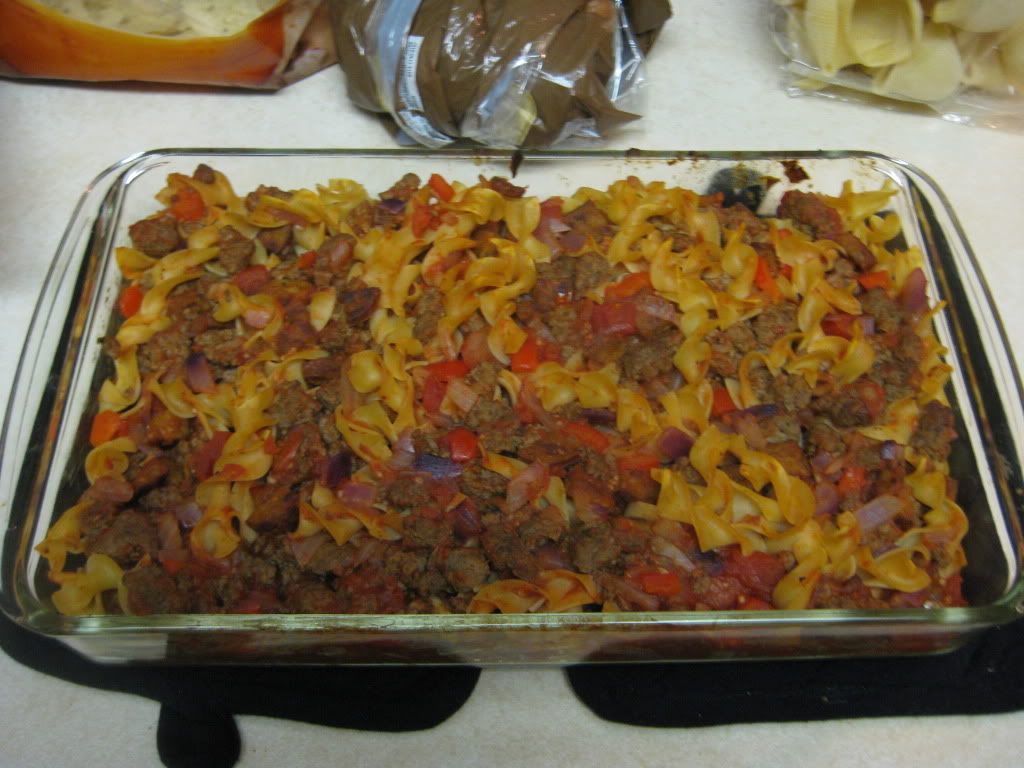 Bake the dish at 350 degrees for 20 minutes, or until the top is browned and someone crusty. Top with the mozzarella cheese. Continue to bake for five minutes until the cheese is melted. Serve and enjoy!
The End Result: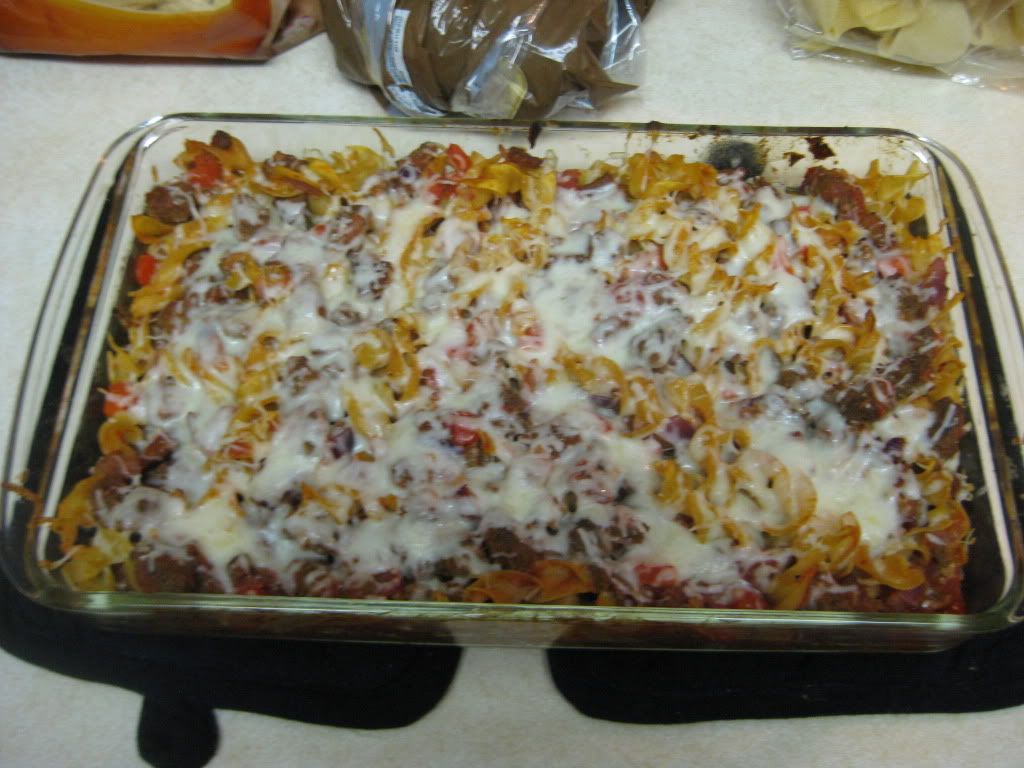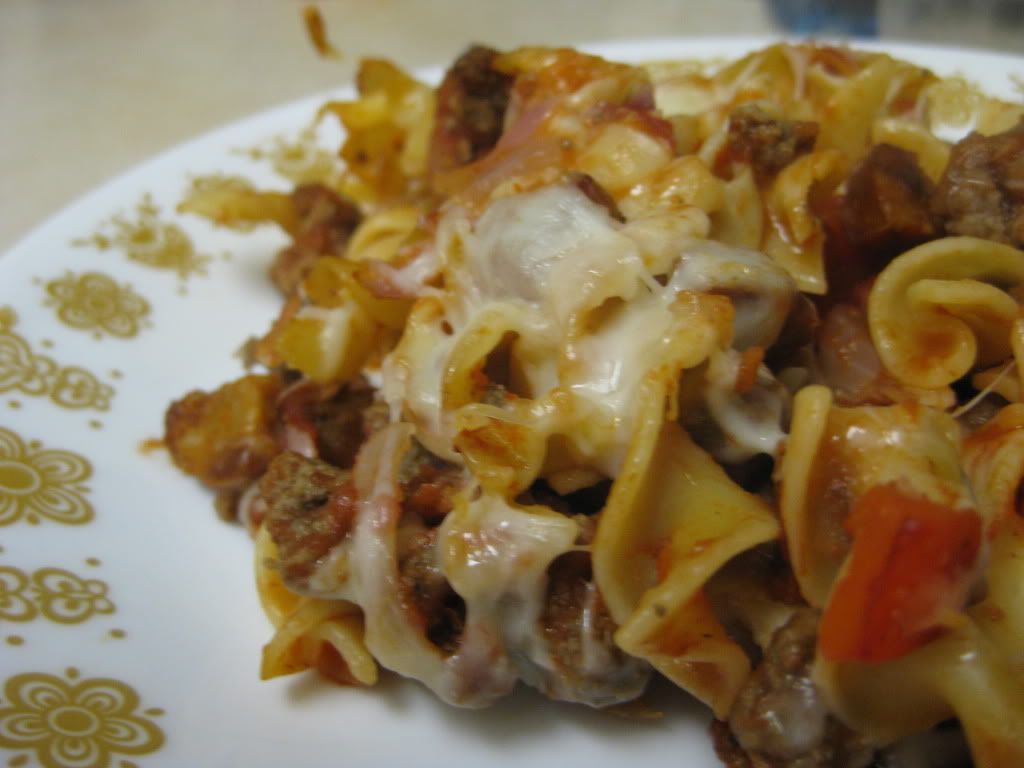 Making these changes to the original dish not only amped up the flavor, but made it into something completely different. If I went with the original recipe, it would have been too generic for my liking. But this made it different enough that it was completely unique. Adding the sausage did give it an incredible flavor that not regular pizzas would have. The crushed tomatoes seemed to round out the dish and the sweetness from the red bell pepper seemed to add just enough of a sweetness that didn't seem too overpowering. Tweaking the recipe just enough made it my own and I couldn't have been more proud.
Join us tomorrow as Tyler tackles a new menu item for the blog. This high end slice of meat is famous for its flavor - and tomorrow's recipe is designed to make that natural flavor even better. Until then,
~Cheers!