Good evening everyone! I'm eager to try tonight's recipe as it utilizes an ingredient that has had my mouth watering since we found it in the store. Let me back up and bit - I found a recipe for home fries (also commonly called farmhouse hash) in the newest issue of Food Network Magazine that looked absolutely outstanding. This blending of red potatoes, onions, peppers and corned beef looked like a perfect flavorful meal to try to recreate for the blog.
We set out to the grocery store on Sunday to procure all of the necessary ingredients. That's when I saw it - corned beef...brisket. Maggie and I both knew instantly that we would have to pick this particular cut of beef up and try it ourselves. I've always been a fan of corned beef flavor and the thought of adding that amazing flavor to a brisket simply has my mouth watering. Enough build up - let's get cooking!
The Recipe: Corned Beef Home Fries
Original Recipe Found In: Food Network Magazine, April 2012 Issue
What You'll Need:
2 Pounds Red Potatoes (Cut into 1/2 inch pieces)
8 Ounces Corned Beef (Diced)
1 Red Bell Pepper (Chopped)
2 Garlic Cloves (Minced)
1 Small Red Onion (Diced)
1 Tablespoon Unsalted Butter
5 Tablespoons Extra Virgin Olive Oil
1 Teaspoon Paprika
Finely Shredded Cheddar Cheese
NOTE: We discovered that corned beef comes in a large assortment of varieties (cuts) including flat round, brisket and tips. While the orignal recipe doesn't specify what type of corned beef is preferred, we opted for the brisket. We did this for two reasons, first - the brisket is nice high quality cut of meat that packs great flavor and amazing tenderness and second - while packing a hefty price (almost $7 per pound) the brisket was actually the cheapest option available to us. The flat round weighed in at 4 pounds ($6 per pound) making it both impractical and expensive. The tips were quick frozen and we were unable to verify their quality or origin - I.E. they were never really in contention for use.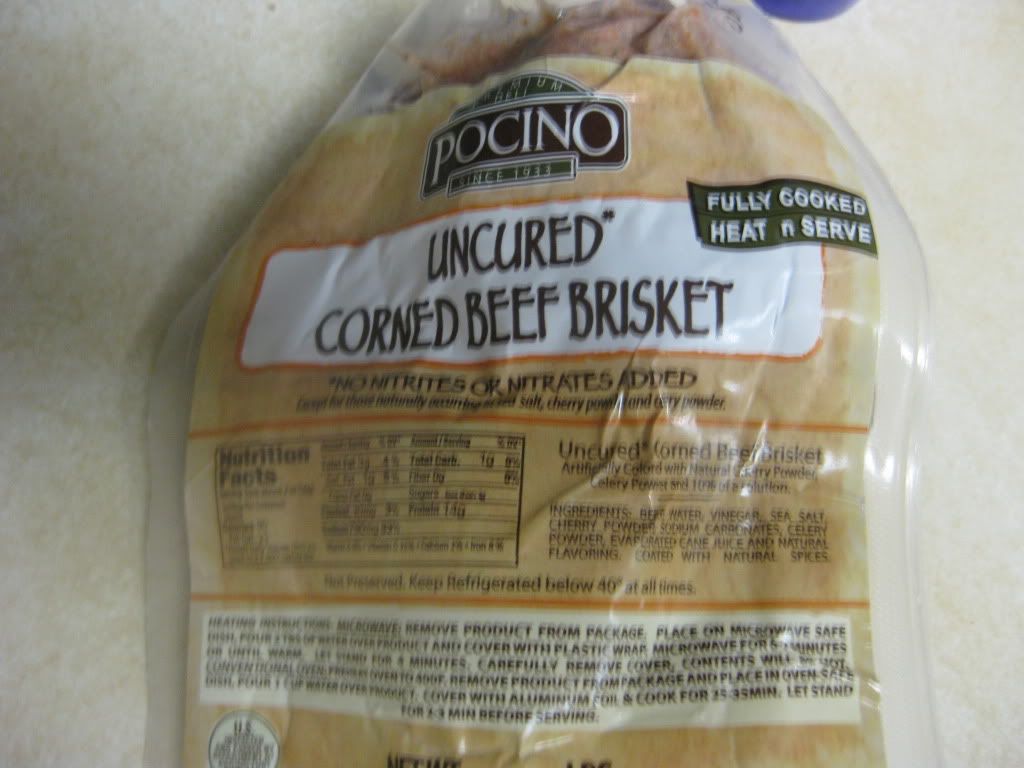 Also note, we have modified the original version of this recipe to suit our own tastes and preferences. The original dish, created by Guy Fieri packs a lot more heat and is topped with avocado and an assortment of other ingredients. Our version tames the dish down and focuses on the great flavor that beef and potatoes create on their own.
To begin, bring a large pot of lightly salted water to a boil and add the potatoes. Allow them to cook until they become fork tender. This should take about 5 to 10 minutes, depending on the thickness of your potatoes (a finer dicing when preparing the potatoes will result in a quicker cooking time here). Once tender, drain the potatoes and set aside.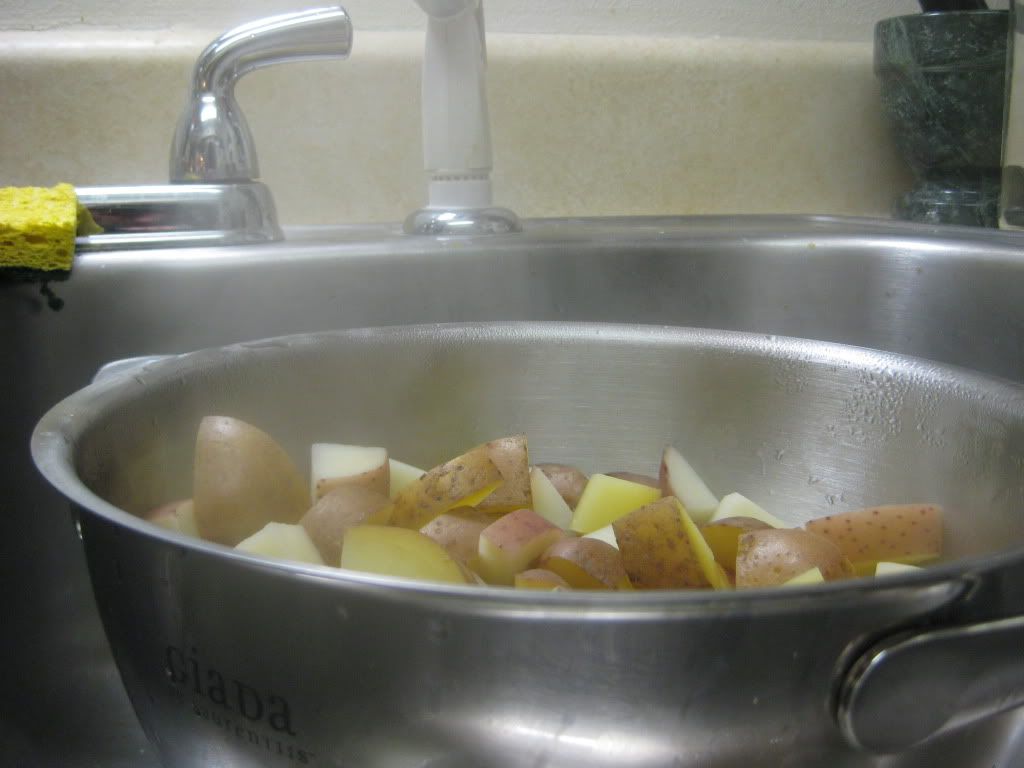 Steamy
While your potatoes are cooking, add the 2 tablespoons of olive oil and the butter to a large (12 inch) non stick skillet over medium high heat. Add the onion, red bell pepper, corned beef and garlic to the skillet and allow it to simmer for around 5 minutes. Next, stir in the paprika and a pinch of salt and pepper. Let this mixture simmer for an additional 2 minutes before removing the skillet from the heat and transferring the mixture to a covered dish to keep warm.
It's important to note that our brisket was precooked and simply needed to be heated through. In fact, most cuts of corned beef will be pre cooked and ready to go right from the package (this at least applied to all the cuts we found this past week). However, if your cut doesn't indicate that it has been precooked, you may want to increase cooking time slightly (adding the beef ahead of everything else) for a few minutes.
Using the same skillet, add the remaining 3 tablespoons of olive oil and heat until the oil begins to shimmer lightly. Add the red potatoes (now cooked) to the skillet and allow them to fry for about 10 to 12 minutes, making sure to stir occasionally, until they become golden and crispy on all sides.
Next, stir in the corned beef mixture (your potatoes will be extra soft by this point in time, so take a little extra time to make sure they don't become mashed while stirring) combine everything completely and allow the mixture to evenly heat through. Transfer to a serving dish, top with a light helping of shredded cheddar cheese and enjoy!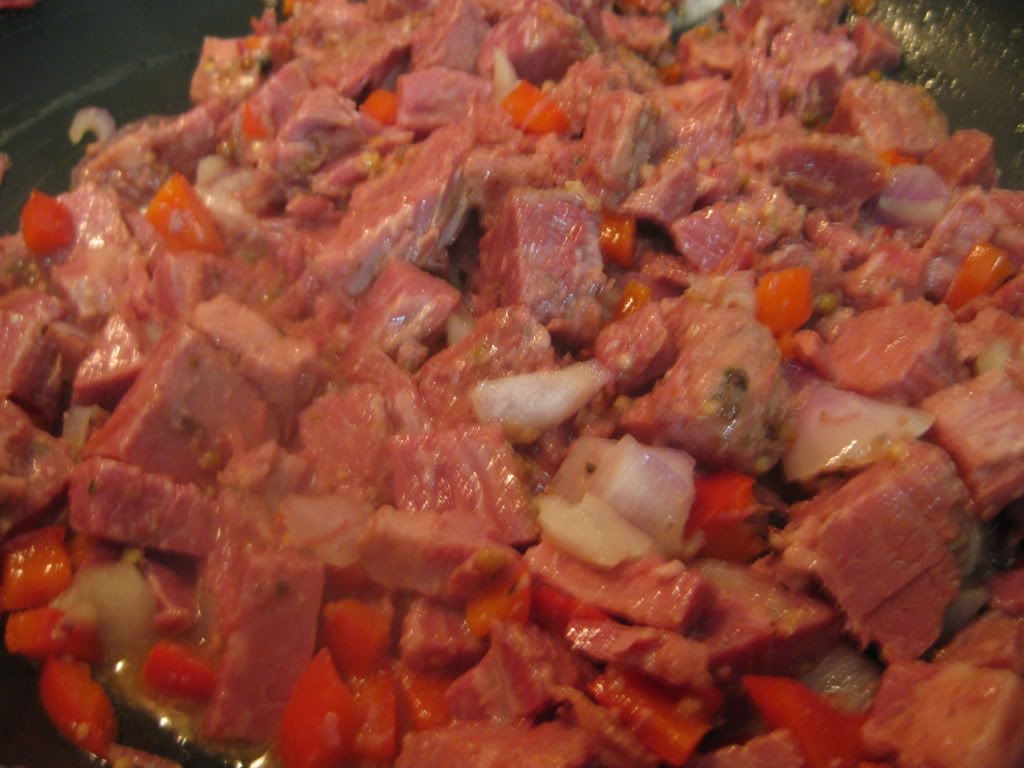 The Results: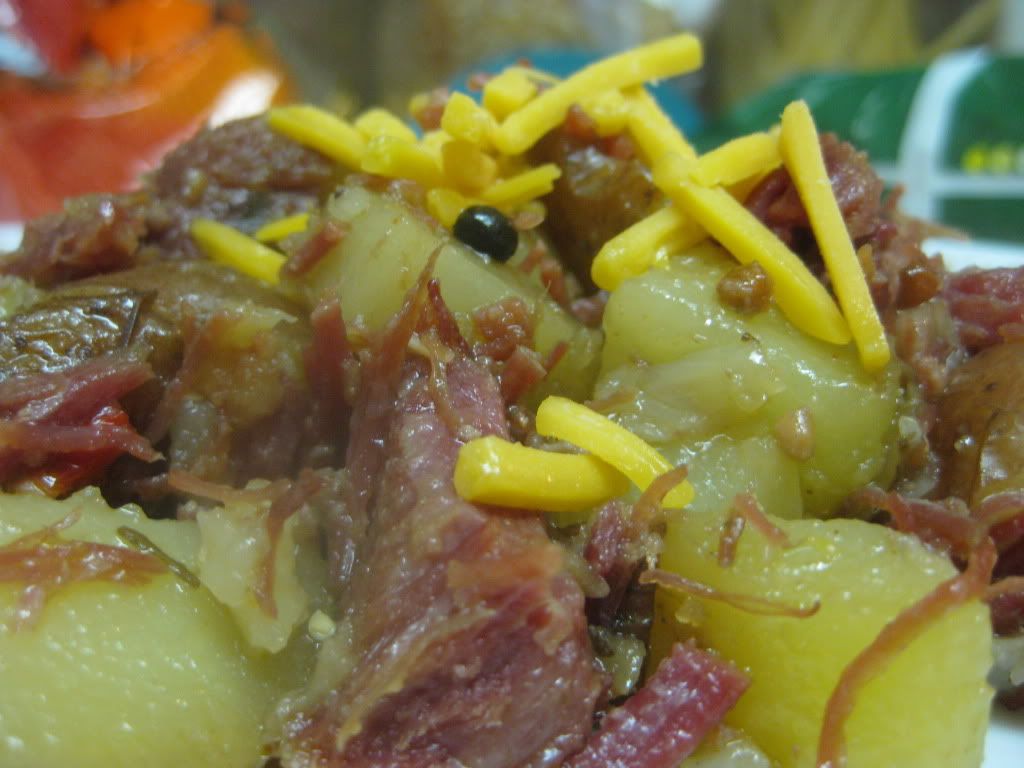 As I mentioned earlier, there is very little that can compete with the amazing flavor that potatoes and beef create when brought together. When you factor in the extra twist to this beef, the flavor was simply outstanding. The corned beef brisket was everything we wanted and then some. The already deep and succulent flavor of brisket was enhanced when it became corned beef - leading to flavors that almost should be illegal. Tender, juicy, full of flavor, this cut of corned beef was certainly worth the higher price of admission.
At a little over 30 minutes, this farmhouse hash (or home fry) concoction will be a quick and easy fix for a weeknight supper or a great way to get your weekend morning started. This dish can easily be enhanced with scrambled eggs (mixed right in) to become a true breakfast hash or even kicked up with diced chiles or srirachi sauce to create a spicy meal. The only limit is your creativity.
That's all we have for you this evening. Maggie will take to the kitchen tomorrow night with a brand new recipe of her own. Until then,
~Cheers