Good evening everyone! After last week's successful venture in the difficult cooking scheme (which turned out to be not-so-difficult), I've returned to a recipe that is rather simple in premise. My recipe tonight blends two flavors that you wouldn't normally associate with one another. However, after doing some browsing on the web I found that the concept behind this dish is relatively popular, in fact it seems that the dish I'm creating tonight has amassed quite the following.
The Recipe: Apple and Artisan Cheddar Panini
Original Recipe Found In: Williams-Sonoma Cooking From the Farmer's Market
What You'll Need:
8 Slices Sourdough Bread, sliced about 1/2 inch thick
2 Tablespoons Olive Oil
6 Ounces Artisan Cheddar Cheese, thinly sliced
1 Red Apple, cored and cut into 1/4 inch slices*
*We were using a pink lady apple for tonight's recipe. It's a relatively soft apple and will add a sweet hint to this salty dish.
The title of this book reminds me of one of our summer pasttimes: the farmer's market. We have sung the praises of the market on the blog and will continue to do so. Nothing sounds like summer quite like browsing tables of fresh, locally produced food. As I was reading the ingredient list, I made a mental checklist in my head of all the things we could get at our local farmer's market. Surprisingly, we can pick up every one of these items. From freshly baked bread to homemade cheese and apples picked right from the tree that day, this is a straight from the market meal.
Enough about me reminiscing about farmer's market, let's get cooking!
Preheat a sandwich grill or grill pan over medium high heat. Brushing one side of the bread with the olive oil, place four slices on the pan. Layer a nice, even sheet of cheese on the toasting bread. Next, place two apple slices over the cheese. Top the apples with another slice of bread, ensuring the side facing out is coated with olive oil as well. Gently press the sandwich layers together to compress them.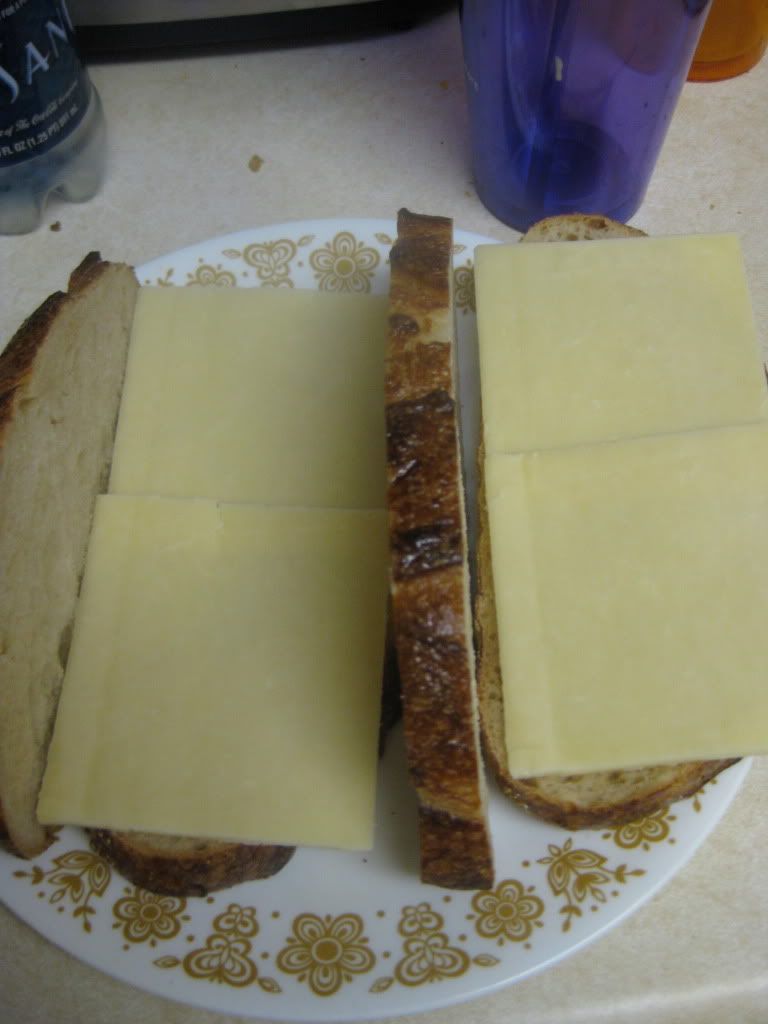 First layer the cheese...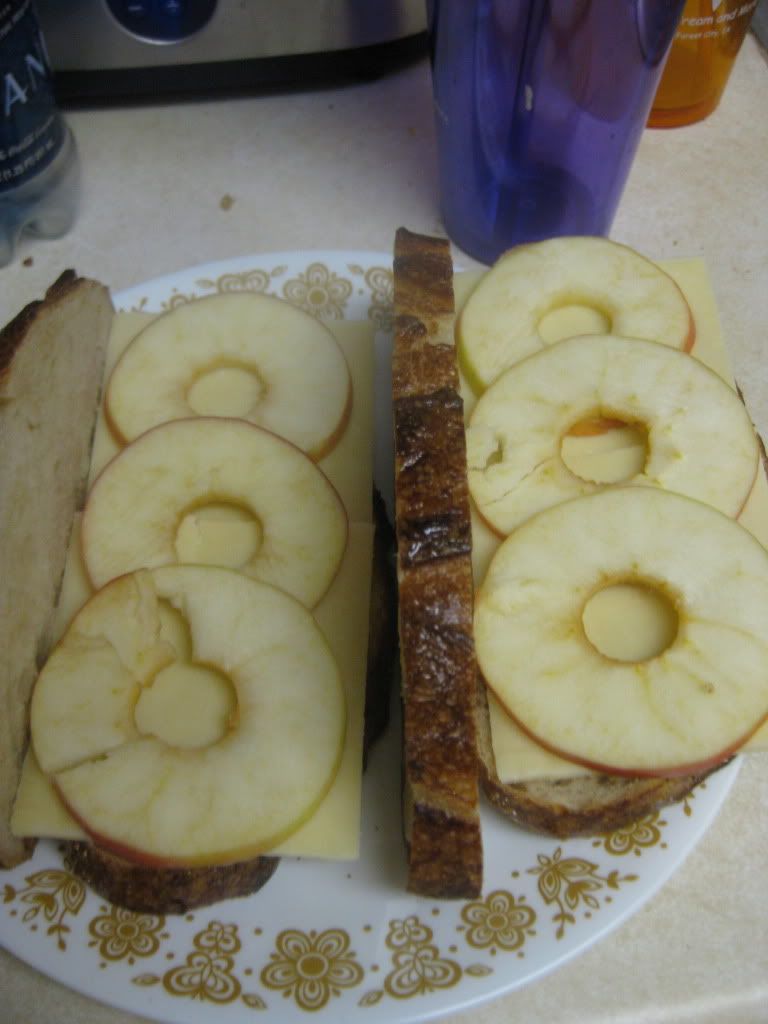 Then layer the apples...
Using a heavy object, press the sandwich into the grill to ensure all ingredients are cooked thoroughly. One of the presents we got this year for Christmas was a sandwich press, which definitely pulls its weight. The heavy glass helps to create those fantastic grill marks and make the whole sandwich warm and toasty. Cook the sandwich until the bread is toasted, the cheese is melted, and the apple is warmed through, about three to five minutes. Flip the sandwich over, ensuring none of its contents spill out and cook for another three to five minutes. Repeat with another prepared sandwich, serve, and enjoy!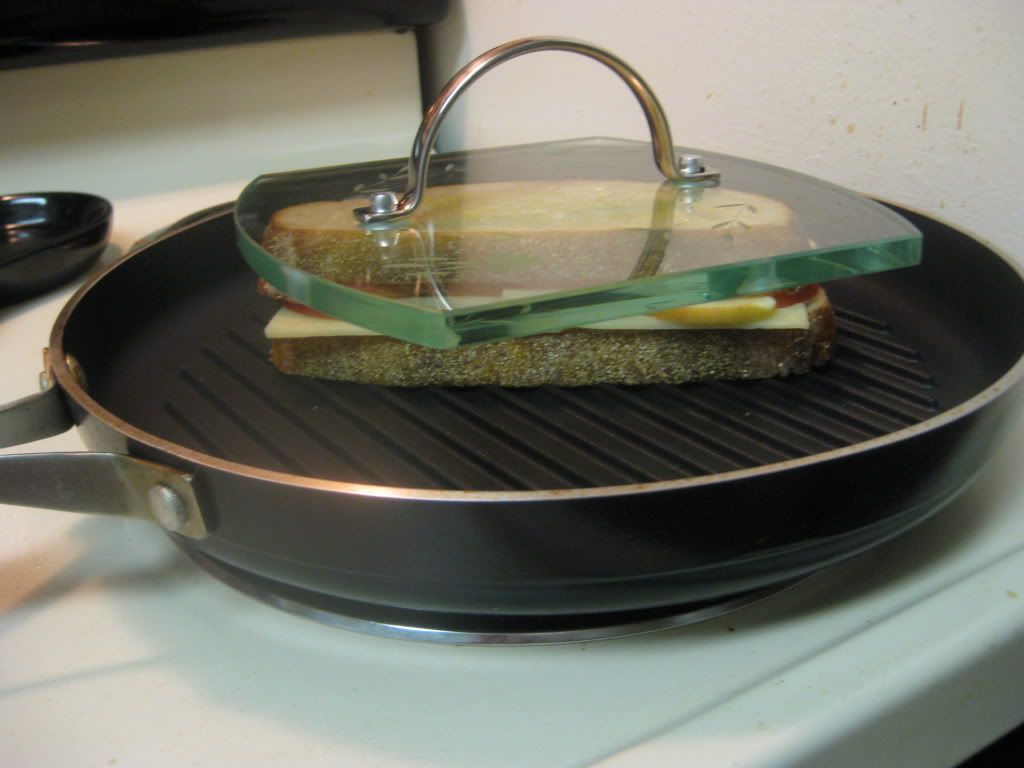 Quite the impressive sandwich press
The End Result: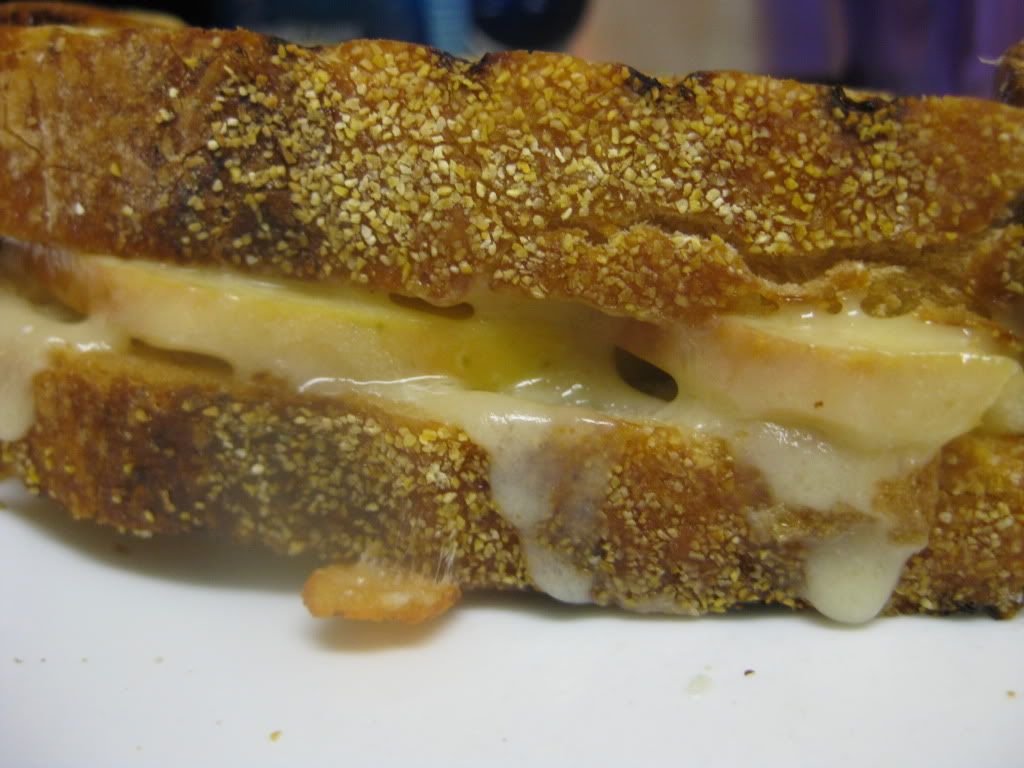 Oh my melty goodness! The sourdough bread gives the panini a good solid crunch. Next, the cheese, when melted, adds a sharp overtone. Finally, the apple adds a bit of a crunch, but adds a sweetness that this panini desperately needs. There are endless possibilities that you can do to make this dish completely unique and different. Since cheese is naturally salty and apples tend to be sweet and juicy, the combination of both makes it wonderfully perfect. It's a blending you wouldn't normally associate with culinary delights - but the abundance of apple and cheese recipes both online and in cookbooks proves that this is one pairing that is popular for a reason.
Join us tomorrow as Tyler creates a recipe we've tried (and found success with) in the past, but uses a brand new technique. Until then,
~Cheers!