Good evening everyone! As most of our followers are aware, I have two pitfalls when it comes to cooking: I have a certain favoritism towards a particular ingredient (pasta - I'm looking at you) and I have a tendency to try a recipe that is usually easy. While I have a whole new slew of pasta receipes to share I don't particularly want to go carb heavy this week. Instead, I decided on trying a not-so easy recipe. The preparation might be simple, however, preparing the sauce and outer layer might not be. Tonight, I'm breaking new ground and stepping out of my comfort zone, but will it be successful?
The Recipe: Chicken Piccata
Original Rcipe Found In: Cooking Light, January/February 2012
What You'll Need:
4 (6 Ounces) skinless, boneless Chicken Breasts halves
2 Ounces All-Purpose Flour, divided (about half a cup)
1/2 Teaspoon kosher Salt
1/4 Teaspoon freshly ground Black Pepper
2 1/2 Tablespoons Butter, divided
2 Tablespoons Olive Oil, divided
1/4 Cup finely chopped Shallots
4 medium Garlic cloves, thinly sliced
1/2 Cup White Wine
3/4 Cup fat-free, lower-sodium Chicken Broth, divided
2 Tablespoons fresh Lemon Juice
1 1/2 Tablespoons drained Capers
3 Tablespoons coarsely chopped fresh Parsley
To start, place each chicken breast half between two sheets of plastic wrap and pound to a half inch thickness using a meat mallet. This extra effort in making the chicken thinner will result in less frustration in the cooking process. Place one teaspoon of flour in a small bowl and place the remaining flour in a shallow dish. Sprinkle both sides of the chicken with salt and pepper and dredge the chicken in the flour, ensuring an even coat and shaking off any excess of flour.
Next, melt one tablespoon of butter in a large skillet over medium high heat. Add one tablespoon of oil and swirl to coat. Add the chicken to the pan and sauté the chicken for four minutes on each side or until done (which is 160 degrees in the middle of the chicken using a meat thermometer.) Once the chicken is done cooking with a golden brown layer, remove from the pan and keep warm in a tin foil covered dish or plate.
Chicken, lightly browned
Heat the remainder tablespoon of oil in the pan and swirl to coat. Add the shallots to the pan, and sauté for three minutes, stirring frequently. Next, add the garlic, sauté for another minute and stir constantly. Add the wine and bring to a boil, scraping the pan to loosen any browned bits. Cook until the liquid is almost evaporated and stirring occasionally. Adding any alcoholic liquid to a hot pan is always an adventure, just be sure none of that liquid splashes on the burner. A very explosive situation might occur.
Step three or four in the sauce process
Next, add 1/4 cup of broth to the reserved 1 teaspoon flour in a separate bowl and stir until smooth. Add the remaining 1/2 cup of broth to the pan and bring to a boil. Cook until this liquid is reduced by half, about five minutes. Stir in the flour mixture and cook for another minute or until slightly thickened. Remove the skillet from the heat and add the remaining 1 1/2 teaspoons of butter, lemon juice, and capers until everything is well incorporated.
Place the chicken on serving plates, top with the sauce and chopped parsley, and enjoy!
The End Result: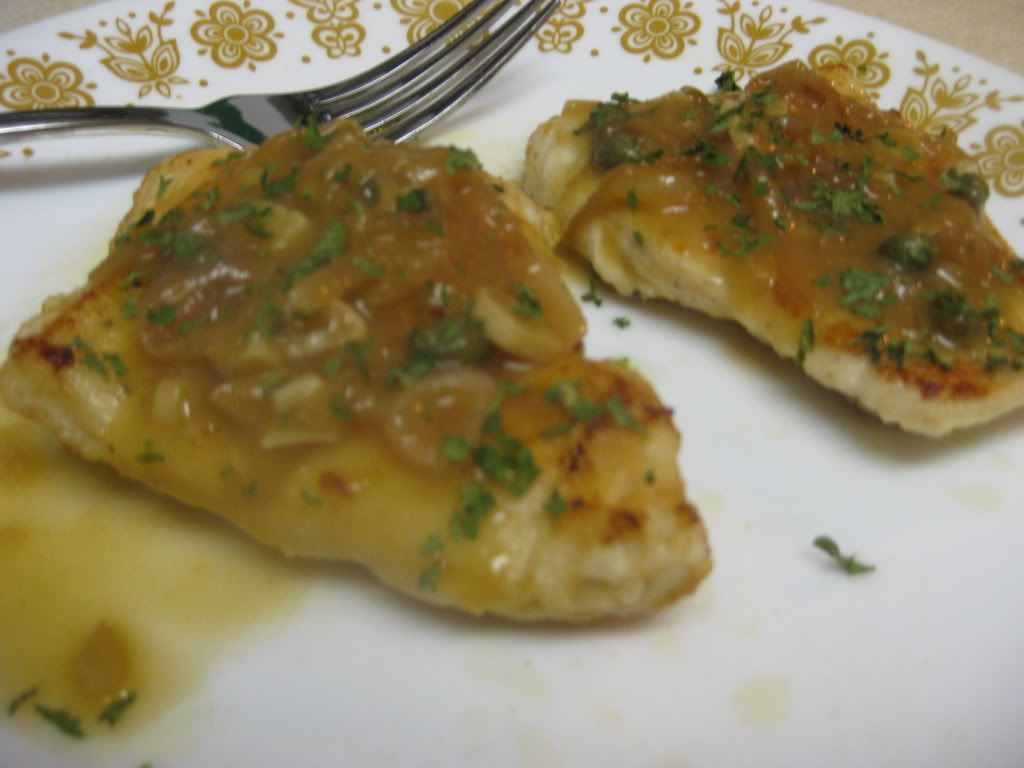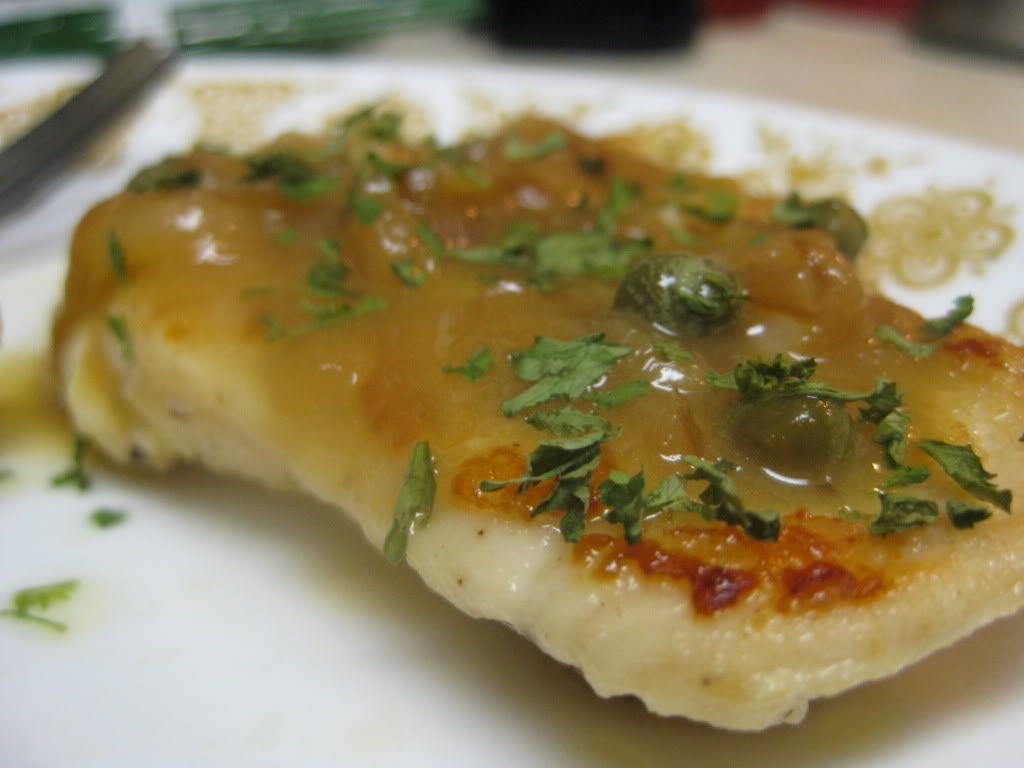 While the chicken by itself is quite traditional, the piccata sauce (for a lack of better term) is quite tangy, due to the reduced down wine and chicken sauce. The extra oomp from the lemon juice and capers give it the distinct zing that makes this dish quite memorable. I've never built a sauce from the ground up before in a recipe and it was nice to see the enhancing layers while creating this sauce. I'm quite pleased with how this turned out and although it isn't quite as difficult as once presumed, it's always nice to step out of my comfort zone and try something unique and different.
That's all we have for you this week. Thanks for joining us in our culinary adventures and we will see you next week with another batch of fresh news stories. Until then,
~Cheers!