Good evening everyone! Spaghetti and meatballs are forever entrenched in the 'classic recipe' Hall Of Fame. This beautiful pairing exists in almost every chef's recipe book and is a great family meal staple for the folks at home. We're no exception to this rule. We've created a spaghetti and meatball recipe twice on the blog. The first time,
we followed Jamie Oliver's recipe
and (despite purchasing the wrong type of tomatoes…ours had jalapeños…HOT) we thought we had found the perfect recipe. I
revisited that recipe
a few months later, this time using my own concoction for the tomato sauce. This one set the bar; truly nothing else we could find could top the beautiful blending of rich, flavorful meatballs and a hearty tomato sauce.
However, one recipe kept nagging at me. The ever knowledgeable chefs at Cooks Illustrated (America's Test Kitchen) insisted that the secret to the perfect meatball was in using a blending of meats. Now, I stand by the cracking burger meatball variant that we've made in the past. They are, in a word, outstanding. However…that little voice kept poking at me. This 3 meat blending kept popping up in other cookbooks – professional chefs swear by it, calling other meatballs 'junk' if they only used one type of meat. So, tonight we're putting this recipe to the test. Is the secret to the best meatballs all in the 3 meat blend? Or, can you achieve the same flavorful results with a lot lower cost?
The Recipe: Nonna's Spaghetti & Meatballs
Original Recipe Found On: Eatingwell.com
What You'll Need:
For The Meatballs:
2 Large Eggs
½ Cup Dry, Whole Wheat Bread Crumbs
½ Cup Grated Parmigiano-Reggiano Cheese
½ Cup Chopped Onion
¼ Cup Fresh Minced Parsley (1/2 Teaspoon dried)
3 Cloves Garlic (Minced)
1 Teaspoon Salt
½ Teaspoon Ground Pepper
8 Ounces Lean Ground Beef (90/10)
8 Ounces Ground Italian Sausage or Pork
8 Ounces Ground Veal
For The Sauce:
1 Tablespoon Extra Virgin Olive Oil
1 Cup Chopped Onion
3 Cloves Garlic (Chopped fine)
2 Teaspoon Italian Seasoning
¼ Teaspoon Crushed Red Pepper (Or red pepper flakes)
1 Cup Dry Red Wine
28 Ounces Crushed Tomatoes
14 Ounces Diced Tomatoes (Drained of excess water)
1 Pound Whole Wheat Spaghetti
The secret to the perfect meatball, according to America's Test Kitchen and a multitude of professional chefs, is in the blending of 3 completely different meats. Lean ground beef is the staple, but by combing both ground pork and ground veal, you achieve an incredibly complex meatball that is juicy, tender and a harmonious symphony of flavor. (The bar's set pretty high for these little guys right out of the gate).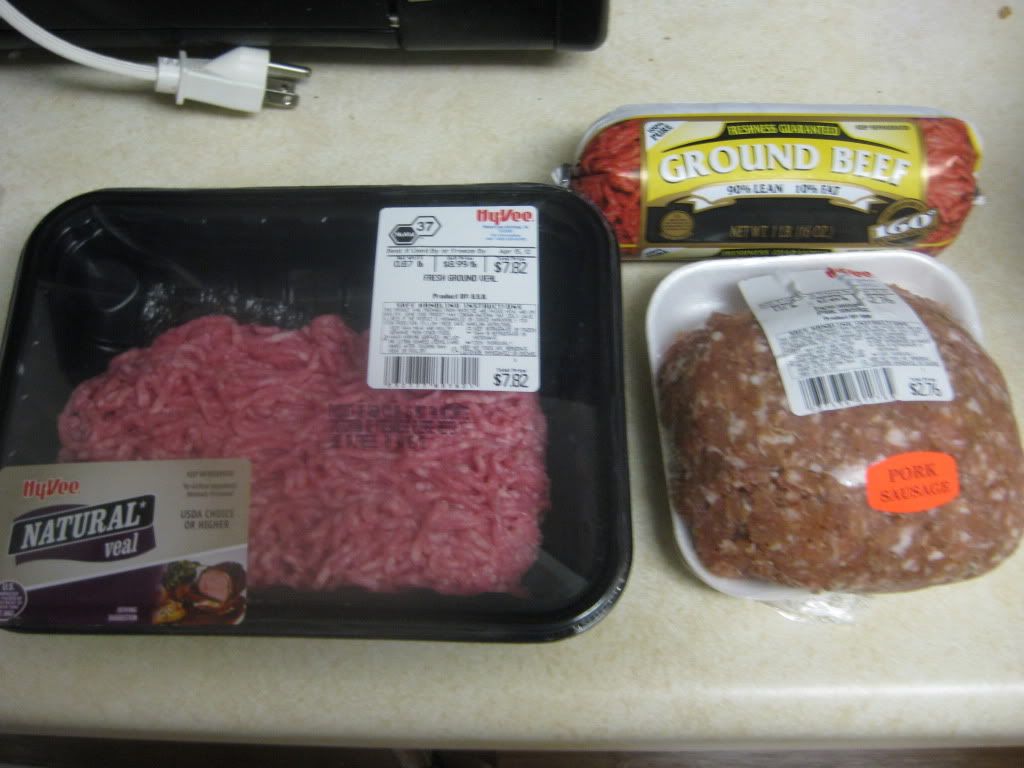 The Holy Trinity of Meatballs
Those who regularly read or blog or who at the very least checked out the previous spaghetti and meatball recipes I linked above will likely notice some similarities between our meatball recipe and tonight's recipe. Both recipes use a leaner ground beef (to prevent a greasy meatball) and compensate for the drier beef by using eggs and breadcrumbs (in our recipe, unsalted saltines are used but they perform the same function).
That tells me two things right off the bat. First, these meatballs are going to be juicy and tender, because I've already used the technique that is being utilized in this recipe and I know it works. Secondly, it means our meatball recipe (adapted from Jamie Oliver's recipe) cannot be too far off from the best of the best because even the 'best' recipe for meatballs uses the same ingredients we do.
Enough background, let's actually start cooking these things!
(Note: the meatballs and sauce can be made a day ahead of time and stored in the refrigerator overnight before use).
To make the meatballs, add the breadcrumbs, parmigiano-reggiano cheese, eggs, parsley, chopped onion, salt, pepper, veal, pork and beef into a large mixing bowl. Using your hands (things are gonna get messy…) mix all the ingredients well until they are perfectly blended. This will take some patience and elbow grease, but the better you blend the meats and other fillings here, the better meatball you'll create in the end.
Now you can begin to break your meat mixture into meatballs. The best method I found for doing this is using a small (metal) ¼ cup measuring cup. Simply dip the cup into the meat blend and pull out approximately a ¼ worth of meat. Roll the meat between the palms of your hands until it forms a nice, compact little ball and repeat until all of the meat has utilized. The original recipe states that you'll make about 16 meatballs this way, which may be true – but we ended up with a considerable amount more due to using higher quantities of all the meats (everything was sold by the pound, not the ½ as originally required in this recipe).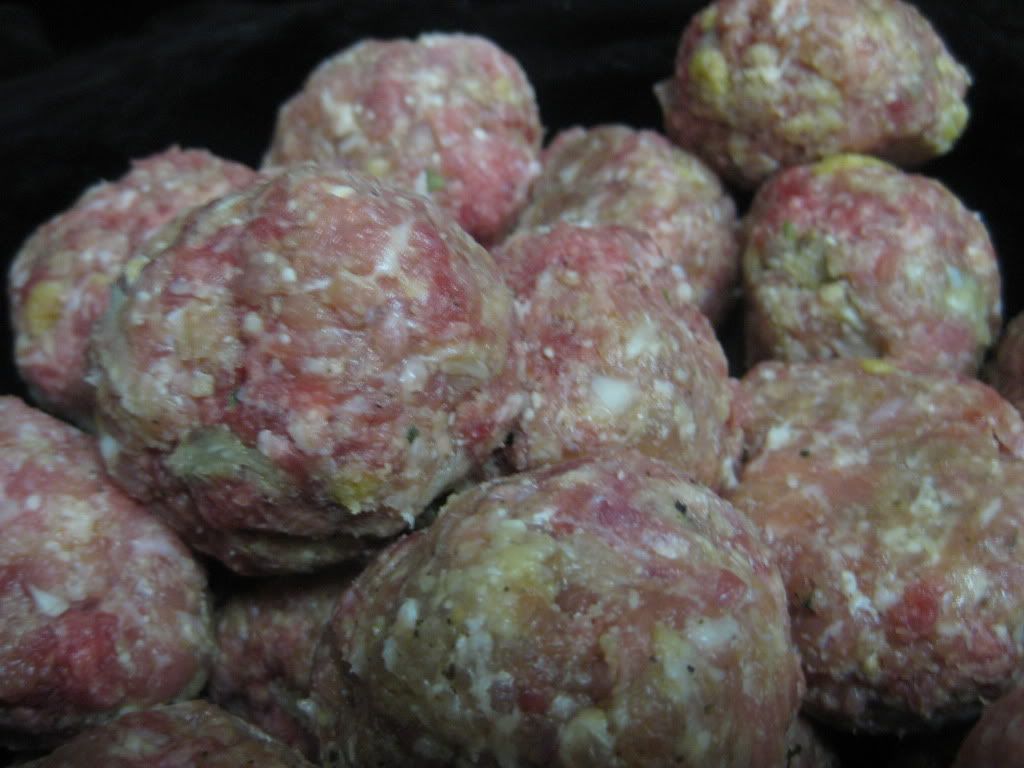 Set your meatballs aside (or, if you're going to store them overnight, move them into a glass dish with a lid and store them in the refrigerator).
Next, begin preparing the tomato sauce. Add the tablespoon of olive oil to a large (12 inch) non stick skillet over medium high heat. Warm the oil until it begins to shimmer before adding the onion. Allow the onion to simmer and brown for about 3 to 5 minutes or until it begins to turn a nice golden brown color. Once browned, add the garlic, Italian seasoning and red pepper to the skillet and let the mixture simmer for 30 seconds.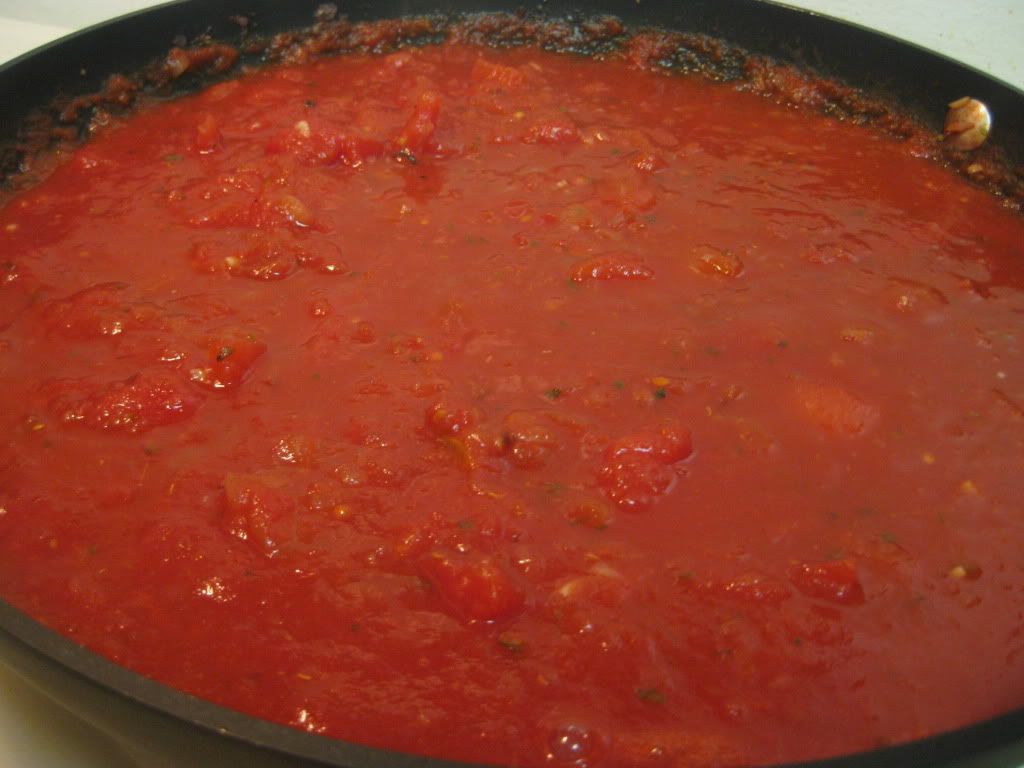 Add the wine to the skillet and let the mixture boil for one minute. Finally, add the crushed tomatoes and the diced tomatoes (drained of excess water – I find that the water with the diced tomatoes tends to make the sauce too runny) to the skillet and bring the mixture to a light simmer. Stirring often, allow the sauce to simmer for about 3 to 5 minutes to make sure everything is evenly heated through.
If you're making the sauce the night before, pour it into a glass bowl or other dish with a sealable lid and then store it in the refrigerator overnight.
The beauty of this dish is that it allows you to prepare a great, healthy meal with only that little bit of work upfront. Why? It's designed for a slow cooker! While you can use a Dutch oven (add everything to the pot, medium high heat for and hour to hour and a half, covered) to cook it up, the slow cooker is the easier (and preferred) method here.
Begin by placing your meatballs into the bottom of a 4 to 6 quart slow cooker. (We have a 4 quart slow cooker and more meatballs – so don't feel obligated to use a 6 because the recipe said so – ours turned out just fine). Next, pour the sauce over the meatballs, making sure everything is evenly covered. Set the slow cooker to low and allow the mixture to cook for 5 to 8 hours.
Just before you're ready to serve, bring a large pot of lightly salted water to a boil and cook the spaghetti according to the package instructions. Drain the pasta and serve with a helping of meatballs and tomato sauce. Enjoy!
The Results: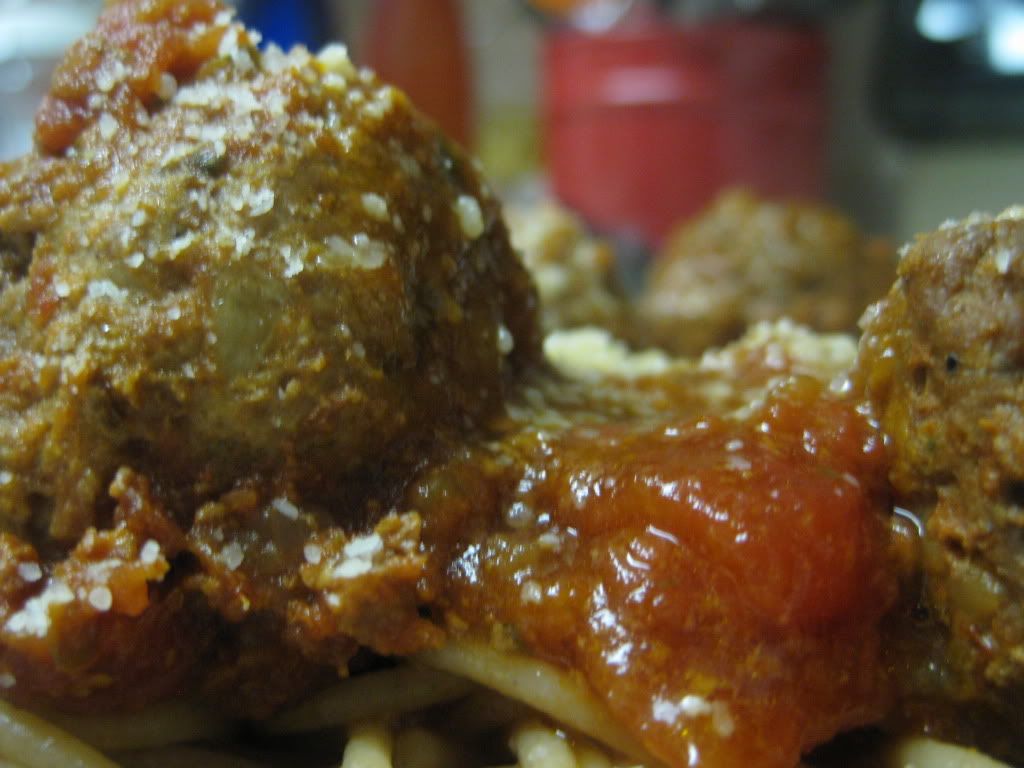 Well, the professionals were not wrong (not that we ever really expected them to be). This blending of veal, beef and pork is quite simply the king of the meatball crowd. Tender, juicy and absolutely flavorful – these are the meatballs that set the bar for all other meatballs to measure up to.
The tomato sauce was a pleasant surprise as well. Rich, full of great Italian flavor and it didn't have that 'from a jar' taste that the big manufacturers' products have. It's also lower in sodium and made of all natural ingredients – you can't go wrong.
(As an aside, I can't figure out why people shy away from making their own tomato sauce and choose instead to spend money on the canned or jar variant. Making the sauce yourself is not complicated – it took us 10 minutes, which is about the same amount of time you would have spent warming up the jarred variant – and the "DIY" sauce is so much better for you than the processed stuff from the shelf. There shouldn't be a market for jarred tomato sauce…and yet there still is… But, I digress)
Together, this simple yet tasty sauce and these fantastic meatballs created a very impressive and delicious dish.
I would recommend this recipe with reservations, however. Why it's true that this recipe is the pinnacle for spaghetti and meatballs, it comes at a cost. Literally. Veal was about $8 a pound, pork $3.50 and 90/10 beef was between $4-$5 per pound. Factor in the parmigiano-reggiano cheese ($4 for the good quality product) and you have a dish that carries a hefty price tag. While it will feed a large family (or a small family several times) it does weigh heavier on the pocket than our standard recipe does.
I'd recommend this recipe if you have a big family gathering or special occasion coming up and you want to impress those around you with your culinary prowess. However, if you're simply craving spaghetti and meatballs and it's just a Wednesday night at home, I'd recommend following our original spaghetti and meatballs recipe. It's delicious and much cheaper.
That's all we have for you this week. As always, thanks for following along in our culinary adventures. We're back on Monday with the news of the culinary world. Until then,
~Cheers