Good evening everyone! Bouncing back from an all vegetarian week, I start off the week with a new theme: Grilling Week. Most of our readers know that we live in an apartment with no means to a grill. We do have a portable grill that we could take to a park, but for everyday use, we do not own one. So when we want to grill, we whip out our grill pan and make due with what we have. Before this evening, I don't believe I've ever eaten (or attempted to cook) a grilled fish - it was one of those things that I never had thought to try. Tonight, I will attempt to grill a fish and hopefully, it will turn out just like it would on a "real" grill.
The Recipe: Grilled Halibut with Hoisin Glaze
Original Recipe Found In: Cooking Light Five Ingredient & 15 Minute Recipes
What You'll Need:
2 Tablespoons fresh Orange Juice, divided
4 (6 ounce) Halibut fillets*
2 Tablespoons Hoisin Sauce
2 Teaspoons Sriracha sauce (or other hot chile sauce)
*Note: While we thought picking up halibut at our local grocery store would be an easy task, we weren't able to find it. (All sold out) So we decided on Dover Sole - a very similar white fish and a new fish variety for the blog.
To start, heat a grill pan over medium high heat on the stove. Alternatively, if you are actually using a grill, preheat the grill to high heat. Next, brush 1 tablespoon of orange juice evenly over both sides of the fillets, just so it gets a nice orange hue to it. Sprinkle both sides evenly with salt and pepper. In a small bowl, combine the hoisin sauce, sriracha sauce, and the remaining tablespoon of orange juice.
Fish and orange juice...who knew??
If you have never cooked with hoisin sauce or sriracha, be prepared: both are relatively hot on the heat index. Although some would claim that neither is really too hot, I would have to disagree. Then again, my tastebuds are rather sensitive to strong (scorching hot) flavors, so I tend to shy away from using these ingredients most of the time. But since the fish has a neutral taste, it's good to amp up the flavor. Plus, using a bit of the sweet flavor from the orange juice should cut out on the heat from the hoisin and the sriracha.
Next, place the fish fillets in the middle of the grill pan and begin to cook. Brush the fillets with the hoisin mixture. This next part I would strongly recommend keeping an eye on your fish. While I nearly scorched pork chops black in a previous blog, it's because I continually brushed the glaze on the chop while it cooked on the grill pan. That glaze had no where to go, so it burned off rather quickly and the entire apartment had a thick cloud of smoke for the next hour. The hoisin glaze in the grill pan will have no where to go, so a continual brush of glaze will not be included in tonight's dish. If you're using a real grill, feel free to continuously glaze.
Grill the fillets on each side for three minutes, or until desired degree of doneness. Serve and enjoy!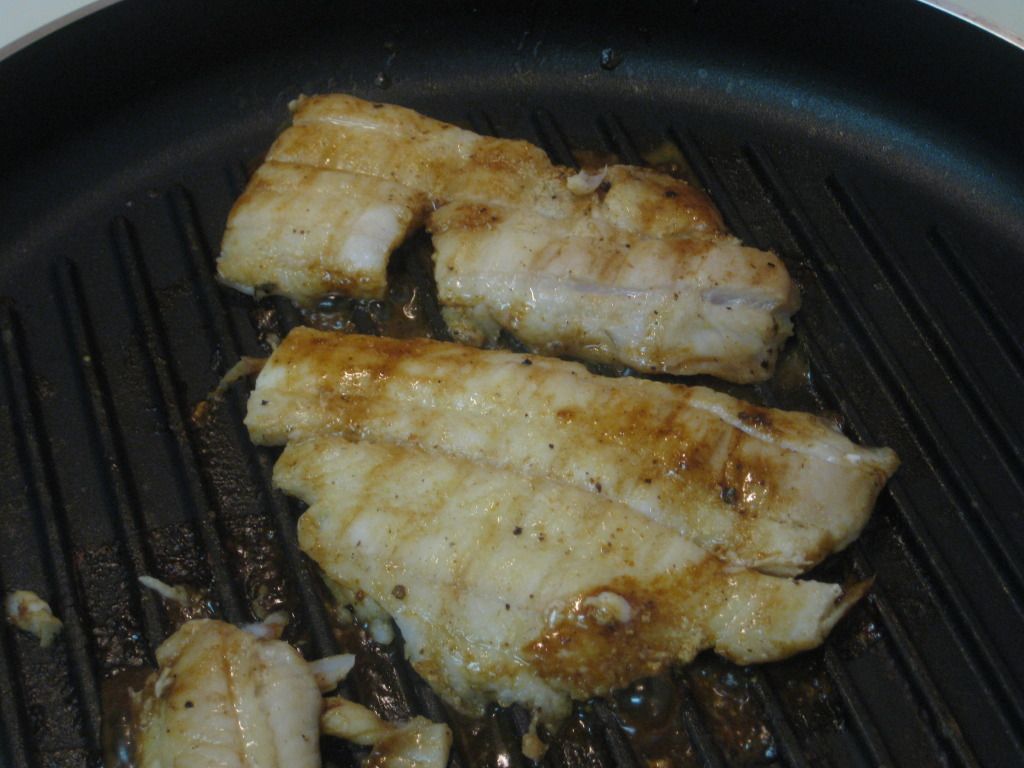 The End Result:
As I predicted, the orange juice cut down the kick from the hoisin sauce and the sriracha, but there was still enough heat to provide some flavor. The sole was cooked to perfection and instantly flaked when you cut into it with a knife. The flavor of the hoisin glaze was slightly muted, due to the non-consistent brushing of the glaze. But I leaned on the lighter side to avoid producing a lot of smoke in our apartment. The white fish is such an incredible diverse base to use, especially when cooking with intense flavorings and spices.
Join us tomorrow as Tyler continues our Grilling Week with another brand new recipe. Until then,
~Cheers!