Good evening everyone! As a chef, I'm constantly learning about different cuisines and how different cultures use ingredients all sorts of ways unique to their own. One cuisine that I'm constantly intrigued by is Chinese food. Granted, most of the Chinese food I eat is, more than likely, Americanized in some way, shape, or form. But in a close second behind Mexican food, I love Chinese food.
I've always been daunted by cooking Chinese, because I feel the techniques are out of my comfort zone and I wouldn't be able to successfully create a recipe that wouldn't be authentic. Tonight's dish will break my fear of cooking Chinese food. By making a tasty recipe with great Asian-inspired flavors will help quiet the not-so-fearful tendencies I have about this cuisine.
The Recipe: Glazed Chicken with Szechuan Noodle Salad
Original Recipe Found In: Cooking Light, July 2012
What You'll Need:
1 Tablespoon grated peeled fresh Ginger
3 Tablespoons Hoisin Sauce
1 Teaspoon Olive Oil
1 Teaspoon lower-sodium Soy Sauce
8 skinless, boneless Chicken Thighs
6 Ounces uncooked Udon Noodles or Whole-Wheat Linguine
1/4 Cup bottled Szechuan Sauce
1 Tablespoon reduced-fat creamy Peanut Butter
2 Teaspoons lower-sodium Soy Sauce
2 Teaspoons fresh Lime Juice
1 Cup matchstick-cut Carrots
1/2 Cup matchstick-cut Green Onions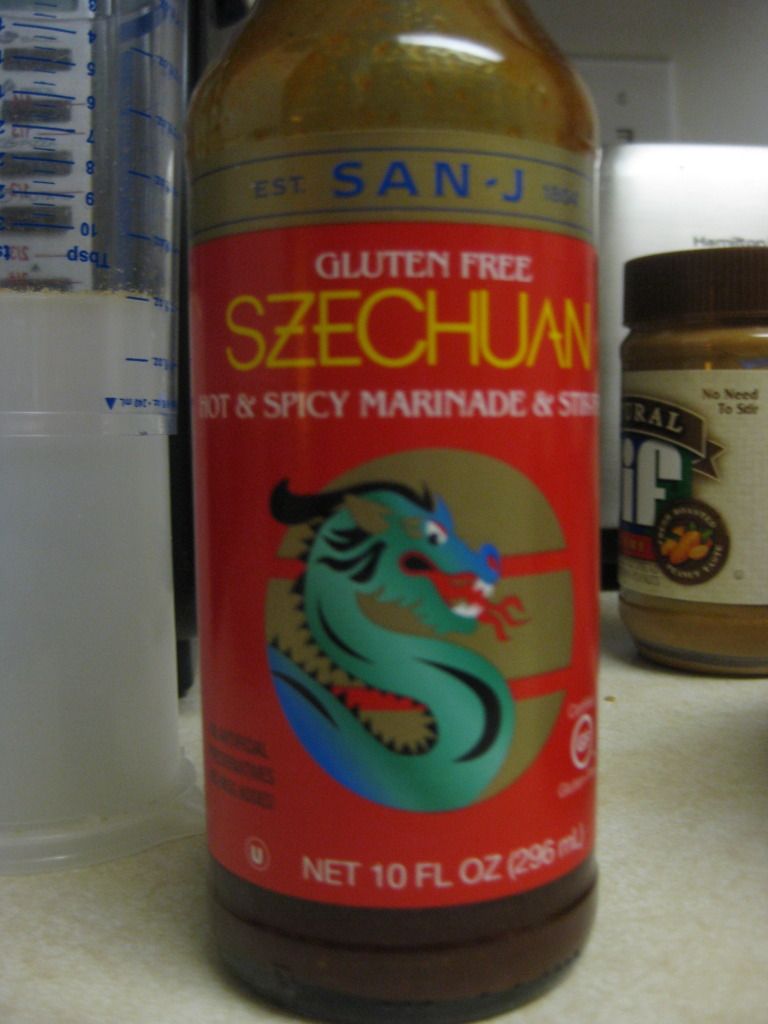 Welcome Szechuan Sauce to Out of the Culinary
*Note: Since this recipe is originally to use on the grill, I am adapting by using a grill pan on the stovetop, so I will describe how to cook this recipe using a grill pan instead of a grill.
To start, heat a grill pan over medium high heat and coat with cooking spray. Also, you can start a large pot of water to boil. In a medium bowl, combine the ginger, hoisin cause, olive oil, and soy sauce and stir well. Add the chicken thighs and toss to coat. The fragrant smell that will waft out of the bowl will be a powerful one. Your nose will get a nice kick in the shins, but it will make the chicken taste delicious.
Glazed and ready to grill!
Next, ensure the grill pan is hot and, using a pair of tongs, place the chicken on the grill pan. Grill the chicken for four minutes on each side, or until a meat thermometer reads between 165 to 170 degrees. Remove the chicken from the grill pan and cover with foil, allowing the chicken to rest. Resting the chicken will not only seal in the flavor of the hoisin sauce mixture, but it also keeps the chicken juicy and everybody likes juicy chicken.
Place the noodles in the boiling pot of water and cook according to package directions. Rinse the noodles with cold water and drain well. In a large bowl, combine the Szechuan sauce, peanut butter, soy sauce, and lime juice, stirring with a whisk. Add the drained noodles, carrots, green onions. Toss this mixture together, serve immediately with the chicken, and enjoy!
The End Result: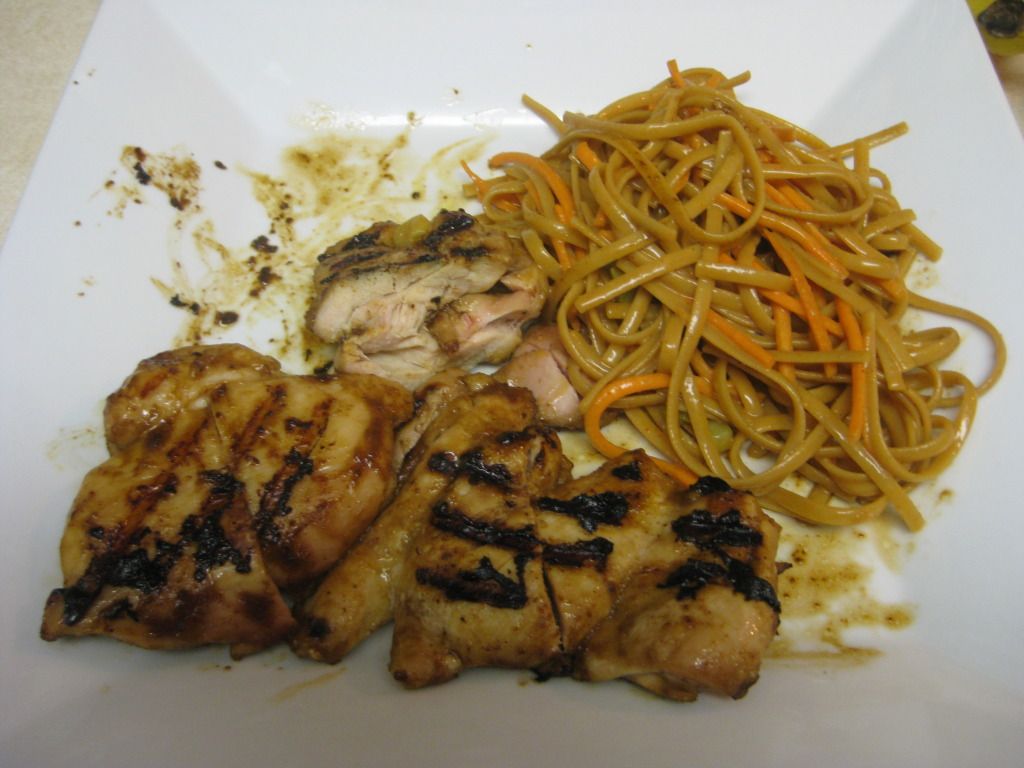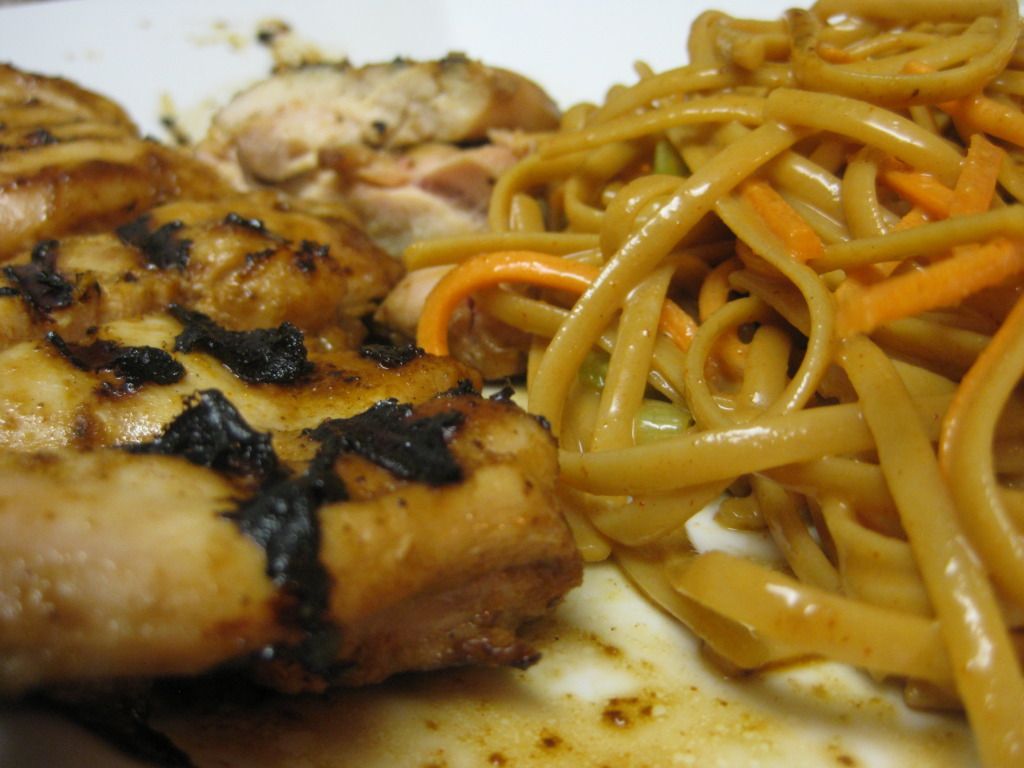 The flavor packed in the chicken from the ginger, hoisin sauce, and soy sauce gives it an incredible punch. But this is a Chinese-inspired dish and using the ingredients to boost their flavor will make it even more delicious. The flavor isn't too spicy and hot and that's how I like my Chinese food. I don't like a lot of heat and even though the chicken has a strong flavor, it doesn't have a strong burn. The noodles, on the other hand, were a completely different story. Granted they are a side dish, it boasted was a main dish flavor. The combination of the Szechuan sauce (which is new ingredient to the blog,) peanut butter, soy sauce, and lime juice, was very powerful. Again, my sensitivity to spicy ingredients might be in play here, so it might come across as a bit over exaggerated. I knew this would be a great starting Chinese cuisine recipe and this will get me started in the right direction to begin to cook more and more Chinese dishes.
The only thing that threw the dish off was the temperature of the noodles - which are supposed to be served cold with this recipe. While the flavor doesn't change, trying to get your mind to adapt to cold pasta is a harder trick than it seems. It threw Tyler off to the point where he just decided he didn't like the noodles - we're going to try to warm them up later on and see if that changes things.
That's all we have for you this week. Join us next week as we continue to cook our way through new recipes. Until then,
~Cheers!