Good evening everyone! We're back after a week off - we were away for Maggie's birthday celebration and are only now getting back into a regular cooking routine.
Mac and cheese is one of the few foods that kids and adults can agree on. Soft, succulent noodles draped in a rich, creamy cheese sauce - who doesn't like that? As an adult, you are certainly welcome to partake in mac and cheese, however, you may find yourself starting to question what exactly is in that day-glow orange boxed mac and cheese that the kids devour.
Never fear, we have a way to feed your mac and cheese while still keeping on a healthy diet and feeling like an adult (no dinosaurs or glow in the dark cheese here).
The Recipe: Lightened Up Mac and Cheese
Original Recipe Found In: Food Network Magazine April 2012 Issue
12 Ounces Fusilli or Corkscrew Pasta
1 Tablespoon Unsalted Butter
1 Medium Shallot (Chopped)
2 Tablespoons All Purpose Flour
1 Teaspoon Mustard Powder
1/3 Cup Low Fat Sour Cream
2/3 Cup Shredded Part Skim Mozzarella Cheese
2/3 Cup Shredded Low Fat Swiss Cheese
3 Tablespoons Grated Parmesan Cheese
1/4 Cup Fresh Chopped Parsley / Basil / Chives (or a mixture of all 3)
Begin by brining a large pot of lightly salted water to a boil. Cook the pasta according to package instructions. Drain the cooked pasta, reserving 3/4 cup of the cooking water.
While the pasta is cooking, melt the butter in an empty pot over medium high heat. Once melted, add the shallot and cook until the shallot is softened (stirring occasionally) this should take about 2 to 4 minutes. Next, add the flour and mustard powder and stir until the mixture is evenly incorporated. Allow the flour to cook until it begins to toast (or darken slightly) this takes about 1 minute.
Finally, whisk in the milk and reserved cooking water. Be sure to whisk continuously until the mixture thickens - about 1 to 3 minutes. (My experience found this mixture thickened almost immediately - so your results could vary here, adapt accordingly)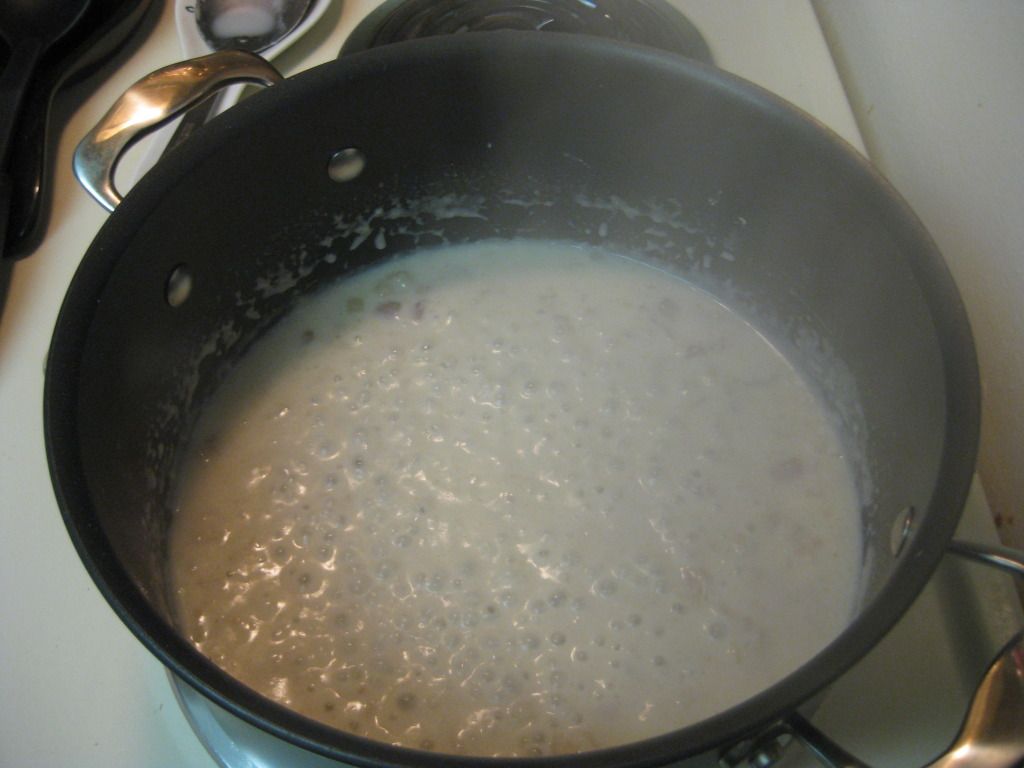 Reduce the heat to medium or medium low. Next, whisk in the sour cream, mozzarella, swiss and 1 tablespoon of the parmesan cheese. Whisk until the cheese melts and is evenly incorporated. Be sure to stir this mixture frequently to avoid burning or browning the cheeses.
Stir in the pasta along with a sprinkling of salt and pepper. Mix well until the pasta is evenly coated in the cheese sauce. Transfer this mixture to a 2 quart baking dish and preheat your broiler. Sprinkle the remaining parmesan as well as the herb mixture over the top of the pasta. Place this dish under the broiler and cook until the top of the pasta is a golden brown color. This takes about 2 minutes - but be sure to watch the dish closely as the cooking speed of broilers do vary and you can burn the dish easily.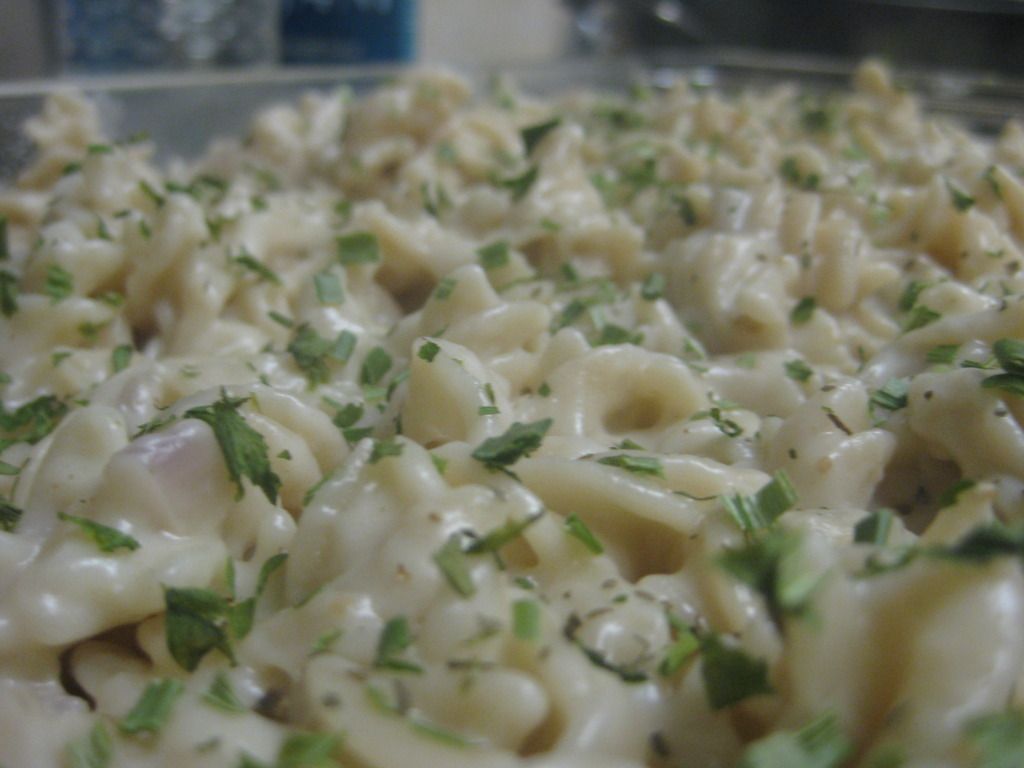 If you don't have or don't want to use a broiler, you can set your oven to 450 degrees and place the baking dish in the oven for 10 to 15 minutes. This will create the same golden brown crust without the need for a broiler.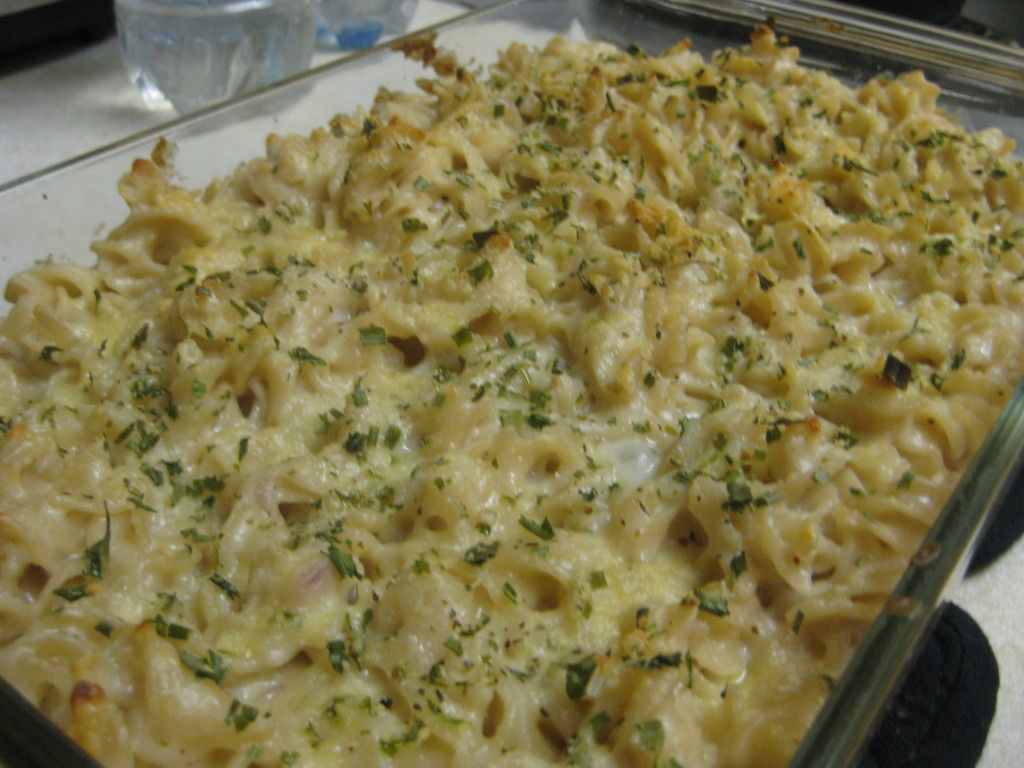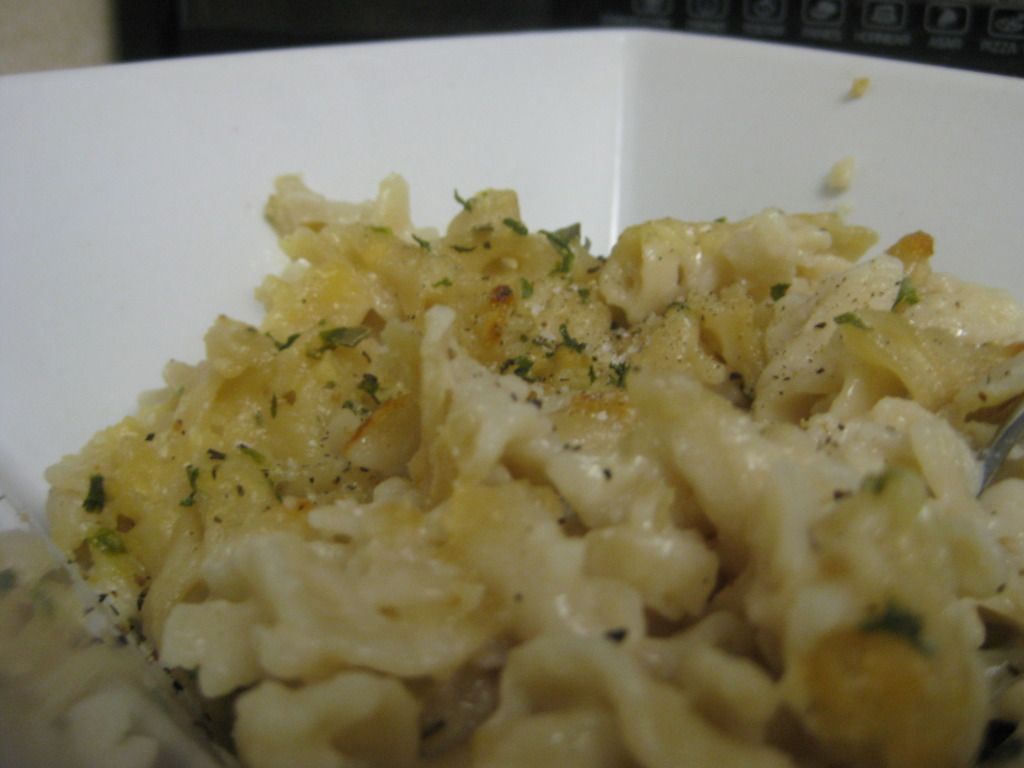 The simply creamy combination of cheese, sour cream and milk create a beautiful and flavorful base for this simple mac and cheese dish. The flavors that you love are all there - this is 'back to basics' mac and cheese. The herbs add a nice touch on top of the entire dish - adding a nice adult element to the basic mac and cheese recipe. This quick and easy recipe is full of flavor and is sure to please the whole family on any night of the week.
That's all we have for you this evening - be sure to stop in tomorrow night as Maggie takes to the kitchen with a brand new recipe. Until then,