Good evening everyone! November is one of our favorite culinary times of year. Stews, soups, pot pies and other warm, filling dishes are all in season and just begging to be cooked up. This week, as I was scanning our usual sources of inspiration I stumbled across a dish that got my creative juices flowing.
In this month's Food Network Magazine was a recipe for Slow Cooker Sauerbraten - what intrigued me was the idea they had one recipe later. They used the leftovers from this dish and created a casserole (resembling a pot pie) with a creamed corn topping. While the original recipe was a bit more demanding (long "need" list at the grocery) than I wanted to take on, I decided that I would take the ideas from these recipes and apply them to my own creation.
Lets get cooking!
The Recipe: Creamed Corn Pot Pies
This is an Out of the Culinary Original Recipe
What You'll Need:
(Serves 4)
12 - 18 Ounces Stewing Beef or Beef Tips
2 Tablespoons Extra Virgin Olive Oil
2 Tablespoons Tomato Paste
1 Cup Red Wine
1/2 Cup Red Wine Vinegar
1 Cup Low Sodium Beef Broth
1 Small Bag Frozen Vegetable Medley (Carrots, corn, peas - etc.)
8 - 10 Ounces Cubed Butternut Squash*
* Most grocery stores have already cut and cubed butternut squash in their frozen sections or in a refrigerator cabinet next to the produce.
To begin, preheat your oven to 300 degrees or find a 4 quart slow cooker.
Add the olive oil to a Dutch oven over medium high heat and warm the oil until it begins to shimmer slightly. Once shimmering, add the beef (seasoned with salt and pepper) to the Dutch oven and cook for 3 to 5 minutes, or until the outsides of the beef are browned.
(You'll want to brown the beef here as the searing creates a barrier that keeps the beef's natural juices in during the cooking process.)
Next, add the tomato past, red wine, red wine vinegar and beef broth to the pot and give the mixture a good stir. Bring the mixture to a light simmer before adding the frozen veggies and the cubed butternut squash. Stir the mixture again before placing the lid on your Dutch oven and moving the pot into the oven for 3 to 5 hours. (If you're using a slow cooker, transfer the contents of the dutch oven to the slow cooker and allow the mixture to cook on low for 5 to 8 hours).
While you're beef and veggies are cooking - you can turn your attention to the creamed corn. Now, you certainly can you canned corn for this recipe - but in my experience I've found canned creamed corn to be lacking flavor and full of sodium. Instead of using a subpar ingredient, I found a recipe from Alton Brown that should give us a whole lot better result.
The Recipe: "Better Than Granny's" Creamed Corn
Original Recipe From: Alton Brown
What You'll Need:
1 Small Onion (Diced)
1 Tablespoon Butter
8 Ears of corn (Kernels removed - alternatively, you can use frozen corn)
1 Tablespoon Sugar
2 Tablespoons Yellow Cornmeal
1 Cup Heavy Cream
Melt the butter to a medium saucepan over medium heat, add the onion and a pinch of salt and cook the onions until they "sweat" and become translucent. This takes about 3 minutes.
Next, add the corn to the saucepan (including any of the "juices" from the corn - if you cut it off the cob) and allow it to simmer for 2 to 4 minutes. Sprinkle the sugar in and stir well. Add the cornmeal and whisk well to make sure it is evenly incorporated. Finally, add the heavy cream and stir constantly for 2 to 3 minutes until the mixture thickens.
Season with salt and pepper to taste.
Store your creamed corn in the refrigerator until you're ready to finish preparing your dish.
After your stew has had all afternoon to...well...stew, remove it from the oven and give the mixture a good stir. Increase the oven heat to 400 degrees.
Carefully spread your creamed corn from earlier across the top of the stew. (You're essentially creating a lid with the corn). Once all of the corn has been spread across the top of the stew, place the Dutch oven back into the oven (no lid this time) for 30 to 40 minutes, or until the creamed corn has browned slightly. Serve and enjoy!
The Results: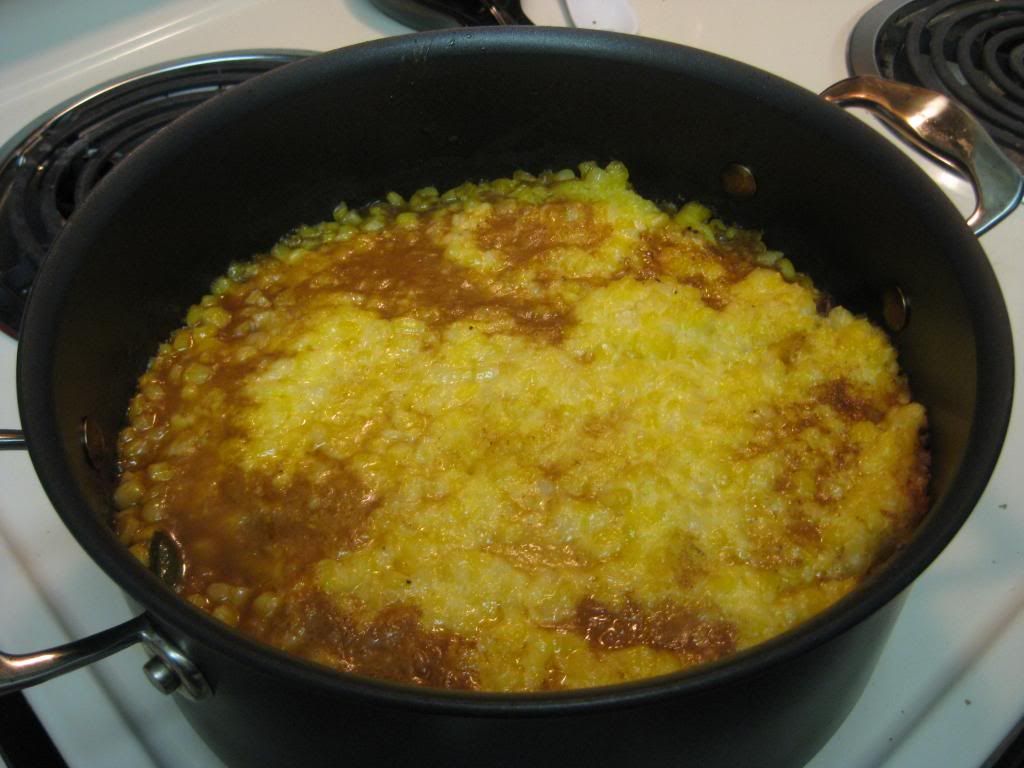 First and foremost - hats off to Mr. Alton Brown as his creamed corn recipe is simply extraordinary. If you take nothing away from the main recipe, at the very least you have to try this creamed corn dish for yourself. It's the perfect blend of sweet corn with a creamy base - in a word - outstanding.
This delicious corn recipe coincided with my country stew recipe beautifully. Allow the corn to bake for 30 minutes really helped create a traditional pot pie "lid" giving the dish a nice, slightly crunchy crust. The sweet / rich harmony of the creamed corn topping blended beautifully with the hearty stew flavors creating a brand new blending that I've never tasted in a pot pie before.
This recipe is perfectly suited for these cool fall days. It's warm, filling and full of flavor. Give this one a try and you're sure to love it too!
That's all we have for you this evening. Maggie will take to the kitchen Thursday night with a brand new dish of her own. Stop in then to see what she has cooking. Until then,
~Cheers