Good evening everyone! As it starts to feel more like fall-winter outside (where it's mild weather, but the temperature starts to cool way down,) I love to create dishes that take a little bit more effort to create. The hearth created by these kinds of dishes fills my belly and soul, that's why I continue to say that Fall/Winter cooking is the best. Tonight's dish is no exception: a hearty dish that takes quite a bit of effort to create with the end result being incredibly comforting.
The Recipe: Chicken and Mushrooms in Garlic White Wine Sauce
Original Recipe Found In: Cooking Light, November 2012
What You'll Need:
4 Ounces uncooked wide Egg Noodles*
1 Pound skinless, boneless Chicken Breast halves
2 Tablespoons All-Purpose Flour, divided
1/2 Teaspoon Salt
1/4 Teaspoon freshly ground Black Pepper
2 Tablespoons Olive Oil, divided
1 Tablespoon minced fresh Garlic
1 (8 ounce) package presliced Mushrooms
1/2 Cup dry White Wine
1/2 Cup fat-free, lower-sodium Chicken Broth
1 Teaspoon chopped fresh Tarragon
1/4 Cup Parmesan Cheese, shredded
*Note: I am using remaining fettuccini noodles that we had left in our pantry.
To start, bring a large pot of water to a boil and cook the noodles according to the package directions, omitting any salt or oil when cooking. When the noodles are done cooking, drain in a colander and keep warm. Meanwhile, cut the chicken breasts into one inch pieces and place in a shallow dish. In a small bowl, combine one tablespoon of flour, 1/4 teaspoon salt, and 1/8 teaspoon of pepper. Sprinkle the chicken with the flour combination and toss to coat.
Next, heat a large, nonstick skillet over medium-high heat. Add one tablespoon of oil to the pan and swirl to coat. Add the coated chicken and cook until all the sides are brown, about four to six minutes, depending on how strong your stovetop is. We have found that our stovetop take a little bit longer to cook, so we have to make alterations to our recipes when cooking anything on a stovetop.
After the chicken is cooked, remove from the skillet and keep warm in a pan. Add the remaining tablespoon of oil to the pan. Add the garlic and mushrooms and cook until all the liquid evaporates, about three minutes. After the mushrooms are cooked, add the wine and cook for one minute. Add the remaining one tablespoon of flour and stir constantly for one minute. Finally, add the broth, the remaining 1/4 teaspoon of salt, and remaining 1/8 teaspoon of pepper, and continue to stir the sauce frequently until it has thickened slightly.
After the sauce is cooked, add the chicken back to the pan, cover with a lid and cook for two minutes. Once this is finished, uncover the skillet and continue to cook the chicken until done, about one minute. Stir in the noodles and tarragon and make sure it is heated throughout. Top with a sprinkle of Parmesan cheese, serve, and enjoy!
The End Result: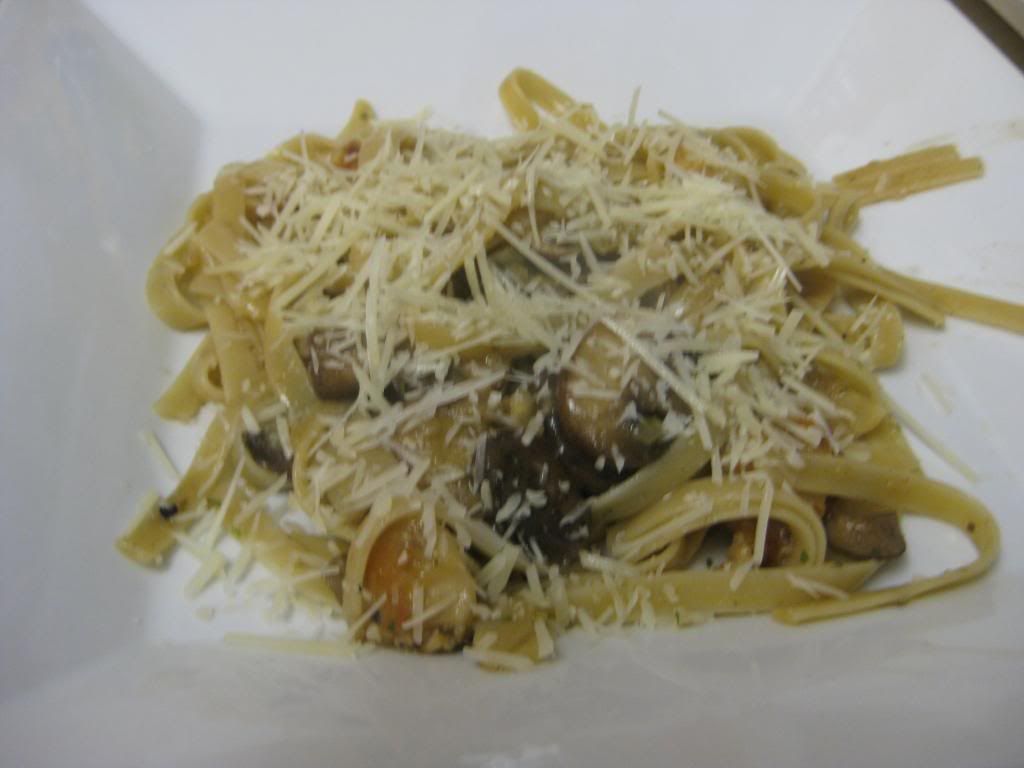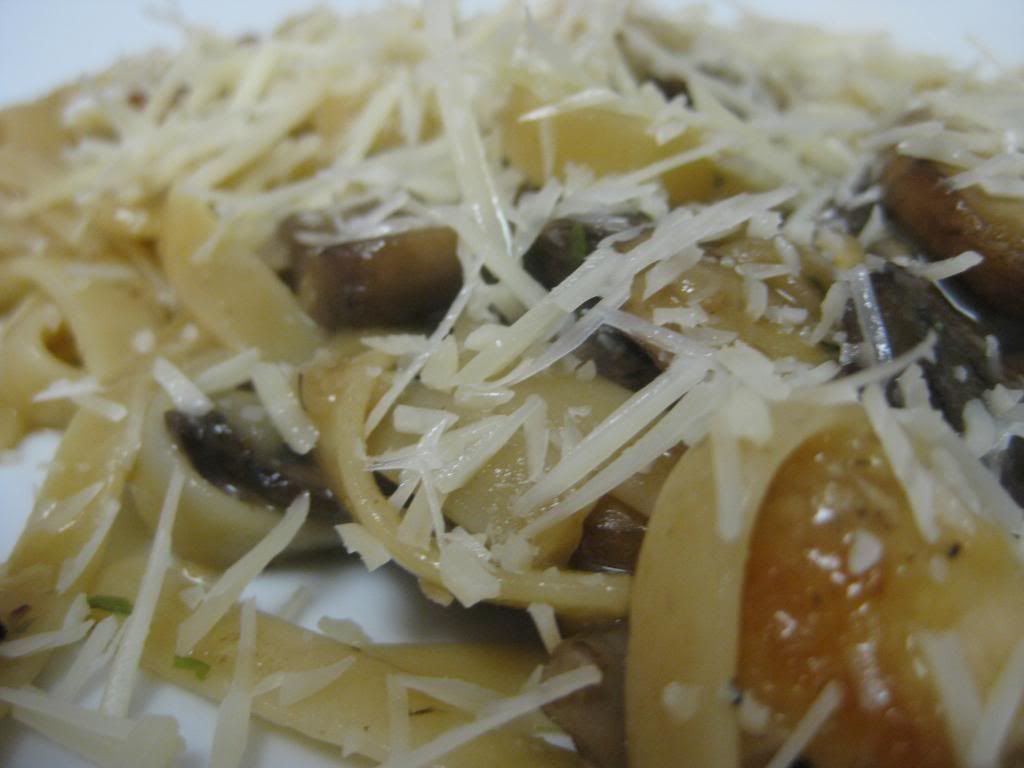 This recipe was the perfect accumulation of all the savory flavors you could meld into one dish. The chicken, mushrooms, and pasta were coated in this great sauce that had hints of garlic, wine, and chicken broth. Although we used dried tarragon, using fresh would have really amped up the flavor of the entire dish. Adding the Parmesan cheese at the end rounded out a really great dish that gives that exemplifies the term hearth.
Stop by tomorrow as we share our Thanksgiving schedule for the blog. Until then,
~Cheers!