Good evening everyone! Here on the blog, we like to try different variations of the same recipe, most notably the breaded chicken dish or the white fish variant. While we have tried the various different meats, we haven't dabbled a whole lot into pasta. We have tried this dish before, but we haven't tried "the classic" version of this...until tonight.
The Recipe: Classic Spaghetti Carbonara
Original Recipe Found On: www.foodnetwork.com
What You'll Need:
1/2 Pound Bacon, chopped
1 Tablespoon Garlic, minced
1 Pound dry Spaghetti
4 large Eggs
1 Cup grated Parmesan cheese
1 Teaspoon dried Parsley leaves
To start, bring a large pot of water to boil. Once the water is boiling, gently slide the dry spaghetti noodles in the boiling water and cook to package directions indicate al dente. Once cooked, pour the spaghetti into a colander, shake to remove excess water, and set aside.
Next, heat a large nonstick skillet over medium heat. Add the chopped bacon and cook the bacon until crispy, about six minutes. I prefer my bacon to be slightly undercooked, not extra crispy, so it'll be cooked less than six minutes. Remove the bacon and place on paper towel lined plates. Pour three tablespoons of the bacon grease into a small container. Remove the rest of the grease from the skillet and reintroduce the bacon grease.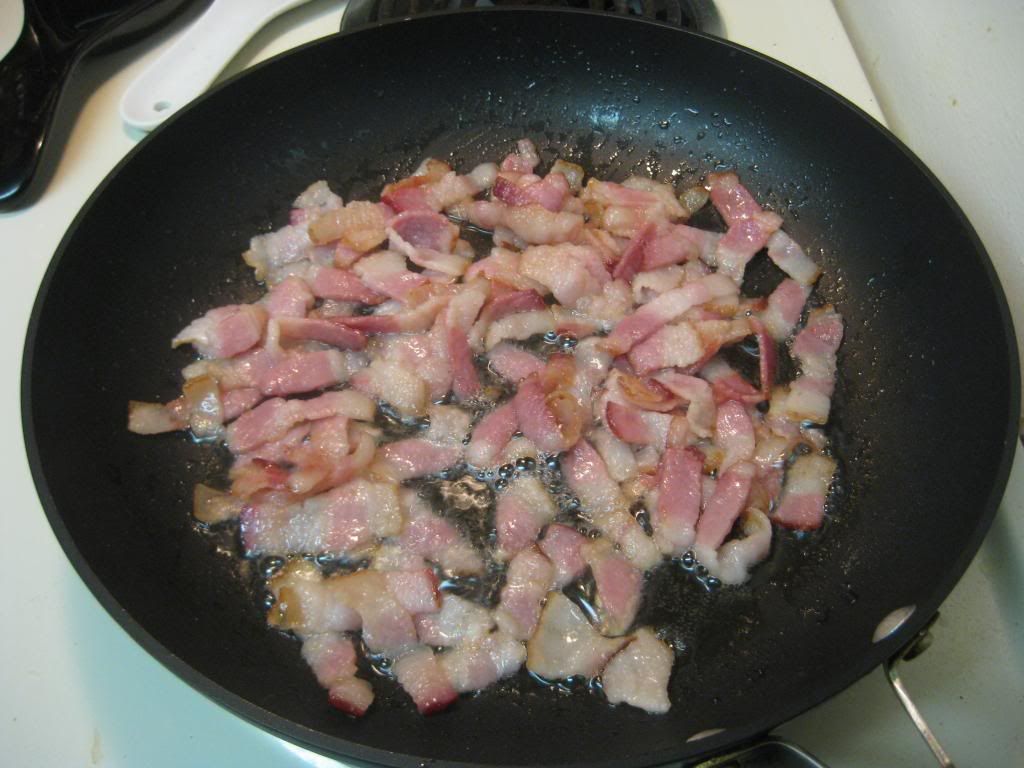 Nothing is quite like bacon cooking in a skillet...
Add the minced garlic to the skillet and season with black pepper. Saute the garlic and pepper until fragrant, about 30 seconds. Add the bacon and pasta to the skillet. Stir this mixture for one minute until everything is mixed through. In a small bowl, beat the eggs until they are well mixed and season with salt. Remove the pan from the heat and add the eggs to the pan. Whisk the eggs, bacon, and pasta until the eggs thicken, but not scramble. Add the cheese and reseason with salt and pepper. Pour into serving bowl, sprinkle with the parsley flakes, serve, and enjoy!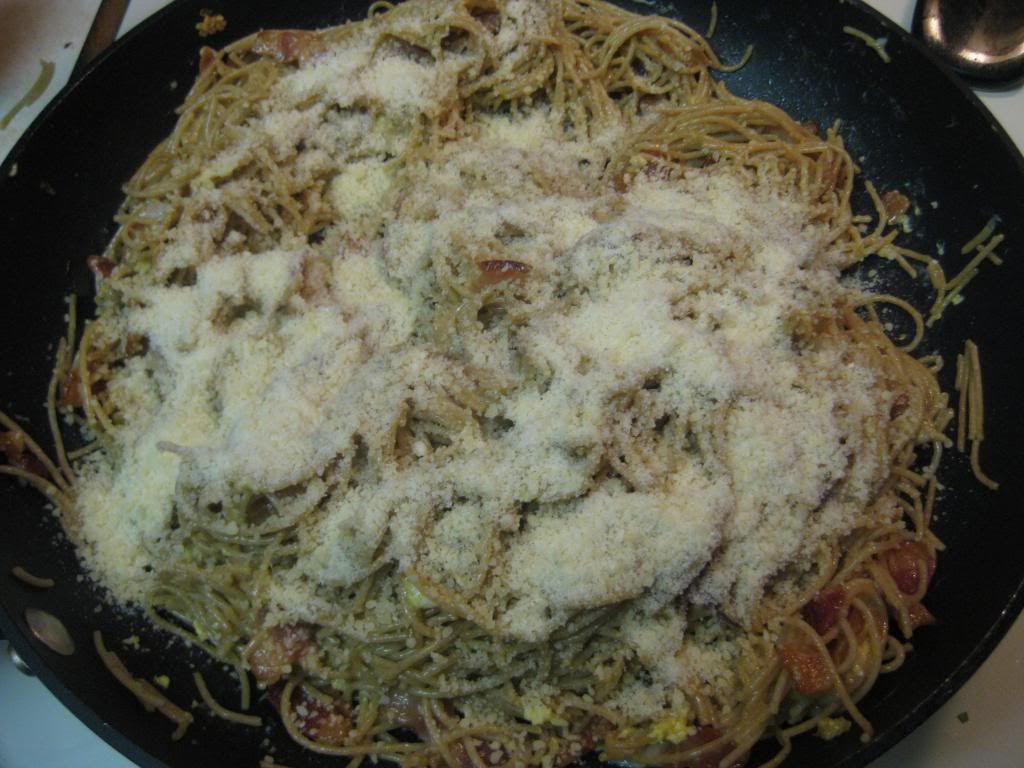 Cheeeeese
The End Result: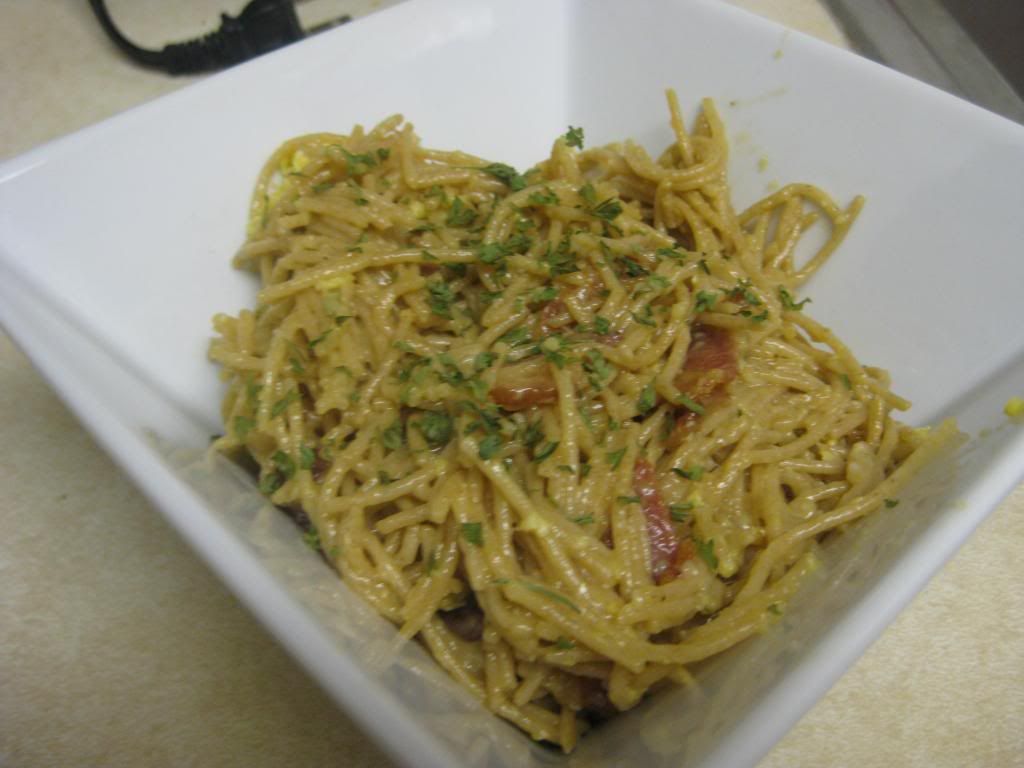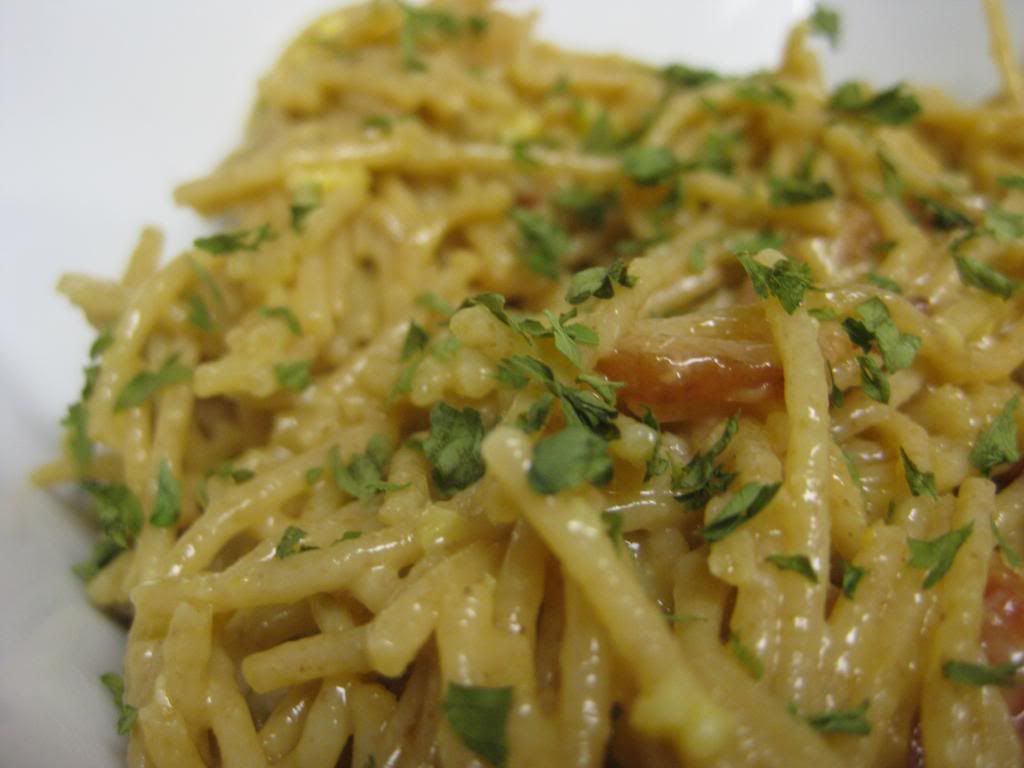 The classic version of carbonara is exactly that: tried, true, and classic. The fact of using eggs and cheese really adds a creaminess to the dish that can't be topped with any sauce either handmade or in a jar. Also, it is such an easy process to create the sauce that it's a delight when you're in the kitchen. Bacon makes any recipe delicious and tonight is no exception. Normally, bacon doesn't go into pasta dishes, but this tops the cake of any bacon/pasta combinations out there. Overall, a great base recipe that can have all sorts of variations - it's all up to the imagination to experiment with other ingredients to create a great dish.
That's all we have for you this week. Join us next week as we journey into another batch of recipes. Until then,
~Cheers!