Good evening everyone! Grilling has quickly become the great medium for our kitchen and culinary adventures. Not only can you whip up something real simple on the grill (like hot dogs and burgers,) but different culinary styles can also utilize a grill. Last night, I tried my hand at Mexican by grilling quesadillas and it was incredible delicious. Tonight, I'm trying an Asian inspired recipe, that will use a lot of flavors for something for a relatively simple dish.
The Recipe: Pork and Sweet Pepper Kebabs
Original Recipe Found In: Cooking Light, May 2013
What You'll Need:
1/4 Cup lower-sodium Soy Sauce
1 Tablespoon fresh Lemon Juice
1 Tablespoon Ketchup
2 Teaspoons Brown Sugar
1 Teaspoon Worcestershire sauce
1/4 Teaspoon crushed Red Pepper flakes
4 Garlic cloves, minced
1 (1 pound) Pork Tenderloin, trimmed and cut into 1/2 inch cubes
1/4 Teaspoon Kosher Salt
4-8 mini Red, Yellow, or Orange Bell Peppers
To start, place the soy sauce, lemon juice, ketchup, brown sugar, Worcestershire sauce, red pepper flakes, and minced garlic in a large bowl. Mix all these ingredients until they are incorporated. Pour the marinate into a ziplock bag and add the pork cubes. Seal the bag and give it a quick shake. Place the bag in the refrigerator and keep in for one hour, turning the bag on the other side after 30 minutes.
While the pork marinates, begin to create a pancit. A pancit is like a stir fry, but more emphasis on the noodles, rather than the vegetables that they noodles are sauteed with. Begin the pancit by taking a large bowl of warm water and placing 1 1/2 cups of rice noodles in the water. Keep the noodles in the water for at least a half an hour, or until soft. Drain the noodles in a colander. Heat a large skillet over medium high heat with one tablespoon of dark sesame oil. Once the skillet is hot, add the rice noodles, 1 cup thinly sliced iceberg lettuce, 1/3 cup shredded carrots, and 2 thinly sliced green onions. Saute this mixture until everything is heated throughout and just softened, about 10 to 15 minutes. Cover the skillet to keep warm and focus back on the pork.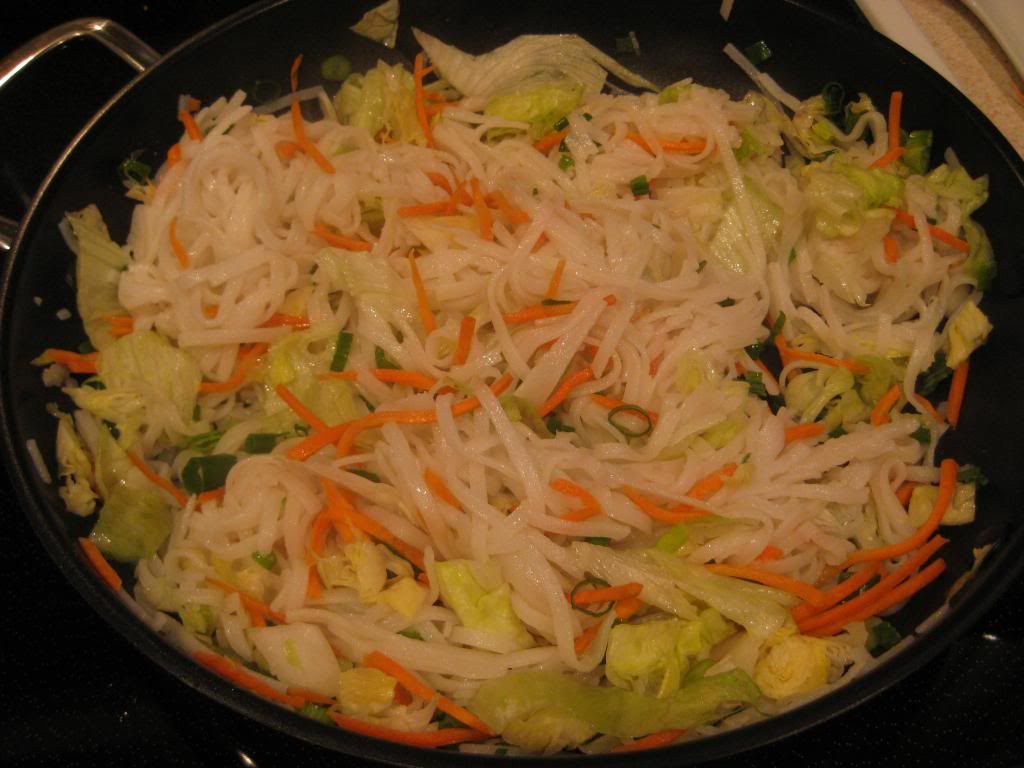 Heat a grill to medium-high heat. Remove the pork from the ziplock bag and discard the marinade. Thread the pork evenly onto two to four skewers and sprinkle with salt. Thread four mini bell peppers onto one or two skewers. Once the grill is heated, arrange the skewers in a single layers on a grill rack. Grill three minutes on each side or until desired degree of doneness (in our kitchen, meat has to be a cooked temperature to be done, in which case, pork is done at 150 degrees.)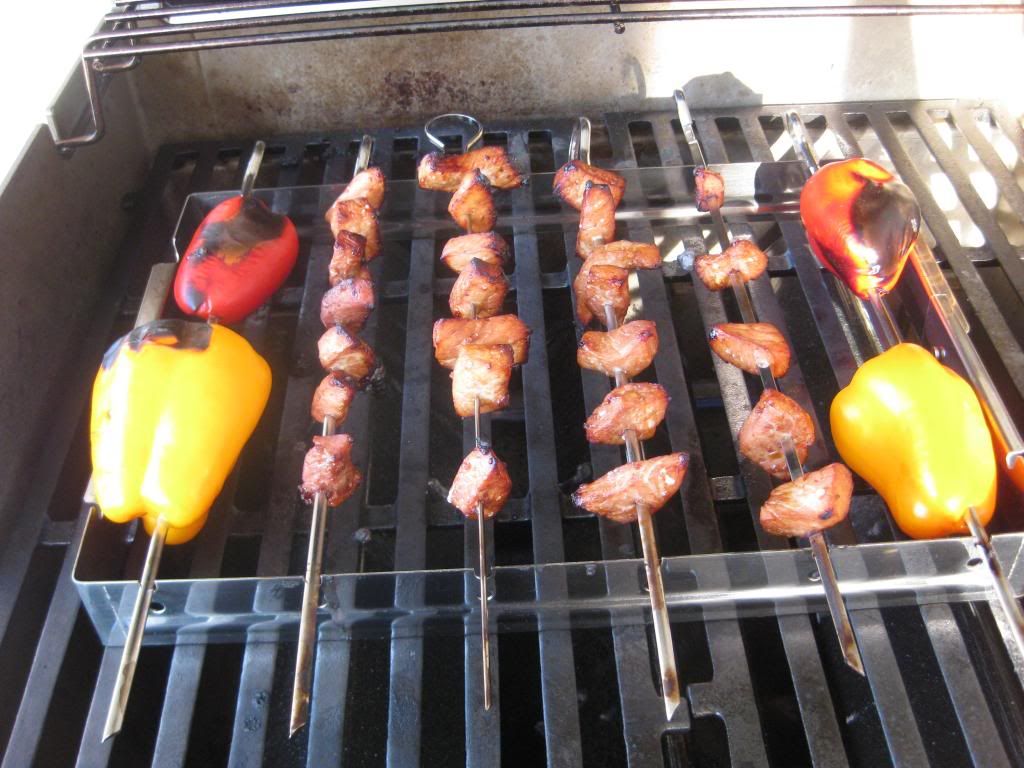 Slice the mini bell peppers and pork cubes to manageable pieces. Sprinkle with the cooked pancit and toss. Serve and enjoy!
The End Result: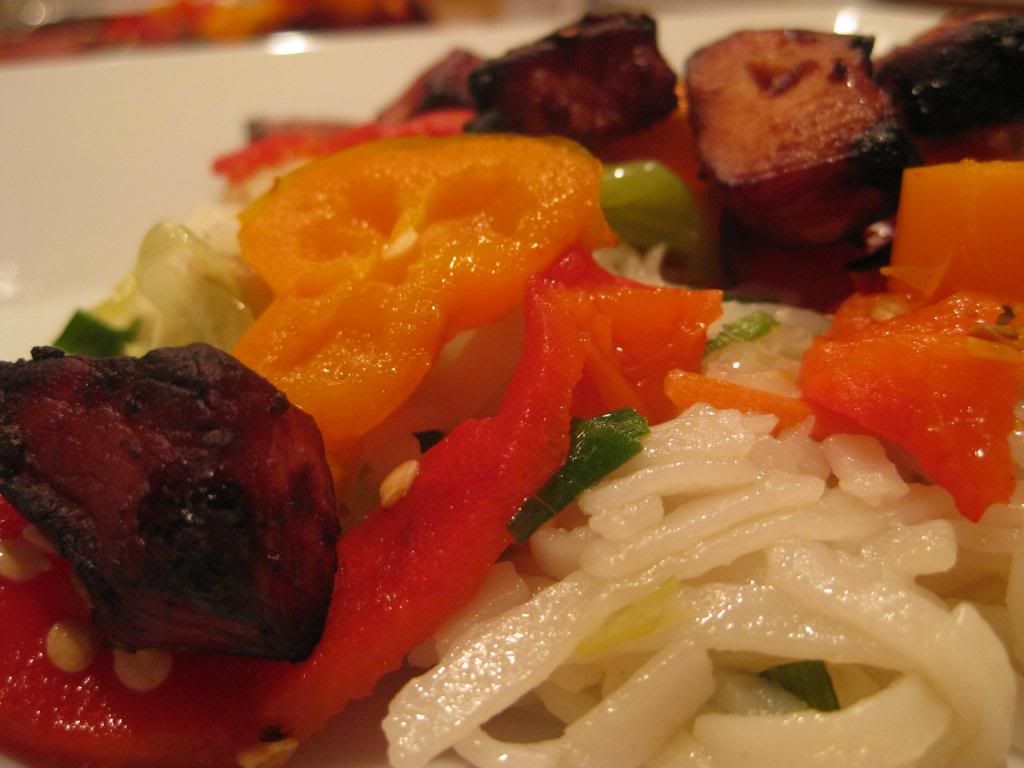 The pork had an intense flavor, mostly from sitting in a bath of soy sauce and garlic for an hour, but that's also what made the pork sparkle. Added with the smokey flavor from the grill, these were little bites of tasty heaven. But the real star of this recipe was the pancit. It was neutral enough to calm down that stark flavor from the pork, but added a well-rounded balance that you wouldn't get from serving just the pork and peppers. I believe that pancit could be the base for any Asian inspired dish, whether using the grill or not, add any meat or vegetable combination, and the pancit will highlight any flavors you throw into it. Overall, a wonderfully inspired cuisine that is easy on any pallet.
Join us tomorrow as Tyler takes to the kitchen with a brand new recipe. Until then,
~Cheers!