Good evening everyone! During this grilling season, there's a whole variety of foods and types of meats to lay out on the grill and cook. While this is a great way to enjoy any kind of food (not only not heating up the house on those super hot days,) repeating the same meats over and over again could get somewhat bland. Tonight, I'm creating a very unique burger that your pallet won't soon forget.
The Recipe: Sausage Burgers with Sriracha-Honey-Mustard Sauce
Original Recipe Found In: Food & Wine Magazine, June 2013
What You'll Need:
(Serves 8)
1 1/2 Pounds Ground Pork
1 1/2 Pounds Sweet and Hot Italian Sausage, casings removed
1/4 Cup Honey
3 Tablespoons Sriracha sauce
1/4 Cup Dijon Mustard
1/4 Cup Whole-Grain Mustard
8 Whole Wheat Burger Buns, split and toasted
To start, mix the ground pork and the sausage meat in a large bowl until well combined. If the sausage still remains in bits of pre-formed sausage, throw them in a food processor to get into smaller pieces. From this meat mixture, shape into eight 4 inch patties, about 3/4 inch thick. Set the patties aside on a clean plate.
Next, heat a small saucepan over medium heat. To the saucepan, add the honey, Sriracha, and both mustards. Stir to combine well. Cook this mixture until a boil. You'll find that this sauce won't exactly "boil" - it will begin to bubble. When this happens, you'll know when to turn down the heat to a simmer. Heat this mixture until it becomes a slightly glossy sauce, about three minutes. Reserve half the sauce in a bowl for serving.
Being to preheat a grill and prepare for cooking. Once the grill is heated, cook the burgers over medium high heat for five minutes on each side. Grill until the burgers are lightly charred and barely cooked through. Once each side is cooked and using a brush, glaze the burgers with the Sriracha-Honey-Mustard sauce and continue to grill. Once the glazed side has cooked for three minutes, flip the burgers over and glaze the sauce on the new side. Continue to cook for three minutes.
On a serving plate, spread the buns with light mayonnaise and top with the burgers. Serve with the reserved sauce, coleslaw and/or pickles. Top with the bun, serve, and enjoy!
The End Result: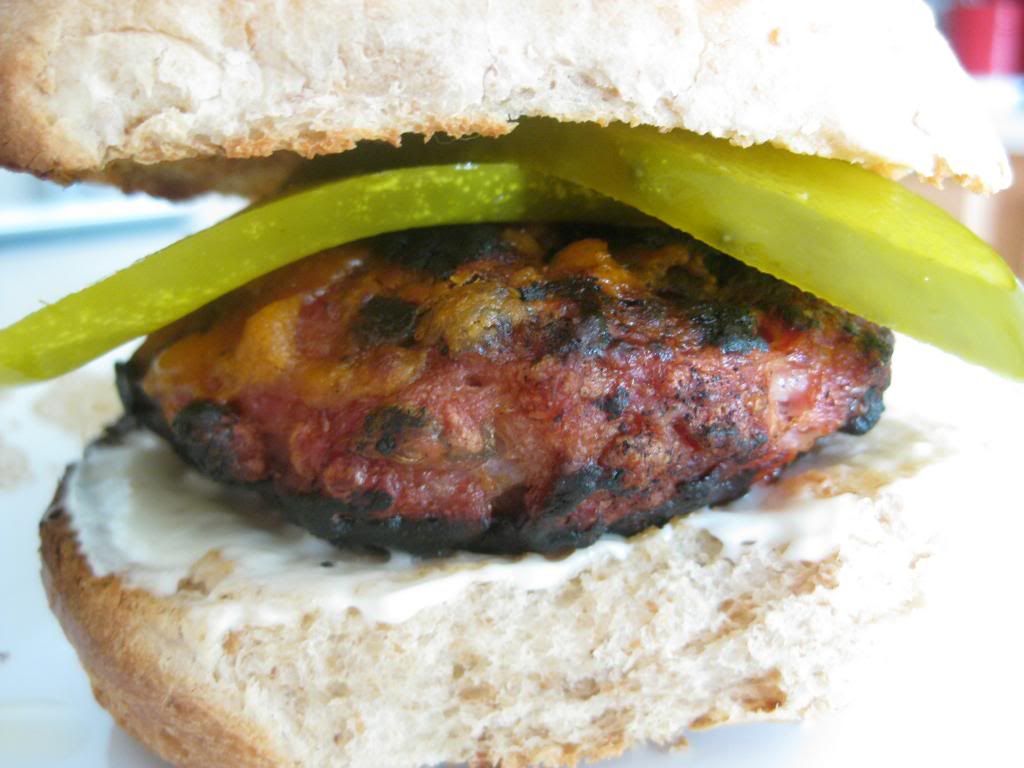 If you're feeling bold and adventurous on your burgers, then this is the burger for you! The meat is cooked perfectly and hits all the right flavor notes. The combination of the ground pork and ground sausage melds together so well, that it's a surprise we haven't tried this combination yet. The Sriracha-Honey-Mustard sauce packs quite a punch. Granted there are greater parts of honey and mustard in the sauce, the Sriracha is quite potent, yet makes for a memorable sauce. If you're not into a strong heat (or like me, can't handle it well,) I would layer up with pickles and mayo so you can still have the flavor of the sauce, but not a full mouth of it. Overall, a wonderful burger alternative to the typical beef burger!
Check back tomorrow when Tyler returns for a dessert that make you want seconds. Until then,
~Cheers!