Good evening everyone! Every now and again, I like to take on a recipe that's a little adventurous - a little out there if you will. Traditionally it's been a Jamie Oliver recipe or maybe something clever from an Alton Brown cookbook - so that gives you a good gauge of just how "adventurous" my adventurous has been on the blog so far. I do have one cookbook in my library that carries quite of bit of adventure, however, 'Guy Fieri Food' - by Guy Fieri of Food Network's Diners, Drive-Ins & Dives.
Guy has quite an eccentric collection of recipes in his cookbook - a collection we were hereto unable to tap as most of them required a grill or centered around sushi/crab/lobster (yuck). Now, armed with our already well used grill, I'm equipped to tackle most of Guy's recipes, and tonight, I picked a very unique and adventurous one to get us started.
The Recipe: Summer Grilled Pork
Original Recipe From: Guy Fieri Food
What You'll Need:
(Serves 4)
4 X Boneless, Skinless Pork Chops (1 inch thick)
10 Thick Cut Slices Applewood Smoked Bacon
3 Tablespoons Cream Cheese (Light)
2 Tablespoons Panko Bread Crumbs
1 Red Bell Pepper (Diced)
1/4 Artichoke Hearts (Jarred, drained of liquid)
1/4 Cup Honey
1/4 Dijon Mustard
1/2 Cup Beer (IPA or Pilsner)
I found it was much easier to toss the artichoke hearts and bell pepper into a food processor and simply pulse until everything was evenly blended and combined. You can certainly chop by hand and mix the two ingredients if you choose, I simply went with the time saving method!
Begin by using a large meat tenderizer to pound the pork chops to 1/4 inch thickness. Season both sides of all the chops with a pinch of salt and pepper.
Next, lay a large sheet of heavy duty aluminum foil on the countertop and place your strips of bacon vertically in the center of the sheet, overlapping each slice of bacon by 1/4 of an inch (see picture).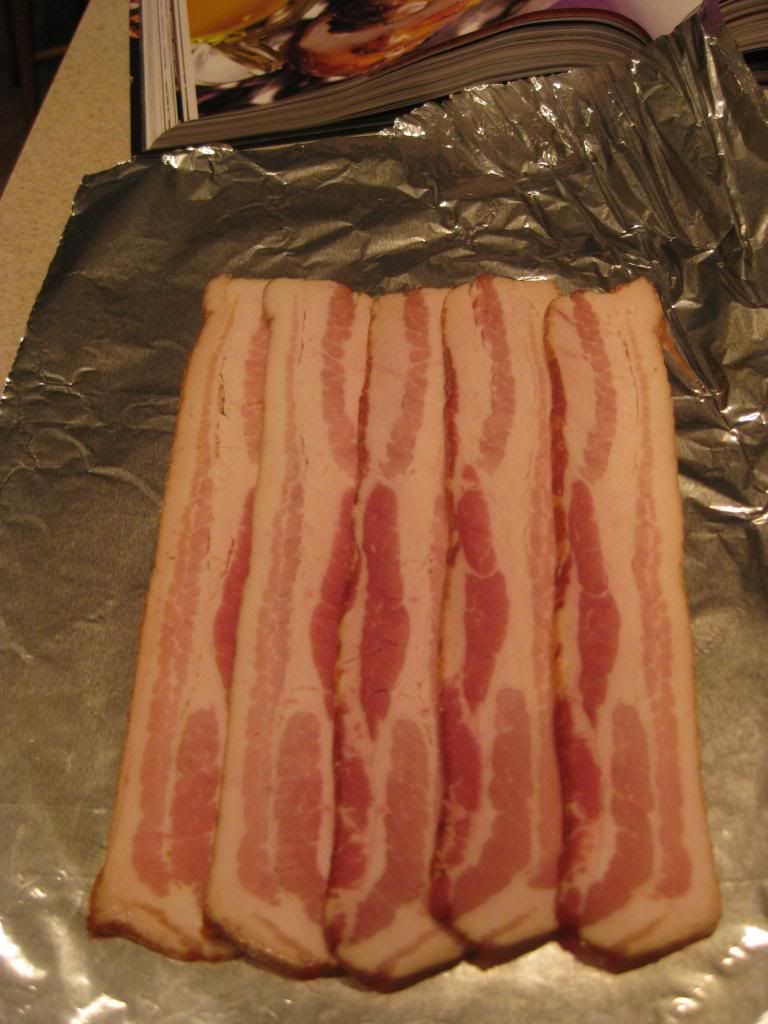 Next, lay the pork chops, horizontally across the bacon slices, making sure the chops don't overlap too much. Spread a thin layer of the cream cheese across the surface of each pork chop. Follow this with a helping of the red bell peppers and artichoke hearts, and top this layer with the panko bread crumbs.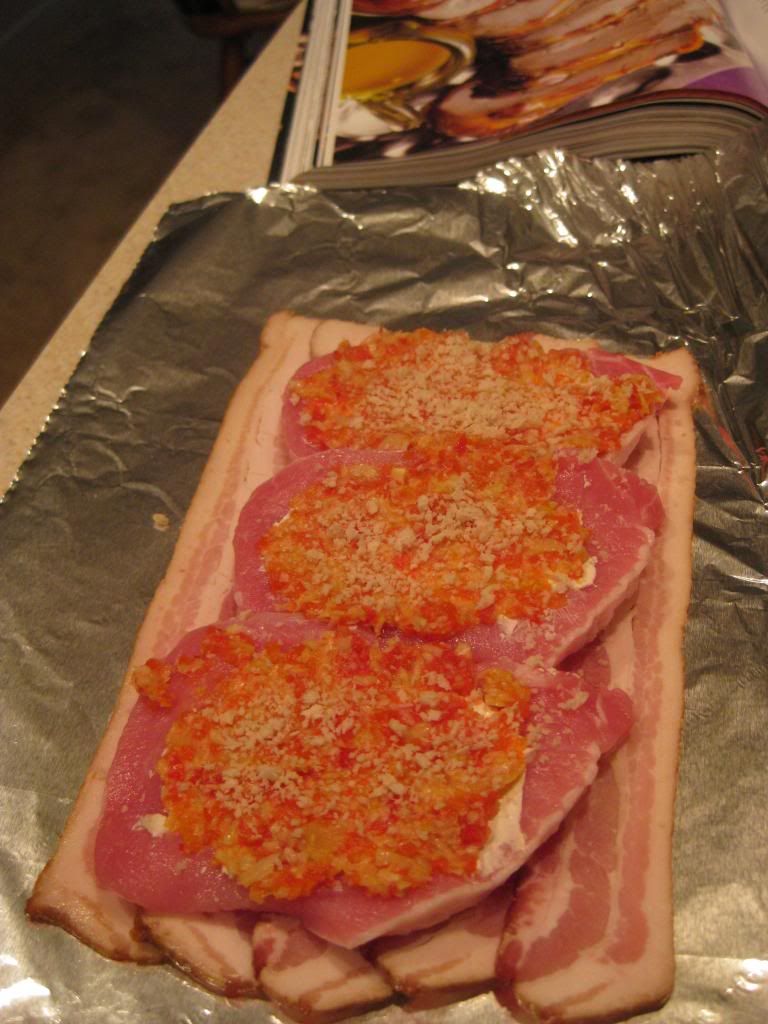 Beginning with the edge that's closest to you, begin rolling the bacon/pork concoction in front of you into a cylinder. Try to keep the wrap as tight as possible, but make sure you're not bringing the aluminum foil with you as you roll (IE - don't wrap the foil with the food). Once you've created a tight roll (henceforth called the pork cylinder - because it makes me laugh), pull the foil around your pork cylinder and wrap it up tight.
Transfer the pork cylinder to a 350 degree grill and cook for 7 to 8 minutes per 'side' (rotating it four times). While your PC (pork cylinder) is cooking away, begin making the beer based sauce.
In a small saucepan, combine the mustard, honey and beer over medium high heat. Allow the mixture to simmer, stirring occasionally, until it reduces by about a third and thickens up. Set half of the sauce aside for serving, and reserve the other half for basting.
After your PC has cooked for about 30 minutes, remove the foil (carefully) and place the PC directly on the grill. (This is a huge scenario of 'easier said than done' - I recommend brining some toothpicks with you to skewer the PC - thus preventing it from flying open once the foil is off) Removing the foil will allow the bacon to crisp up (which it wasn't able to do inside the foil). At this time, you can apply the reserved sauce to each of the sides of the pork cylinder, effectively "basting" your pork.
Let the bacon cook up for 5 to 6 minutes per side and check the pork chops with an instant read thermometer to make sure they've hit 140 degrees. Let the PC rest for 5 minute prior to slicing it into 3/4 inch portions - serve and enjoy!
The Results: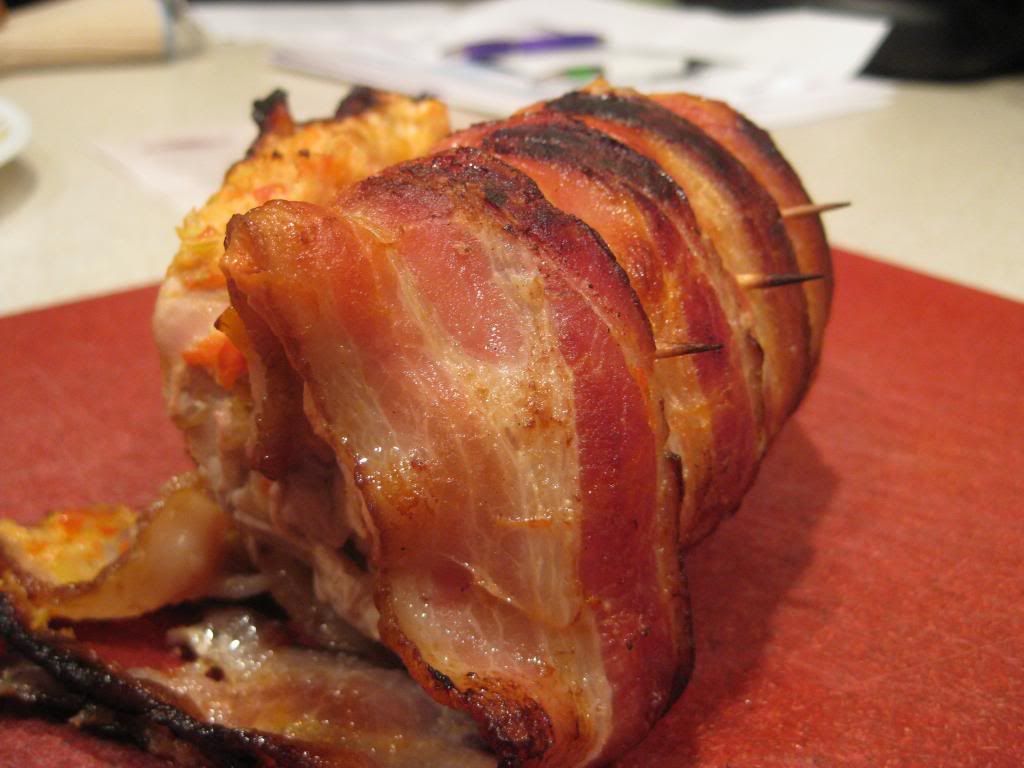 My slices weren't as pretty as I had hoped, so you get the pre-sliced pic
This was certainly a little culinary adventure. I've never paired cream cheese with pork before nor have I tried essentially "stuffing" something on the grill. While the roll itself was a bit tricky to "unfold" and cook directly on the grill (this may be attributed to overly vague instructions from the cookbook itself - there's little in the way of detailed step-by-steps in this cookbook) the process was fairly straightforward and not as daunting as it seemed on paper.
Even better, the recipe itself was a pleasant surprise. The artichoke, red pepper, cream cheese center provided a nice 'sweet-yet-spicy' counter to the rich flavor of the bacon wrapped pork. (Seriously, pork covered pork is one of the best culinary guilty pleasures we've found). What results is a great, smoky pork flavor with a bright - not too sweet, not too hot center. This recipes weighs in a little higher on the calorie side at 450 calories per serving, but for a nice summertime treat - it's worth it!
That's all we have for you this week. We're back again next week with two brand new recipes. Until then,
~Cheers