Good evening everyone! This week (

Friday

, to be specific) will mark our third anniversary of culinary adventure here at Out of the Culinary. This little hobby that started 3 years ago as a way to keep ourselves accountable for eating healthy and cooking our own meals has taken off into its own community and become so much more than we ever could have imagined. We average 100 page views per day, with some posts jumping beyond 200. In 3 years, we've had over 200,000 unique visitors to our blog – an absolutely astounding number when you consider this page's humble origins.
We won't be doing any grand posts or special recipes to mark the occasion. Instead, we plan to simply continue making healthy meals and testing recipes (and occasionally fixing said recipes) so our readers at home can follow along in our culinary adventures. A big thank you to all of our readers, whether you've been here since day one or if you just found us last week. It means a great deal to Maggie and I that our hobby brings enjoyment to others beyond ourselves.
When you've been cooking (and writing about cooking) for three years, you have to learn to take inspiration from everywhere. This week, my inspiration came from an episode of Travel Channel's "Man vs. Food". Now, a show that glorifies pig out spots and food competitions is probably not the first place you might think a healthy cooking blog would draw inspiration from, but that's just what happened last week.
In this episode, the host, Adam Richman, traveled to Puerto Rico to sample of some of their cuisine. One of his stops was at a food truck called "El Churry" which featured a sandwich called the "Mixto Frito". The premise behind this dish was simple; it was a blend of steak, chicken, potato sticks, special sauce, lettuce and a big soft bun. Delicious? You bet. Healthy? No way.
I wasn't interested in the sandwich so much as the marinade. It was only mentioned in passing, but the show quickly spoke about a marinade called "Sofrito" that featured green peppers, onion, garlic and "other ingredients". Other than a brief mention by Mr. Richman regarding how good the meat was having been flavored in this sofrito, no more attention was paid to the dish. That brief feature was enough to catch my attention, however, and I decided I needed to look into this marinade myself.
I quickly learned two things upon researching sofrito – 1, sofrito is EVERYWHERE in Mexican cooking, in fact, it's dubbed "Mexican ketchup" in reference to its common use in nearly any Mexican dish. 2, the recipe featured on Man vs Food was NOT sofrito, despite being called that in the show. See, traditional sofrito is tomato based, while this version was bright green (IE – no tomatoes).
FURTHER digging found the marinade was actually called "Recaito" (AKA, Puerto Rican sofrito) and IT is a common base in many Hispanic dishes (how have we never come across either of these bases / marinades before!?). Armed with my recipe for recaito, I set out to cook up my own recipe using the popular sauce. Here's what I came up with:
The Recipe: Recaito Tacos
This is an Out of the Culinary original recipe
What You'll Need:
(Serves 4)
2-3 LBS Skirt Steak (Trimmed of excess fat)
2 Green Peppers (Diced)
1 Large Yellow Onion (Diced)
1 Head Garlic (Peeled, diced)
1 Bunch Fresh Cilantro (Stems removed)
Corn or Flour Tortilla Shells
For the fry sauce:
1 Cup Ketchup
½ Cup Mayo (Low fat)
2 Cloves Garlic (Minced)
Begin by preparing your recaito. Once all of your veggies have been roughly diced, simply toss everything into a food processor and pulse until the mixture is perfectly blended. Transfer this mixture to a glass jar or sealable container and refrigerate until you're ready to use. Recaito should stay fresh for about a week, but you can freeze any leftovers in 1 cup increments to use in future recipes.
At least 24 hours before you intend to serve the steak, remove it from the refrigerator and trim the excess fat. Lightly season both sides of the steak with salt and pepper. Cover both sides of the steak heavily in the recaito, making sure to fill any cracks and crevices in the meat. Next, wrap the steak tightly in plastic wrap and return it to the refrigerator. Allow the steak to marinate in the recaito for 24-48 hours prior to cooking.
Preheat and clean your grill, then bring the temperature up to 350-400 degrees. Remove the steak from the plastic wrap, but leave as much of the recaito on as possible. Place the steak on the grill and allow it to cook for 5 to 7 minute per side, or until it reaches your preferred level of "doneness". As described, the steak will be medium well. Reduce the cooking time to increase rareness to your preference.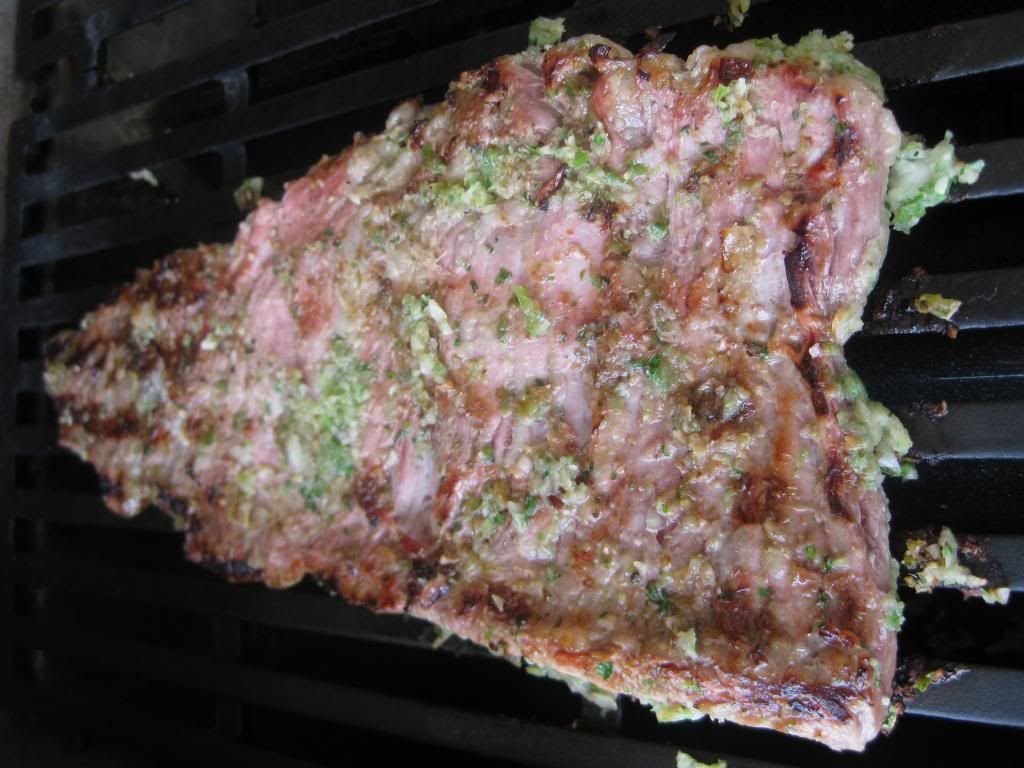 While your steak is grilling, you can begin preparing the fry sauce. This sauce was also featured on the sandwich in the Man vs Food episode and simply called "ketchup mayo". I've always known it by its other name – fry sauce. In a medium bowl, combine the ketchup, mayo and minced garlic. Whisk together until perfectly blended. Store in the refrigerator until you're ready to serve. So long as you keep it in a sealed container, the fry sauce should stay fresh for 3 to 4 weeks.
Once your steak has reached the desired doneness, transfer it to a cutting board and allow it to rest for 3 to 5 minutes before slicing it up into ½ strips and then cubing the meat into ¼ to ½ inch pieces.
Begin constructing your tacos by spreading a thin layer of the fry sauce down the center of the tortilla. Spoon a helping of the meat onto the sauce, topped with a tablespoon of the recaito. (You can also add fresh lettuce if you so choose). Serve and enjoy!
The Results:
In a word – WOW! The recaito marinade was absolutely phenomenal. The great pepper, onion and garlic flavors really penetrated the meat and made the dish just burst with flavor. The unsung hero of this dish was the fry sauce; it provided a nice zesty kick that really broke up the seasoned flavors of the meat. Topping the dish with fresh recaito is the 'piece de résistance' as it adds a nice bright, fresh flavor, but manages to tie all of the flavors together.
I'm always pleased when a homemade recipe comes together for a nice, lean dish. It's an extra bonus when our inspiration comes from something not quite as healthy (in this case, a food truck sandwich) and we manage to duplicate the flavors while cutting down on the calories. (This dish comes in at about 200 calories per serving).
That's all we have for you this evening. Maggie will take to the kitchen

on Wednesday

with a brand new recipe of her own. Until then,