Good evening everyone! Well, you can't say we didn't warn you. When we bought our grill this spring, I wrote that we had a large backlog of grilling recipes that were just begging to be prepared. Every week for the past month, we've been firing up the grill for at least one of our recipes. This week? That trend continues.
The Recipe: BBQ Pork Chops With Shallot Green Beans
Original Recipes Found In: The Best of America's Test Kitchen
What You'll Need:
(Serves 2)
2 X 4 ounce Boneless Pork Loin Chops
1 Tablespoon Paprika
1 Tablespoon Brown Sugar
2 Teaspoons Ground Coriander
1 Teaspoon Ground Black Pepper
For the BBQ Sauce:
½ Cup Ketchup
2 Tablespoons Light Molasses
2 Tablespoons Grated Onion (Or onion flakes)
2 Tablespoons Worcestershire Sauce
2 Tablespoons Dijon Mustard
1 Tablespoon Cider Vinegar
1 Tablespoon Brown Sugar
1 Teaspoon Liquid Smoke
For the Green Beans:
2 Cups Fresh Green Beans (Cooked)
4 Tablespoons Unsalted Butter
2 Tablespoons Vermouth
Obviously, everything in this recipe can be scaled to serve a larger crowd. Simply adjust to suit the number of people you're feeding.

Begin by combining the dry ingredients (paprika, brown sugar, coriander, cumin and black pepper) in a small bowl. Toss until everything is evenly blended. Reserve 2 teaspoons of the spice rub in a small bowl, this will later be used in the BBQ. Transfer the remaining mixture to a shallow bowl or plate.
Next, pat your chops dry with a paper towel to remove any excess moisture. Using a chefs knife or paring knife, lightly score the surface of the pork chop twice (both sides). These scores prevent the chop from "curling" while the meat is on the grill. When the chops curl, you tend to have overcooked edges and undercooked centers (not a good thing!)
Coat both sides of your chops with the spice rub, making sure all cracks and crevices are filled. Allow the excess spice rub to fall off the chops. Set the chops aside.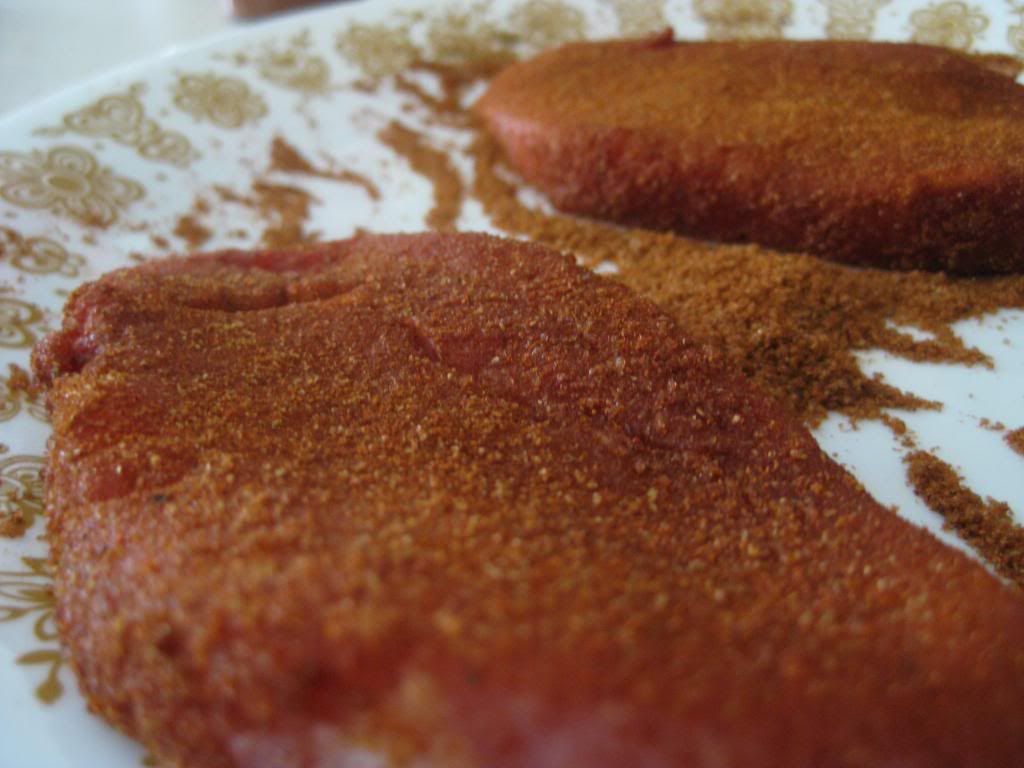 In a medium bowl, combine all of the BBQ sauce ingredients, along with the 2 teaspoons of reserved spice rub, whisk well until evenly blended. Set this mixture aside (go ahead and give it a taste if you want – it's good! Just save some for the recipe!)
If you're making this dish with the green bean recipe, now is a perfect time to start on the green beans. In a small saucepan, melt 2 tablespoons of butter over medium high heat. Add the shallot and cook, stirring occasionally, until they turn a deep golden brown and become lightly crisped on the edges. This takes about 10 minutes.

Once browned, transfer the shallots to a skillet and stir in the vermouth. Bring the mixture to a light simmer before adding your (already cooked – they can be boiled, microwaved – whatever – just be sure they're already cooked) green beans along with the remaining 2 tablespoons of butter. Give the beans a good toss to evenly coat them in the shallot sauce and then transfer them to a platter and serve.
Heat your grill to 500 degrees, clean the grates, and then reduce the temperature to 350-375 degrees. Place the chops directly oven the heat and cook for 3 to 5 minutes per side (adjusting cooking time based on the thickness of your chops – ours were about ¼ inch thick, so they cooked quickly). During the last minute of cooking on each side, brush a thin layer of the BBQ sauce on the chops (top side) so the sauce becomes a light glaze. It's not part of the original recipe, but I've found this little touch really adds to the final dish.
Transfer your pork chops to a serving plate, serve with the BBQ sauce and green beans and enjoy!
The Results:
Elegantly simple recipes will always be appreciated on this blog and this recipe was, in fact, elegantly simple. A basic blend of spices complimented with a rich and savory BBQ sauce turn these delightfully grilled chops into a summertime flavor festival. BBQ + meat + grill almost always results in fantastic dishes (it's about as close to "fool proof" cooking as you can get).

The green beans were a pleasant surprise as well. The butter shallot sauce added a nice bit of onion like depth to the fresh, bright flavors of the beans. Paired with the hearty BBQ flavors, the beans really balanced the plate.
Oh – the best part? The whole dish clocks in at a little more than 200 calories!
That's all we have for you this evening. Maggie will take to the kitchen

on Wednesday

night with a brand new recipe of her own. Until then,