Good evening everyone! As Tyler mentioned yesterday, I am stepping into new territory tonight...by cooking on a Thursday! I will admit, I'm not quite used to it, as I'm sure you aren't as well. But alas, I am ready to conquer this new and daunting task ahead of me!
All kidding aside, I want to reiterate that we had a great birthday weekend for Tyler. We had some culinary adventures and non-culinary adventures. We discovered a great breakfast burrito at the local farmer's market that will soon become tradition when we go to the farmer's market. We had a surprisingly good Chinese dinner at one of the local restaurants here in the metro. But most of all, we got to spend some time together, which is one of our favorite hobbies, and that was the best part.
But enough blabbering...onto the recipe! I found this recipe a couple of months ago - I decided to unbury it and use it tonight. When making panini's, I always find it important to not over power the dish with too many ingredients that might get trapped underneath one another. With simple ingredients, a plain panini should shoot itself into the stratosphere of flavor. Question is: can it be done?
The Recipe: Prosciutto and Fontina Panini with Arugula Pesto
Original Recipe Found In: www.food52.com
What You'll Need:
(serves four sandwiches)
For the Sandwich:
1/4 Cup Cider Vinegar
2 Tablespoons Sugar
1/2 Teaspoon Salt
1 Large Shallot, thinly sliced
1 Loaf Ciabatta, sliced lengthwise
1/3 Pound Prosciutto, about 10 slices
1/3 Pound Fontina, thinly sliced
For the Pesto:
1/4 Cup Toasted Pine Nuts
2 Garlic Cloves
2 Cups Baby Arugula
1/2 Lemon, juiced
1/2 Teaspoon Salt
1/4 Cup Olive Oil
First off, I want to mention that we didn't find a full loaf of ciabatta bread in our local grocery store. Instead, we found a smaller, "slider" version of ciabatta bread. So this recipe isn't really much of a panini; it's more of a slider panini. Unfortunately, our local grocery store has issues with keeping freshly baked bread...well, fresh. When I went to make tonight's recipe, I found all of my ciabatta sliders had little splotches of mold on them. It's rather irritating, because this is the third time we've tried using fresh bread for a recipe, but it ended being thrown out due to mold. So, an emergency trip to our grocery store and we made due with wheat buns. Also, we've run into the problem of pine nuts costing way to much for our budget - 6.99 a serving is asinine (all the good foods have to ridiculously priced, right?) So, I did some research and almonds actually work quite well in place of the pine nuts. So, we substituted almonds as well. Adjustments aside, a great recipe has yet to be made!
To begin, make the pickled shallots: bring the cider, sugar, and salt to a boil over medium heat in a small saucepan. Simmer the liquid for a minute until the sugar is dissolved and pour the liquid over the shallots in a small bowl until fully submerged. Sit for 20 minutes and place in an airtight container until you are ready for use. Now, I love pickles (the original pickled food) and shallots (adds great flavor to any dish,) but I've had one too many recipes gone wrong with shallots (
Mascarpone- It's Just Fun to Say
) and I'm not brave enough to combine the two, so I decided not to use the pickled shallots this evening. If there is someone out there who is daring enough to try it, let me know how it tastes!
Next, make the pesto: pulse the pine nuts (or almonds in our case) and garlic coarsely in a food processor. Add the arugula, lemon juice, salt and pulse until combined. This should start to look like a thick blend of spinach puree (not the best thing to picture, but when making pesto, it's all about judging the looks.) In small pours, pour in the olive oil and continue the blend until the pesto is thick and creamy and the ingredients are finely chopped. If need be, add more salt to taste.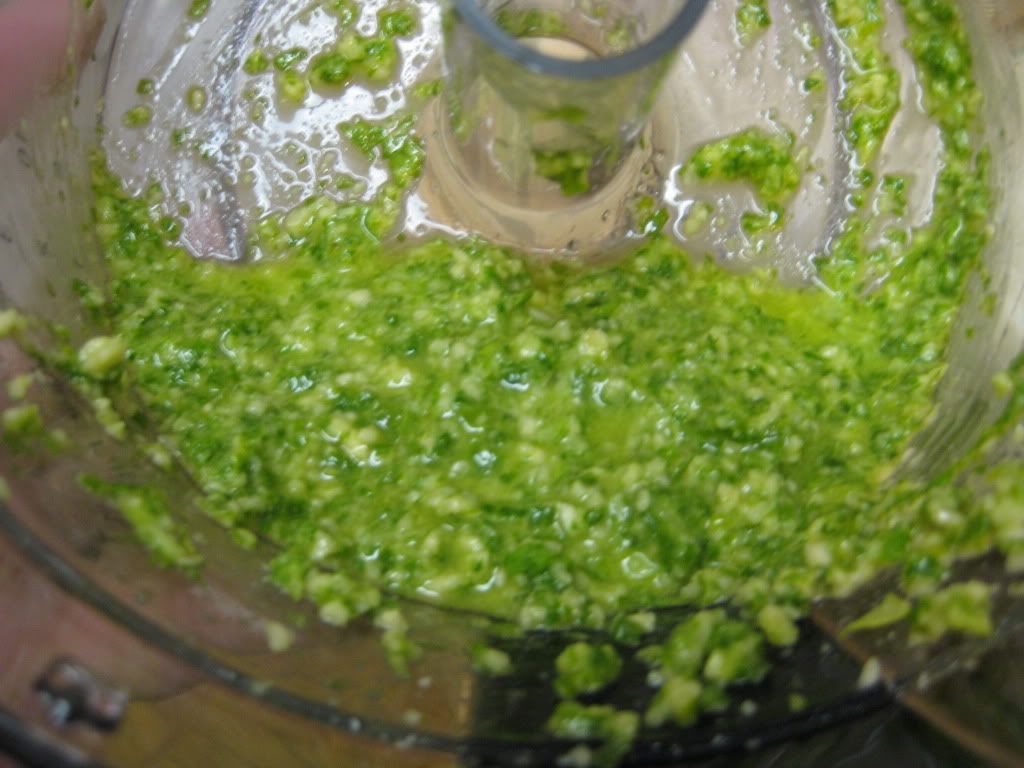 Tasty, tasty pesto!
After the pesto is made, preheat an oven to 270 degrees (or, if you have a broiler, you can turn it on.) Place the slices of bread crust side down on a baking sheet and toast in the oven for 3-5 minutes, lightly browned and not charcoal black. Take the bottom half of the ciabatta and spread the pesto evenly and add an even layer of cheese. Return the bottom half to the oven and toast until the cheese is melted, another 3-5 minutes. Get the other half of the ciabatta and spread more pesto on that half, adding the prosciutto as well. Sandwich those halves together.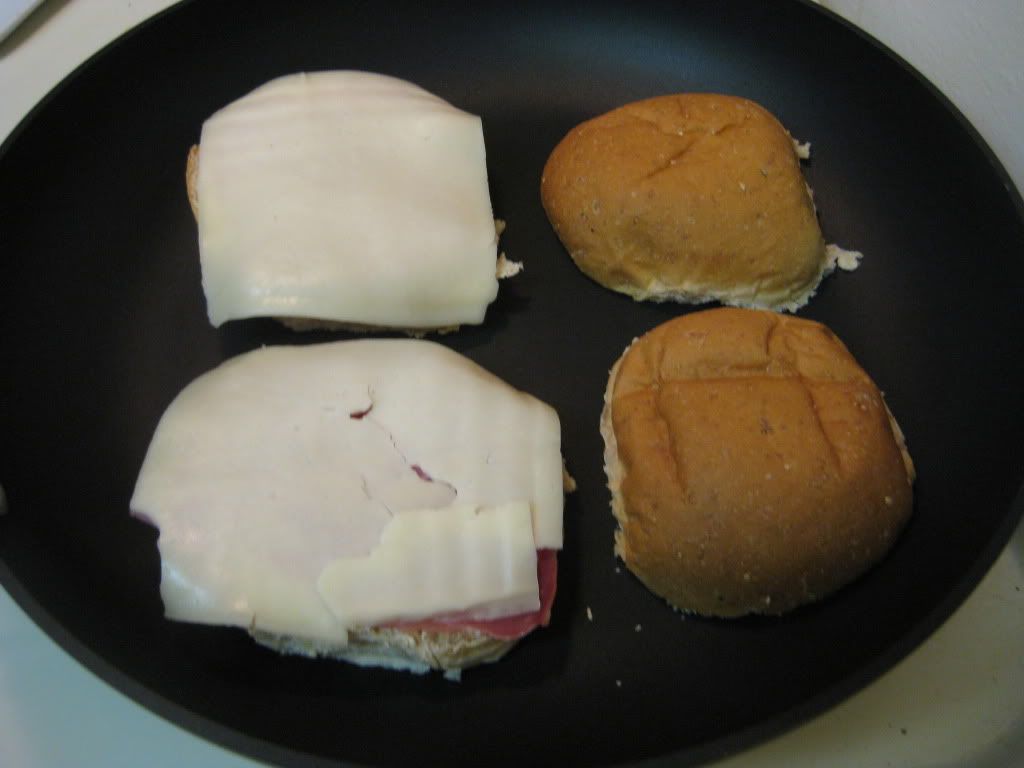 Warming up the sliders
Finally, heat a large skillet (or grill pan) over medium high heat. Set the sandwich top side down and weigh it down with a heavier pan or bowl. Once this is flattened and browned, flip it to the other side. After the sandwich is crisped and cheese is oozing out the sides, it's ready to serve and enjoy!
The End Result: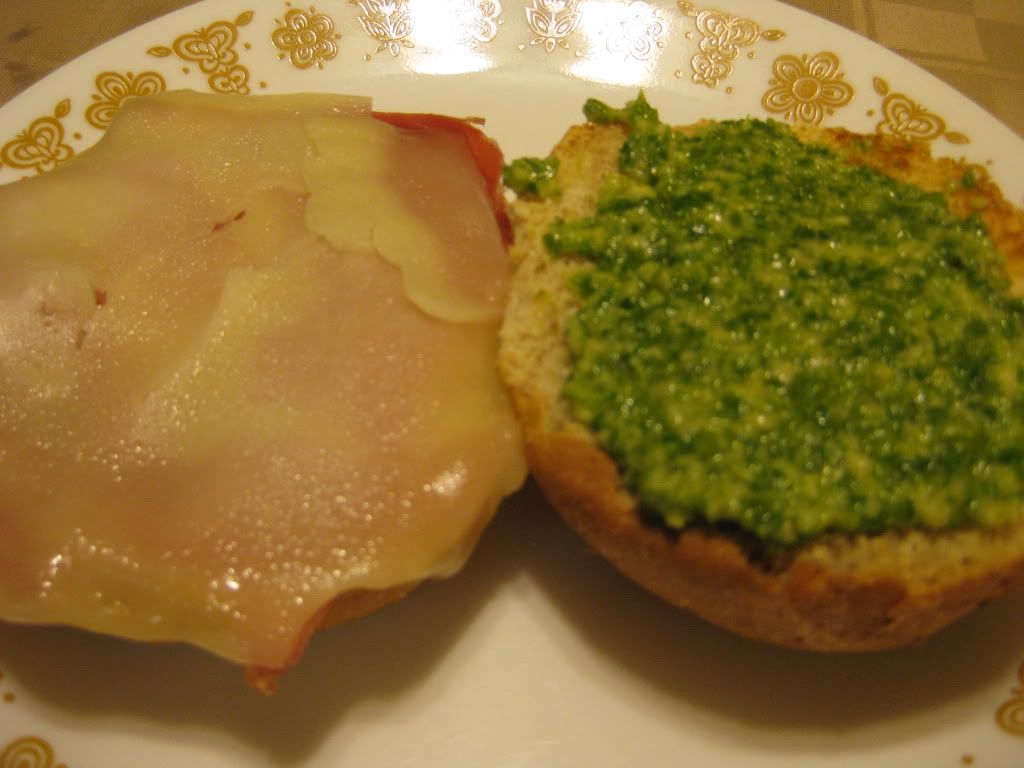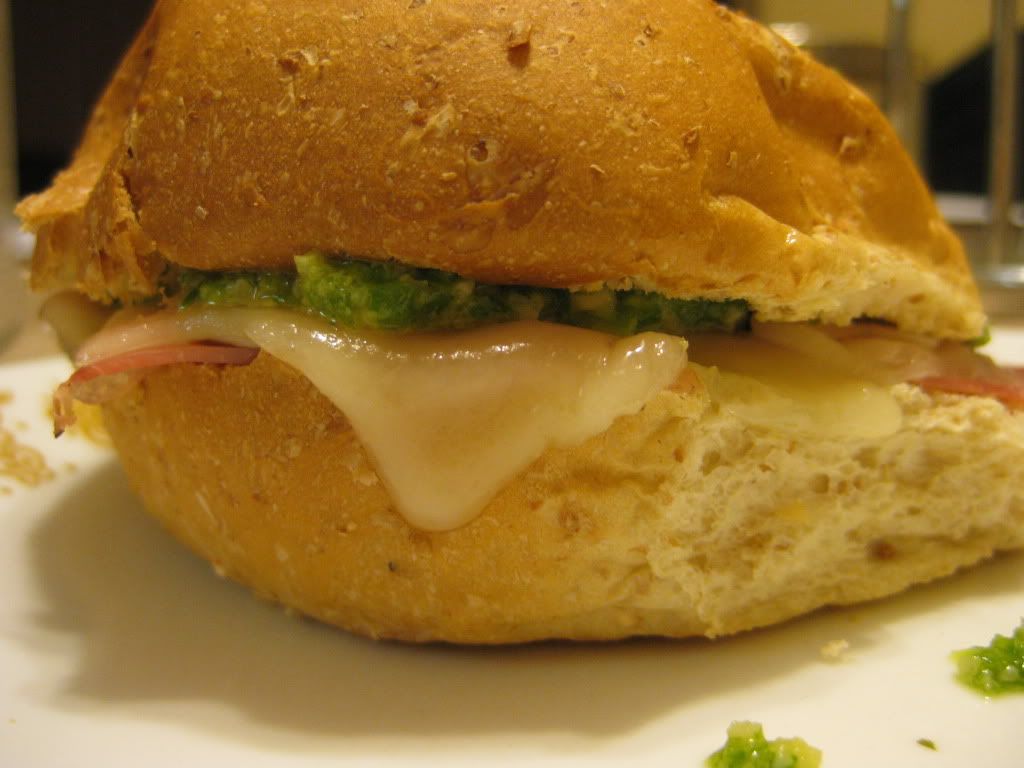 Oh...my...goodness...The sharp kick from the pesto plus the saltiness from the proscuitto plus the creaminess from the fontina equals an incredibly great little sandwich. The bread was toasted to perfection and gave a good enough crunch without it being too hard to chew. The meat was heated to a good enough temperature and the cheese melted nicely. Top that with a flavorful pesto which, by the way, there wasn't much of a difference using almonds instead of pine nuts, made a really quick and easy recipe that is simple enough to make for any family!
That's all we have for you this evening. Stop in tomorrow for a weekend bonus that will make you think twice when shopping for snack food. Until then,
~Cheers!