Good evening everyone! As Tyler mentioned, this holiday week is an even shorter one for us. We've got plenty of new things to experience during our extra long weekend, including a new culinary adventure. I'm not going to give it away, but we are really excited to try a new restaurant for the both of us.
But before that, we are going into new steak territory. Last night, Tyler made a mean South American steak, complete with guacamole and salsa. The flavor was incredible and something completely different. Tonight, I am also tackling steak, but with a whole new twist. It includes three of my favorite things: caramelized onions, cheese, and a recipe from Curtis Stone. Since Curtis is the new face for HyVee, he's been supplying our local grocery chain with incredibly delicious meals, which he's always done, but now it's more mainstream.
The Recipe: Seared Steaks with Caramelized Onions and Gorgonzola
Original Recipe Found In: www.hyvee.com
What You'll Need:
(serves four - adjust if necessary)
1 Tablespoon Canola Oil
2 Large Onions, sliced (about four cups)
1 Tablespoon Brown Sugar
1/2 Cup Reduced Sodium Beef Broth
1 Tablespoon Basamic Vinegar
1/2 Teaspoon Salt, divided
1/4 Teaspoon Pepper
1 Pound New York Strip or Sirloin Steak
1/4 Cup Crumbled Gorgonzola or Blue Cheese
Begin by heating the oil in a large skillet over medium high heat. Add the onions and brown sugar and cook until the onions are very tender and golden brown, about fifteen minutes. Make sure that the onions get stirred often or else a very sticky and dark onion-y mess will happen. After the onions are cooked, add the broth, vinegar, and 1/4 teaspoon salt and cook until the liquid is almost evaporated, about three to four minutes. Once this combination is well incorporated, transfer to a bowl and cover to keep warm.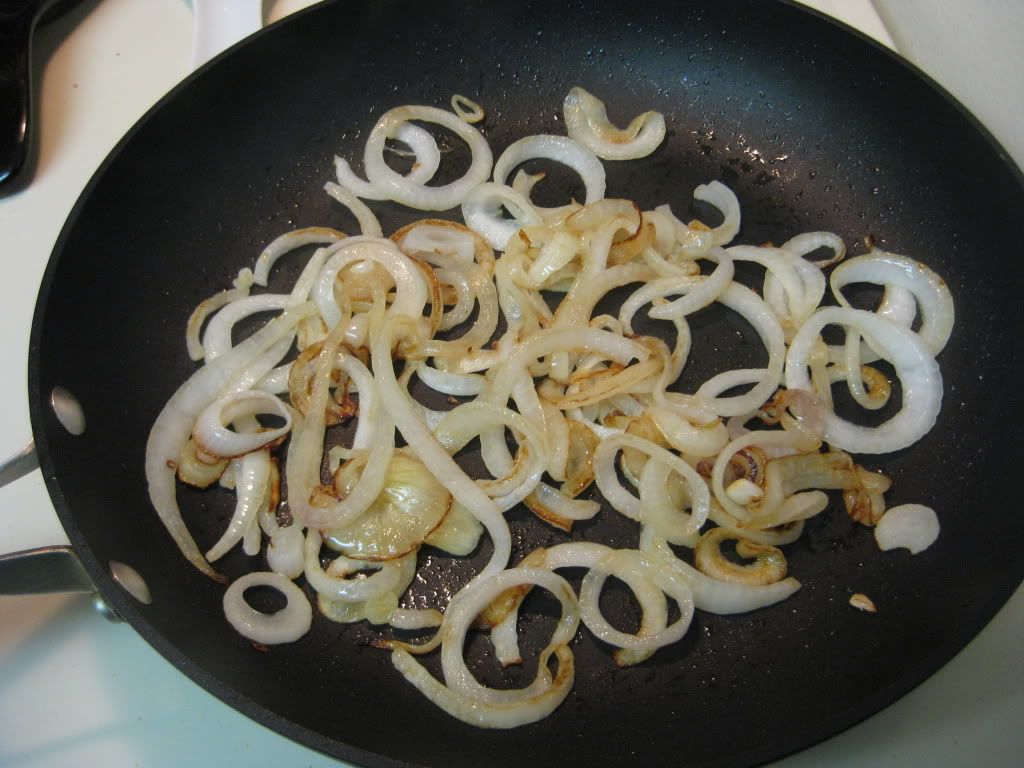 Carmalizing onions...not too much fun to watch
Next, sprinkle both sides of the steak with the remaining salt and pepper. Grill the steak over medium high heat and cook until browned, between three and five minutes. Of course, if you are using a grill pan, instead of an actual grill, adjust accordingly. Turn the steaks over and grill for another three to five minutes, depending on desired doneness of the steak. Take the grill pan off the heat and top the steaks with cheese. Heat until the cheese is melted. Top with the onions and enjoy!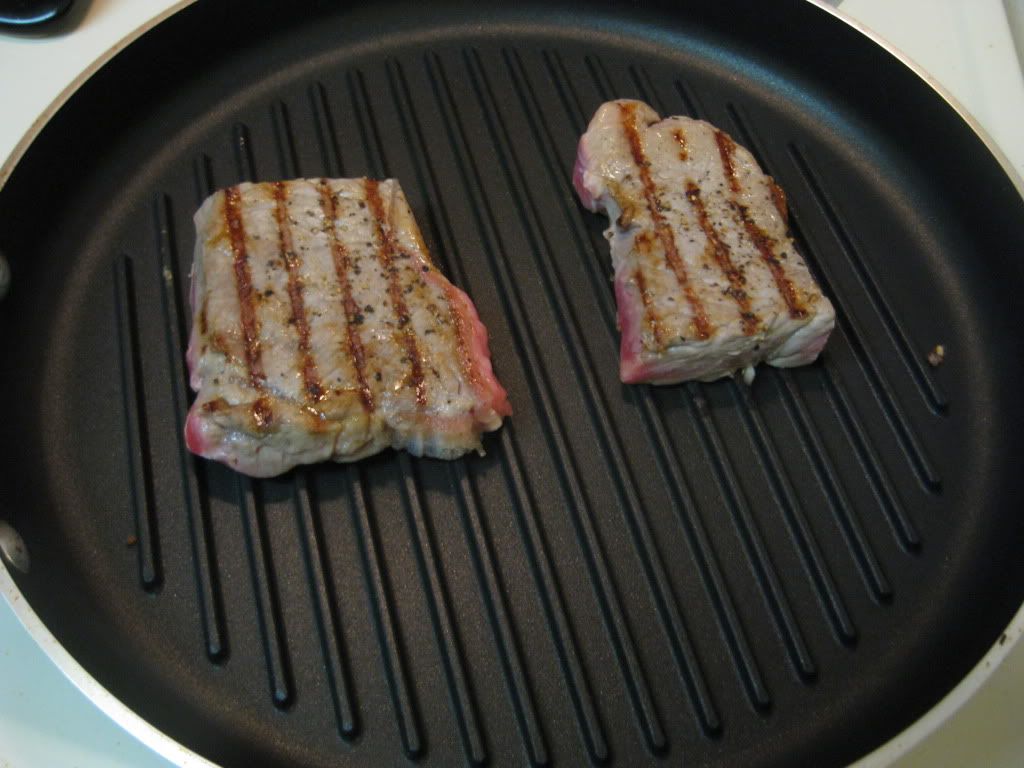 Steaks, searing away.
The End Result:
The steak was grilled to perfection - I don't usually like my steak medium rare, but tonight, it tasted great. Cooking the onions as long as I did made them incredibly soft and the brown sugar made them almost kind of sweet. With all these things going for the steak, you would think that the cheese would round out the perfect trifecta recipe. Although the gorganzola is an incredibly complex cheese and tastes great in certain recipes, this recipe is not one of them. It's almost too complex for this simple recipe. As Tyler put it, either mozzarella (my favorite) or pepper jack (Tyler's favorite) would have put this dish on another level. Overall, a few tweaks here and there would made this steak really stand out.
That's all we have for you this evening. As we previously mentioned, we are taking an extra long weekend to celebrate Tyler's birthday. I want to be the first to wish my wonderful husband a great birthday - you are my one and only and I am so lucky to have you in my life! Join us on Monday for another edition of Around the Culinary World. Until then,
~Cheers!