Good evening everyone! Last weekend, Maggie and I embarked on a large project. We decided to inventory our freezer and refrigerator. Everyone has had this problem at some point in time - you're cleaning out your fridge one day and you happen up some ingredient you didn't know you had or you find some green blob of 'food' that you're pretty sure just moved across the counter. We had both of these instances occur last week and we decided it was time to fix the situation.
So, we made an inventory of every single thing in our refrigerator along with a note of expiration date and date purchased. Next, it was on to the freezer. While expiration date is not as important here - it is nice to know what you have in inventory. I think we've purchased 4 bags of vegetable medley over the past 6 months - each time forgetting that we already had 1/2 a bag in the freezer!
This new inventory systems seems to be working well (so far) and it also led to us discovering a few 'treasures' (not the gross kind). I for one, found two pork chops in the freezer, which made my recipe for this week pretty easy. A quick search of Eatingwell.com (our favorite recipe website) and I had found a perfect, adventurous recipe for this evening that would also help clean out the freezer. That, is a win-win situation. Let's get cooking!
The Recipe: Pineapple Pork Chops
Original Recipe From: Eatingwell.com
What You'll Need:
*Serves 4
3 Tablespoons Pineapple or Apricot Preserves (Orange marmalade also is a substitute)*
3 Tablespoon Orange Juice
2 Teaspoons Stone-Ground or Dijon Mustard
1/2 Teaspoon Fresh Grated Ginger
1/2 Teaspoon Curry Powder
4 Fresh (or canned) Pineapple Rings (Cut 1/2 inch thick, juice reserved, cut in 1/2)
2 Teaspoons Butter
4 (4-5 ounce) Boneless Pork Loin Chops (Trimmed)
2 Tablespoons Fresh Chopped Thyme
1/2 Teaspoon Salt (Divided)
1/4 Teaspoon Fresh Ground Pepper (Divided)
* It isn't as hard to find pineapple preserves as you might think. Maggie and I were sure that we would have to find orange marmalade for this recipe, as we could never recall seeing pineapple jam, jelly or preserves anywhere. It turns, we just weren't looking very hard! Pineapple preserves are readily available at any grocery store - we found ours at our local Target! Crisis averted!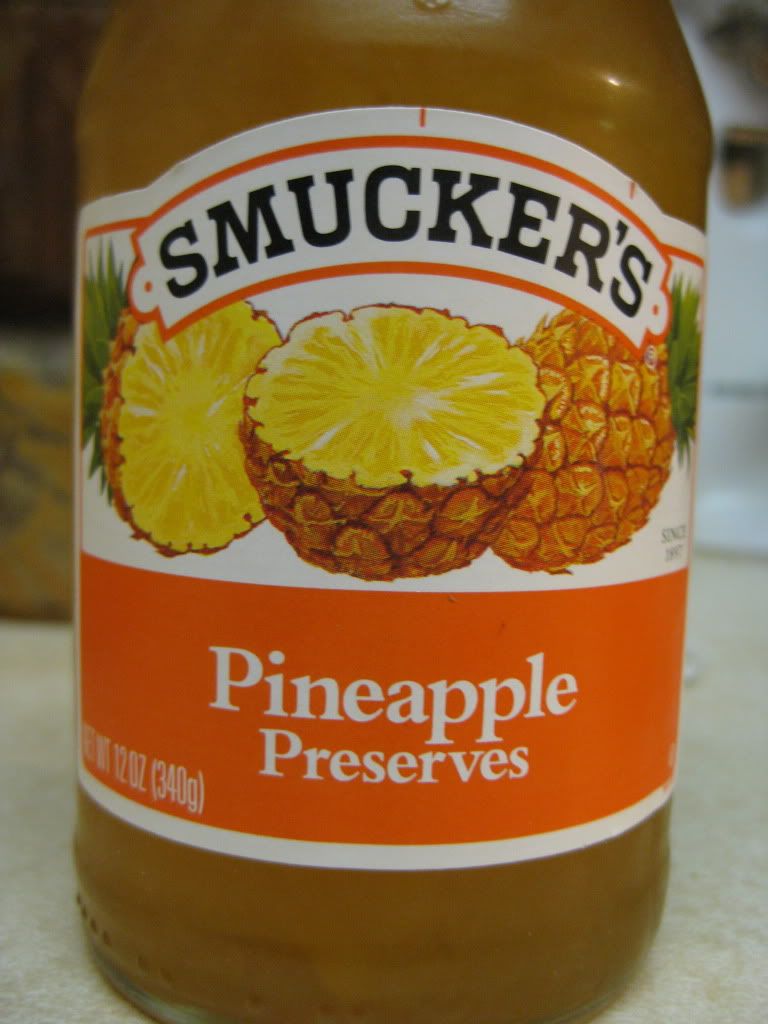 ** Since this dish serves four, and at last count there were only two of us here... we chopped our measurements in half. The original recipes measurements are above, but seeing as we usually adjust the dishes to 'two person' measurements, I just wanted to give you a heads up that tonight's recipe amounts are in their original form. Don't automatically double the sizes!
In a small bowl, combine the preservers, orange juice, mustard, ginger and curry powder. Mix well and set aside. Pour the juice from the pineapple slices into a measuring cup to ensure that you have at least 1/3 cup of juice. If you are a little short, feel free to add some orange juice to bring the level up to 1/3 of a cup. Set the juice aside.
In a medium non stick skillet, heat the butter over medium high heat. Add the pork chops and season with 1/2 of the allotted thyme, pepper and salt, immediately turn the chops and season with the remaining thyme, salt and pepper. Allow the chops to cook until golden brown, roughly 5 to 6 minutes. Be sure to turn the chops fairly regularly - roughly every two minutes.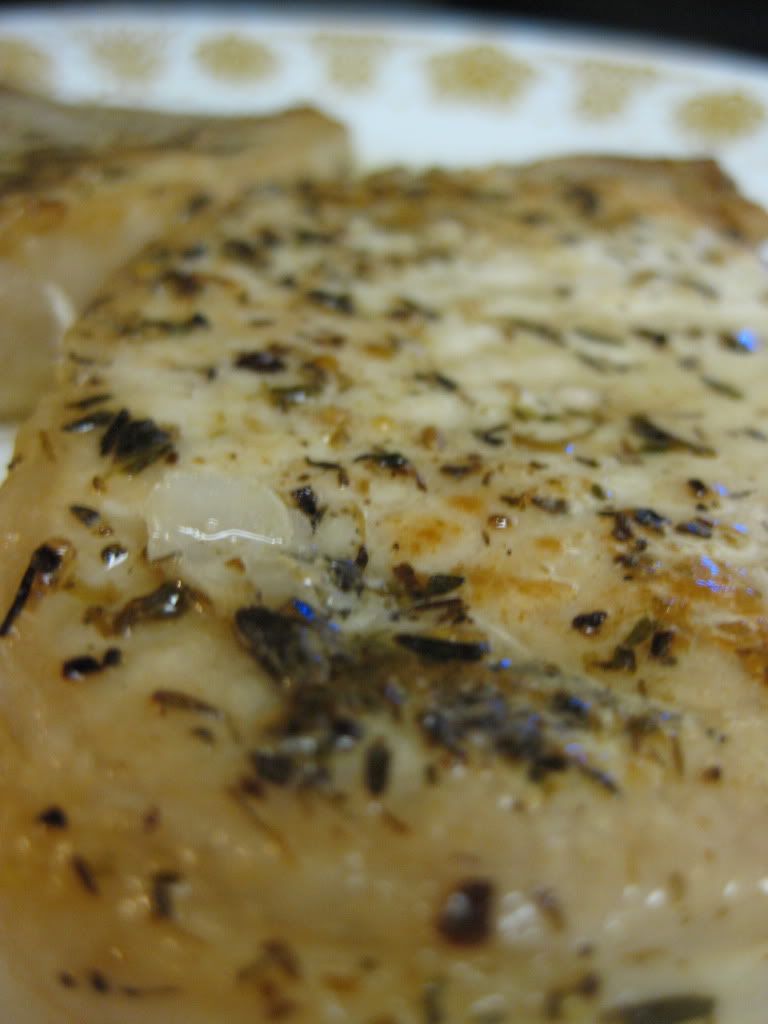 Next, add the reserved pineapple juice to the pan. Cook for an additional 2 to 4 minutes, until the pork chops have completed cooking. (The chops should be at 145 degrees in the center). Move the chops to a platter (lightly tented with aluminum foil) and set aside.
Add the pineapple slices and reserved sauce (AKA the preserve mixture) to the skillet and cook until the mixture is bubbling. This should take about 2 to 4 more minutes. Serve this sauce over the pork chops and enjoy! (You may return the chops to this mixture for 1 minute to 30 seconds to bring the temperature back up if you so wish - just be careful to not overcook the chops!)
The Results: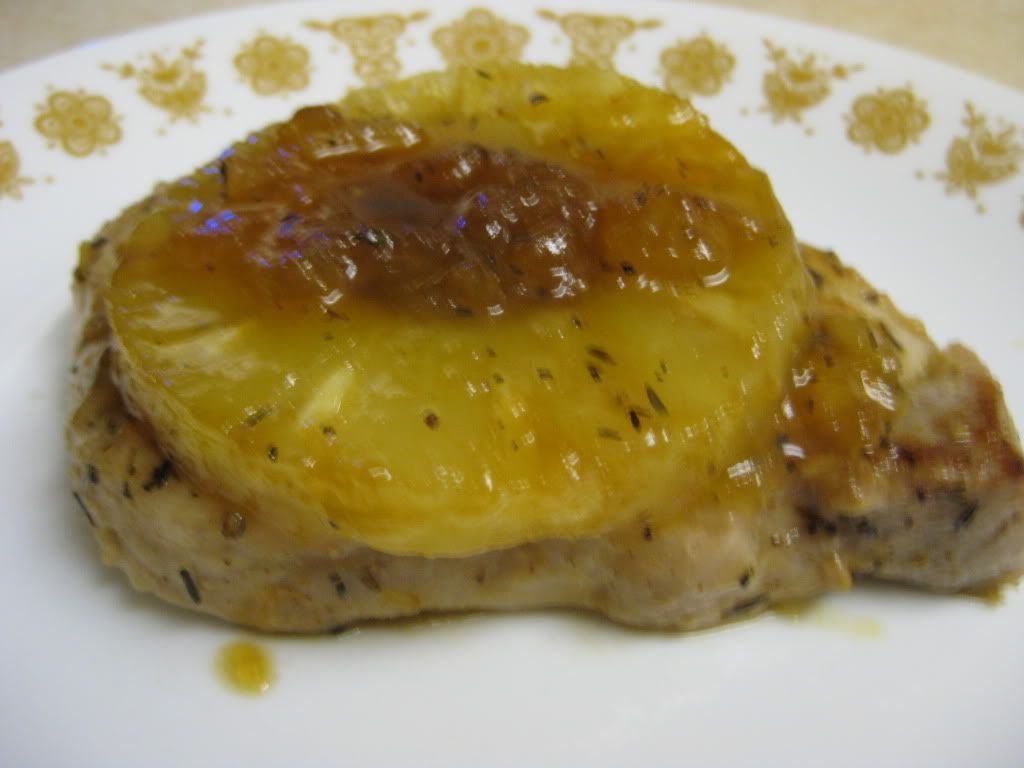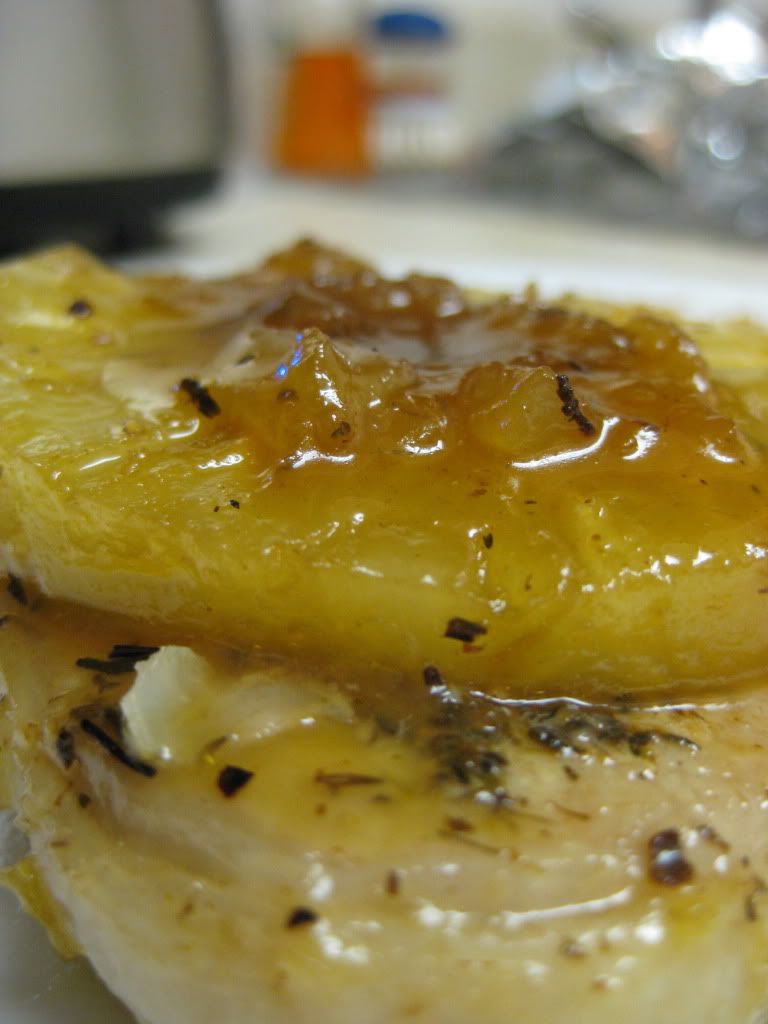 This turned out to be a very tropical tasting dish. I've never had the fortune of eating authentic Hawaiian cuisine (if anyone one of our readers would like to donate to us to make a Hawaiian getaway possible, our PayPal link is on the right hand side of the blog...) but if I could 'guess' the flavor, I would think this dish arrives pretty close to the real deal. The pork is succulent and juicy and combined with a very citrusy and yet not too tart sauce - it is an ideal summertime dish. At only 30 minutes start to finish, this makes a great 'quick fix' for the family on the go this summer. Give it a shot yourself and see!
That's all we have for you this week. We're back on Monday night with another edition of Around The Culinary World - I'm playing around with an idea for this week's feature, so it could look a little bit different come Monday night. Wait and see what we've got planned for that! As always, thank you for sharing our recipes this week. Have a great weekend everyone! Until next time,
~Cheers