Good evening everyone! It's a beautiful day here in the greater Des Moines metro - but it sounds like that will not last for much longer. A hot, balmy and all around unbearable weekend is supposedly on its way (I.E. Iowa in July) so get out and enjoy this nice weather while you can. One way to enjoy the nice weather is to have a great summertime meal on your deck or patio. Nothing says 'summertime meal' like chicken tacos (in our opinion anyway). Tonight, we'll show you how to cook up your own poultry based taco dish!
The Recipe: Chicken Soft Tacos
Original Recipe Found In:
Cooking for Two 2011
What You'll Need:
*Serves 2
1/2 Teaspoon Vegetable Oil
3 Garlic Cloves (Minced)
1 1/2 Teaspoons Minced Chiles (Chipotle preferred - green as a substitute)
1/2 Cup Minced Fresh Cilantro
1/2 Cup Orange Juice
1 Tablespoon Worcestershire Sauce
2 (6 ounce) Boneless, Skinless Chicken Breasts (Trimmed)
1 Teaspoon Yellow Mustard
1/2 Cup Low Fat Sour Cream
6 (6 inch) Corn Tortillas (Warmed)
Begin by adding the oil to a 10 or 12 inch non stick skillet and heat until shimmering. Stir in your garlic cloves and 1 teaspoon of the chiles until fragrant (roughly 30 seconds). Stir in 5 tablespoons of the chopped cilantro as well as the orange juice and Worcestershire sauce.
Nestle your chicken breasts in the skillet and bring the mixture to a simmer. Once simmering, cover the skillet and reduce the heat to medium low. Allow the chicken to cook for 12 to 18 minutes or until it reaches 160-165 degrees. Be sure to flip the breasts halfway through cooking to ensure a nice, even heat distribution throughout.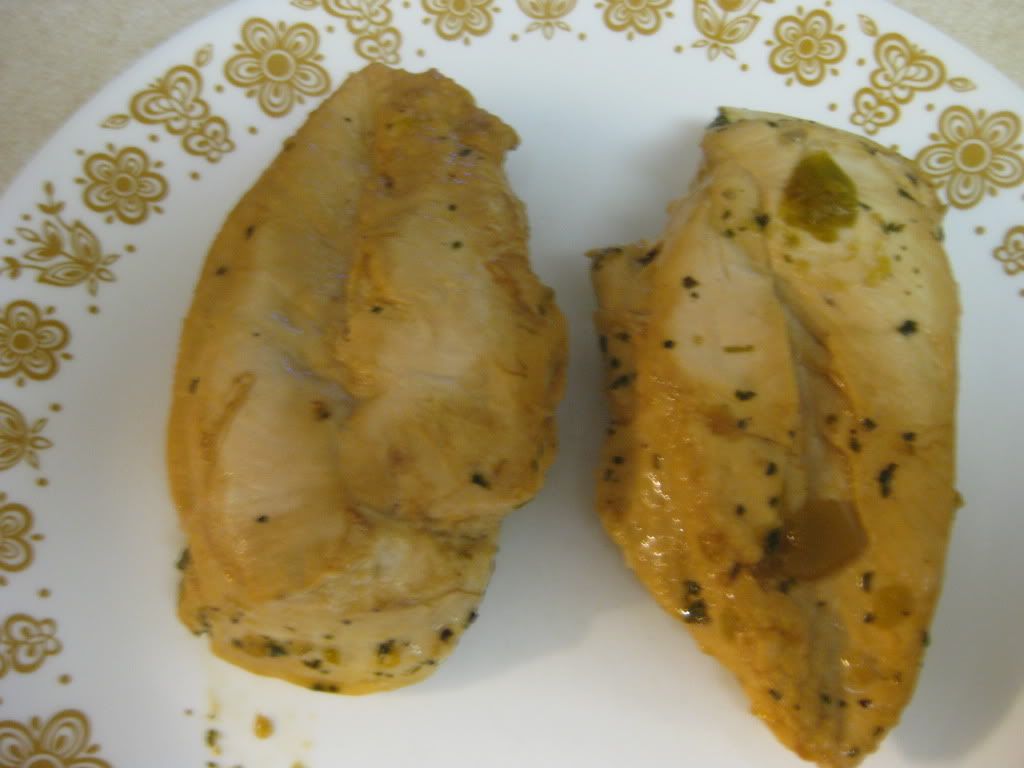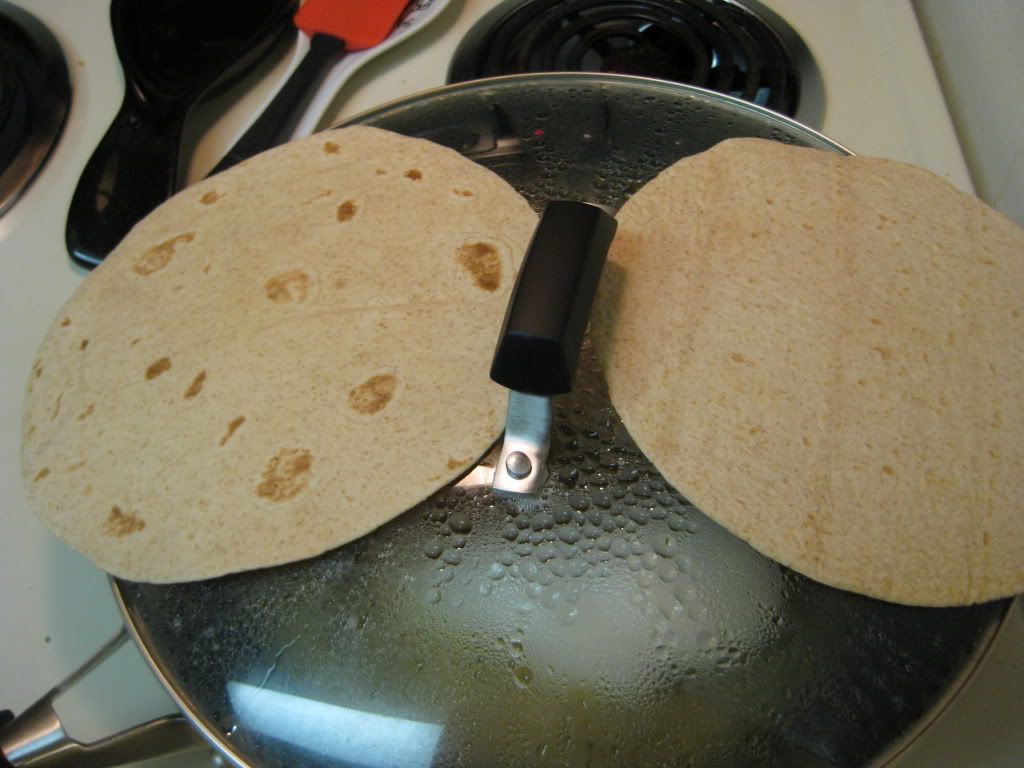 A quick and easy way to warm the tortillas while cooking!
Once at the optimal temperature, transfer your chicken breasts to a plate and allow to cool for a few minutes before shredding. Using two forks, pull the chicken breasts into smaller pieces. You can do this by inserting both forks into the chicken (about 1/4 inch to 1/2 inch apart) and pulling the forks away from each other. This should result in small, bite sized pieces of chicken. Don't worry if you shred the pieces extra small - it's better to error on smaller size than to try to choke down 1/2 a chicken breast in one bite!
Meanwhile, continue to simmer the sauce over medium heat until it begins to thicken and reduces to 1/2. This should take about 2 to 5 minutes (roughly the same time it takes to shred the chicken).
Off the heat, stir in the mustard, 2 more tablespoons of cilantro and the shredded chicken. Season lightly with salt and pepper.
In a small bowl, combine the sour cream with the remaining chiles and the remaining cilantro. Mix well and season lightly with salt and pepper. Spoon the chicken on to your warmed tortillas and serve with the sour cream. Enjoy!
The Results: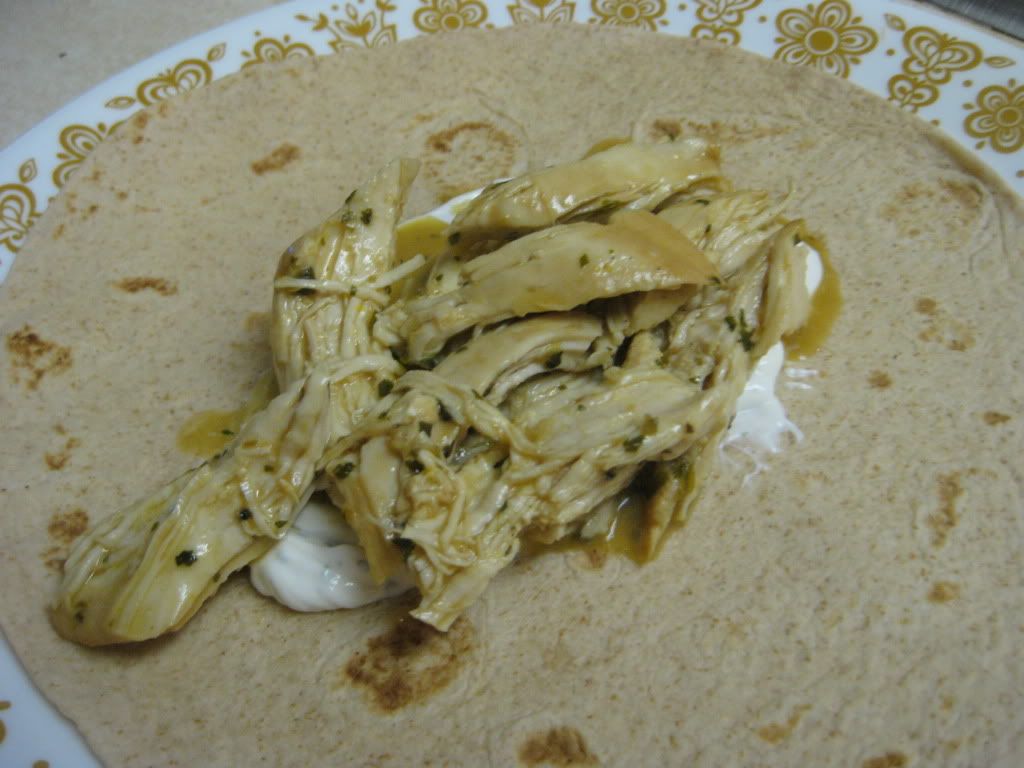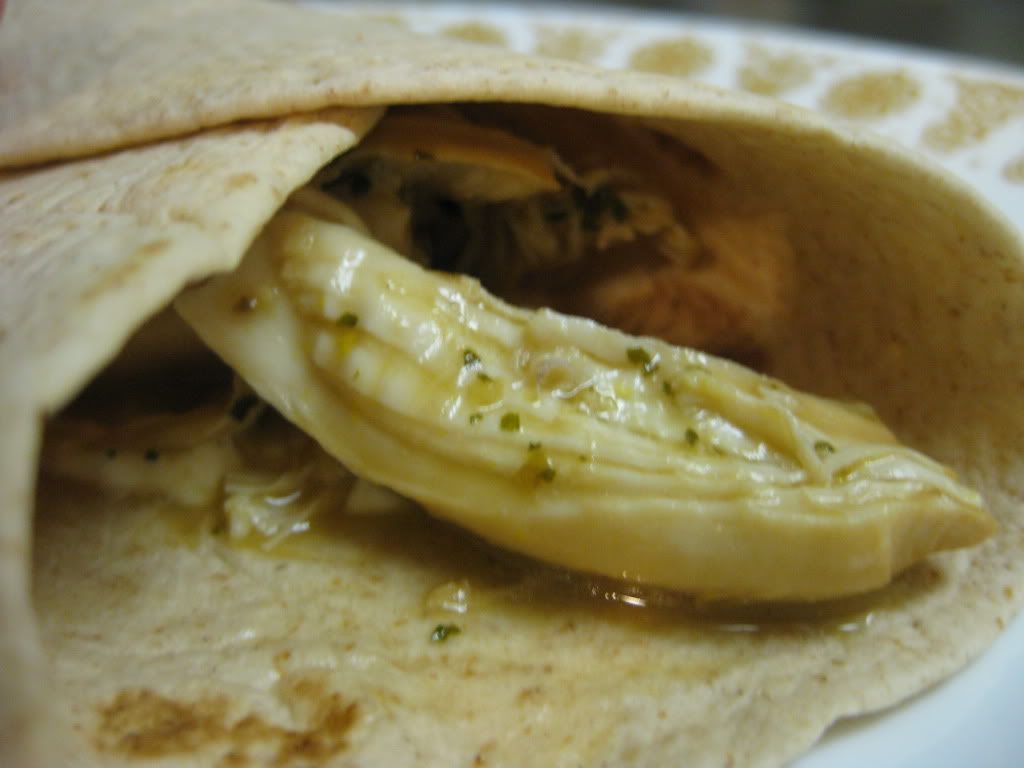 Sometimes beauty lies in simplicity. This recipe is fairly straightforward and on the surface seems like it could be bland. However, due to the sauce's amazing flavor - you don't need to spice up the chicken with any toppings at all. The dish carries enough natural flavor that cheese or hot sauce would simply ruin the amazing (delicious) simplicity of this dish. It takes about 25 minutes to prepare - so there is no excuse for not trying this delicious dish yourself today!
That's all we have for you this evening. Maggie takes to the kitchen tomorrow night with another unique recipe. (She's continuing her track record of taking risks - she likes to gamble with her cooking nights). Sometimes she hits one out of the park, sometimes the recipe falls flat. Which will it be tomorrow? Stop back in and see. Until then,
~Cheers