Good evening everyone! I'm so glad to be back in the Tuesday night slot, although Thursday's was nice because I had all week to 'study' my recipes. Hmm...decisions, decisions!
Tonight, I'm trying an old favorite of those who are devout followers of the blog or fans of the Italian community. Ziti is probably one of those most commonly known pasta dishes, outside of spaghetti, lasagna, and fettucini. It's great because the little tubes of pasta soak up whatever sauce it's in and there's always a good amount of sauce without feeling like you're having sauce ladeled into your mouth. I'm trying a twist on the classic - instead of tossing the noodles with a traditional sauce, I'm baking it with lots of cheese in the dish and on top. We've tried variants of this in the past, and it's proven to be a very nice twist on a classic dish. To me, pasta is one of those great comfort foods and I hope to perfect upon it tonight.
The Recipe: Three Cheese Baked Ziti with Spinach
Original Recipe Found In: www.kitchendaily.com
What You'll Need:
1 Package (16 ounces) Uncooked Medium Tube-Shaped Pasta (ziti)
1 bag (6 ounces) Baby Spinach , washed (about 4 cups, optiona)
1 Jar (1 pound 9 ounces) Marinara Italian Sauce
1 Cup Ricotta Cheese
4 Ounces Shredded Mozzarella Cheese (about 1 cup)
3/4 cup Grated Parmesan Cheese
1/2 Teaspoon Garlic Powder
1/4 Teaspoon Ground Black Pepper
To start, prepare the pasta according to package directions, between 10 to 12 minutes, depending on your preference of pasta firmness. If you are adding the spinach to this dish, add it during the last minute of cooking. Drain the pasta (and spinach) into a colander and shake well. Return to the original saucepot.
Since Tyler and I are all about the Fooducate app (and I'm completely being serious here: if you haven't gotten it yet...DO IT!! You will be amazed at the nutritional value of certain items. We never leave home without one of our phones to scan items.) As always, we check our ingredients before we purchase them to see if they are "good enough" to put in our bellies. This ingredient list was no exception. Granted, I couldn't find ziti that was healthy enough, so I substituted for penne rigate. The difference being that penne rigate has thicker ridges to hold sauce in better, which I'm all for more sauce in a dish. Our penne rigate of choice this evening is from Ronzoni, which received an A- grade on Fooducate and was the top it its category.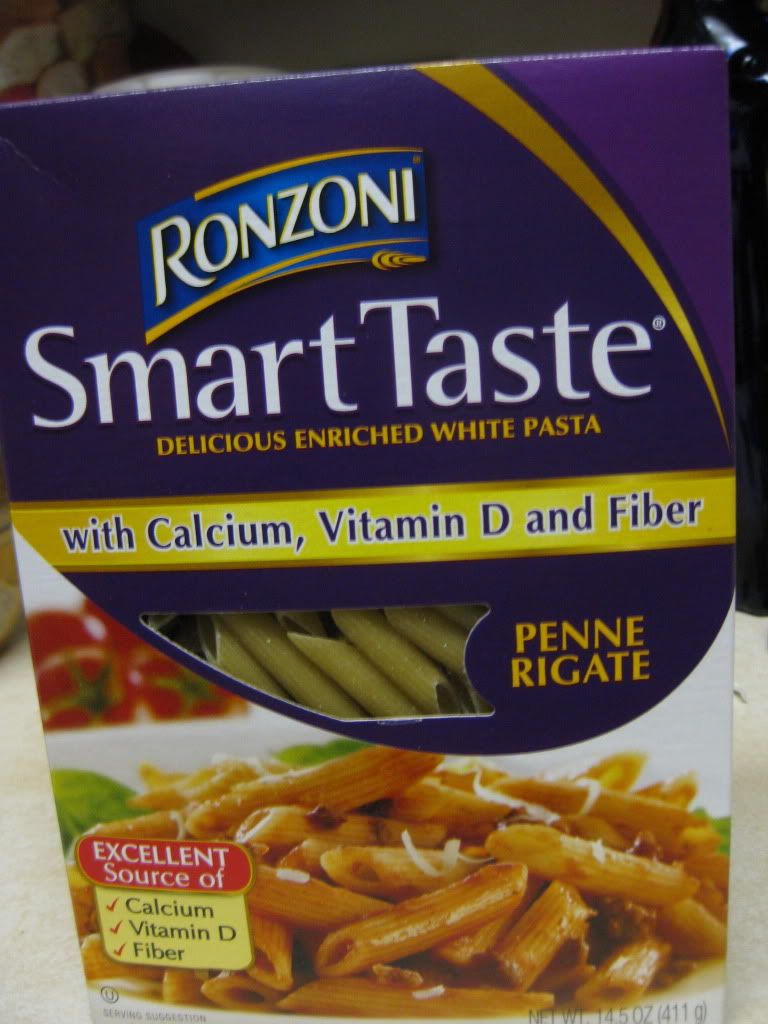 The highest rated penne product on Fooducate
Nice deep ridges
The second ingredient going under the Fooducate gun was our tomato sauce. Kitchen Daily.com gave a suggestion for our sauce, but once I scanned the item, it was rather clear to see that we would not be using said sauce. We scanned our way through the pasta sauce aisle until we found a winner. The Muir Glen, Italian Herb sauce received a B grade, a high grade for an organic sauce and was the best out of all the sauces we scanned.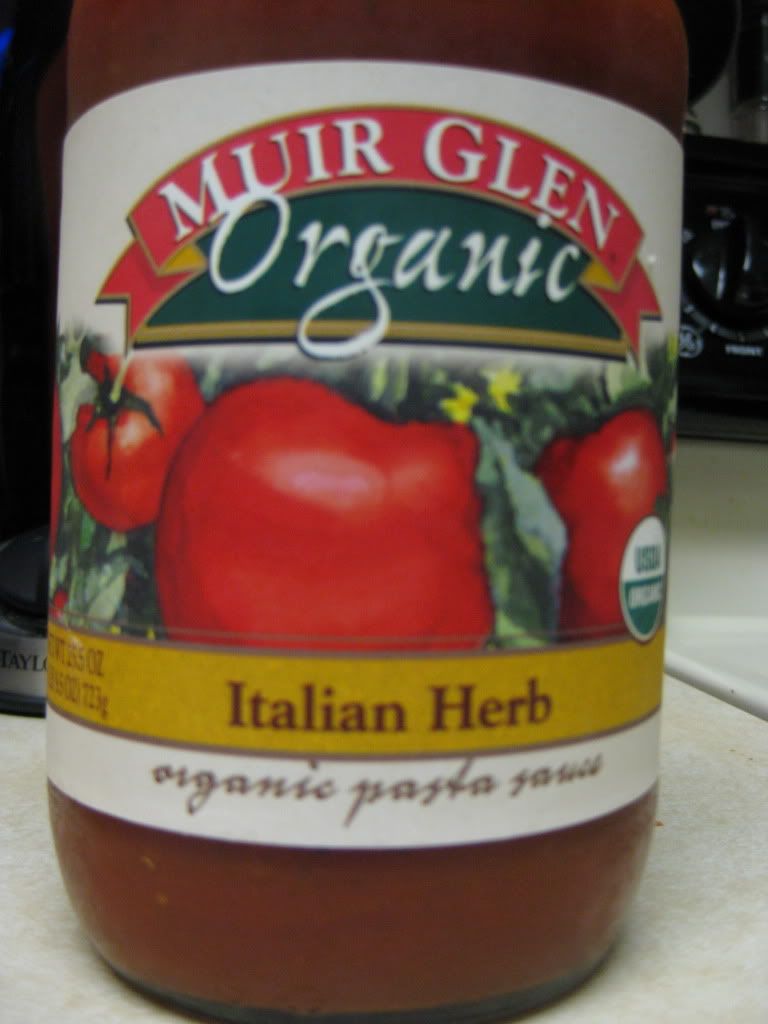 Organic pasta sauce...yum!
Moving along with our recipe, stir the sauce, ricotta, 1/2 cup of the mozzarella cheese, 1/2 cup of parmesan cheese, garlic powder, and black pepper into the pasta mixture. Slowly, spoon the pasta, sauce, and cheese mixture into a 13x9 baking dish. Sprinkle the dish with the remaining mozzarella and parmesan cheeses. Bake and 350 degrees for 30 minutes, serve, and enjoy!
The End Result:
With pasta and sauce, you really can't go wrong. There was a perfect amount of cheese (even for me, the cheese lover, who would have gladly smothered the entire dish in cheese.) All of the different flavors from the three cheeses worked superbly to make an incredibly smooth finish. The pasta was cooked to a T and the only crunchy bits were from the cooked pasta from being in the oven for thirty minutes. The sauce was incredibly good as well, and good for you. Albeit a smudge too sweet for my liking, everything worked great together and I am happy to report this will a Return Recipe.
That's all we have for you this evening, join us on Thursday when Tyler takes to the kitchen with a dish that channels visions of a tropical place. Until then,
~Cheers!