Good evening everyone! It's hard to believe that we are entering the last full week of October! We were graced with 70 degree weather in the greater Midwest this weekend, a nice change of pace from the usual fall temperatures. Nevertheless, we know that November is just right around the corner and these fall days will eventually be moving to a more permanent cool. Lucky for us (and by extension – as a reader of the blog – you) fall is the best time of year to be a chef (amateur or pro). We've got an exciting week of recipes lined up – with a theme! More on that later, we first have to cover all the news of the culinary world for this week. Let's dive in!
This first story falls under the category of "Weekly feature that I wish wasn't a weekly feature". Food product recalls – they are an all too common occurrence and it seems we hardly have a week between massive recall stories. This week, the product is bagged salad sold by Taylor Farms Retail Inc. The product, under the brand names Fresh Selections, HEB, Marketside and Taylor Farms was tested by the Washington state Agriculture Department and showed signs of possible salmonella contamination. The company has voluntarily recalled 3,265 cases of their product. The cases were distributed to Arizona, California, Colorado, Florida, Kentucky, Missouri, New Mexico, New York, North Carolina, Oregon, South Carolina, Texas, Virginia, Washington and Puerto Rico. To date, no illnesses have been reported. (
SOURCE
)
It looks like Taylor Farms Inc. was out ahead of this one at the very least. Judging by the reports we've read on this recall, most of the product was just scheduled to hit shelves or was just being stocked onto shelves when the recall was decided; this likely means that very few bags of the actual product made it into consumer's hands. The other refreshing aspect of this story is that the checks in place, in this case the Washington agricultural department's inspection, actually caught the issue early in the process. While it's never good when a product is recalled, it's nice to see some that are caught in time.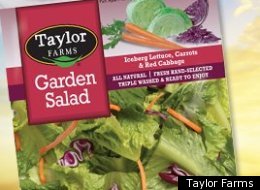 Part of the reason there are so many outbreaks and recalls in the food industry is due to the scale of the industry itself. Right now, there is simply too much product and too many variables within the food production system for companies to be able to maintain a constant and reliable level of control. Currently, for every 1,000 cows sent through the processing system and into the food supply, only one is being tested for diseases and contaminations.
The high costs and large amount of time required for testing is the main issue behind the low cattle testing numbers. (Currently it costs about $50 and takes 12 hours to test 1 cow). Add in all of the variables of meat packing and production and you have a higher-than-you'd-like percentage of some form of contamination. (
One in four
people in this country will fall ill annually from some form of food related contamination)
Luckily, a group of engineering graduate students from Yale may have found an answer. Their device, called the 'alpha-screen' recently won NASA's Tech Brief Engineering prize (beating out 900 other entries from 50 countries).
The device, which is roughly the size of a quarter, looks to fix all of the issues that food production is currently facing. It lowers the cost – from $50 per cow to about $1. It also vastly reduces the time required to test from 12 hours to about 30 minutes. While the device is not quite ready for mass production, early indicators appear that this may be the solution the food industry is looking for when it comes to system wide testing of their product. To read more about the 'alpha-screen' and how it works, check out the full story
HERE
.
What is the most commonly stolen food in grocery stores? Alcohol? Grapes (when people just 'sample' a few)? Are you stunned that people even steal food from grocery stores? Don't be – it's a lot more common than you'd like to think. As for the most commonly stolen product – it's cheese. Roughly 4% of the cheese inventory of major grocery stores goes missing annually, the largest figure of any of the products sold in a typical grocery store. What's the motivation behind stealing cheese? It's not to make a casserole or top a taco at home – apparently there is a 'black-market' of sorts when it comes to cheese and other grocery store products. (The seedy underworld of super markets if you will) Read the full story
HERE
for more information.
Grand theft cheddar
If you're like my wife, you love the monthly food magazines. While I like to take ideas and inspiration from cookbooks and a select few (tested and trusted) websites, Maggie likes to gleam her inspiration from the likes of Bon Appetit, Food Network, Taste of Home and others. November is sort of the 'season' for food magazines as they see a spike in sales of their issues that feature Thanksgiving and other holiday dishes. So, if you're in the market for a turkey based read this holiday season, which magazines are worth your hard earned cash?
Check out this list
of 10 cooking periodicals (complete with content highlights) to judge which one is worth the dough. (Pun slightly intended)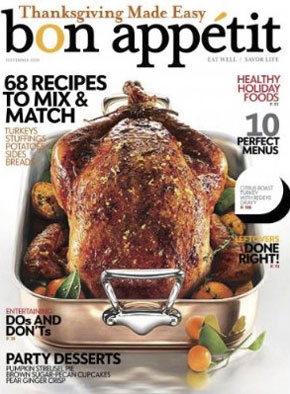 It's probably no surprise to you when I say Americans consume too much sodium. A recent CDC study found that 88.2 percent of Americans who should be reducing their sodium intake to about 2,300 mg per day (based on a healthy amount of sodium for individuals ranging from 2 to 50 years of age) are actually consumer more than that amount. Of individuals 51 and older, who should be consuming about 1,500 mg of sodium a day; over 98 percent are consuming too much sodium. Clearly, we have a sodium problem in this country. Over consumption of sodium can lead to heart disease, kidney problems and a whole multitude of other health issues. This over consumption of sodium is putting a heavy burden on the health and insurance industry. In fact, the study estimates that if Americans were to reduce their sodium intake to the recommended levels, the health industry would save almost $4 billion annually in health care costs. That's no small figure.
So, how do you lower your sodium level? Do you stop putting a few extra shakes from the salt shaker on your fries? Well, while that IS a start, it's actually not where most of your sodium comes from (in fact, on average, very little sodium comes from your salt shaker). The major culprit? Food itself (production and packaging showers and shoves their food full of sodium). Read more about the study
HERE
.
Maggie and I can speak to this firsthand. After we decided that packaged food was simply too loaded with sodium and other preservatives for our liking, we decided to start cooking on our own. It wasn't very long after that before we noticed the 'other' ingredients in processed food. Cooking healthy and with fresh ingredients causes your taste buds to quickly adjust to this fresh, more healthy style of eating. The first time you consume something processed or packaged, the overwhelming flavor you find is actually sodium or other chemicals, rather than the flavor you're used to tasting. The fact of the matter is, you're simply so used to your foods being pumped up with these products and chemicals that your body has just adjusted to their flavors. It's scary to stop and think about isn't it!? (All the more reason to start cooking a majority of your meals for yourself!)
That's all the news that's fit to blog about this week. As I touched on in the open, we've got a theme week coming up. This week's theme? Vegetarian! As we've touched on in the past, eating meatless once or twice a week is not only a great way to reduce your grocery bill, but also acts as a great way to maintain a healthy lifestyle. Maggie will get our vegetarian week started on Tuesday night and I'll close out our theme week on Wednesday. Tune in Tuesday night to see what Maggie has cooking. Until then,
~Cheers