Good evening everyone! It seems more and more that I find recipes that are quite short and succinct - perhaps it's because of the nice weather we've been having and I want to enjoy it while it lasts! But short recipes can amount to large flavor and that's what tonight's recipe is all about. Granted it deals with pasta (my favorite food) and that takes a bit to prepare, it adds a whole new perspective that I don't usually see in pasta dishes. We going to turn the pasta game around tonight, with hopefully successful results!
The Recipe: Totellini Primevera
Original Recipe Found In: www.eatingwell.com
What You'll Need:
1 14 Ounce Can Vegetable Broth (or reduced-sodium chicken broth)
2 Tablespoons All Purpose Flour
1 Tablespoon Extra-Virgin Olive Oil
3 Cloves Garlic, sliced
1 Cup shredded Fontina Cheese (or 3/4 cup shredded Parmesan cheese)
1 Tablespoon chopped fresh Tarragon, Dill or Chives (or 1 teaspoon dried tarragon)
1/8 Teaspoon Salt
4 Cups chopped Vegetables, such as broccoli, carrots and snap peas (or 16-ounce bag frozen mixed vegetables)
1 16 Ounce Package Frozen Cheese Tortellini
Begin by bringing a large pot of water to a boil. Meanwhile, whisk the broth and flour in a small bowl. Heat the oil in a large skillet over medium high heat. Once the oil is shimmering, add the garlic and stir, until the garlic is just beginning to brown, one to two minutes. This is a very quick process and I cannot stress enough to not do something else whilst the garlic is cooking. They will turn brown rather quickly and black garlic is not a pleasant sight. Add the broth mixture to the pan. Continue to bring to a boil and cook stirring occasionally, until the sauce is thick enough to coat the back of a spoon, about three minutes. Remove from the heat and stir in cheese, tarragon, and salt.
Sauce thickening up!
For those of you that don't know, tortellini are pasta rings filled with either meat or cheese. Originated in Italy, these tasty little morsels are traditionally served in some variation of broth. These days, most people serve them with either marinara or alfredo sauce and some sort of cheese. With tortellini coming in refrigerated or frozen packages, it's super easy to pop them in some boiling water for a couple of minutes and enjoy.
Once the water has started to boil, add the vegetables and tortellini. Return the water to a simmer and cook until the vegetables and tortellini are tender, about three to five minutes. Drain the veggies and pasta. Add to the pan with the sauce, stir to coat, serve, and enjoy!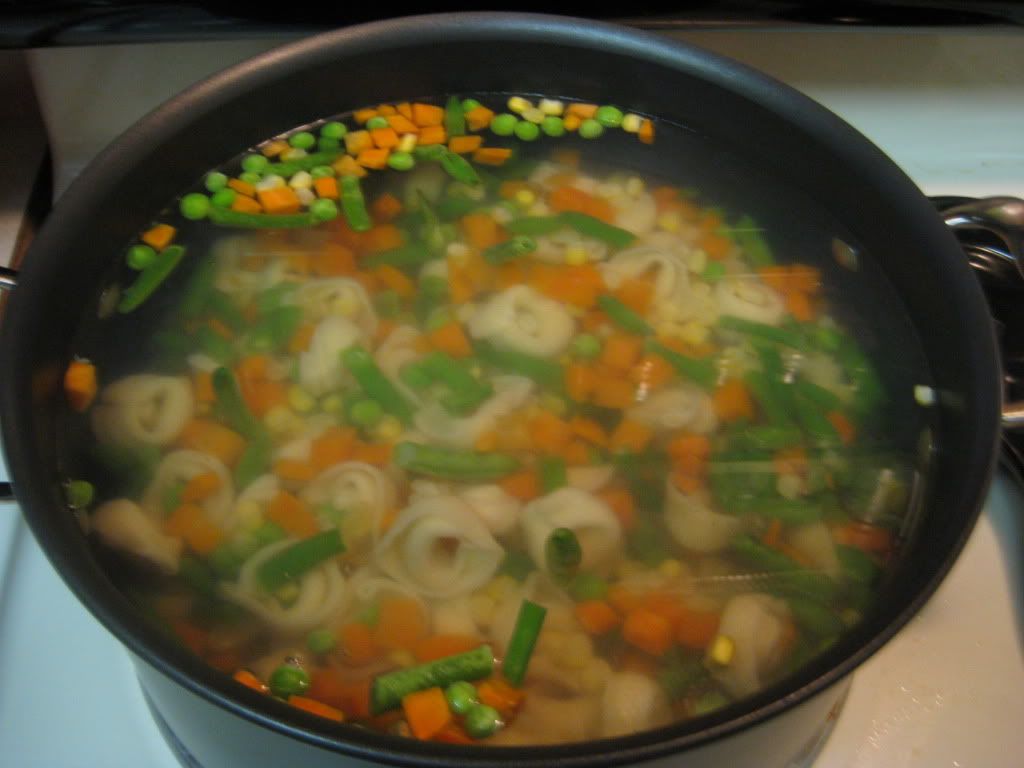 Cooking the veggies and pasta
The End Result: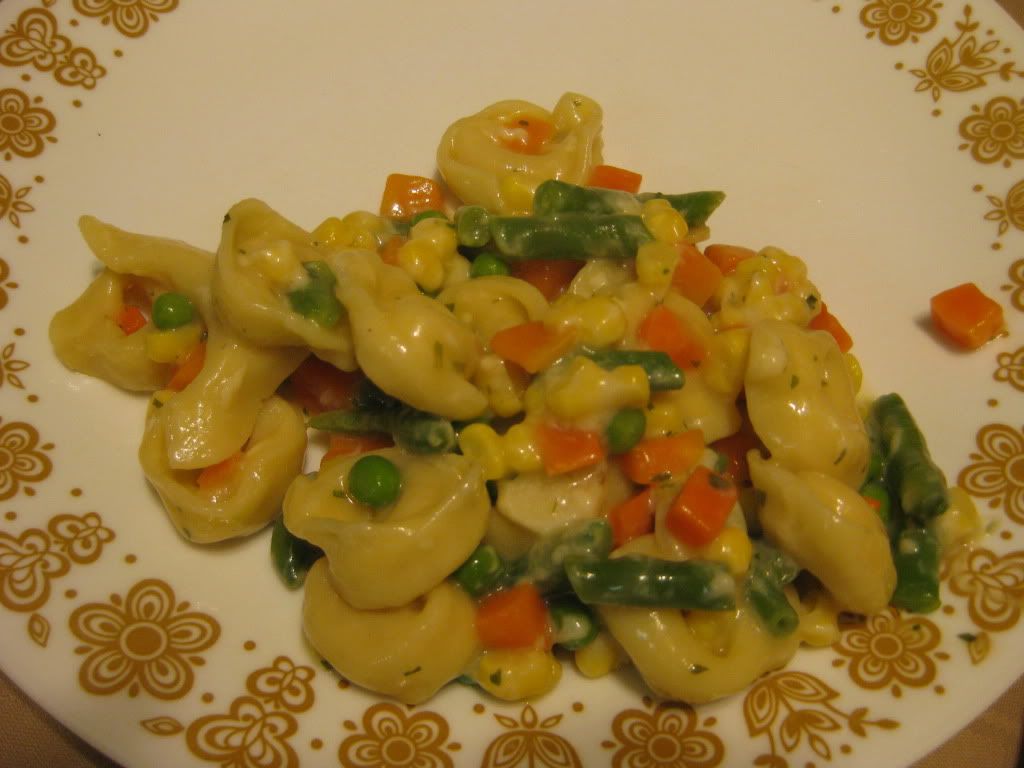 The tortellini tasted really fresh with the vegetables. The sauce, consisting only of vegetable broth, garlic, tarragon, and cheese didn't weigh the pasta down. Instead it enhanced it and added a whole new depth to the dish. Granted, I'm a little biased towards all pasta dishes and think they are all superb (kinda like having a favorite child,) but this dish kinda had a country stew feel to it and tasted great!
Join us tomorrow night as Tyler attempts a recipe that mixes old technique with new ingredients. Until then,
~Cheers!