Good evening everyone! The humble sweet potato is a staple of fall – but it never receives the full billing it deserves. While it's likely to make its way on to your table during Thanksgiving and maybe even during the Christmas holiday; it's usually as an after thought or as a complimentary dish. There is certainly nothing wrong with using the sweet potato in a casserole or even in a pie, but it undersells the potential of the fall root. We have featured the sweet potato in a soup, but most of our sweet potato recipes have fallen under the 'side dish' category as well. Tonight, that changes.
The Recipe: Black-Bean Smothered Sweet Potatoes
Original Recipe From: Eatingwell.com
What You'll Need:
Serves 2
2 Medium Sweet Potatoes
1 Can 15 Oz. Black Beans (Rinsed)
1 Medium Tomato (Diced)
2 Teaspoons Extra Virgin Olive Oil
½ Teaspoon Ground Cumin
½ Teaspoon Ground Coriander
¼ Teaspoon Salt
2 Tablespoons Reduce Fat Sour Cream
2 Tablespoons Freshly Chopped Cilantro
The beauty of this recipe is that it can be broken down in two forms. Quick or super-quick. The super quick variant involves the use of a microwave to zap the potatoes into tender, warm, delicious morsels in about 10 minutes. While I usually discourage the use of a microwave in traditional cooking (too many cons, not enough 'pros' in my opinion) tonight is the exception. Potatoes are one of the few dishes that can be cooked in a microwave with little lost value. Since it makes more economical sense to cook the sweet potato in a microwave rather than heat an oven for an hour, the final decision was easy.
Begin by poking several holes into the top and sides of the sweet potato (a fork is the easiest way to do this). Place the potatoes in the microwave and heat on high for about 12 to 15 minutes or until the potatoes are tender. Alternatively, you can place the potatoes in a 425 degree oven and let them slow roast for about 45 to 1 hour. If you're not going to be using the oven for another dish, however, this doesn't make as much sense. While this is still a relatively quick option – it's not as practical as using the microwave.
Next, combine the beans, oil, tomato, coriander, cumin and salt and place them in a microwave safe bowl. Heat this mixture on high for about 2 to 3 minutes. Alternatively, you can place the mixture in a small saucepan and heat it over medium high heat for about 10 minutes. If you want to add a little extra complexity to this mixture, sprinkle in a touch of cinnamon (no more than about ¼ teaspoon, however).
I actually prefer the stovetop method in this instance. Microwave cooking can result in overcooked (and undercooked) beans, uneven heating and it will dry out the mixture a little more than stovetop cooking will. In addition, heating cumin and coriander in your microwave is a way to guarantee that you will be smelling spicy cumin and coriander for a few weeks. Since it takes 12 minutes to heat the potato, and 10 minutes to heat the mixture, it just makes more sense to utilize the stovetop.
On the surface, you may be thinking that this combination sounds very odd. You have to think in terms of food science to see how this recipe works. I don't have to tell you that sweet potatoes are naturally sweet – the bean mixture is a variation of a Spanish dish – and it packs quite a spicy punch. When combined, you neutralize the extremes of each flavor profile and create a happy medium loaded with great flavor. In fact, this mixture is very similar to the more common sweet potato & cinnamon pairing. Cinnamon is a warm spice, much like coriander and cumin. The flavor profile in this dish works with the same concept, but it just takes a few more liberties.
Allow the sweet potatoes to cool slightly (to the point that you're able to handle them safely) and slice them down the center. Fill the gap with the bean mixture and top with a tablespoon of sour cream (optional). Serve and enjoy!
The Results: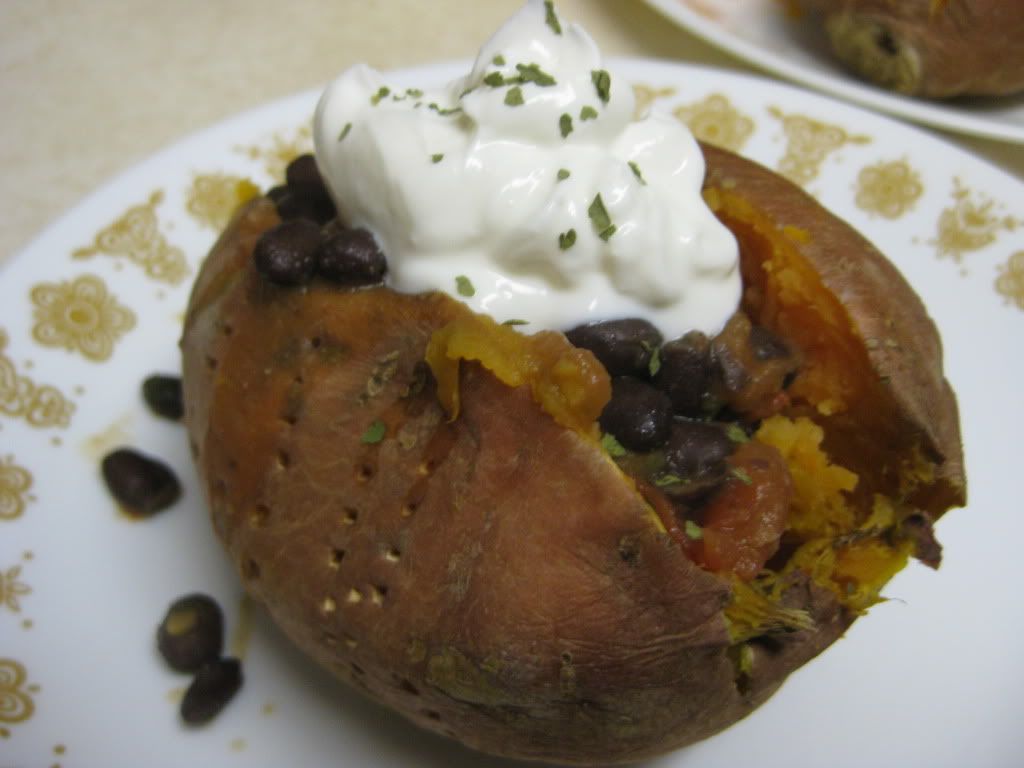 Only one photo tonight, surprisingly - microwaving a potato doesn't lend itself to great photos!
A very fall inspired flavor! The sweet potato was tender and warm and greatly complimented the (slightly spicy) bean mixture. The dish was filled with great textures and every bite was packed with great flavor. You could use unflavored yogurt if you wanted to have a little more neutral topping (in place of the sour cream). In addition, you could add some onions to the mix to spice things up a little more. The nice part about this dish is it is highly customizable. Change, tweak and alter the ingredients to create the flavor profile you want. All in all, a great dish that highlights an overlooked fall treat.
That's all we have for you this week. Enjoy a cool fall weeked everyone! We're back on Monday with another trip Around The Culinary World - tune in Monday night to see what's new in the world of food. Until then,
~Cheers