Good evening everyone! As Tyler mentioned yesterday, I often take risks on different, out of the norm recipes. Whether it's blending completely different flavors or adding a new twist to an old favorite, trying something innovative has always stirred my imagination. Unfortunately, this wasn't a recipe I came up with, but it's something out in left field. I have heard of this type of dish before - this recipe is sometimes billed under "Great State Fair Food", but I have never consumed it. Anyway, enough of me talking, let's get cooking!!
The Recipe: Chili-Corn Chip Pie
Original Recipe Found In: Cooking Light, October 2011
What You'll Need:
1 Pound Ground Sirloin (ground beef will work too)
1 1/4 Cups Chopped Onion
6 Garlic Cloves, minced
1/2 Teaspoon Ground Cumin
1/2 Teaspoon Ground Red Pepper
1/8 Teaspoon Salt
1 Tablespoon Tomato Paste
1 Cup Beef Broth
1/3 Cup Water
1 10 Ounce Can diced Tomatoes and Green Chilis, undrained
4 Ounces Corn Chips (Fritos work quite well for this recipe)
1/3 Cup Shredded Sharp Cheddar Cheese
1/4 Cup Fat-Free Sour Cream
To start, heat a large skillet over medium-high heat and coat the pan with cooking spray. Add the beef to the pan and sauté for five minutes, stirring to crumble. Drain the beef and wipe out the pan with paper towels. Add the chopped onion to the pan and sauté for four minutes, stirring occasionally. Stir in the beef, cumin, pepper, and salt.
Stir in the tomato paste, cook for a minute, stirring occasionally. Add the beef broth, water, and tomatoes and bring to a boil. Reduce the heat to medium and simmer for 15 minutes, stirring occasionally until slightly thick. Remove from the heat.
Looking at this recipe it could be quite baffling at how many layers are needed to add. It seems like a never ending list of flavors and steps. But the recipe revolves around these layers. Adding depth to each ingredient, i.e. adding the cumin and pepper to the beef, which was added after the onion and the garlic, really enhances the flavor of the beef and gives it an extra oomph! Trust me, the layering technique in this dish will really amp up the flavor.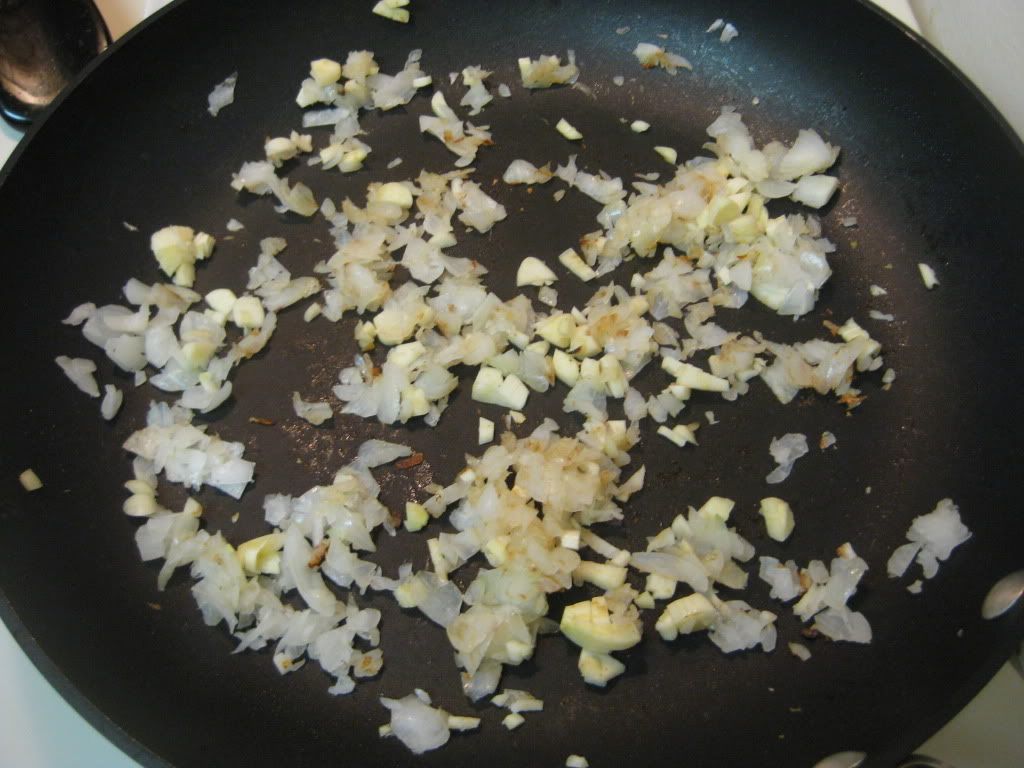 Layer 1: Onions and Garlic
Layer 2: Adding the beef, tomato paste, and spices
Layer 3: Adding tomatoes/chilis, beef broth, and water
Finally, place 1 ounce of chips in each serving bowl and top each serving with 2/3 cup of the beef mixture, 2 tablespoons cheese, and 1 tablespoon of sour cream. Eyeballing it each ingredient will probably be the best bet - depending on how hungry you feel. Serve and enjoy!
The End Result: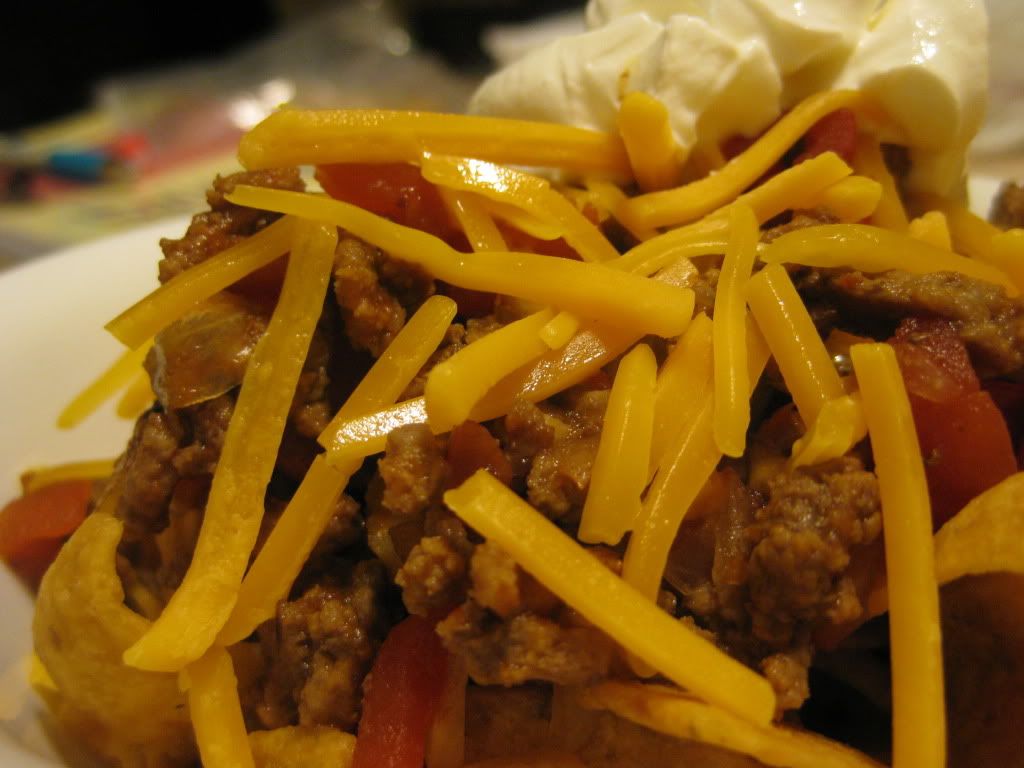 Oh...my...goodness!! The layering flavor absolutely worked for this dish. Letting all those flavors meld and simmer together in the end really boosted the all of the ingredients' flavors. It may be a little runny, but the chips will soak that all liquid up. Adding the crunch of the chips and the cheese and sour cream was just the tip of the iceberg. If awesome flavors and pleasing a crowd is your goal, this recipe should be in your back pocket!
That's all we have for you this week. Thanks for sharing your week with us. We'll be back next Monday with another edition of Around the Culinary World. Until then,
~Cheers!