Good evening everyone! Today was probably the last day we will see 70 degree temperatures until probably May, so hopefully everyone got a chance to go out and enjoy it! The weather will finally start to feel like fall starting tomorrow, which means the fall themed recipes will taste better. I don't know what it is about 40-50 degrees and the slight chill to the air, but it definitely conjures up images and feelings of warm, hearty meals. With that being said, tonight is no exception, except with one slight major alteration. This recipe is a variation of every non-sauce spaghetti dish known to man, except that the pasta is replaced with a gourd. Spaghetti Squash has pretty much every similarity to its pasta brother, but there is no gluten and very little to carbs. It's a great alternative to pasta, without feeling like you have a run a mile afterward.
The Recipe: Roasted Spaghetti Squash with Herbs
Original Recipe Found In: www.marthastewart.com
What You'll Need:
1 Spaghetti Squash (about four pounds, halved lengthwise and seeds removed)
1 Tablespoon Extra Virgin Olive Oil
1 Tablespoon Packed Light Brown Sugar (we're using dark for our version)
1/2 Cup grated Parmesan Cheese
1/2 Cup chopped fresh flat-leaf Parsley
1/2 cup chopped fresh Cilantro
1/4 Cup blanched Hazelnuts, toasted and coarsely chopped.
For those of you who don't know how to prepare a spaghetti squash, let me take the load off your back and describe it to you in pictures: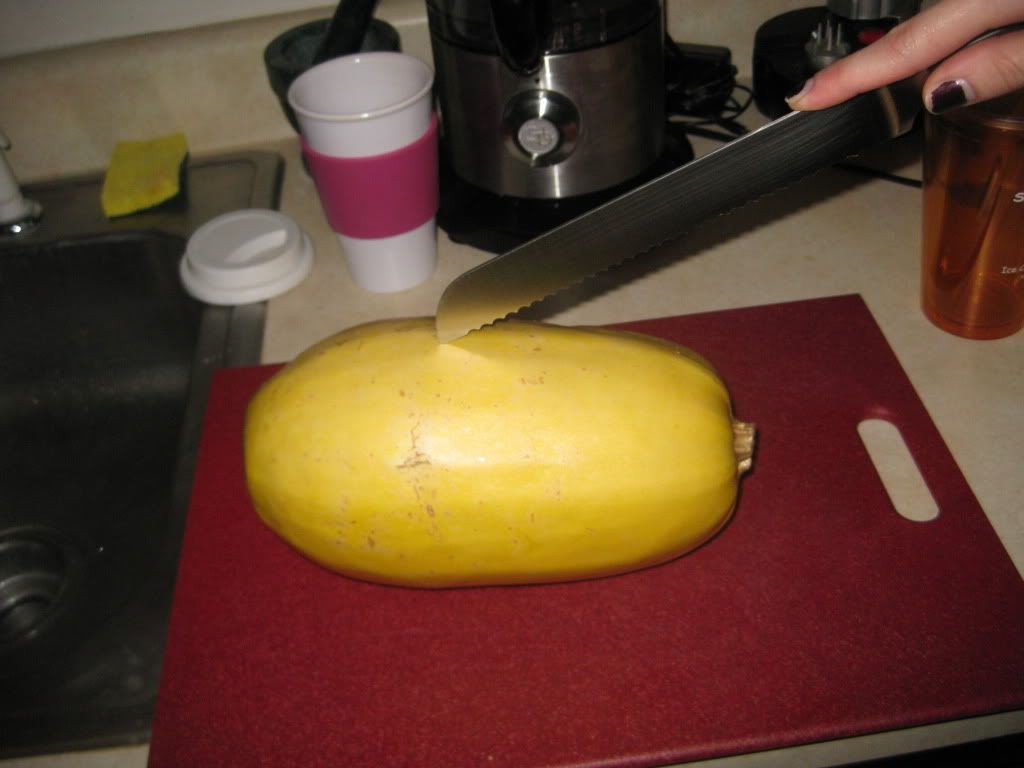 Cut the squash lengthwise - it's very tough to cut, so BE CAREFUL!!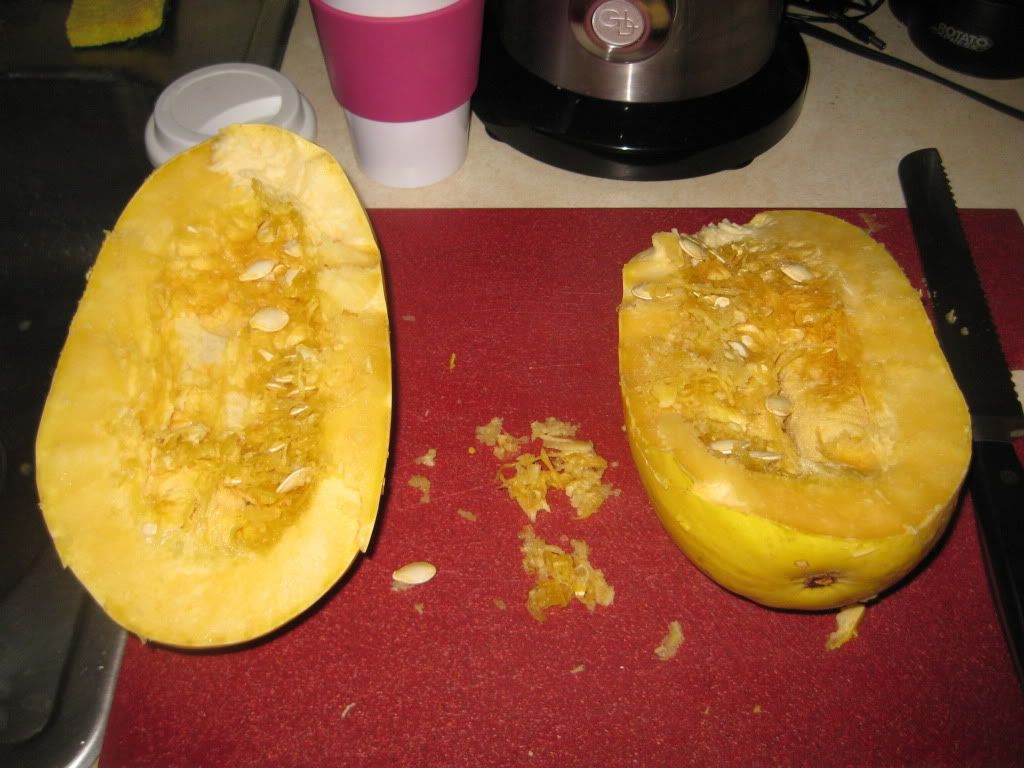 There will be seeds, lots and lots and seeds, so they will need to scraped out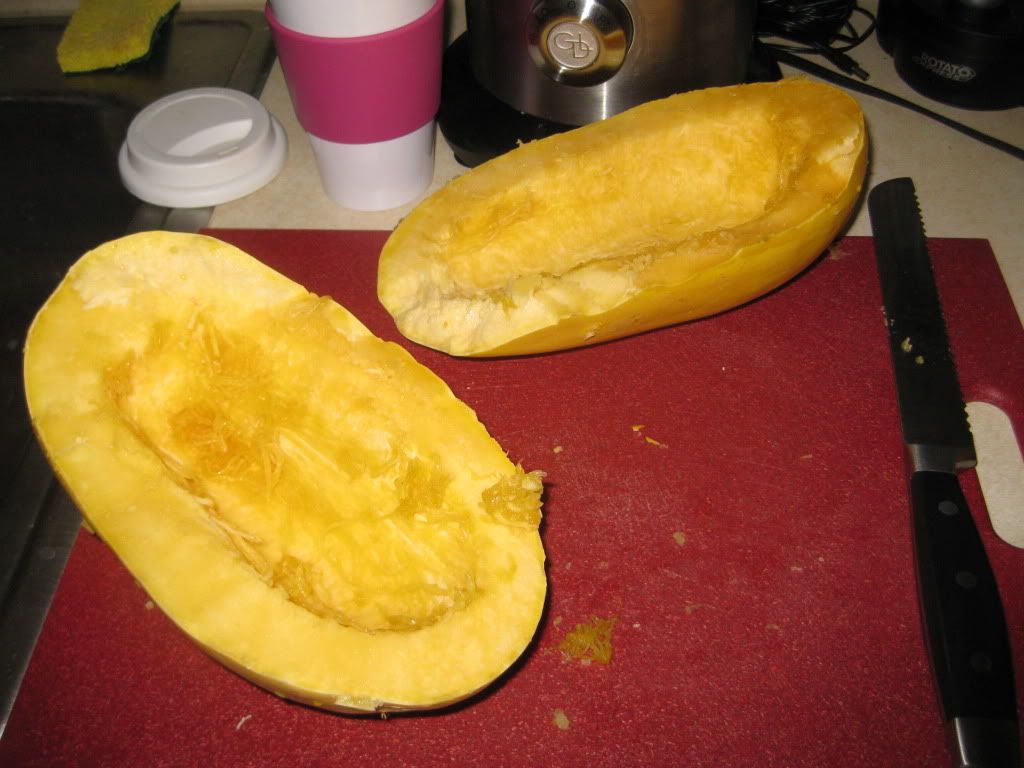 Freshly carved squash!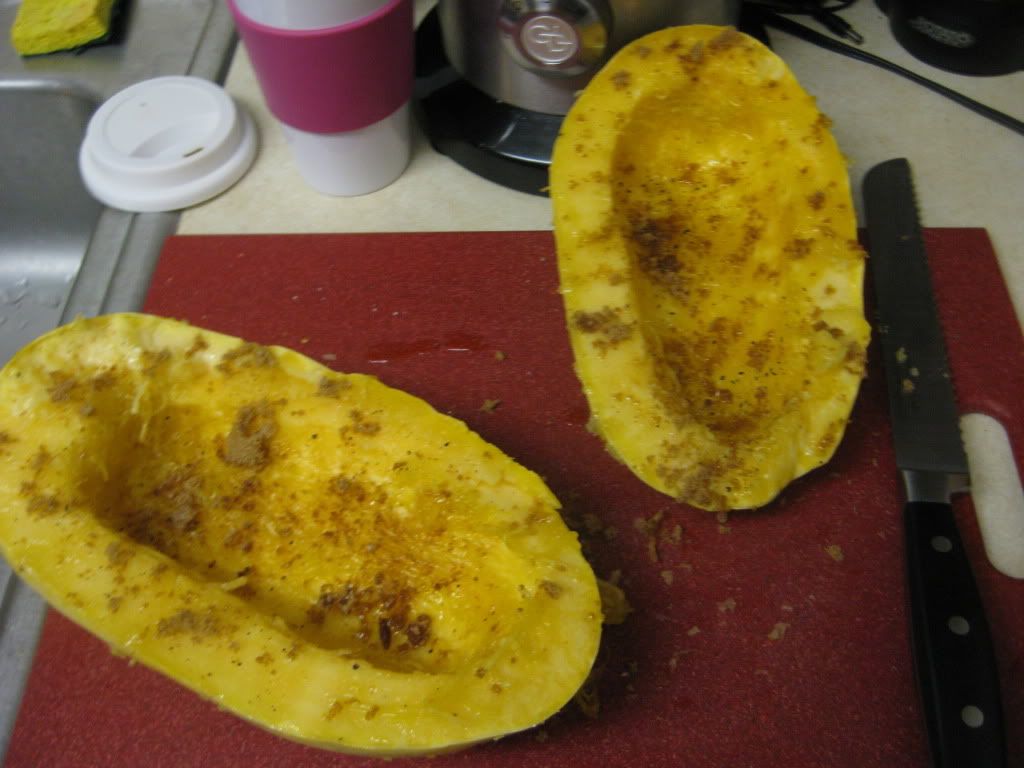 Season the squash with either salt or pepper or whatever your recipe calls for (in this case, brown sugar and olive oil.)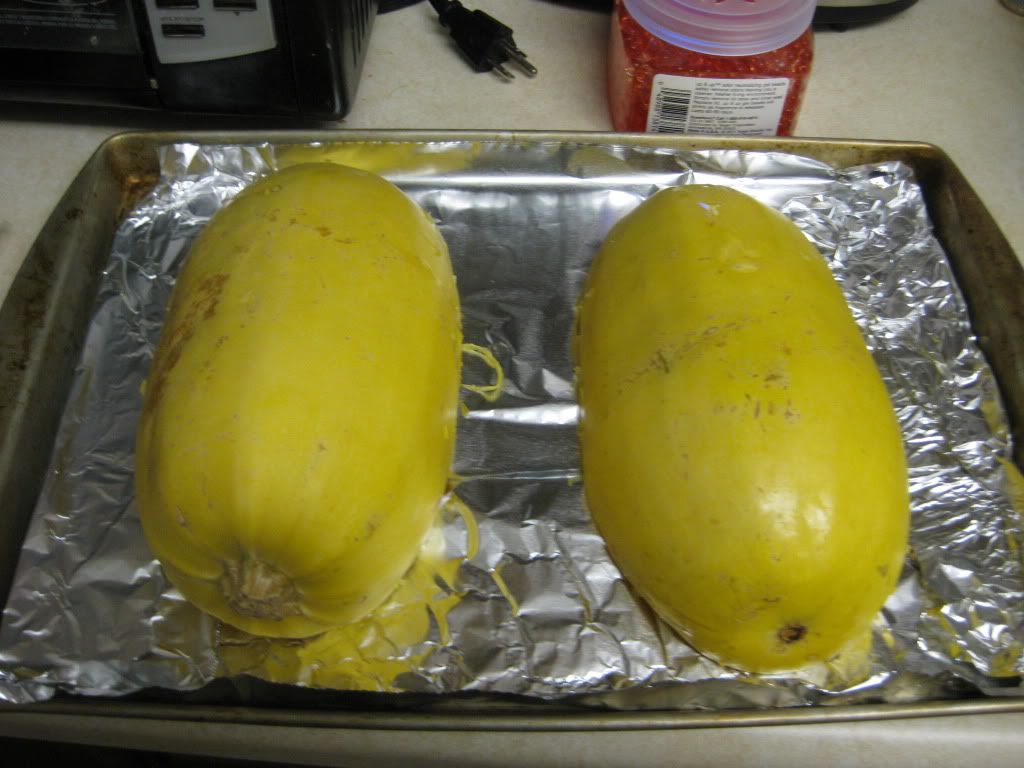 Place cut side down and pop it in the oven for 45-60 minutes for a great roasted flavor.
While preparing the squash, preheat the oven to 400 degrees. Brush the cut sides of the squash with oil and sprinkle with sugar, salt, and pepper. Place squash, cut side down on a rimmed baking sheet. Roast until tender, about 45 minutes. Let the squash cool slightly on the sheet on a wire rack, about ten minutes.
Scrape the squash with a fork to remove the flesh in long strands. Place in a large bowl. Add the oil, Parmesan, parsley, cilantro, hazelnuts, salt and pepper. Toss, serve, and enjoy!
The End Result: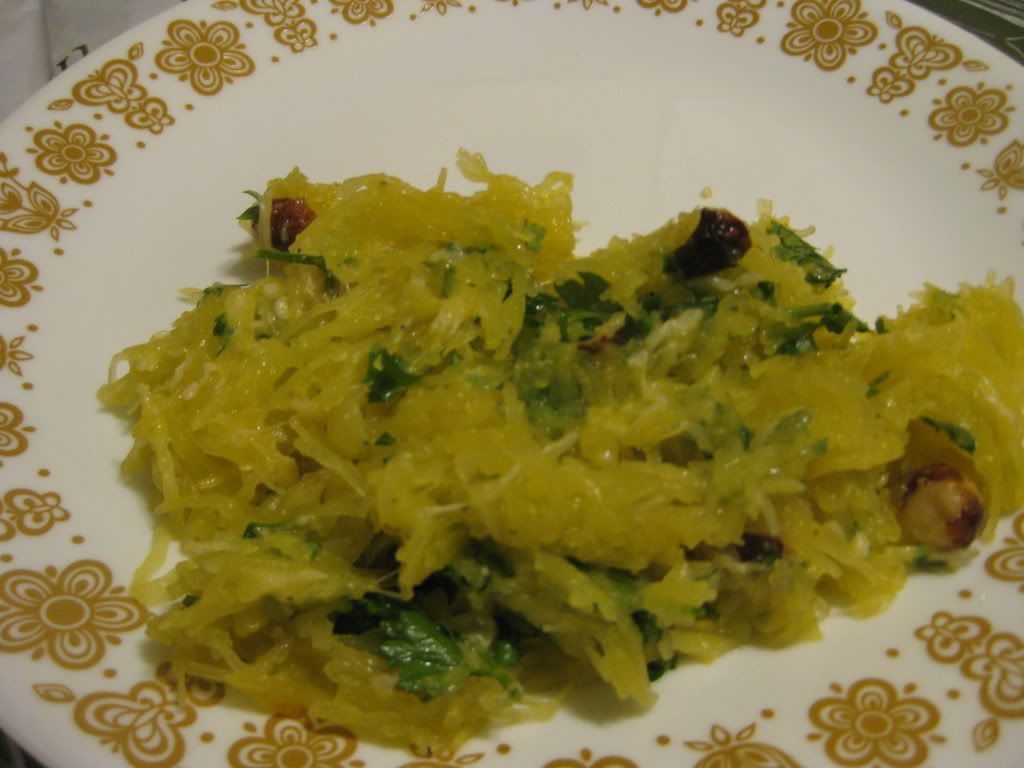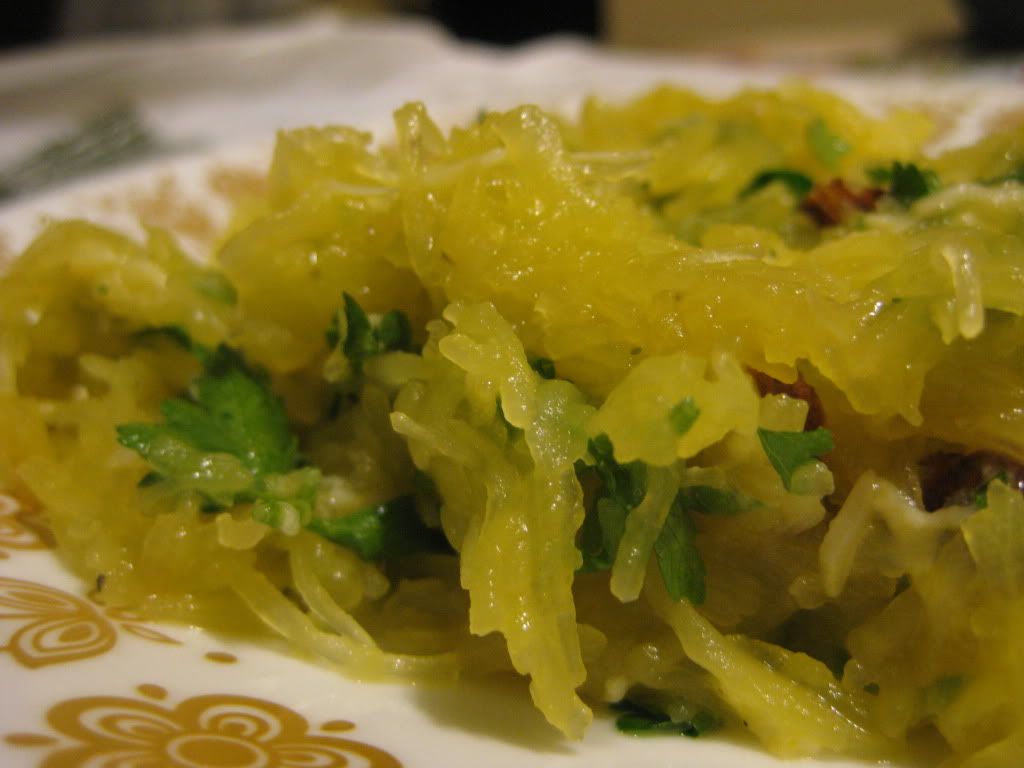 After roasting the squash, it was incredibly easy to scoop out all the innards. I was actually really surprised how easy it came out and it made that part of the recipe a snap. As for the flavor? Hands down, one of the best fall flavors I've tasted in a while. It was rich and hardy and yet, surprisingly sweet. With this flavor, added with the parmesan, cilantro, and parsley, it was quite fantastic. Although, I think this recipe highlights the roasted squash and not so much on the cheese. The cilantro was, at times, a little overbearing. The hazelnuts did add a little crunch to the mix and that made it worth while. I think this is a great fall dish, for those of you who are looking for a little vegetarian twist to your new fall traditions.
Join us tomorrow as Tyler continues the vegetarian theme, with a dish that you don't commonly associate with vegetarians. Until then,
~Cheers!