Happy Wednesday everyone! If you live in the greater Des Moines metro you probably awoke to several inches of snow on the ground this morning. Worst of all, it was the wet, sloppy kind - not the fluffy pretty kind. Alas, I, like many of my fellow metronians, felt this snowfall was too early but the cool winter wind it brought with it brought a smile to my face. Moving on to better things; like tasty comforting food. For me, Thanksgiving is a wonderful holiday, spent with family and friends, celebrating the day reminiscing about things to be thankful for and gorging yourself on food. Green Bean Casserole is my favorite holiday dish to devour. Give me a bowl of Green Bean Casserole and a slice or two of pumpkin pie and I'm set! Unfortunately, the dish itself is a caloric nightmare and is probably not the best thing for you to eat.
Tonight, much to the woe of my hubby, (who cannot stand green beans) I'm trying my hand at making a healthier alternative to the holiday staple. Special thanks in advance to Tyler who actually typed up tonight's blog (I cooked it - he wrote it!)
The Recipe: Green Bean Casserole with Crispy Shallots
Original Recipe Found In: Food Network magazine, November 2011
What You'll Need:
¼ Cup Olive Oil
6 Medium Shallots (Sliced into rings)
1 ½ Pounds Thin, Fresh String Beans (Trimmed)
1 Pound Button Mushrooms (Sliced)
6 Large Garlic Cloves (Minced)
1 Tablespoon Chopped Fresh Thyme
3 Cups Low Fat Milk (1%)
3 Tablespoons All Purpose Flour
½ Cup (Plus 2 Tablespoons) Freshly Grated Parmesan Cheese
½ Cup Finely Chopped Parsley
¼ Teaspoon Ground Nutmeg
Begin by preheating your oven to 350 degrees.
Heat the olive oil in a small skillet over medium high heat until the oil is shimmering but not quite smoking. Add ¼ cup of the shallots (roughly ¼ of the shallots) and cook, stirring constantly until they are golden brown and crispy. This should take about 2 minutes. Transfer the shallots (via slotted spoon) to a paper towel lined plate. Repeat this process (1/4 cup at a time) until all of the shallots have become golden brown, crispy and are drained of excess oil. Make sure you reserve the excess oil in the skillet – you'll need it later on.
This step allows you to create the great crispy "onion ring" crunch that green bean casserole is famous for. Instead of deep fat fried, sodium enriched glorified chips – these crispy shallots are much better for you!
Getting the shallots all nice and crispy
Next, add your green beans to a steamer basket and place that basket over a large pot of boiling water (do not submerge the beans). Cover the basket and steam until the beans have become a brighter green and are still slightly crisp. This should take about 3 to 5 minutes.
If you do not have a steamer basket, you can use a wire strainer and a pot lid – improvising in the kitchen is always necessary unless you're equipped like the pros are!
Look at those perfectly cut beans - all those years of cutting beans from my parents garden have FINALLY paid off!
Remember that reserved shallot oil from earlier? It's time to use it now – add 1 tablespoon of this oil to a large (high sided) non-stick skillet. Over medium high heat, bring the oil to a light shimmer. Next, add the mushrooms and cook (stirring occasionally) until all of the liquid has been absorbed into the mushrooms and they begin to brown. This takes about 10 to 15 minutes. Finally, add the garlic and thyme and cook until they are fragrant – roughly 30 seconds to one minute. Transfer the mushroom mixture to a bowl and set aside.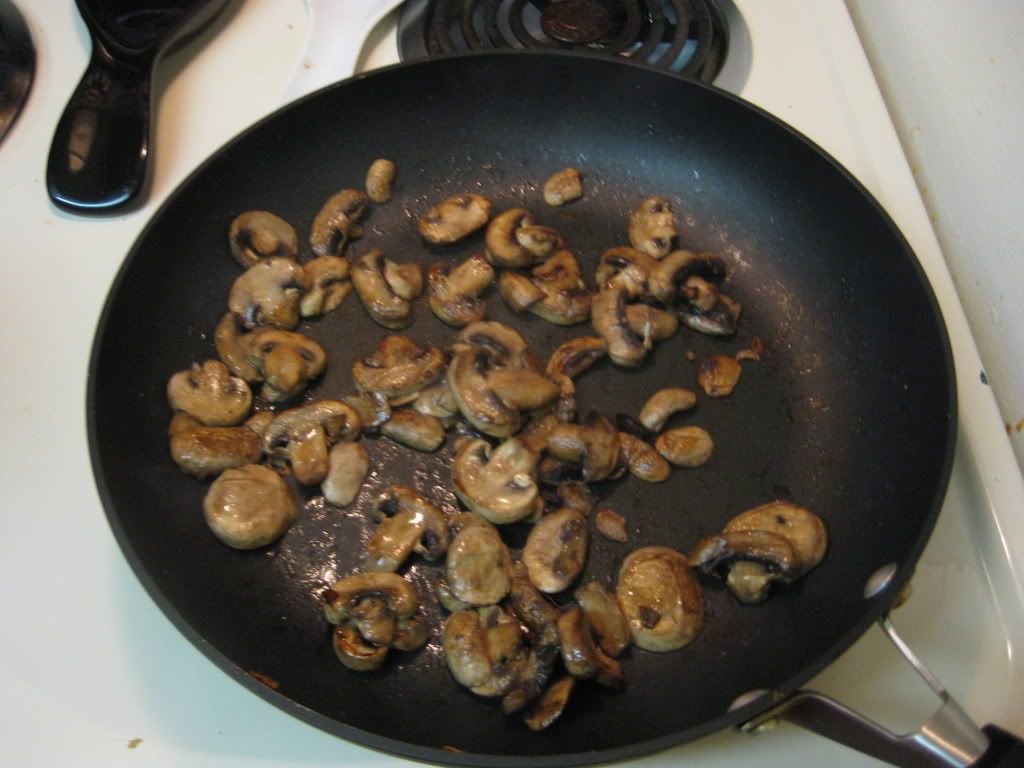 Nothing smells better than frying up some mushrooms!
In a small bowl, combine the flour and milk. Whisk the mixture until all of the flour has been blended with the milk (I.E. no clumps). Add this mixture to the deep sided skillet you used previously. Stir the mixture constantly on high heat until the milk begins to simmer. At that point, reduce the heat to medium low and allow the mixture to simmer until it thickens. Be sure to stir occasionally. This process should take about 10 to 15 minutes.
This stage allows you to recreate the classic 'cream' flavor that traditional green bean casserole contains. The original version of this dish obtains that flavor from cream of mushroom soup – while that is an easy alternative, you are adding a lot of extra fat and sodium (especially sodium) to the dish. By adding an extra (10 minute) step, you greatly enhance the health aspect of this dish!
Next, add the green beans, mushrooms, ½ cup of parmesan cheese, parsley, nutmeg, ¾ teaspoon of salt and ½ teaspoon of pepper to the skillet. Stir the mixture until everything is well combined.
Coat a large (2 quart is ideal) baking dish with cooking spray. Spoon the green bean mixture into the dish and sprinkle the top with the crispy shallots and the remaining parmesan cheese. Place the baking dish into the oven and bake until the cheese is golden brown, roughly 20 minutes. Serve and enjoy!
The Results: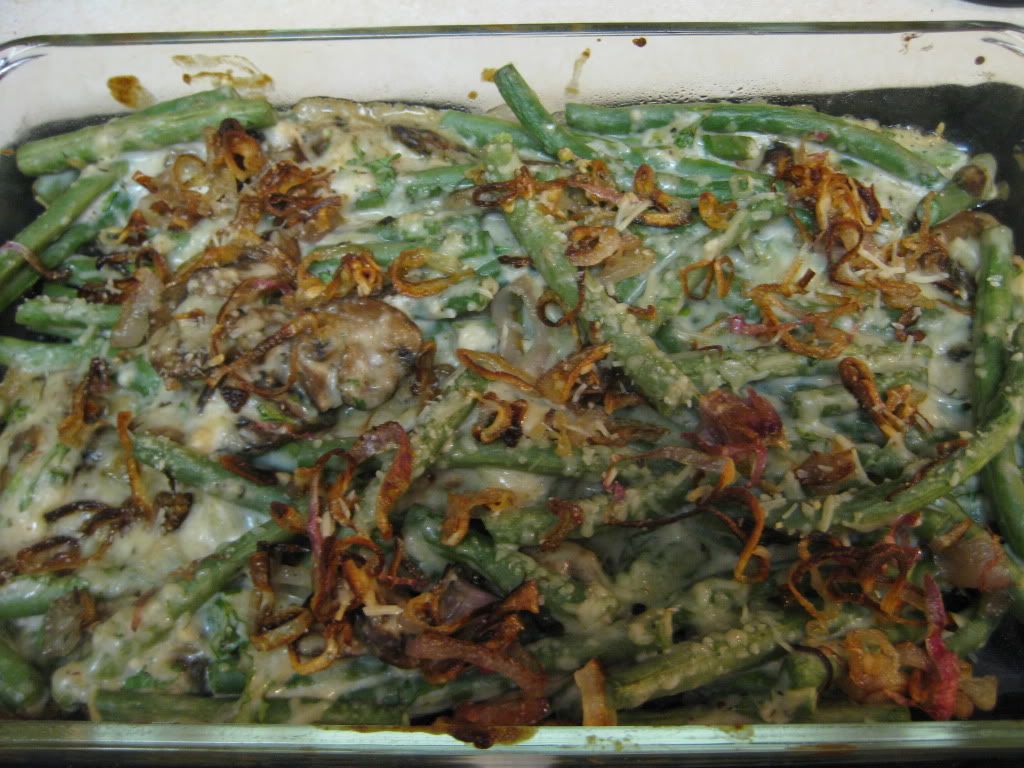 In every sense, in flavor and in looks, this is a Green Bean Casserole. Except it looks nothing like your typical Green Bean Casserole. The beans aren't drenched in soup and the top of the dish isn't completely coated in fried onions. Instead, the beans are lightly coated in the thickened milk/flour mixture along with the mushrooms and the top is sprinkled with lightly cooked shallots. The beans could have used a little bit more time steaming to get a better cooked taste, but the flavor was there and that is what I was aiming for. This is a great spin on an old Thanksgiving staple!
The irony of this recipe is that Tyler's public enemy number one is green beans. He's never been a fan. For the good of the blog - he volunteered to eat a green bean based recipe. I love green bean casserole, so I was eager to cook up this dish. The greatest part? Because of a scheduling crunch - Tyler had to type up a majority of the recipe. Not only did he have to eat the green bean dish - but he now knows how to cook it in excruciating detail! (Sorry, I found that part funny) And even though he still doesn't like green beans after eating four, I gotta give it up for him for at least trying.
That's all we have for you this week. Thanksgiving month continues with more recipes next week. Until then,
~Cheers!