Good evening everyone! It's almost that time of year; the calendar is slowly ticking closer and closer to the big day – T-Day if you will. Yes, Thanksgiving is almost upon us! Feasting, family and friends and the official kickoff of the holiday season all commence this coming Thursday. We've been featuring Thanksgiving dishes for the past two weeks – trying to give you tips on fixing up traditional holiday dishes in more healthy (and tasty) forms.
Of course, what's the point of a turkey day feature without actually talking turkey? Now, it's neither practical nor cost effective for us to cook up a whole turkey just for the purpose of the blog. Even a tiny turkey is a little too much for the two of us to eat in a week. Last year, we improvised with a turkey breast recipe (essentially Thanksgiving dinner for two). This year, we're taking another approach – let's say turkey day has passed. Family is fed and you've run over a few other shoppers on black Friday. What do you do with that leftover turkey? Sure, turkey sandwiches are great – but why not kick things up to another culinary level? Tonight's recipe is all about what to with the leftovers. Let's dive in!
The Recipe: "Mud-Honey" Turkey Sandwich
Original Recipe Inspired By: Turkey – The Sequel: Recipes from Food Network November 2011 Issue
What You'll Need:
(Note: Quantities not used as they will vary between desired sandwich size and the crowd you're feeding)
Soft Italian Baguette or French Baguette
Shredded Turkey (Breast, leg, light or dark – doesn't matter)
Roast Beef
Thick Cut Bacon - Cooked (2 Slices per sandwich)
White Cheddar Cheese (Slices preferred)
Barbeque Sauce*
* Sure, you can use just any store brand BBQ sauce here – but why compromise and make a sub-par sandwich? With just a few extra ingredients and about 10 extra minutes, you can make up our own BBQ sauce recipe that will blow the others out of the water. Here's what you'll need for that:
The Recipe: Out Of The Culinary's Savory BBQ Sauce
What You'll Need:
1 Cup Ketchup (Store brand or generic brand)
3 Tablespoons Molasses*
3 Tablespoons Cider Vinegar
2 Tablespoons Grated Onion (Tone's Onion Flakes work well too)
2 Tablespoons Worcestershire Sauce
2 Tablespoons Dijon Mustard
2 Tablespoons Maple Syrup
1 Teaspoon Chili Powder
¼ Teaspoon Cayenne Pepper
*Use a 'Mild' or 'Original' flavored molasses
To make the BBQ sauce – combine everything in a medium bowl and stir until well blended. Pour this mixture into a small saucepan and heat over medium low heat until slightly bubbling. Make sure to stir this mixture every few minutes while cooking. Store the sauce in a jar or tightly sealed container. Keep refrigerated and enjoy frequently!
Now onto the sandwich – there's not much "instruction" to putting this together (It is, just a sandwich after all). Simply layer the white cheddar cheese, roast beef, turkey and BBQ sauce into a fresh Italian or French baguette. Place the sandwich on a baking sheet and into a 500 degree oven for about 2 minutes to heat everything through. Add the bacon at the end and enjoy!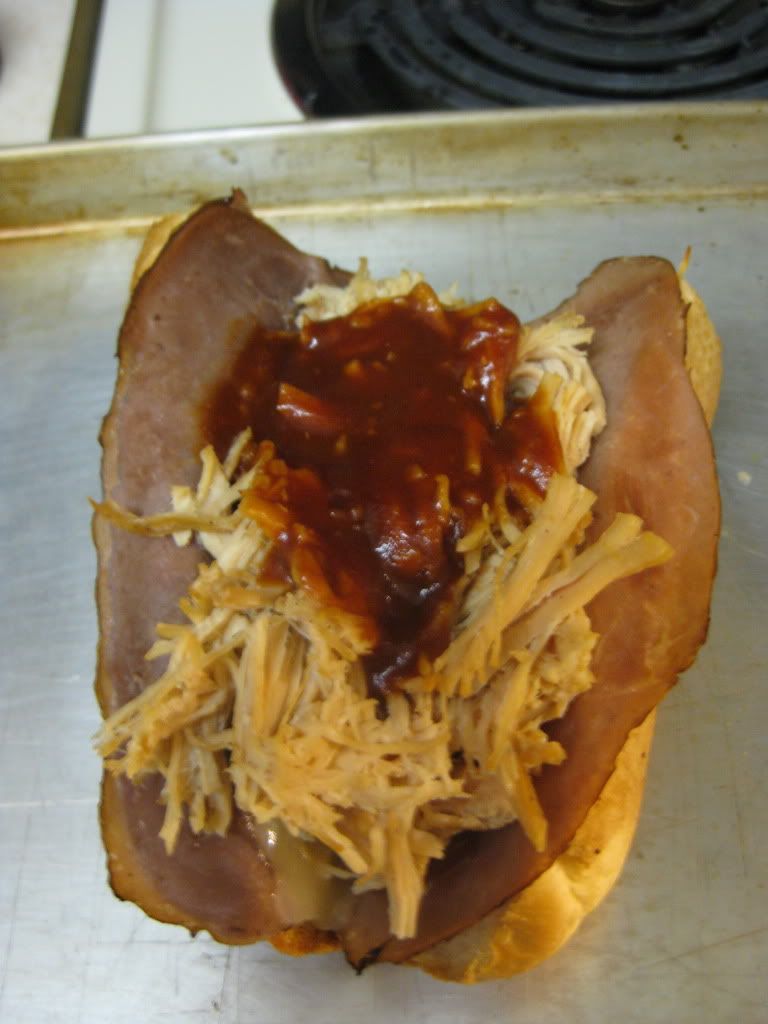 Mouthwateringly DELICIOUS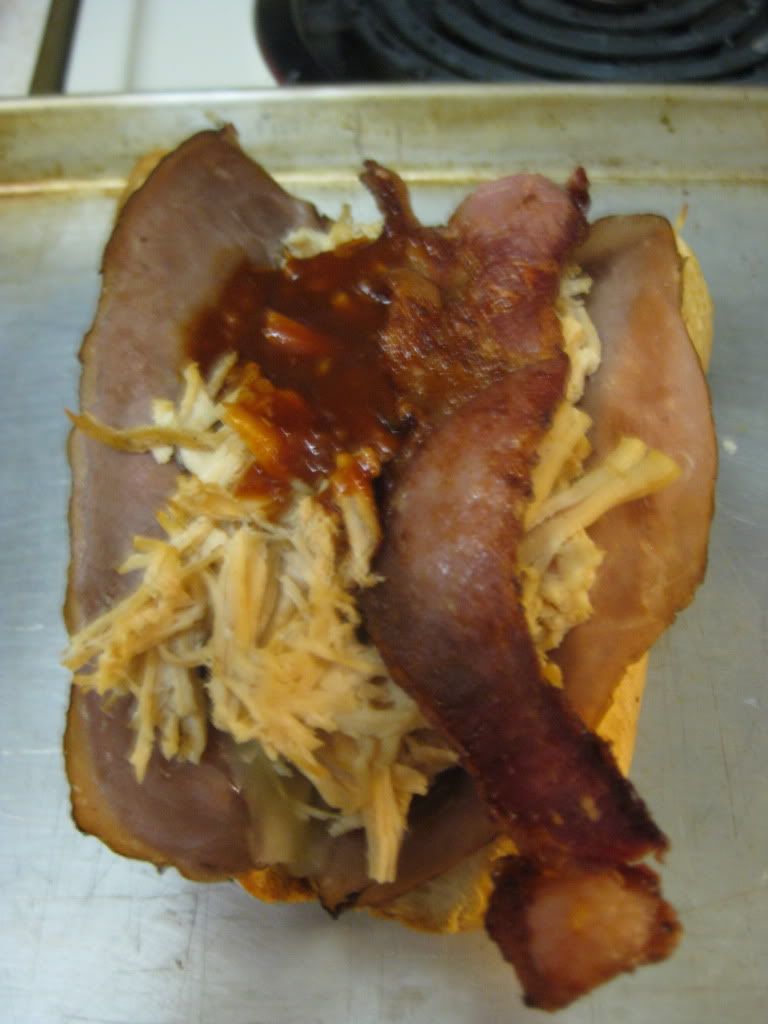 This is certainly the way to enjoy leftover turkey! Delicious sandwich, it doesn't get any simpler than that. This is just a delicious sandwich. Try it yourself with your leftover turkey!
That's all we have for you this evening. Maggie will finish us off this week (short week of cooking for us!) on Tuesday with one last Thanksgiving side dish. Tune in tomorrow night to see what she's got cooking. Until then,
~Cheers