Good evening everyone! As Maggie mentioned yesterday, it's nice to return to cooking after 3 weeks to Thanksgiving themed dishes. Not that cooking turkey day treats wasn't fun, it was just a challenge to shoehorn ourselves into a certain 'region' or style of recipes for such a long period of time. Maggie celebrated our return to 'free choice' cooking by using a favorite Out of The Culinary ingredient – white fish fillets. Tonight, I'm returning to regular cooking by using a favorite Out Of The Culinary method – breading!
There was a time, not too long ago, when we couldn't nail a breading dish on this blog. The breading fell off, overcooked, lacked flavor or sabotaged the meat underneath of it. We've come a long way since then – we've successfully
breaded cod
(
twice
!), chicken, turkey, halibut, flounder, salmon – each with its own breading and style. We've said it multiple times on the blog before, if you want to spice up a dish, introduce it to breading. Tonight, I decided to take things in a new direction, what if you spiced up the breading in a completely new way? Check out this new twist on breaded chicken:
The Recipe: Italian Breaded Chicken Breasts
An Out Of The Culinary original creation (inspiration from Eatingwell.com & Cooks Illustrated)
What You'll Need:
1 Pound, Lean Chicken Breast (2 Large)
¼ Cup All Purpose Flour
1-2 Large Eggs (Depending on just how large your eggs are)
1 Tablespoon Italian Seasoning*
1 Teaspoon Garlic Powder
1 Cup Breadcrumbs (Non Panko breadcrumbs for this recipe – whole wheat are best)
½ Cup Parmesan Cheese
*Italian seasoning is simply a blend of basil, oregano, rosemary and thyme. It's not all that hard to find in your local grocery store – but you can blend up your own if you're trying to be frugal or just like to make your own spices. (Tone's does sell a .99 variant, however, so it's not at all expensive)
Preheat your oven to 450 degrees and prep a wire baking rack with non stick cooking spray. Place this wire rack over a baking sheet. Set aside.
If you're a regular reader of the blog – you're familiar with the assembly line method of breading chicken, fish or whatever dish you're cooking. If you're new to the blog (hi!) or just need a reminder, the best method for breading works like this:
In a small bowl, combine the Italian seasoning and garlic powder, this bowl is first in line. Next, place your flour in a shallow (wider is better) bowl. Next, lightly beat your eggs in a third shallow bowl. Place that bowl next to the flour. Finally, combine the parmesan cheese and bread crumbs in a fourth bowl and place that one last in the line.
Carefully blot off any excess moisture from the chicken breasts (moisture is the enemy of breading after all). Roll the chicken into the seasonings until evenly covered. Next, dip the breasts into the flour, making sure that the entire surface area of the breast is completely covered by flour. Carefully dip the chicken into the egg mixture, allow the excess egg to drip off. Finally, press the breasts into the bread crumb mixture, making sure that they are completely and evenly covered with the crumbs.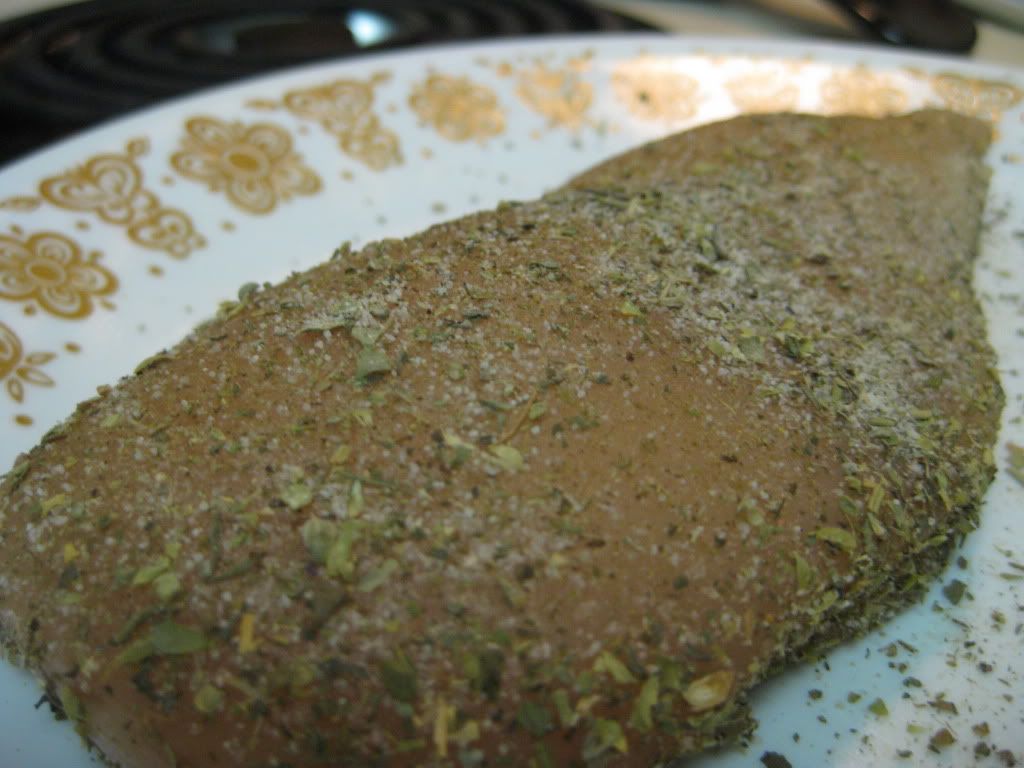 Place the newly breaded breasts onto the wire rack and into the oven for about 20 minutes, or until the inner most portion of the chicken registers 165 degrees on an instant read thermometer.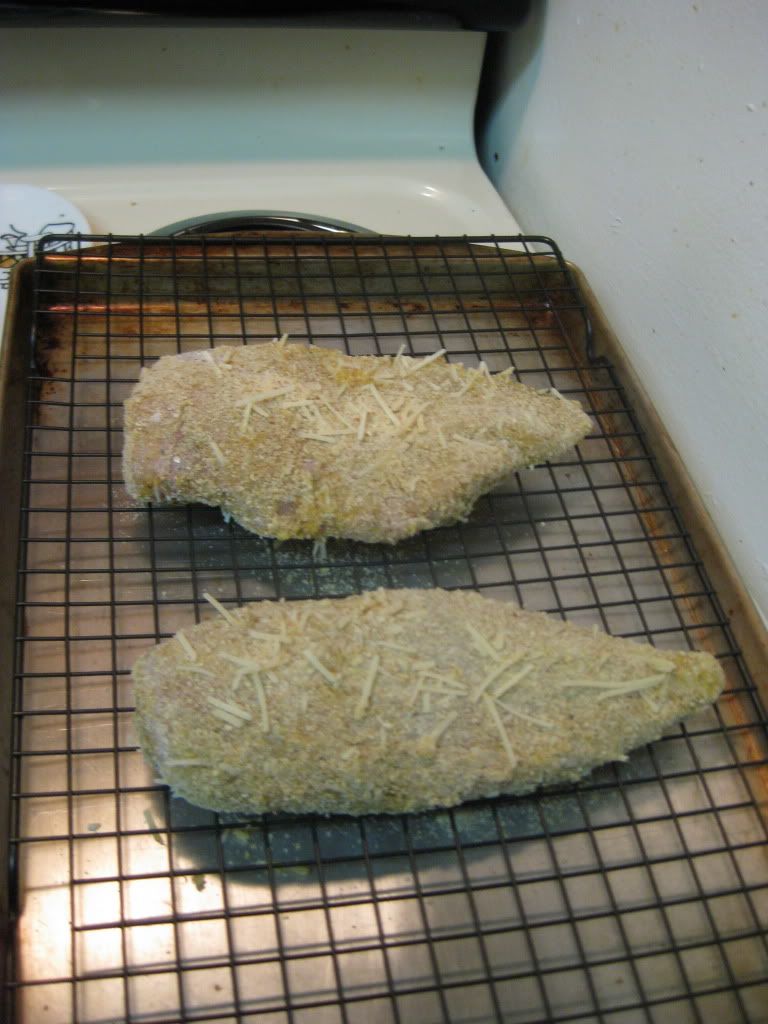 Serve with marinara or BBQ sauce and enjoy!
The Results: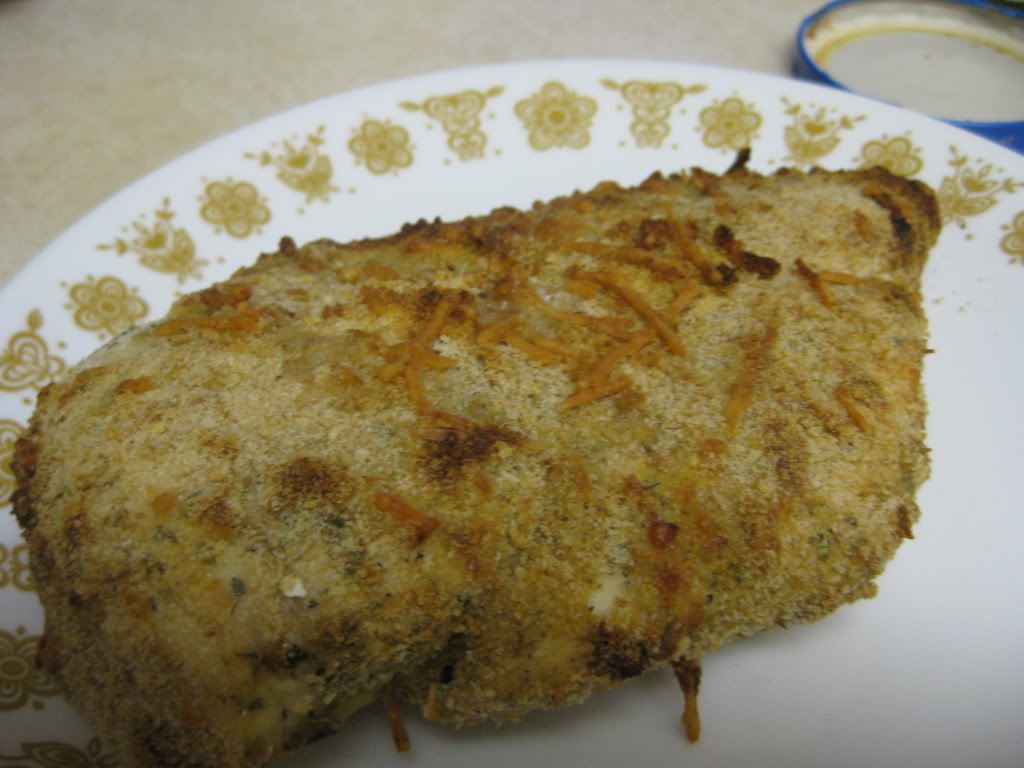 The big tweak to this dish was to add the seasonings to the 'base' of the chicken. Rather than adding the Italian and garlic seasonings to the flour, we added the seasoning right to the chicken right off the bat. The result was a more intense flavor – hidden beneath that beautiful crunchy shell was a burst of Italian seasoning with a slight garlic kick. All in all, this is a delicious and simple week night fix for anyone looking to spice up plain ol' chicken.
That's all we have for you tonight. Maggie has a surprise recipe that she will be sharing with you later this week. Something that fits right into fall cooking and is sure to please any crowd you have in your house this season! Stay tuned for that recipe to be posted (it will be on our Facebook fan page – be sure to 'like' us on Facebook to stay in touch with our updates). Until then,
~Cheers