Good evening everyone!! As our last 'nice' fall days end, we're shifting our focus more towards fall-ish flavors and dishes. But we can have a little fun before we do so, right?? Tonight's dish is a classic Maggie dish, with all my favorite fixings: pasta and cheese. Although there is a brand new twist on this classic favorite. I'll delve into that deeper later, but now, onto the recipe!
The Recipe: Quick Pastitsio
Original Recipe Found In: Cooking Light, October 2011
What You'll Need:
8 Ounces uncooked Penne
1 Pound Ground Sirloin
1 Tablespoon Olive Oil
1 1/2 Cups Chopped Onion
5 Garlic Cloves, minced
3/4 Teaspoon Salt
2 Cups Fat-Free Milk
1 (14.5) can diced Tomatoes, drained
1/2 Cup (4 Ounces) 1/3-less-fat Cream Cheese
1 (3 Ounce) package Fat Free Cream Cheese
3/4 Cup Shredded Part-Skim Mozzarella Cheese
For those of you who don't know what pastitsio is (including myself until I did a little research,) it is a Greek or Mediterranean dish, which includes, quite literally, pasta, meat, and cheese. Although to it's simplest form, it could be classified under another pasta dish. Without all the sauce and fancy fixings, this is just a stripped down version of lasagna. Since I am a huge lasagna fan and Tyler isn't, I'm hoping this will be the happy medium for us.
To start cook the pasta according to package directions. Next, heat a large skillet over medium-high heat and coat the pan with cooking spray. Add the beef to the pan and sauté until browned or five minutes. Remove the crumbled beef and drain well. Wipe the pan clean with a paper towel.
Add the oil to the pan. Saute the onion for four minutes. Add the garlic and sauté for one minute, stirring constantly. Add the beef back to the skillet and sprinkle with salt. Add the flour and cook for one minute, stirring frequently. Stir in the milk tomatoes, and cream cheeses, stirring until smooth and bring to a simmer. Cook for until thoroughly heated and stir in the pasta.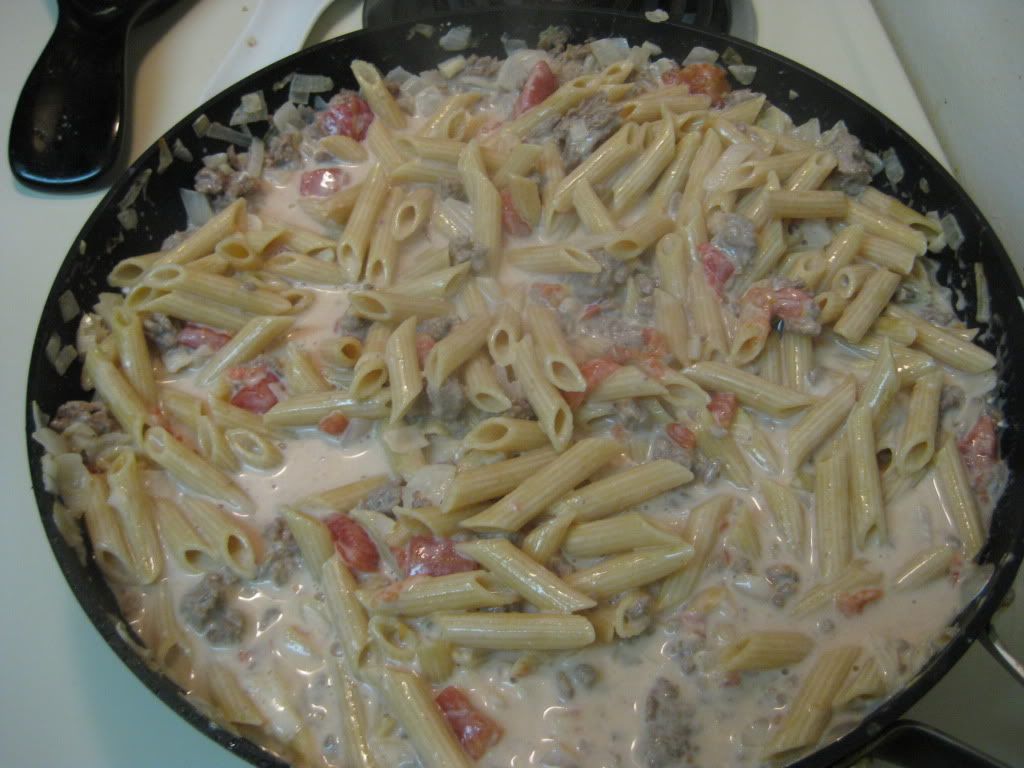 Preassembled Pastitsio
Spoon the mixture into a 13x9 inch baking dish coated with cooking spray. Sprinkle the mozzarella cheese over the top to coat evenly. Bake at the lowest temperature until golden brown for five minutes. Remove from oven, serve, and enjoy!
All baked and ready to roll!
The End Results: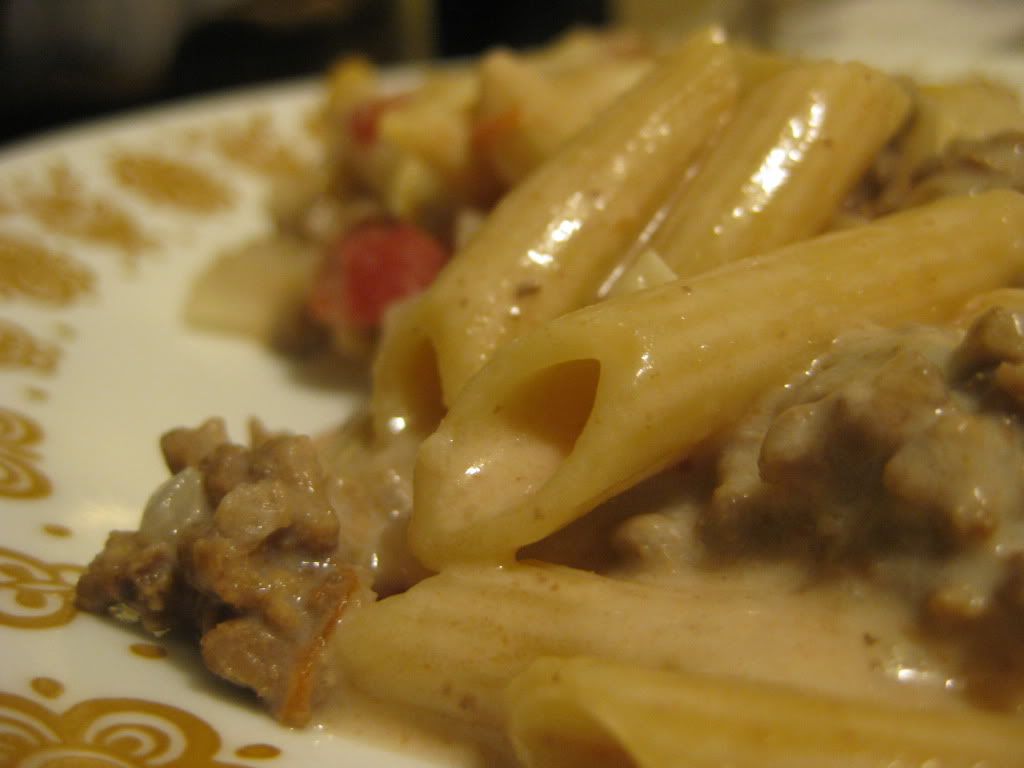 The quintessential pasta dish. The penne soaked up all that liquid from the milk and melted cheeses. Although I wouldn't call it a cheese sauce, because it wasn't overtly cheesy, just hints of cheese. The beef also soaked up all that flavor too which blended the dish quite nicely. Personal preference, I would have liked to enjoy more of the cheese flavor by adding another cheese in...but that's just me (an admitted cheese addict). To me, the flavor didn't quite hit the mark. I felt it needed something more, whether it would be another cheese, a spice, or something. Overall a great recipe to whip up and feed a crowd, but to make that crowd want more, it needed something extra to give it that great lasting appeal. (Even a good seasoning with salt & pepper would give it a little more kick).
Come back tomorrow as Tyler tackles a new dish for us and the blog - we're heading into uncharted ground with this dish. Until then,
~Cheers!