Good evening everyone!! I think my mind and body is preparing for T-Day Thursday because I seem to be stuffing myself with a bunch of food. But seriously, I am so excited and thankful for this year's Thanksgiving. Tyler and I get to cook a couple of dishes for our families and there is a lot to be thankful for this year. Anyway, enough of me being nostalgic, let's bring on the food!
A couple of weeks ago, Tyler added a new twist to the standard mashed potato dish. With panko bread crumbs and different cheeses, he added a new contender to the potato dish norm. Tonight, I'm trying something completely different, even for Tyler and me. With heat from a particular spice packing a punch and endless amounts of new cheese flavor, it's bound to be a good dish.
The Recipe: Smoky Scalloped Potatoes
Original Recipe Found In: Food Network Magazine, November 2011
What You'll Need:
3 Tablespoons Unsalted Butter
1 Small Shallot, finely chopped
4 Garlic Cloves, minced
1 Tablespoon All-Purpose Flour
3 Cups Half-and-Half
1 to 2 Teaspoons Smoked Paprika
2 1/2 Pounds Russet Potatoes, peeled and thinly sliced
1 Cup Grated Sharp White Cheddar Cheese
1/3 Cup Fresh Grated Parmesan Cheese
To start, preheat an oven to 350 degrees. Butter a 9x13 casserole dish with 1 tablespoon butter. Melt the remaining 2 tablespoons butter in a large saucepan. Once the butter starts to foam, add the shallot and garlic and sauté until softened, 3 to 4 minutes. Add the flour and cook, stirring frequently, until golden, about 2 minutes. Season with salt and pepper. Add the half-and-half, smoked paprika, and potatoes. Being to a low simmer and cook for five minutes.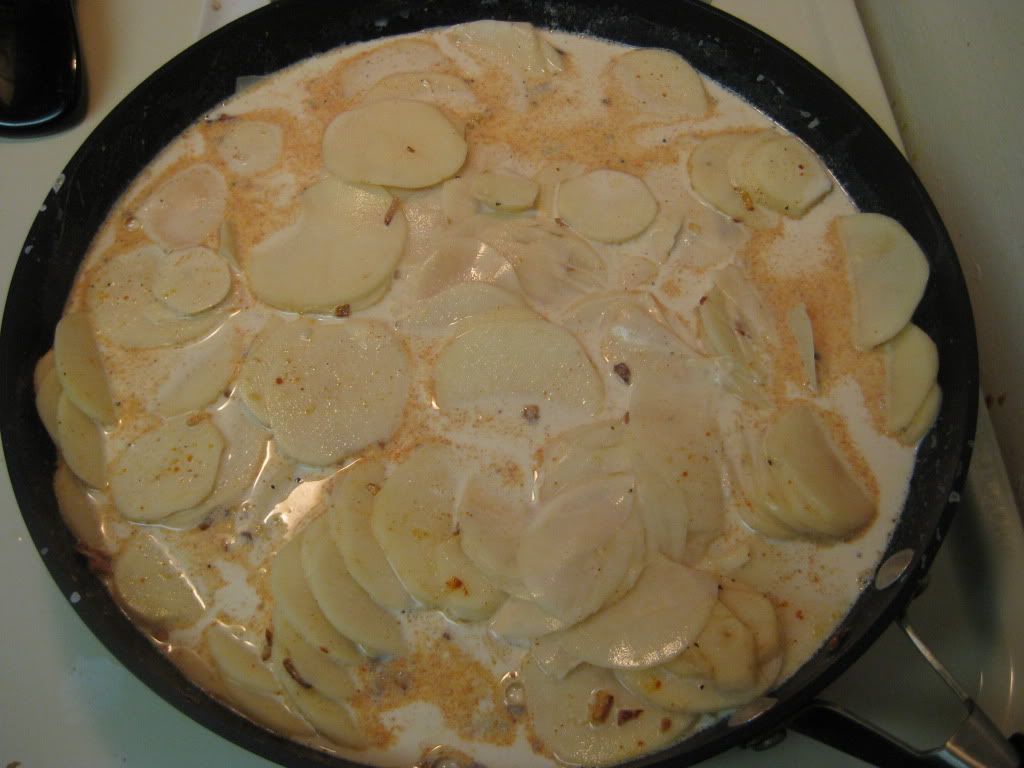 All the ingredients ready for a good flavor soak.
The really great thing about this dish is that two kitchen devices helped to speed up the process in making this dish. I don't know how many times we've mentioned it, but the Rotato has been a great addition to our kitchen. Not only does it speed up the process of peeling potatoes, but it gives us a chance to pull out other ingredients and do other items whilst these are being trimmed. The mandolin is also another great utility. Granted you can't just set it and walk away, but it gives consistent slices of potato, or another other vegetable/fruit you are cutting. The only bad thing about the mandolin is that you really have to watch when you are slicing, because your finger could end up in the sliced end of mandolin. It always helps to have kitchen know-how and pass it along to fellow cooks and/or food fanatics.
Pour half of the potato mixture into the buttered casserole dish. Shake the pan to arrange the potatoes in a single layer. Sprinkle half of each of the cheese on top of the bottom potato layer. Add the remaining potatoes and shake again to arrange in a layer. Sprinkle on the remaining cheese, cover with foil and bake for 45 minutes. Remove the foil and place back in the oven for another 15 minutes or until the potatoes and cheese are golden and browned. Let stand for 15 minutes before serving. Serve and enjoy!!
The End Result: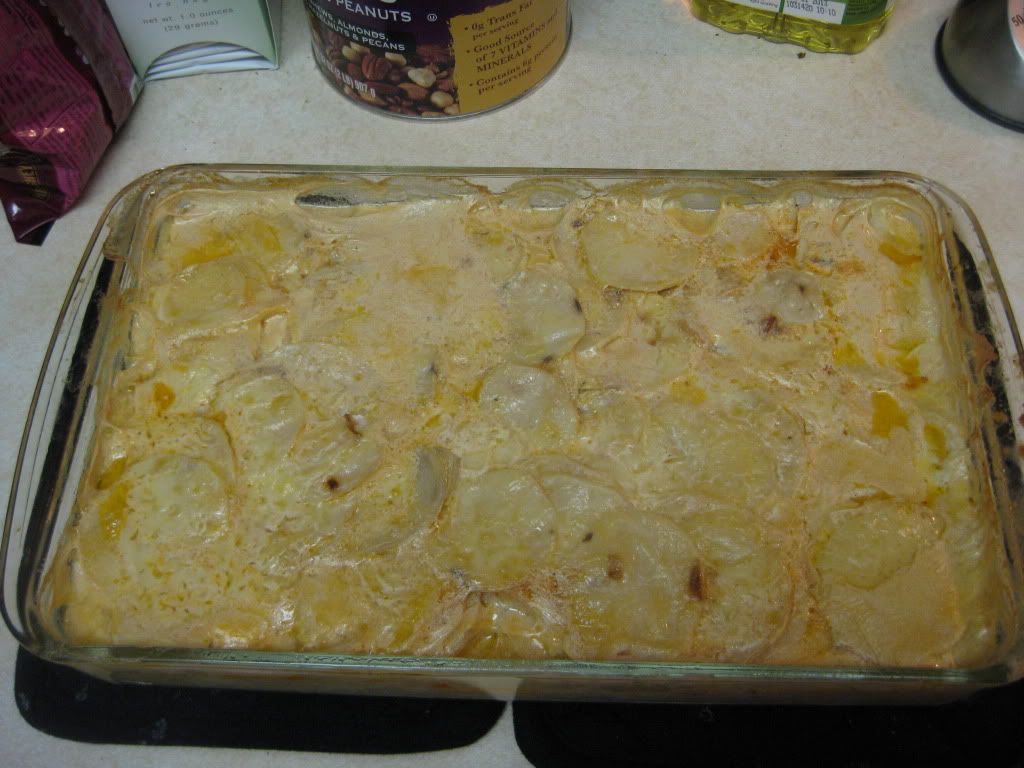 Oh my goodness! This dish should not be just reserved for Thanksgiving, but it should be used all year round! The smoky depth of paprika gave the dish an incredible flavor. The cheeses weren't really as prominent as I thought they would be, but they gave the entire dish an well rounded flavor. The potatoes were sliced thinly enough to be cooked in the oven and were evenly cooked. Overall, a superb dish to share with anyone that you love.
That's all we have for you this (short) week. We are heading home tomorrow evening and enjoying Thanksgiving with both of our families. Like I have said before, we are incredibly thankful for a lot this year, including you, the readers of our blog. We hope you have enjoyed our Thanksgiving dishes over the last couple of weeks and hopefully, you found some inspiration to create something new this year. We will be back on Monday, with a whole new set of recipes to share. Until then, have a Happy Thanksgiving and
~Cheers!