Good evening everyone! It's Monday once again and the holiday season is creeping ever closer. It's hard to believe that it is currently December 19th, looking out the window, you could argue it was early November or (after yesterday's 50 degree day) late October. I'm not a fan of snow (I know, why am I living in the Midwest? I can't give you an answer to that one) so the longer the white stuff stays away the better. (This obviously no longer applies if you live in New Mexico, upper Texas, Colorado or Kansas...enjoy the snow!)
Beautiful weather aside, the fact remains – Christmas, New Year's Day...Kwanzaa – all of the winter holidays are upon us. That means cooking, baking, planning and traveling for everyone – including your favorite amateur chefs. This means today's edition will be our last 'Around The Culinary World' of 2011. I'd like to tell you we're going out with a bang and that today's stories are worth ending a year on…but the truth is, today's stories are good – but the culinary news cycle is pretty sparse during this time of the year. We'll make the best with what we have – let's dive in!
With Christmas rapidly approaching, the unofficial 'weight gain' season is upon us. Many Americans find that their holiday eating tends to lead to an unhappy surprise when they step on the scale the following morning. (Most find they've set a 'high score' that they weren't really aiming to break). Researchers have found that this phenomenon is actually not at all rare. During the winter months, the average individual consumes an extra 200 calories per day than they normally would consume during the others months of the year. What is the reason behind this shift? Believe it or not, it may all boil down to a combination of DNA, history and your brain. (Although, the three trips through the pie line at your family Christmas party probably don't help matters). Check out the reasons behind everyone's expanding holiday waistline
HERE
.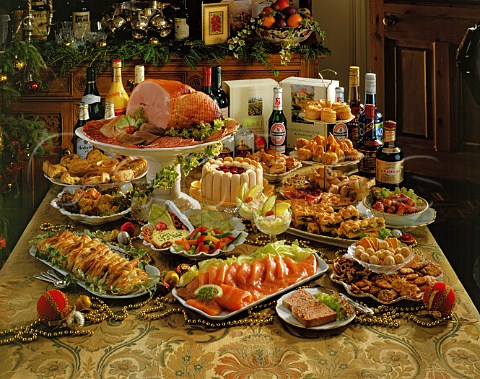 One way to avoid gaining the extra pounds over the holidays is to eat better (…duh…). Easier said than done, right? Actually, it's not as hard as you might think. By simply taking into account how your brain works, what your body needs and remembering to keep things in reasonable portions, you may find the holidays to be a less taxing time on your belly. There are some great tips for keeping your brain happy and stomach satisfied
HERE
.
Texture, color & variety - 3 big keys to healthy eating this holiday season
We frequently feature 'top picks' of alcohol on the blog as I am a fan of bourbons, whiskeys and other tonics of the sort. Maggie enjoys a good wine as much as I enjoy a good whiskey, so it's only fair to share
THIS STORY
featuring some great tips on wines for the holiday season.
It's well documented that one of the biggest culprits in America's relatively recent weight gain are sodas and sugar filled drinks. Over the past 15 to 20 years they've become more convenient, easier to access, relatively cheaper and a whole lot more common. In fact, studies show that most Americans are well aware the sugary drinks are directly related to weight gain, but they continue to drink them anyway. The Johns Hopkins Bloomberg School for Public Health decided to try an alternative method for curbing kid's appetites for soda. Rather than listing the calories and throwing numbers at them, they took a different approach and (somewhat surprisingly) found that it worked. Check out their tactic
HERE
.
The culinary community (along with this very blog) were up in arms after Congress failed America's children by (essentially) creating a new category of vegetable; pizza. Apparently, they didn't just stop there. This much maligned bill was filled with all sorts of other provisions, restrictions and rulings that did just as much damage to the health and future of our kids. Michele Simon, a public health lawyer, contributed an editorial to the Huffington Post that pulls no punches and points out all of the recent Congressional missteps in this bill. It's a scathing article, but well worth a read. Check it out
HERE
.
That's all the news that's fit to blog about this week. We've got a short week lined up – only Maggie will be taking to the kitchen (on Tuesday) this week. After that we're off for the holidays. Right now, we're tentatively planning to return to cooking on 12/28 for one recipe and then on another travel break until after the first of the year – stay tuned to our Facebook & Twitter pages to see if that changes.
Be sure to stop in Tuesday night to see what Maggie has cooking. Until then,
~Cheers